Garden Hopper™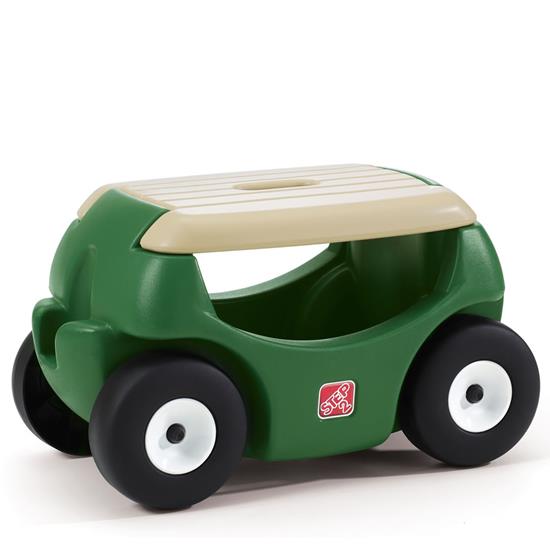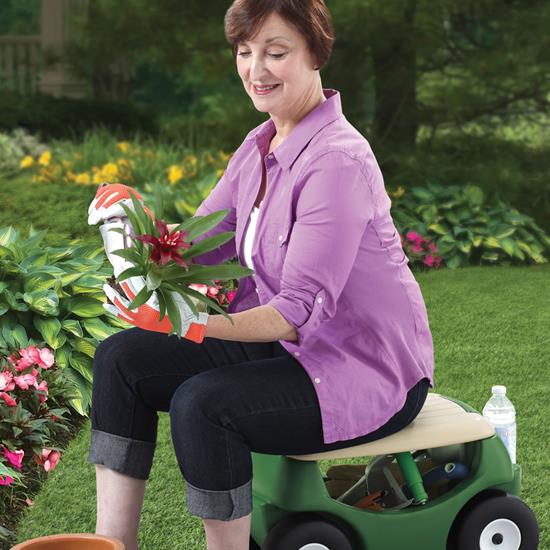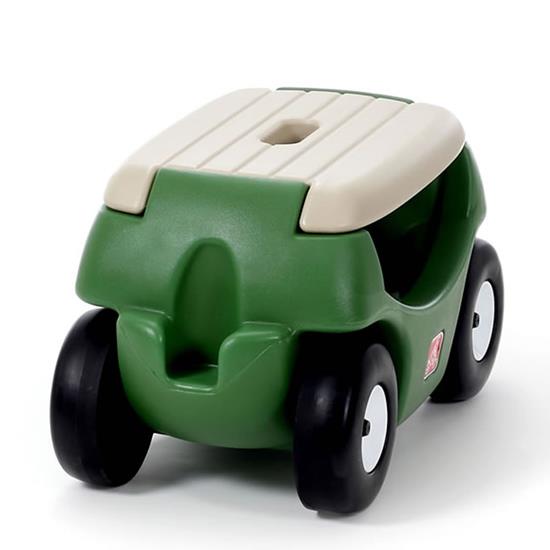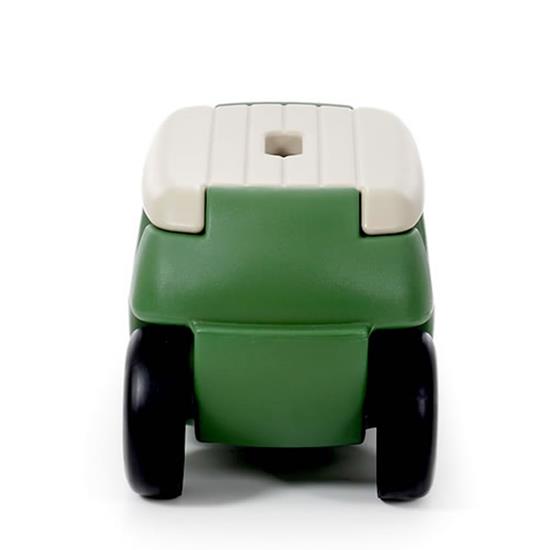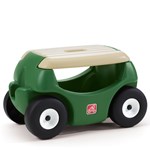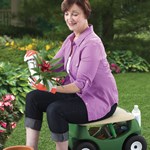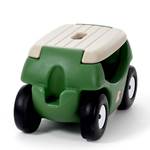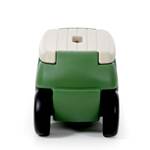 Garden Hopper™
In stock
$29.99
+4.99 shipping (via FedEx)
The Step2 Garden Hopper is a mobile work seat and storage area that provides you with comfort and easy access to tools while you take care of the yard.
IS THIS A GIFT? DON'T SPOIL THE SURPRISE!
This item ships with an image of the product on its outer packaging.
Rated 3 out of 5
by
Bruce
from
Is the new model as good as the old model?
I purchased this to replace an older Step2 version because I like the functionality. It has been very useful in our two attic spaces. We can't stand up in the space and it's easy to roll while sitting. The old Step2 got a flat "tire". The old plastic one piece wheels served well until one cracked. The new Step2 wheels are only one sided (the plastic doesn't go on the back of the wheel). The wheels pick up more dirt and mud than the old design. In addition, the newer model doesn't handle my load like the old one. The wheels scrape if I don't get my weight centered on the seat.
Date published: 2018-01-21
Rated 1 out of 5
by
Retired Dan
from
Great Product, but cheap wheels wear out quickly
This is a great product, except for one thing - - - the hubs of the wheels (which ride on a steel axle) wear out very quickly, making the wheels very wobbly, causing them to rub on the cart housing. The cart is a great concept, but the wheels are pure, flimsy plastic junk, and make the cart virtually unusable. (I don't think 3 years of seasonal flower bed tending, on a city lot in Ohio, would constitute "extreme usage". . . . ) Very disappointed in this obvious design/manufacturing flaw, especially from a company we've bought from many times in the past, and have been very happy with their products.
Date published: 2016-05-25
Rated 3 out of 5
by
Greenthumbgirl
from
New Design Features not as good as old
I love the older Step2 we have so I ordered another one. When it arrived I realized there had been design changes I hadn't noticed in the photos online. The wheels were previously solid. This made them stronger and prevented them filling with mud or mulch and bogging down. The rope tie is no longer included, and I used it frequently to move the cart as well as to haul a large bag of weeds to the compost pile. I was planning on recommending the step2 to my daughter. She had purchased a competing product but the rope ties broke off and the wheels were hollow... Now your product offers no advantage over the one she has.
Date published: 2013-04-10
Rated 5 out of 5
by
Anonymous
from
Great for indoor use too!
I've used this item for years. I think I probably have the original design and have enjoyed using it in my garden. A couple of years ago we bought a front loading washer and dryer. We felt the extra bases that we had to purchase to raise the washer and dryer were too expensive so I use my Garden Hopper. I sit on the Hopper while sorting the laundry and putting it from the washer to the dryer. It's just the right height to be able to reach into the machines and the wheels let me move around to the different piles of laundry. I'm giving one to my brother who just bought the same washer and dryer.
Date published: 2009-12-08
Rated 4 out of 5
by
Grammy the Painter
from
I am not a gardener by any means!
I would love to say I bought this for outdoor use, but I didn't. I actually bought it to help me paint woodwork down a very long hallway. I have trouble with my knees and saw this while shopping for my grandchildren. A lightbulb went off in my head! This would be perfect for when I need to paint the base moldings. I sit on the garden hopper...rags, brushes, tape, in the storage compartment...holder for my drink...and off I go. It has been FABULOUS. My projects are going so much more smoothly;I really love it. Maybe I'll garden in the spring...but I doubt it.
Date published: 2010-12-09
Rated 4 out of 5
by
Anonymous
from
Great for lower back relief
With lower back problems, this little cart is great....not only for gardening, but for cleaning baseboards as well. I've only had it for 2 weeks, so only gave it a 4 star rating, as not sure how long the "tires" will hold up as they are not very thick plastic, hollow and completely open on the back side. For the weight of the person and rolling while sitting, I think the tires should be more substantial than that, as plastic can dry out, crack and disintegrate and with them being hollow with no supporting back side...hhhmmmm...time will tell. For now, great relief on my lower back
Date published: 2017-03-30
Rated 5 out of 5
by
Anonymous
from
Fantastic multi-use product.....
This is one of the greatest ideas ever! We have had two for many years and got two more for our shore house. They can be used inside and out and are great for doing things with ease........not on your knees! I use the hopper in the garden and to clean out lower cabinets, for painting things such as deck rails and any project that requires getting low to the ground. You can put your phone, tools etc underneath & there is even a place for a drink! They clean easily and are very sturdy. The two old ones look almost new! We absolutely love this product and recommend it to everyone!
Date published: 2016-04-26
Rated 5 out of 5
by
Ellie the Care-giver
from
A "MUST" for all gardeners!!
We bought a Step 2 garden hopper about 20 years ago, and it finally "gave in" last year. In our "older age", we are thrilled to have this new one for gardening, painting, and doing any chores that require stooping over. Sure helps the old back and knees! I really like the open tool compartment....very convenient to grab the tool one needs! From its sturdy construction, I think this Garden Hopper will last 20 years (or longer)like the old one did!! I will be the primary user of this product since my husband is unable to do things independently.
Date published: 2010-03-30
How high is the sear off the ground?
The Garden Hopper™ is 12.50 inches in height.
Date published: 2018-03-27
Are the wheels rubber or plastic?
The wheels on the Garden Hopper™ are made of plastic with rubber compound.
Date published: 2018-03-27
Is there a handle? If not, how difficult is it to move it around from place to place?
No, there is not an extended handle, just the handle opening in the center of the seat that you can easily pick it up by. It is not very heavy.
Date published: 2018-03-27
Just opened the box to my new Garden Hopper but the wheels seem a little wobbly. Is this normal?
I've owned the garden hopper for two years and I'm very pleased with it. The wheels does have a little plai in them but I think that's by design. I use it quite a bit for yard work and my husband uses it when washing the tires on the car and other projects. I love it.
Date published: 2018-03-27