Garden Hopper™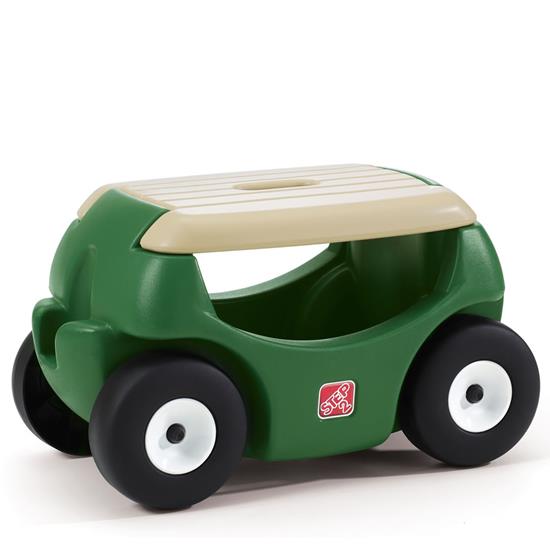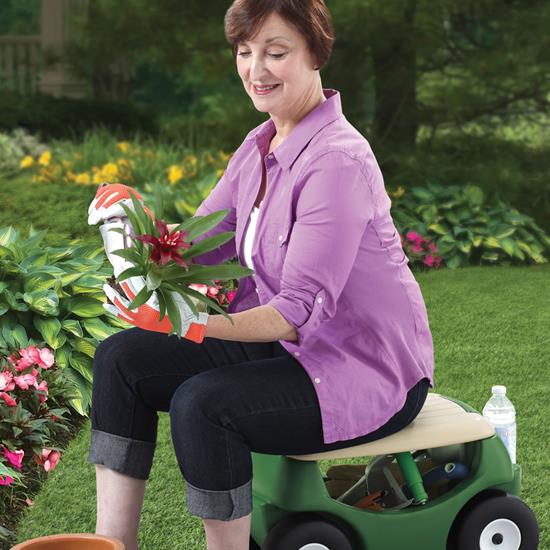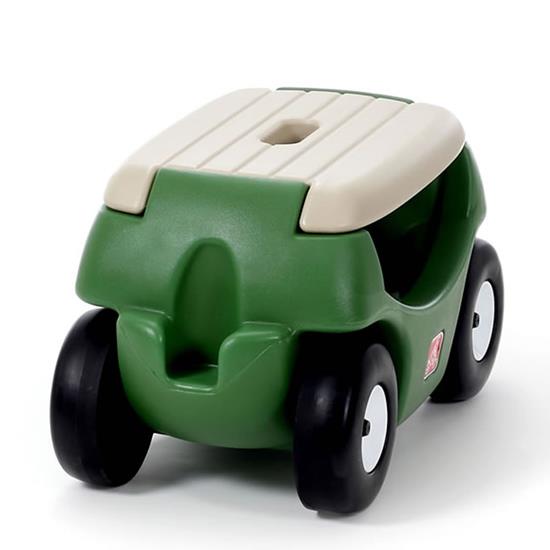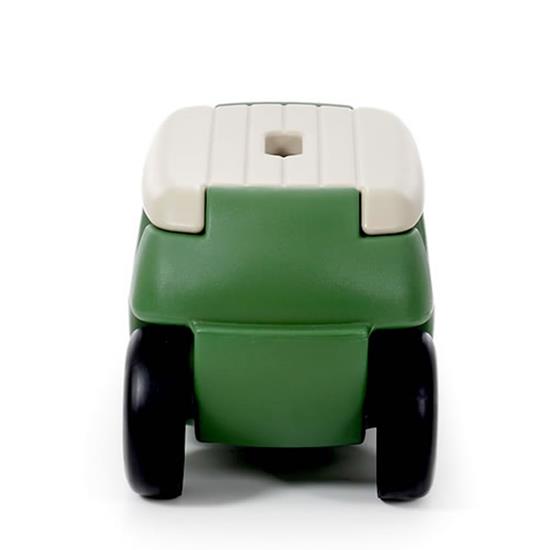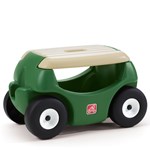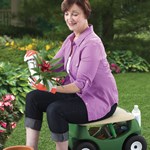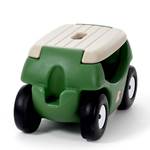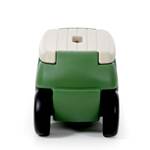 Garden Hopper™
In stock
$29.99
+4.99 shipping (via FedEx)
The Step2 Garden Hopper is a mobile work seat and storage area that provides you with comfort and easy access to tools while you take care of the yard.
IS THIS A GIFT? DON'T SPOIL THE SURPRISE!
This item ships with an image of the product on its outer packaging.
Rated 3 out of 5
by
Anonymous
from
Add a pull rope to the hopper
It is good for picking green beans, eliminates kneeling and bending over. It would be most convenient if you had a handle on the front of the hopper that was retractable, similar to a lawn mower pull cord, so it could be pulled around like a wagon. That would be a lot easier than having to carry the thing from one location to another on the property, especially when the storage tray is full of tools or there is a cup in the beverage holder. If you had a brake on one axle that would make it better to use on an incline or slope.
Date published: 2016-09-03
Rated 5 out of 5
by
Garden Goddess Vicki
from
Wow! I've needed this for years!
There is no assembly. Just pulled it out of the box, filled it with my gardening tools and carried it around my yard to do my work. It's very light weight, even with my hand tools in it. The seat is quite comfortable, even for my large posterior. I weight about 190 lbs and that didn't seem to strain the Garden Hopper at all. I can even roll it while sitting with no problem. It's the perfect height for working in flower beds, so I don't have to stand or bend at the waist to get my yard/garden work done. I can get up or sit down easily without straining my back or legs. The price for this little jewel was very reasonable and cheaper than I could find anywhere else. The only thing that could make it better is by adding a mini-air conditioner to keep me cool while I work outside!
Date published: 2014-07-11
Rated 4 out of 5
by
Sue24
from
Love Step2 products
I purchased a similar item from Step2 for my sister about 15 years ago. That one has an arm that you could pull it with and also has a padded top for ease on the bottom. This one is lacking both of these items but I still love it.
Date published: 2018-02-11
Rated 5 out of 5
by
Chris... gardening again!
from
best garden tool anyone could have
I broke my foot in April, so planting and weeding got totally ahead of me as I could not bend over or squat down to do the work. The hopper is so comfortable and rolls along so easily. It has made it possible to work in the garden again, and even when my foot is completely healed, I will continue to use the hopper. The storage for the tools is great. I can see where we could use a second one.Compared to similar products available in Canada, this can't be beat for quality, design and price.
Date published: 2009-06-18
Rated 3 out of 5
by
Gardening Mommy
from
Not bad for the price...
The Garden Hopper is alright for the price... Easy to use and helpful to relieve the backbreaking work of weeding and harvesting. The cup holder is nice but could be a bit wider. I usually drink water while gardening and the cupholder is meant for a soda can. I wish the seat was able to be removed from the wheels so I could place things underneath without so much effort (ie. plants to be planted, taller items, extra water and tools). But, it's nice to have around for gardening.
Date published: 2009-06-01
Rated 1 out of 5
by
mkaHouston
from
Not as sturdy as previous model.
The wheels were solid and sturdy on the older model. Please put the solid wheels back on this one and I will buy it. Thanks.
Date published: 2017-08-23
Rated 4 out of 5
by
Aquarian Crab
from
My Arthritic Knee Loves It!
I have been using a Step2 gardening seat/kneeler for years. Very sturdy to push myself up, but the kneeler pad eventually came apart. I haven't been able to find a replacement, so I bought this garden hopper instead. It's a great way to sit and harvest my veggies or deadhead my flowers. I wish it were about an inch higher, though (and I'm a short 5'3"). So far it has withstood the elements (I leave mine out in the garden all the time) but it would be nice if there were drainage holes in it as water collects in the tool tray beneath the seat and when I dump it out the seat gets wet. I still would like to find a replacement pad for my kneeler to do digging and weeding because you can't do that from this seat. I have also found it useful inside the house for cleaning out and reorganizing bottom kitchen cabinets.
Date published: 2009-07-14
Rated 5 out of 5
by
Old Jim
from
Great garden tool and my second one!
First, my wife bought me my first step-2 about six years ago. I asked why she bought it for me because I was only 64 years old. I began to use it and I always needed it in the back of the house or in the front of the house. She bought me two other similar carts and both were unable to perform like my old one and I had her return them. I went on line and ordered one from the web site and have been tickled since. I have one in the front and one in the back.
Date published: 2011-09-28
Rated 5 out of 5
by
Betty, CHF patient
from
A Godsend for person with CHF
As a CHF patient, the Garden Hopper was purchased so I could care for my flower beds without stooping, which I can't do without shortness of breath. Indoors I now use it for removing clothes from the dryer, cleaning pet stains on carpet, reaching lower cupboards fridge shelves & cleaning the litter box. Cardiac Rehab, PT recently asked for pictures of me using the Garden Hopper. A perfect daily assist tool. Just wish it had one set of wheels that turned.
Date published: 2011-05-17
Rated 5 out of 5
by
Anonymous
from
Sure Simplifies Yard Work!
It seems that I weed a little bit everyday during Spring & Summer. I stand up, pick up my stool and move it over, sit down & weed; then start all over again. So hard on my knees and so tiring! This Garden Hopper is clearly the answer and makes yard work easier than ever. How nice it is just to scoot along the ground to do my work. Then, I have the compartment under the seat to put my tools or the weeds. Best invention ever! #sweepstakes
Date published: 2017-05-15
Rated 5 out of 5
by
Kristi the Gardener
from
Excellent product, very highly recommend
I bought this product last fall after planting my first garden and it absolutely saved my back during harvest. I liked it so much, I just bought one for my mother and one for my father, as they are starting gardens this year too. It's great for pulling weeds, picking green beans, repotting plants - anything that you would normally have to bend over to do. After a hard winter outdoors, my Hopper still looks new. I LOVE this product!!!
Date published: 2009-03-07
Rated 5 out of 5
by
Anonymous
from
fabulous!
I bought this for my mom for mothers day and she loves it. She said the only con is that the part you can kneel on isn't very comfy.. But otherwise she loves it. She put a piece of rope to it so she could drag it behind her instead of picking it up! She loves that she can put all her plants and tools as well as a drink on it! I would get this for anyone that gardens!!! I am getting one for my father-in-law too. I know he will love it!
Date published: 2009-06-03
Rated 4 out of 5
by
dboeren
from
Also useful for washing cars
I bought an older version of the Garden Hopper from a retired gentleman who used to use it for washing his Corvette, you can sit on it and work on the wheels & wheel wells without stooping your back. Now it's going to help me out when I wash my Porsche. Even though I'm on the heavy side, it seems to have no problem holding my weight.One thing I like better about my older one than the current model though, it has a drink holder.
Date published: 2014-09-12
Rated 4 out of 5
by
Anonymous
from
Garden Hopper
We actually bought this item for a raffle giveaway to fill with gardening supplies. We are members of a Tops organization and are attending a SRD (State Tops function) in Akron in April. Several of our members have an old brand and thought it would be unique to present as a prize. The only thing I was disappointed in was that the top didn't open. Is there a way, the the future, that this could be improved upon;Thank You, Nancy O'Hara
Date published: 2016-04-07
Rated 5 out of 5
by
owie
from
My New Best Friend Garden Hopper
I am a Senior with some minor back issues..Now I do not have to limit my garden time because my new best friend, The Garden Hopper, keeps me at a working level preventing back strain additionally my tools are within reach at all time..I look forward to more yard time which is my best therapy. Thank you again for the easy shopping,[...]and more yard time.. Wishing you continued success with this product.Regards,Susan Zaffater
Date published: 2008-10-13
Rated 4 out of 5
by
Anonymous
from
Much Better Than The Stool I Was Sitting On.
I use the 'garden hopper tm' for gardening, as I am in my seventies, I find that there are a few things that could be added to the design to make it more comfortable. ONE; it needs a pillow, TWO; a swivel seat. THREE; slightly bigger wheels. I live in southern Texas and the grass is kept quite long, min 3", so it makes moving the hopper along quite a chore.But it is the perfect sitting height for a shorty like me (5'0"),
Date published: 2017-02-20
Rated 5 out of 5
by
Mom and Dad make apt living pretty
from
LOVE IT!!!
We use this to sit on to garden. It's great because the bottom holds all our supplies. You can reach in and grab what you need without having to open anything. Because the bottom is depressed, you can't see into it from the sides which helps because our two year old isn't AS interested in the sharp tools. It rolls well and is sturdy. I just love it. We actually bought it as a gift, but swiped it for ourselves! Shhh.
Date published: 2008-08-13
Rated 3 out of 5
by
lgbuslepp[@]
from
My Hopper is a handicapped conveyance
I weigh 175 lbs. and I am physically handicapped. I use this product in the morning as a shower and toilet conveyance before I move to a power height table and get in my electric wheel chair for the day. My new seat is already caving in! I swapped the new half-wheels for old-style full wheels and wish you had never re-designed them to save money. The half-wheels don't turn well on carpet or tile. They are also too bouncy! I have owned approximately 12 of these over a 10 year span and found some seats that were very solid and some that caved-in (depressed a half inch) after a short time. After my last 2-units that were very solid, this one is caving already. One last thing, my new hopper was missing a "Step 2" plaque (not a big deal) but a sign your quality control is lacking. I am a retired, certified quality engineer and rely on your product, but am somewhat disappointed!
Date published: 2009-12-30
Rated 4 out of 5
by
Boxwood Gardens
from
Bought one, works so well bought 2 more
We have 37 4x8' boxed raised beds, and grow produce for our local farmers market. We use the Garden Hopper to pick our greens in a comfortable seated position. Also great for weeding and planting our boxes. Have also used indoors and out for painting. Only problem is the lack of solid wheels. Does not roll easily for our heavier helpers, and collects dirt and mud. Please return to the old style wheels
Date published: 2010-06-14
Rated 4 out of 5
by
Anonymous
from
Garden Hopper Evaluation
The previous model was good, except flimsy lid broke down The current model solved the lid problem, but hides the content. One has to fumble around to guess about which is the right tool. The Hopper is about two inches higher than the previous model, so one has to bend further down.You might make a pad available for those with a tender butt. The wheels look a little too flimsy compared to the lid model.
Date published: 2013-08-30
Rated 5 out of 5
by
Anonymous
from
Perfect.
I was looking for a Seat for my wife who loves to garden but is having trouble with her back aching from weeding. I looked at a lot of garden seats but they were all to heavy, to tall, wheels to small or narrow etc. Then I found the Garden Hopper. It sounded like just the right thing for her and I was right. She absolutely loves it. Light, movable, right height, stable. Perfect for her needs.
Date published: 2016-09-01
Rated 4 out of 5
by
Ann the Rockhound
from
Great Product!!!! I have two of them !
65-year old with fibromyalgia; it's easy to get down, but difficult to get back up. This makes it much easier. Bought one at retail, found second in a garage sale (like new) for [$], and planned to pass on to someone else. We're doing some renovations inside the house, so I kept the 2nd and use it inside and the other outside. My hips and knees thank you! Drainage holes would be helpful.
Date published: 2009-08-31
Rated 5 out of 5
by
Reg
from
This is my SECOND purchase of this item
I am disabled. So getting down and around are difficult. The Garden Hopper makes mobility easier. But I exceed its weight capacity by a few pounds. It has survived many years, but I dropped it which cracked the axle slot and had to order a new one, because I could not be without one around the house. I just wish they could "beef it up" a little. Otherwise, it really helps me get around.
Date published: 2012-05-09
Rated 5 out of 5
by
Anonymous
from
Love my Garden Hopper
This is not just for gardening. I use it anytime I need to work on something around the house that requires me to be in squatting position for any length of time. Saves my knees and back. I even convinced my husband to give it a try. :)Loved the no assembly. Just pulll it out of the box and start using. :). Incredible shipping and handling rate. Received very quickly!Thank you!
Date published: 2013-11-22
Rated 5 out of 5
by
Kathy P
from
Happy with my Hopper
It is harder to do my weeding/planting as I get older. My Hopper is the perfect way to "get down" to yard level. I find myself working longer but enjoying it due to my Hopper and the ease of rolling around the flower beds. The cup holder helps me stay hydrated without losing my cup in the grass. I was very pleased when I oened the box and it just rolled out; no assembly needed!
Date published: 2015-03-30
Rated 5 out of 5
by
Anonymous
from
Great Product for Any Age
I purchased this garden hopper to provide support to me as I work in my yard. What a difference it makes! My back feels so much better now that I have a place to sit while I weed and plant in my yard. I only wish it came with a handle, so my 3 year-old could pull it around. He loves to garden with me. We have loved our products from Step2, and this one is no exception. Thanks!
Date published: 2017-05-22
Rated 5 out of 5
by
Gardening Gal
from
Recommend buy
I use the garden hopper around my raised beds and traditional garden beds. It is easy to scoot along on the lawn and even on mulched paths. I put a bungee cord around one end to hold my water bottle in place and attached a pull cord onto the bungee so I can pull the hopper around our yard. I love it; saves my knees and it is sturdy and secure. Highly recommend this product!
Date published: 2009-06-30
Rated 4 out of 5
by
EKD the Wanna Be Green Thumb Queen
from
Groovy Cool Wheely Cart
I was six months pregnant and having difficulty getting down to work in the garden, this cart allows me to scoot along and tend to the weeds and plant care my garden needs. I only wish it had a drainage hole in the tool compartment, because I tend to leave my tools in it and I also leave it outside near the garden so I don't have to carry it out, now that Im very front heavy.
Date published: 2008-06-27
Rated 5 out of 5
by
Anonymous
from
It makes you SIT UP & TAKE NOTICE !
Bought three for gifts in the last three weeks, including one for our house. Very reasonable shipping cost on Step2.com. Everyone loved them. Only improvement I can think of is if you could add a detachable padded seat for more comfort. A real blessing for older people, people with back issues or who can't kneel to do yard work. Love the whole creative concept of it.
Date published: 2014-07-18
Rated 5 out of 5
by
jhamilton007
from
Works great!
Little did I know that I would break my foot shortly after I ordered this. It has been a great tool to use in the garden and in the yard when I am outside raking the grass. My children love to play with it as well and it is standing up to 9 kids through the day (I have a home daycare;) Great buy, awesome price and would recommend and purchase again if I needed to.
Date published: 2009-06-24
We have two step 2 garden carts model #( 5A00) that the wheels are cracked & broken. Are there parts available for them? Can they be repaired?
Thank you for contacting Step2. Replacement parts and decals can be ordered by calling our Customer Service team at 1-800-347-8372, Monday - Friday, 8:00 am - 11:00 am and 12:00 pm - 5:00 pm EST. Please have your product close by during your call so that we may quickly assist you to answer your question, find a resolution and or provide product or part pricing and lead-time(s). Various replacement parts and decals can now be ordered on line. Check our website at www.Step2.com and refer to the replacement part section located at the bottom of the website page and shop parts by category or look up your product(s) pertinent replacement part choices. Regards, Step2 Consumer Service
Date published: 2019-02-01
What is the weight restriction of a person sitting on it?
I'm about 220 and seems to support me ok. I think more than that would be too much. I never move it while I'm sitting on it especially if the sufface is uneven or soft. FYI - Do not leave it out in the rain especially if you plan on using it indoors. I had to drill a few drain holes before I could bring it back inside. I use it for all kinds of tasks inside and out. This is my second one. My first one lasted at least 10+ years.  Very durable. 
Date published: 2018-12-26
how do I remove broken seat and install new replacement seat?
Please contact our Consumer Service Specialists at 1-800-347-8372 Monday through Friday, 8AM -5PM Eastern Standard Time and we will be happy to help you.
Date published: 2017-12-14
Can you pull it like a wagon?
There's no hitch for doing this, but you could put a rope through the opening to pull it. It is pretty light weight to carry.
Date published: 2018-03-27
I do enjoy my Garden Hopper... except for having to lean over and push it out across my yard to work on the rose gardens. I am exhausted by the time I get there! LOL Your ads keep saying "handle". Before I bought this I thought the white seat unsnapped and became a handle to pull it from spot to spot. But no. Then today I see the photo of a man picking it up and carrying it, putting his hand into a slit space in the center of the seat. Ohh my!! Noo picking up... empty maybe, tho cumbersome... BUT with gardening tools and a coupla bottles of water, NEVER! Not all female gardeners are as strong as a man! Does this say FOR MEN ONLY some place?? Please, what should I do to move it around my yard? Buy a length of rope... slip it thru the openings and pull from the front? I need help. Please.
Please call toll free 1-800-347-8372 Monday - Friday, from 8-5 ET and we will be happy to assist you further with this request.
Date published: 2018-03-27
Does the top come off and on on the Garden Hopper?
The top of the Garden Hopper™ does not come off and on.
Date published: 2018-03-27
isn't 12.5 inches too low to sit and garden?
I use it for pulling weeds. Any higher and I would have to bend over too far. I am 5' 6".
Date published: 2018-03-27
Need one wheel replacement for my Step 2 Garden Hopper which I bought from Sears 25 years ago,, where I can purchase this wheel?
You can order replacement parts through our Customer Service Department. Please call toll free 1-800-347-8372 Monday - Friday, from 8-5 ET and we will be happy to assist you further with this request.
Date published: 2018-03-27