Garden Kneeler®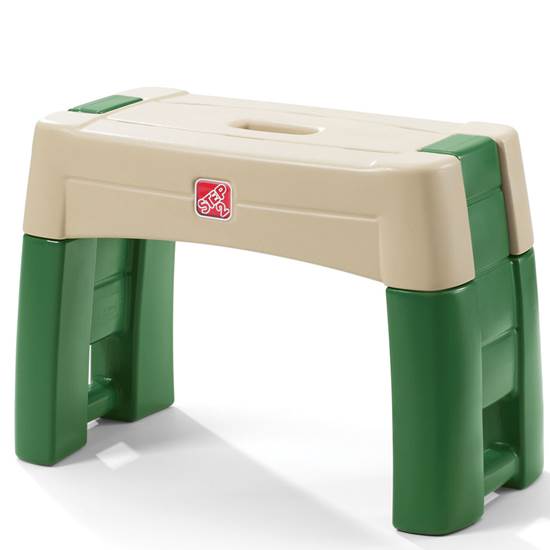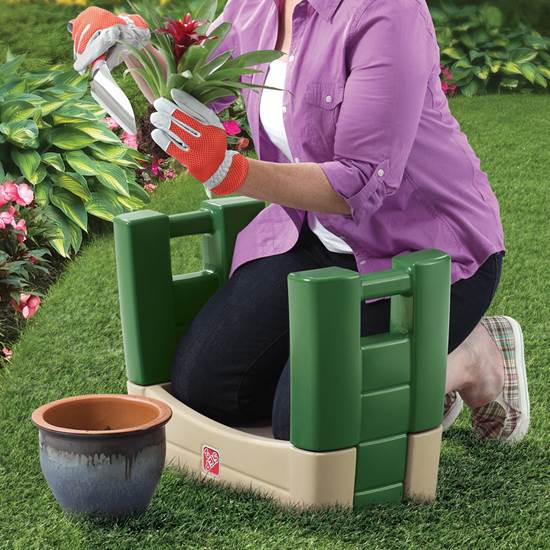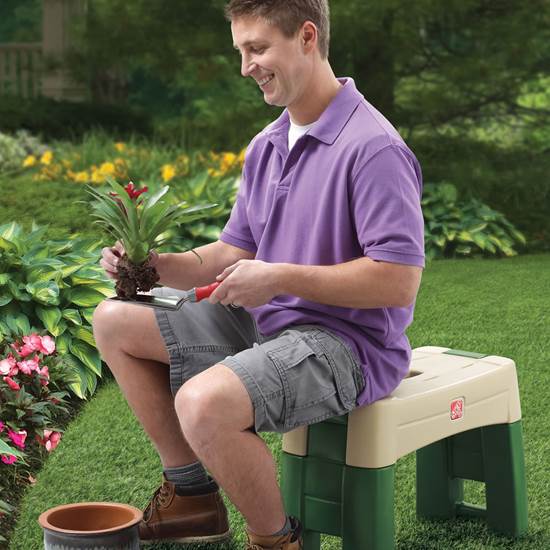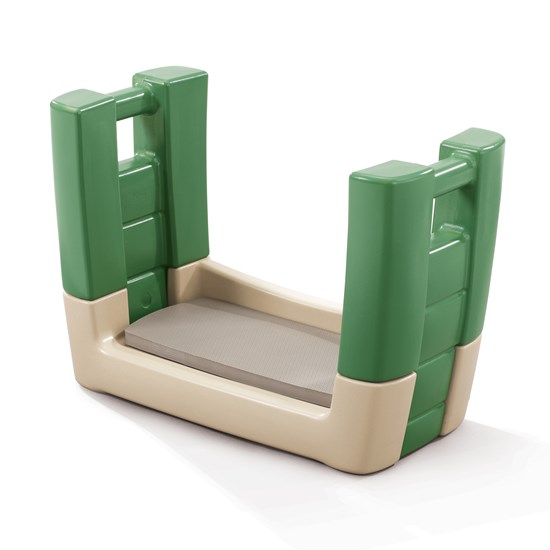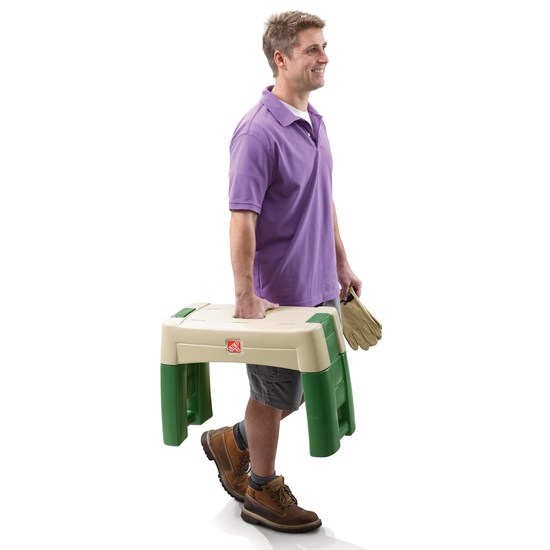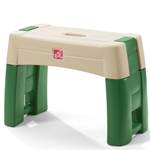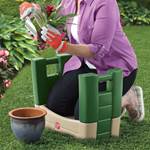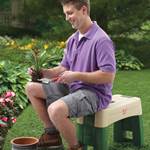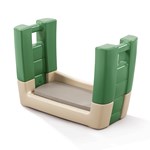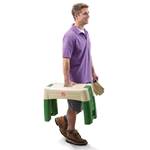 Garden Kneeler®
In stock
$29.99
+4.99 shipping (via FedEx)
Kneel in cushion comfort or sit at proper height for gardening chores with the Step2 Garden Kneeler.
IS THIS A GIFT? DON'T SPOIL THE SURPRISE!
This item ships with an image of the product on its outer packaging.
Rated 5 out of 5
by
Anonymous
from
Awesome Help Around the House!!!
I absolutely love my Garden Kneeler!!! I use it on a daily basis, inside and outside. I love that it is very sturdy but yet light enough to easily carry around. I have back pain alot so this kneeler helps me on many of my daily chores like cleaning, sweeping, dusting, and great if I just want a sturdy seat to rest upon!! Using outside it's great because I can weed my flower gardens, clean out my car, and avoid the pressure on my back! It is truly a life saver for me and it is so sturdy that I never fear slipping or falling when I use it. I would have one in every room of my house if I could - it is that handy!! The price was also great!
Date published: 2017-04-12
Rated 5 out of 5
by
GPap
from
New Use for Garden Kneeler
We absolutely love your Garden Kneelers. We have purchased several of these and keep an indoor and an outdoor one at our house and have given some to our married children. I have some spinal cord issues and I'm having trouble standing for very long so before buying an expensive shower chair I decided to try out the Garden Kneeler in my shower. It works great and saved me a bundle. You should produce a new version of this as a shower chair and maybe use a blue or gray color. I've heard there are certain plastics that will resist the growth of bacteria. If you offer any new idea rewards I would sure like to be considered. With our aging population, this could be a great seller for you.
Date published: 2016-11-19
Rated 5 out of 5
by
CabFo3
from
perfect Shower Bench
I dont use it for gardening. I got it because it fit my shower better than a real shower bench. Then when we re-tiled the shower we discovered we could stand on it and it fit better than a ladder or a shorter stool. I am only sad that we got grout on it, so it doesnt look so good anymore. That, and its green and doesnt match the tile.The only issue i have had is that somehow it got water in it from being in the shower, so it sloshes if we shake it. When i finally need to replace it, im getting exactly the same thing. I can only hope its not green when that time comes. If it is, i will still get it because i have found no better shower bench anywhere!
Date published: 2015-04-03
Rated 3 out of 5
by
1Barkeep
from
Well it's very comfy but...
If it wasn't for one problem, this would be the bestest garden seat ever! The height is perfect to sit and weed. I'm overweight and the seat is so sturdy and wide, I'm sure it could hold PLENTY more weight. The only problem is the first time it was left in the rain, it filled with water and there doesn't appear to be any way to get it out. So it's definitely not weatherproof. This makes it heavier for me to carry. I'm going to ask my hubby if he can drill a hole and then maybe I can plug it somehow. If it didn't collect water or if it came with a drain, it would be a 5 star seat! I think this would easily hold someone even over 300 pounds, it's solid!
Date published: 2018-05-22
Rated 4 out of 5
by
Glowmann
from
Looks like a turkle...works pretty good
I am 75 years old with bad knees. This is the best product for my particular needs that I have found. The upright seating position is excellent, it's a good height and not tippy, easy to stand up. The kneeling position needs to be higher so that my knees don't have to bend more than 90 degrees. I'm working on a modification to achieve that. The handles for standing from a kneeling position are pretty good, they haven't buckled when I put my full weight on my hands in order to stand so they must be pretty strong. A well built product, does what it's designed to do, I'm trying to tweak more out of it. Current use - working on basement floor.
Date published: 2018-01-02
Rated 5 out of 5
by
Bargain Hunter
from
Great Value
I have purchased two of these products, one for myself and one as a gift for my daughter. I have had mine for several years and I use it all the time. Outside I use it for the obvious reason, i.e. working in my flower beds, but I also use it to sit on when I scrub the wheels of my car. When I am not using it for anything else, I use it as a little table beside my lawn chair. Inside I use it to do various chores in the house. I liked it so much that I purchased one for my daughter for her birthday this year because she too enjoys working in her flower beds. This is an extremely useful product at a very reasonable price.
Date published: 2013-08-01
Rated 4 out of 5
by
Anonymous
from
Great for Lots More than Just the Garden
I use this work bench both in the garden, but even more so in the house for everything from a seat for painting from, hanging wallpaper, step stool, floors, etc. etc. etc., and my cat loves it to assist her jump to the kibble dish! It is always in use.I expect this One-Step to last as long (25years I believe I had the other one) as it is equally as sturdy if not more so. The main thing I miss is having handles to grab at each end, I personally preferred that rather than the handle in the middle as on the current one.I intend to purchase another one, since it is so handy and I want to keep one upstairs too.
Date published: 2010-09-14
Rated 5 out of 5
by
Anonymous
from
awesome gift for those with disabilities
My dad has had both knees and both hips surgically replaced. This bench helps him get up from kneeling by using it upside down, or on his knees (bench is upright, and his belly is on it, and he's leaning over it), working in the garden, scrubbing floors, picking up small things off the floor (spilled nail, screws, etc). He bought his first one 5 yrs ago or so, and when I found it's still available, I bought two more so he has an indoor and outdoor one. Well worth the money as a gift for those with special needs around the house or yard..he would not be able to have the same freedom and comfort without it!
Date published: 2007-10-29
Can u purchase a replacement pad for the kneeling side?
Apparently so, per above. Unfortunately, not on the web site. That would then say the price!
Date published: 2019-09-17
Bought Step 2 from local Ace this morning. It was on display and had no instructions. How do I switch from seat to kneel? Thank you.
All you have to do is turn it upside down, then it becomes a kneeler. You should have found a custom fit piece of styrofoam pad. Afix it to the underside where you will see two holes. You should find two push screws that go through the styrofoam and into the pre-drilled holes in the kneeler.  I love mine.  Good luck and God Bless you.
Date published: 2019-01-06
Do you sell any other garden kneelers? The quality of this one has gone down over the years and the latest one seems to start falling apart after one season. Legs pop out or plastic bends and crack at bottom of feet. the older models lasted 3-4 years.
I bought mine for my sister to use when she visits. Both her knees have been replaced and one hip so she needs something both comfortable and sturdy. The kneeler I purchased has met all requirements and expectations.
Date published: 2018-05-25
Is there any way to get the water out of this that collected inside the kneeler during a rain? Can it be disassembled and drained and then reassembled?
Please contact our Consumer Service Specialists at step2-company@step2.net or 1-800-347-8372 Monday through Friday, 8AM -5PM Eastern Standard Time and we will be happy to help you.
Date published: 2019-06-28
Is the opposite side, when kneeling, carved out/missing so you can comfortably kneel or do your legs hit the bench edge on that side while kneeling?
One edge of the opposite side is carved out/missing so you can easily and comfortably kneel without your legs hitting the bench edge. There is also a foam pad on the opposite side for comfort while kneeling. I have used one of these kneelers for many years and bought an additional one for my husband to use when we are both working in the garden. We use this kneeler for many other jobs around the house as well as in the garden. It is very sturdy unlike a metal fold up one I purchased a couple years ago.
Date published: 2018-03-07
Can this be used as a step stool? If so, what is the weight limit?
Step2 does not recommend using the Garden Kneeler® as a stool.
Date published: 2018-03-27
Are replacement cushions available for purchase?
You can order replacement parts through our Customer Service Department. Please call toll free 1-800-347-8372 Monday - Friday, from 8-5 ET and we will be happy to assist you further with this request.
Date published: 2018-03-27