Gather & Grille Playhouse™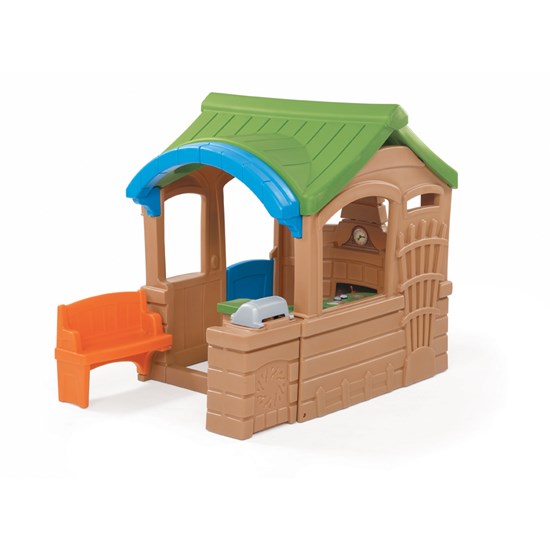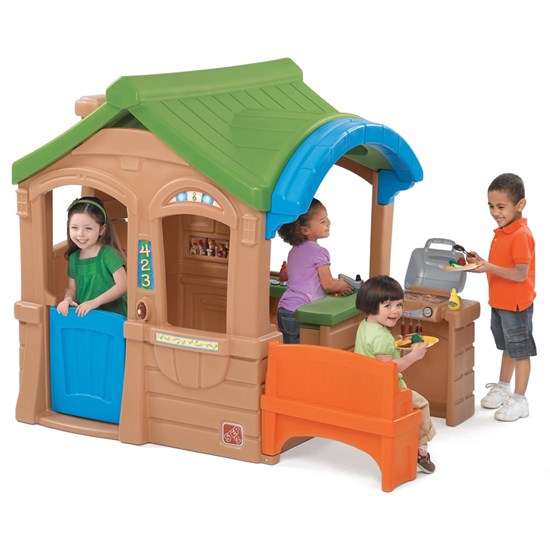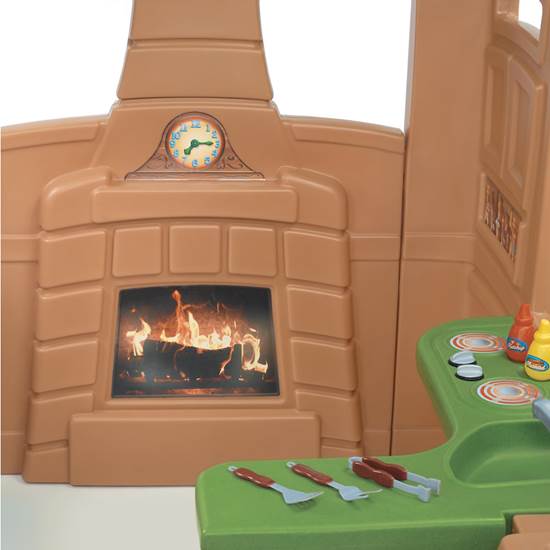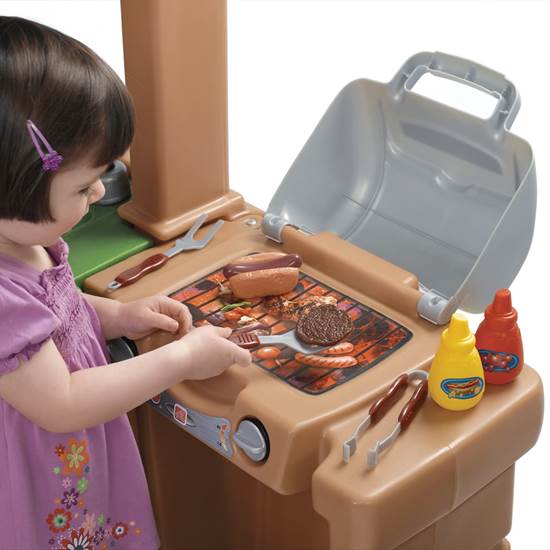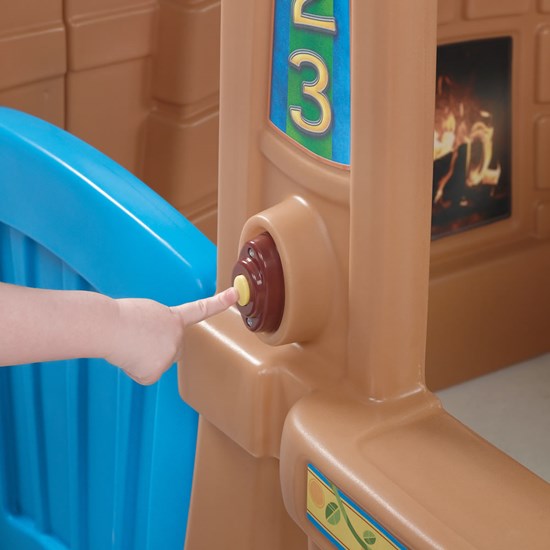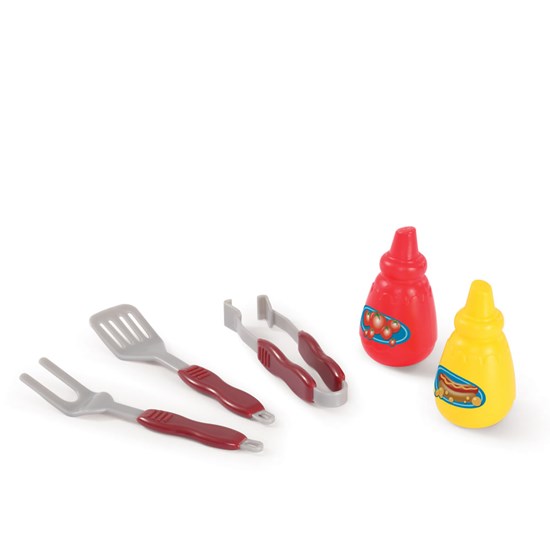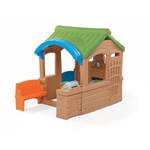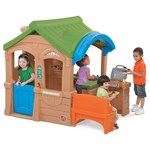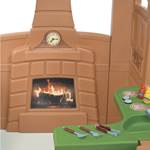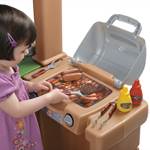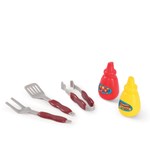 Gather & Grille Playhouse™
In stock
$549.99 $529.99
+$99.99 shipping (via Truck)
For a sizzlin' good time, this Step2 playhouse is perfect with its extended area for grilling and hanging out with friends!
IS THIS A GIFT? DON'T SPOIL THE SURPRISE!
This item ships with an image of the product on its outer packaging.
Rated 4 out of 5
by
MommyCali
from
Great playhouse!
I am very pleased with our purchase. It was SO easy to assemble! It only took my husband 30 mins to put it all together, and then I put the decals on. My girls are 3 and 1 and are very tall for their age. They fit great in the playhouse together and LOVE the grill and fireplace. The only issue I had was that there seems to be lots of places that there should've been more decals to make it more realistic. I hate putting them on, but it wouldve looked alot nicer on the inside if there were more. Also, the shiney silver screws are VERY visible and look a little tacky on the brown walls. Otherwise, my girls LOVE it and it looks great in our backyard!
Date published: 2010-07-02
Rated 5 out of 5
by
Young momma of boy and girl
from
Love love love
I have a 3 year old and a 14montg old and they both love this! I have never reviewed anything online before but I love this playhouse so much I had to! I researched a lot and thought this one fit what I had in mind. And it has exceeded expectations. It's large and has everything my kids imaginations can think of. With the sink, grill, stove and fireplace and bench. It's perfect for playing house or restaurant. Or having a picnic! If you have young creative kids, this is a summertime out door must! It was so easy to put together I put it together with my son in less than an hour. I'm a 32 year old mom. Definitely recommend.
Date published: 2016-03-20
Rated 2 out of 5
by
Tara
from
great house, terrible customer service
I have had this playhouse for 2 years, it was easy to assemble, and the kids enjoy playing with it. However, the stickers have worn off (again only 2 years old and stored inside for winter). I called customer service to see about replacements and after being on hold for over 20 minutes, they said it would cost $25 with shipping. This house cost $430, and does not replace the stickers? The woman on the phone was so rude and just said "that's right" and hung up on me. I always buy step 2 products because I do like the products. I however will not buy step 2 products again because of extremely poor service and their lack of standing behind their products. I will now look at different brands for our toys.
Date published: 2017-07-26
Rated 5 out of 5
by
Anonymous
from
great product
I have a 2 and a 4 year old. They absolutely love this playhouse! It entertains them for hours of outdoor fun. It was very easy to assemble , only taking about 40 minutes. I would defintly recommend this playhouse for children of all ages. I have 11 neices and nephews that are under the age of ten, and they all come over and play with this house. A great product. I also own a slide, and am about to order a desk. Step 2 is quality and worht the money.
Date published: 2010-12-28
Rated 5 out of 5
by
Tami S.
from
Hours of Fun!!
I purchased this playhouse for my daughter, who currently is our only child. She has a vivid imagination and has spent hours playing in her new playhouse with her dolls and make believe friends. We have the playhouse in our backyard -which is fenced in, so she is able to go outside while I am cooking dinner or in need of some "quiet" time on her own.The house is actually the perfect size for her. She is 5 years old and I can see her still being able to play and fit comfortably in the house for another 2 years or so.
Date published: 2011-03-25
Rated 5 out of 5
by
Gram, The Builder
from
The house that the grandmas built
This was a gift for a 2-year-old grandson that was assembled by his two grandmas (who had lots of laughs in the process and were very proud of the finished product). He loves it! The doorbell is a big hit as is the grill and the sink. This was an excellent purchase.
Date published: 2011-04-15
Rated 4 out of 5
by
Anonymous
from
VERY pleased!!!
I was very pleased when we finally got the house together. It was larger than I expected, and the openness makes for easy supervision. My daughter loves sitting on the bench and especially pushing the doorbell. A few cons, we had to be sent 2 additional doorbells before one would work, the half door doesn't truly stay closed (no matter how flat the ground is) and the stickers easily come off when wet. It also doesn't drain, AT ALL the plugs are useless. Does my daughter care about these things? Absolutely not. But it's good to point out for parents.
Date published: 2013-10-19
Rated 4 out of 5
by
Richard
from
enjoyable product
The carton needs hand-holds built in. The carton is a bit large to be handled comfortably without them. The attachment of the first piece of roof should be modified. The angles of the retaining screws are awkward and difficult ti install.
Date published: 2017-11-05
Do you sell replacement doorbell and grill cover? 
Please contact our Consumer Service Specialists at 1-800-347-8372 Monday through Friday, 8AM -5PM Eastern Standard Time and we will be happy to help you.
Date published: 2021-01-19
Hi, When will the gather & grill playhouse be back in stock?
We apologize but we are currently out of stock and backordered on this item and several products. We are now running limited production as we were previously shut down due to the COVID-19 environment and unable to produce at that time. Our current production has been limited due to social distancing guidelines. We do not anticipate having this item & other products back in stock until mid to late August. Please note this is an estimate as the timing could move back again based on demand, production schedule and retailer commitments. Continue to check our website daily for availability and updates. We apologize for any inconvenience.
Date published: 2020-08-07
Can this be used strictly outside?
The Gather & Grill Playhouse™ is designed for outdoor use.
Date published: 2020-02-19
When is the soonest I could have this playhouse delivered?
This playhouse ships via Freight Truck and depending where the item is shipped to this may take up to 10 business days to arrive. If you should need further assistance please contact our Consumer Service Specialists at 1-800-347-8372 Monday through Friday, 8AM -5PM Eastern Standard Time and we will be happy to help you.
Date published: 2019-12-16
Does it have a floor
Yes
Date published: 2017-12-28
Can this be purchased to use in a childcare facility?
We suggest checking with your local Health and Building Inspector to see if the Gather & Grille Playhouse™ meets the requirements in your area. You may also visit the following link and enter in the product number 800100 to view the Certificate of Compliance : http://www.thestep2company.com/coc/
Date published: 2017-08-17
Is it possible to purchase replacement decals for this particular playhouse?
Please contact our Consumer Service Specialists at 1-800-347-8372 Monday through Friday, 8AM -5PM Eastern Standard Time and we will be happy to help you with placing a replacement order.
Date published: 2020-07-01
Made in USA???
This product is made out of Linear Low Density Polyethylene. It is made in the USA.
Date published: 2018-03-27