Grand Luxe Kitchen™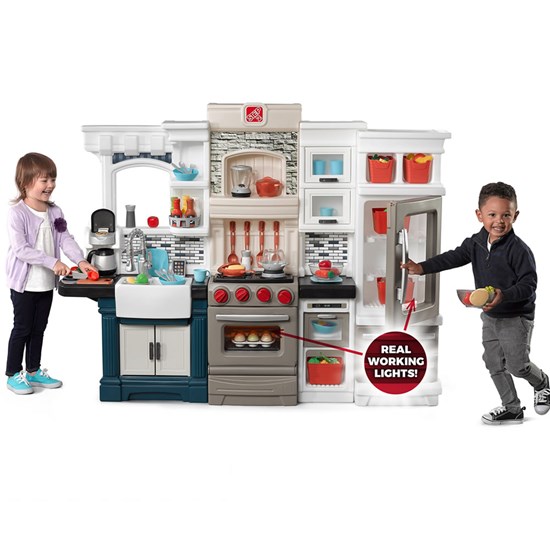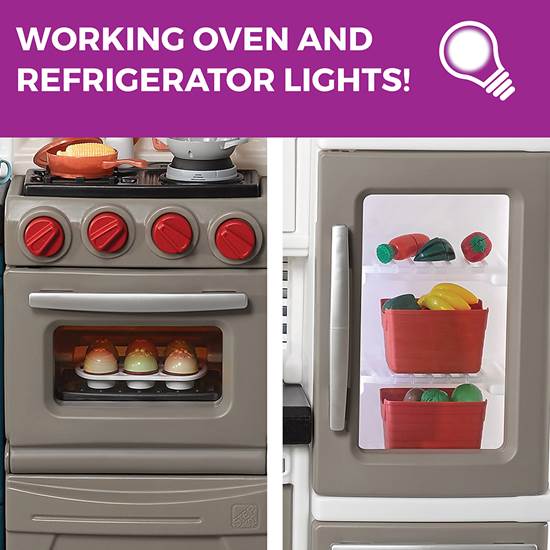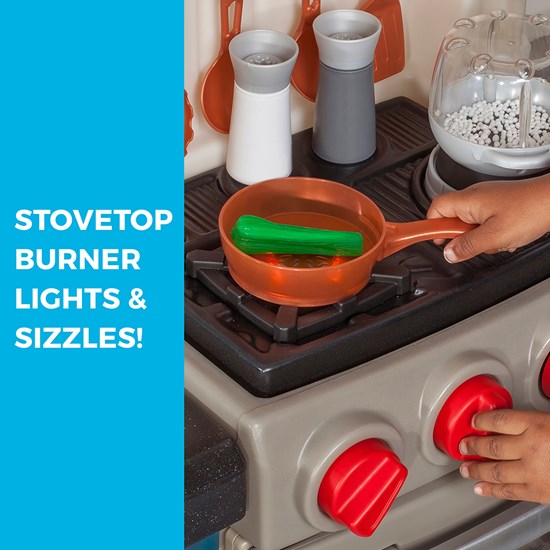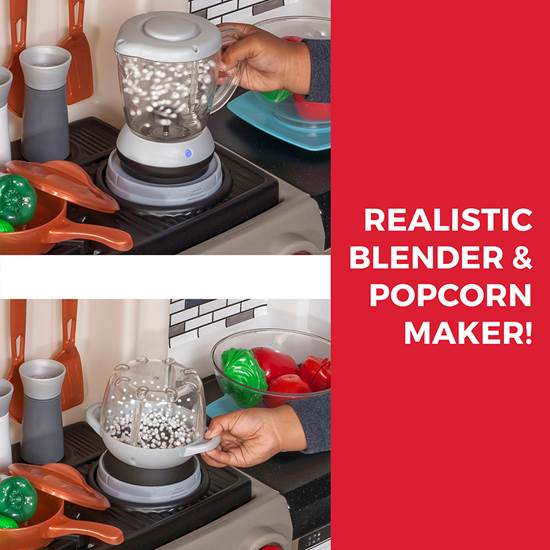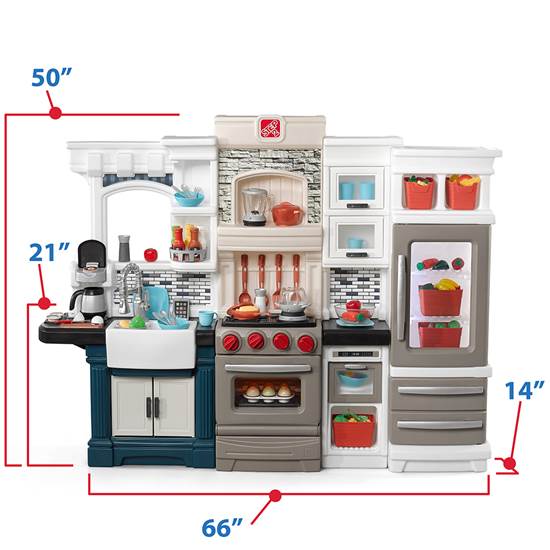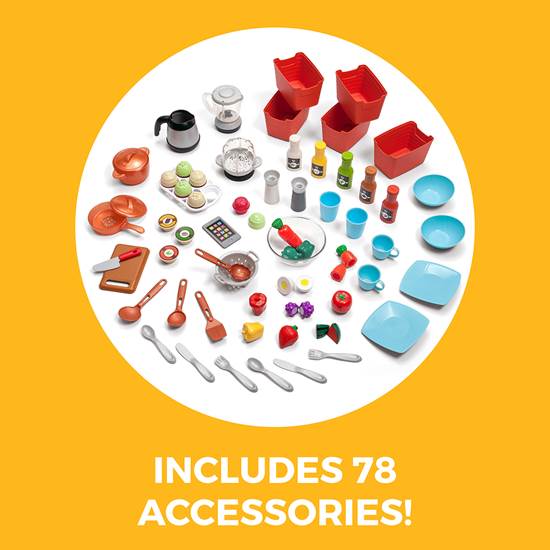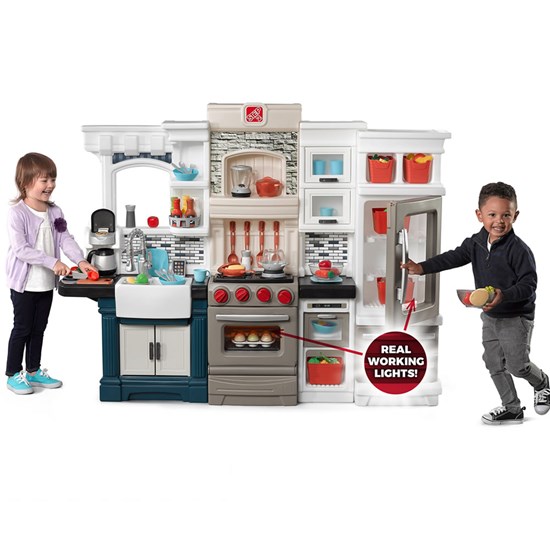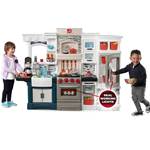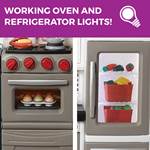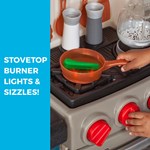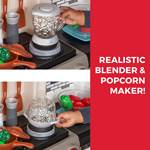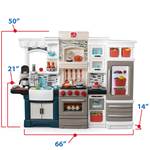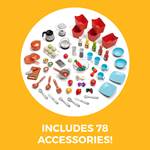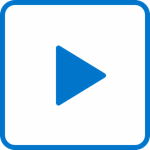 Grand Luxe Kitchen™
The Step2 Grand Luxe Kitchen™ brings luxury and fun social play into any playroom!
IS THIS A GIFT? DON'T SPOIL THE SURPRISE!
This item ships with an image of the product on its outer packaging.
Rated 5 out of 5
by
Kylie Prior
from
FINALLY A PLAY KITCHEN BIG ENOUGH FOR EVERYONE!!
This is my 3rd step 2 kitchen & most expensive...with three girls (4,5&9) regular kitchens are not enough space for everyone to play. This kitchen is very long, easily 4-5 children could stand side by side playing at one time. The height is taller, our last kitchen seemed way too short for my growing girls. My favorite parts of this kitchen & why I would argue the price is worth it - 1st the lights. The fridge lights up beautifully with a clear panel on the front using an LED strip. The fridge is twice the size of our old kitchen (Step 2 Heart of the Home Kitchen) & the storage is tripled, which was lacking compared to our prior set up. The oven lights are so realistic, LED again, it truly looks like something is baking inside. This oven is a GREAT LARGE size, much like a wooden kitchen. I have been frustrated with how small plastic kitchen ovens are - only fitting a small boiling pots inside. This oven is nice & big (with an included 6 pan cupcake step up), a moveable rack (middle or lower just like a real oven - nice touch) or removable for something really big. The oven door opens downward like a real oven - unlike most wooden or plastic kitchens. It does include a phone, a microwave and a coffee pot with pods, etc. During set-up I added plastic beads into the pod cups & spice bottles before snapping them together so when they are used they make noise which my girls LOVED & it improves play (they don't unsnap so you don't have to worry about them being able to get to them/choking). Salt & pepper grinders make noise when twisted, so do the red oven nobs. This set contains a blender which can be used on the grey burner - lighting up a blue light on the blender and spinning all of the white beads inside (also makes a blending noise). Second special item for the grey burner is a popcorn maker which glows orange from the bottom and actually "pops" the white beads inside up and down while making a realistic popcorn popping noise. I was worried the pans would not be able to be used on both burners because of this but they CAN be!! Both included pot & pan used on both burners make different noises - pot makes a boiling noise & the pan makes a frying noise & both have flashing red lights inside too. Set includes 10 HIGH QUALITY cut-able play foods, a large clear bowl & more to start playing right away. I do wish instead of having a dish rack in the sink they would have made it just a large farm sink & I wish the faucet was part black rope (as I have seen others do) instead of just plastic to add more play...those are the only two cons I see (totally personal preference). I did NOT want to spend this much - but now having this kitchen, I think its worth every penny (plus a bonus sale price). The size & quality were much needed for three kids. I WAS ABLE TO PUT THIS WHOLE KITCHEN TOGETHER WITH JUST A SCREW DRIVER - NO PROBLEM. If you have a drill of course it will make set-up easier and faster but you can do it with just a screw driver. The holes are not pre-drilled but indented (if they were pre-drilled then the screws would not be able to grip the plastic holding the pieces together) the screws have a pointed tip so once you apply a bit of pressure and start turning they easily thread into place without much muscle at all. Trust me it can be done, I have three Step 2 products in my home right now that I put together with a screw driver, its easy. I (MOM) was able by MYSELF to complete this kitchen in about four hours. The directions were easy to follow, no missing pieces and the final product is fantastic. I recommend using blue painters tape to mark each piece with its corresponding letter from the beginning of the directions before you get started - this saved me a lot of time and frustration because I didn't have to keep flipping to the beginning of the directions to see what piece they were referring to, making set-up a breeze. After putting my last kitchen together I was very disappointed with how small it seemed compared to the photos online (especially the stove) but I am VERY happy to say I had no disappointment with size once this kitchen was complete. My three girls can all play at one time with plenty of space. This kitchen came in ONE LARGE BOX when I picked it up at ToysRus. The box was so big it would NOT fit in my trunk or backseat (even with seats folded down) but I was able to cut the box open and take the pieces out - placing them in the trunk & backseat (small parts, accessories, etc where all bagged so no worries of lost items) successfully. Just a tip incase like me you don't have a truck!! I hope this detailed review helps other parents, I know I want to know EVERYTHING when I am on the hunt for a product for my kids!!! FYI : I would consider adding some velcro to the stove and fridge shelves (they are not secured so kids can move them around, but my little ones ended up frustrated when they would move or fall). You could also screw them in the back of the shelf (their are two holes on each side but you would have to use your own screws but that will mean they would not be moveable). A++++ Kitchen all around, I HIGHLY recommend this kitchen to anyone but especially those who have more then one child.
Date published: 2018-01-08
Rated 5 out of 5
by
allier
from
HUGE play kitchen
We ordered this play kitchen for my son's second birthday after he played in a similar one at a friend's house. I love that even though he's on the young side, he can still enjoy the kitchen, and there's features that he will understand and enjoy as he gets older. Right now he loves the blender and the popcorn maker. The accessories are great. Our only "complaint" is that the adhesive that keeps the velcro on the cuttable food isn't very good, some of our velcro circles have fallen off, but we just used a super glue to reattach. I love that everything has a place, so the kitchen doesn't look cluttered. It did take some time to put together, maybe 3 hours total, but it is very sturdy and installation was pretty simple. There's only one place (by the coffee pot) that I feel like there was an issue because the screw is visible and the plastic around it is uneven. It doesn't hurt the function and can't hurt kids (I checked) so it's no big deal. All in all, this was worth the price IF you have space for it. it's HUGE!
Date published: 2018-05-17
Rated 5 out of 5
by
Mom of 2
from
Really cute kitchen!
We had the old kitchen that looked like it was straight out of Little House on the Prairie and I love Step2 for mocking it in their video. Too funny! This new design is super cute and didn't take too long for hubby to put it together. My daughter just turned 5 and it's the perfect size for her. She loves making popcorn and coffee for me and baking cupcakes. Super fun kitchen!
Date published: 2018-05-17
Rated 5 out of 5
by
Sem143
from
Finished product is fantastic
Huge kitchen with so many extras! Pain in the rear to put together, but is more time consuming than anything else. One word of advice: if you aren't the type who can figure out directions based ONLY a picture (there are no words with the instructions), you may want to find a friend who is more able to figure it out to give you a hand.
Date published: 2018-04-12
Rated 5 out of 5
by
Doni
from
Excellent Kitchen
High quality my daycare children love it along with my grandchildren!!!
Date published: 2018-04-30
Can not get refrigerator light to come on
I would try to make sure that where the batteries are placed that the metal coil is totally in the center making connection with the metal of the battery. Some times you have to bend them up with a screw driver and then put the battery in or bend them down with a screw driver. The metal coil needs to be making full contact with the metal circle of the battery to work. Next, make sure that the battery pack is turned on - it does have an on/off switch located on it.
Date published: 2018-01-09
The blender stopped working. The little balls don't fly anymore. How can I get a replacement? I called the number and there were 32 callers ahead of me. I can't wait that long on the phone. Purchased this for Christmas, broken already.
Please contact our Consumer Service Specialists at step2-company@step2.net or 1-800-347-8372 Monday through Friday, 8AM -5PM Eastern Standard Time and we will be happy to help you.
Date published: 2018-01-04
What is the height and length if this kitchen
The Grand Luxe Kitchen dimensions are as follows : 50.00 inches in Height X 65.75 inches in Width X 14.00 inches in Depth
Date published: 2018-11-16
What  is the difference between this and the elegant edge kitchen? Are the dimensions different? Thank you!
The Grand Luxe Kitchen™ and the Elegant Edge Kitchen™ are the same dimensions and have the same functions, the only difference are the colors.
Date published: 2017-11-27
How long does the assembly take to completely build the whole play set? Curious about how much time it should take my husband and I building it in Christmas Eve?
My husband and I assembled it in about 3-4 hours. You must have an electric drill or electric/battery operated screw driver to drive the screws through the plastic.
Date published: 2017-11-13
We just purchased the grand luxe kitchen and have four pieces and can't figure out where they go. Is there somewhere where I can send a picture?
We will be happy to assist you with your Elegant Edge Kitchen™ . Please email us at step2-company@step2.net.
Date published: 2017-11-08
We just got the step 2 grand luxe kitchen and wondered if the refrigerator light was supposed turn on when the door was both opened and closed or just when you close it?
The lights of the refrigerator for the Grand Luxe Kitchen™ are activated when the door is closed.
Date published: 2017-10-30