Grand Walk-In Kitchen™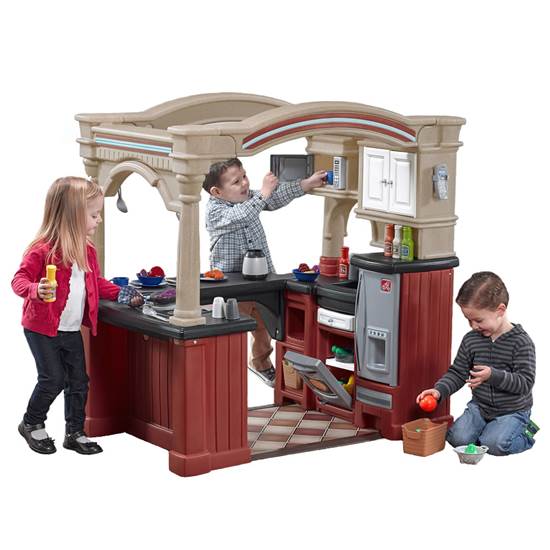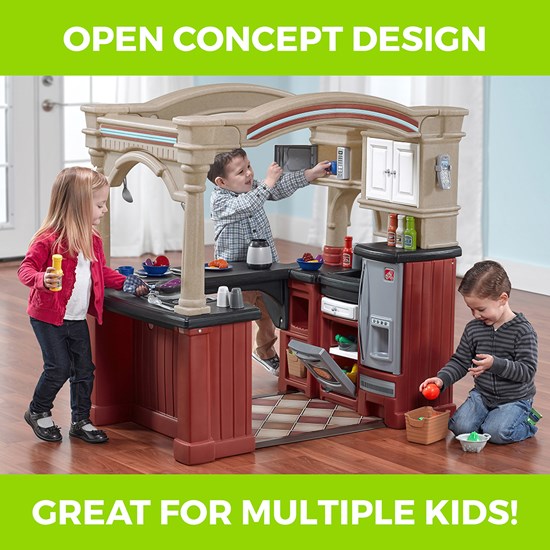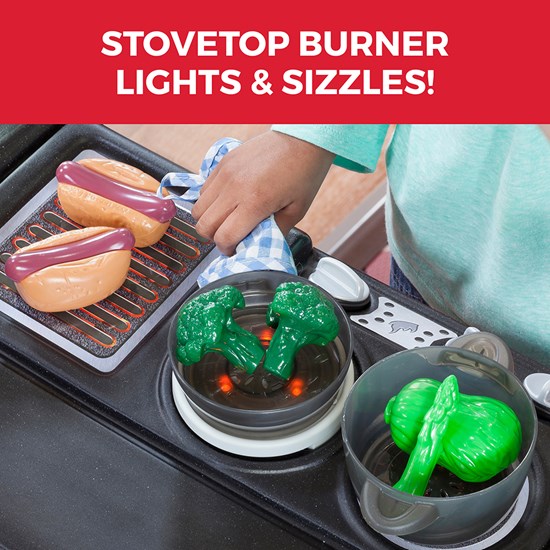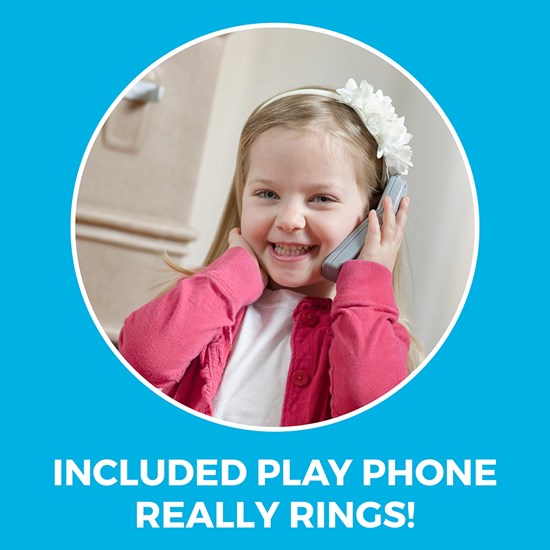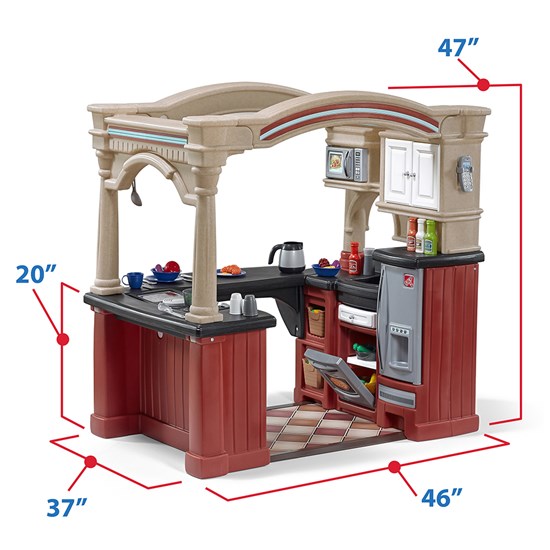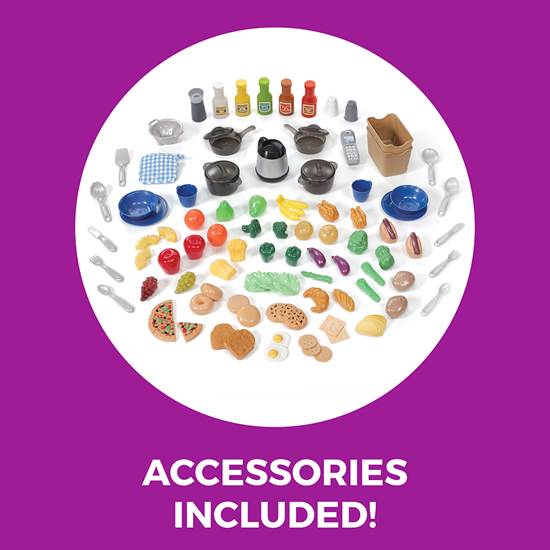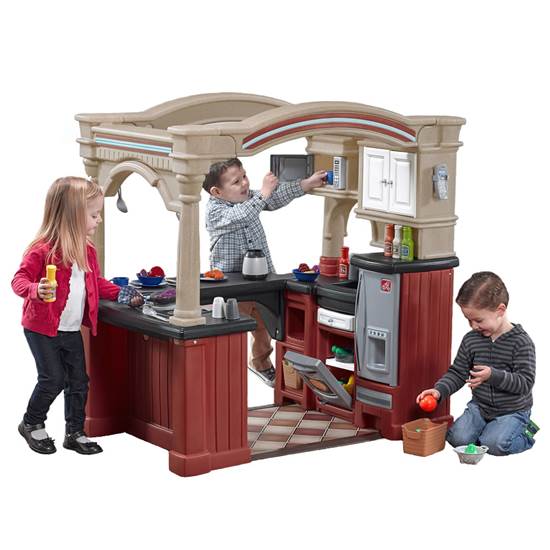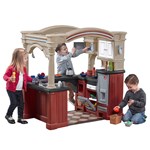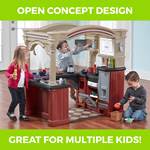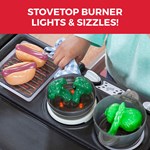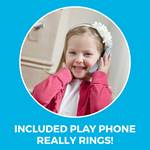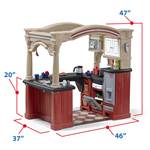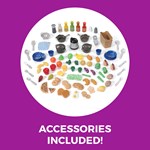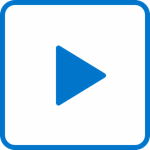 Grand Walk-In Kitchen™
In stock
$289.99 $279.99
+$12.99 shipping (via FedEx)
This deluxe kitchen playset has tons of realistic features and stations for kids to play together!
IS THIS A GIFT? DON'T SPOIL THE SURPRISE!
This item ships with an image of the product on its outer packaging.
Rated 5 out of 5
by
Datiebugs
from
Completely safe and so much FUN!
First of I would like to say thank you to Step2 for letting me test this item as part of the Step2 toy tester program. My two sons have had a blast playing with the walk-in kitchen. Every detail into making this play set is outstanding. Right down to the smallest detail to make it seem real with real kitchen design to the nutritional play food with the kitchen. The children will most likely be familiar to see fresh fruits and vegetables rather than cakes and cookies. A perfect balance nutrition. This kitchen is the perfect play toy from one child to many children. Thank you Step2.
Date published: 2015-09-19
Rated 4 out of 5
by
LaKeeda
from
Very Nice!
This kitchen was a Christmas gift to my granddaughter. She and her 2 year old brother loves playing in it daily. There is so much room and numerous activities in the Grand Walk-in Kitchen. My only suggestion would be to make this a little bit taller. My four-year-old granddaughter plays in this but has to bend over pretty far to open the refrigerator. If it was about 3 inches taller it would be ideal. However, I would buy it again as it provides hours of fun for the little ones.
Date published: 2018-01-03
Rated 5 out of 5
by
Mom for toys
from
Perfect choice
This kitchen is adorable, good size for all ages, very durable and easy to esemble. The children LOVE it!!! The only thing we did different so that our 5 year old wouldn't hit her head anymore when she walks in the kitchen is we took off the top piece that over hangs over the entrance of the kitchen and it worked perfectly! It didn't effect the stability of the kitchen at all.
Date published: 2018-12-29
Rated 5 out of 5
by
Colette
from
All 6 of my kids love this!
We got this for my 2 & 3 year old for Christmas. I put it all together myself the night before. Was very easy to follow the directions.They were extremely excited to discover what they got in the morning. Not only do they love it, but my 6 months old, 4 year old, 5 year old and 7 year old love playing. I have high hopes for this next baby and any more to come to be able to play and love it. It seems to be able to handle my rough and rowdy kids well.
Date published: 2016-12-27
Rated 5 out of 5
by
Stephanie S
from
Love...Love...Love !!!
Of all the Christmas gifts our granddaughter received, this kitchen is her favorite. She plays for hours making dishes for everyone in the family. She loves all of the functioning parts...cabinets, drawers, fridge and microwave that really open and close, The kitchen is very roomy and can accommodate multiple children. I read reviews that said it was hard to assemble, but we didn't have any issues - it took about an hour. I love that it comes with plenty of food, cookware, silverware, etc.
Date published: 2020-01-12
Rated 5 out of 5
by
Anonymous
from
Nephew loves it!
I purchased this as a gift for my nephew. It shipped very quickly and arrived quickly as well. One of the boxes was damaged in shipping but did not result in any damage to the contents. I'm told assembly was not too bad. It took about 45 minutes. The instructions were "wonky" but they were able to figure it out. Nephew loves it. He's obsessed with it and wants to play with it all the time. Really happy with my purchase.
Date published: 2017-01-18
Rated 4 out of 5
by
Anonymous
from
Great fun for kids for hours.
I'm the proud parent of 16-month old triplets (yes, 3 babies, one time) and these kiddos love their new grand walk-in kitchen. A lot of family thought they'd be too young for a kitchen but it's amazing the amount of pretend play they engage in already. They love to stir their pots and coffee pots (obviously still figuring some of this kitchen stuff out) but it's very fun when they run over to have me try their new concoction of pineapple grape soup. A few of the accessories are probably too small for them at this age (potential choking hazards) but those are all bagged separately so just make sure you look through and decide what's appropriate for your kid. My one complaint is that the assembly is a bit of a pain as many of the holes weren't pre-drilled and we were lucky to have a power drill to take care of that. Overall, the assembly took about an hour. Overall though, it's a great purchase and will offer hours of entertainment for your kids. It really captivates mine in a way no other toy does.
Date published: 2017-01-03
Rated 2 out of 5
by
Anonymous
from
Kid lives it, but Im disappointed
The plastic in certain parts of the countertop is far from level. I was also very disappointed in the fact that this model did not have the outdoor grill I remembered seeing pictured. Turns out the model with grill is $10 more...why even make this model? Of course I want the outdoor grill for only $10.
Date published: 2017-01-16
Is it possible to purchase step 2 by itself? I have step 1,but step 2 is missing.
Regretfully boxes are not sold separately. They are only sold in pairs (1 & 2).
Date published: 2021-01-18
TRYING TO DECIDE BETWEEN GRAND WALK-IN KITCHEN & GRAND WALK-IN KITCHEN WITH GRILL. IS THE STOVE TOP/BURNER AREA LARGER ON ONE W/O THE GRILL? DO MICRO BUTTONS MAKE NOISE OR PUSH ON EITHER MODEL? PHONE? BURNERS/GRILL? WHAT ARE MAIN DIFFERENCES IN 2 MODELS?
Both the Grand Walk-In Kitchen™ and the Grand Walk-In Kitchen & Grill™ feature an electronic phone and stove top burner. The Grand Walk-In Kitchen & Grill™ features an electronic grill. Neither of these have push button microwave key pads.
Date published: 2020-12-11
Can someone tell me the exact length and width after installing
46 inches length and 28 inches deep. This is an excellent kitchen! Highly recommended 
Date published: 2020-11-12
How do I purchase the microwave and stove realistic keypad for this kitchen
Please contact our Consumer Service Specialists at step2-company@step2.net or 1-800-347-8372 Monday through Friday, 8AM -5PM Eastern Standard Time and we will be happy to help you.
Date published: 2020-08-18
does it come apart easily for moving around? Or once it is together it doesn't come apart?
Please open the following link to view the instructions of the Grand Walk-In Kitchen : https://images.step2.com/media/pdfs/4977KR_assembly.pdf
Date published: 2020-11-18
Do you sell the sticker for the GRAND WALK-IN KITCHEN™. The sticker are pilling off and i would like to get a new set to replace them
I do not have the stickers. I used mine. My apologies for not being much help.
Date published: 2020-08-02
What's the height of the beam? Our granddaughter is 8 and turning 9 in a few days and about 90 cm tall. Will this Kitchen set be appropriate for her?
The entrance to the Kitchen is 109 cm. The top is open. My granddaughter is only 1, and only stands while holding on to the kitchen cupboards. She LOVES this kitchen and spends hours opening and closing the doors and cupboards. Im not sure if it would entertain a 9 yr old or not? My last granddaughter was cooking in my kitchen at the age of 7, making pudding and baking cupcakes with my help. Its very cute, well made. I also purchased the country kitchen for my granddaughters house. It has everything this one has but smaller and open.
Date published: 2020-07-25
What are the dimensions inside the oven with the door closed. Trying to buy pans to fit in there?
The oven dimensions are 5 1/2 inches deep and 6 1/2 inches wide. Oven has a movable  slide out shelf in the middle. 
Date published: 2020-06-24