Grand Walk-In Wood Kitchen™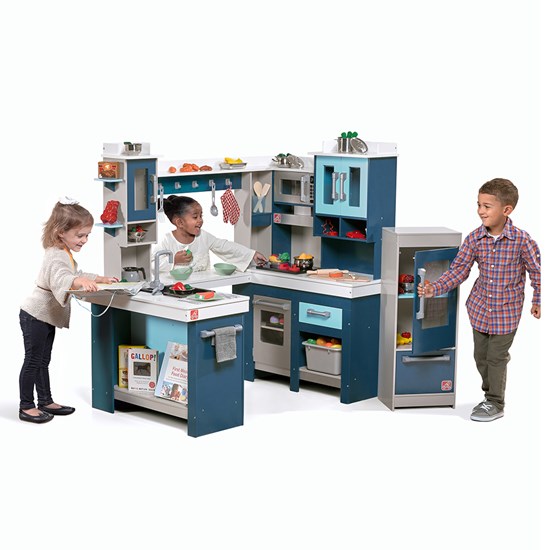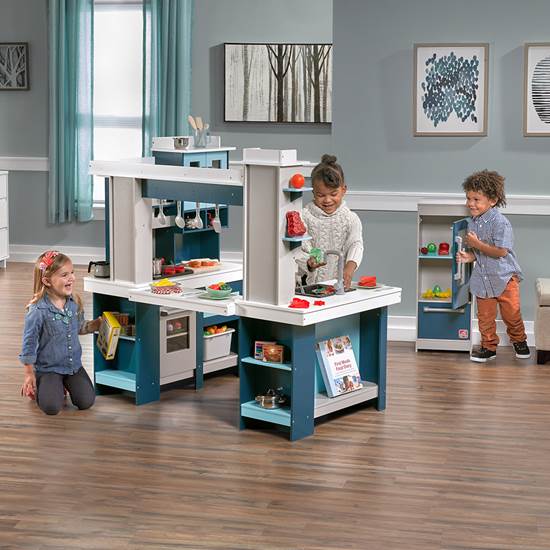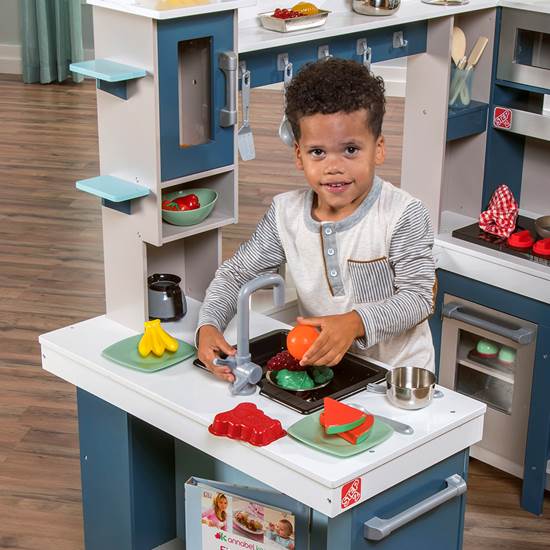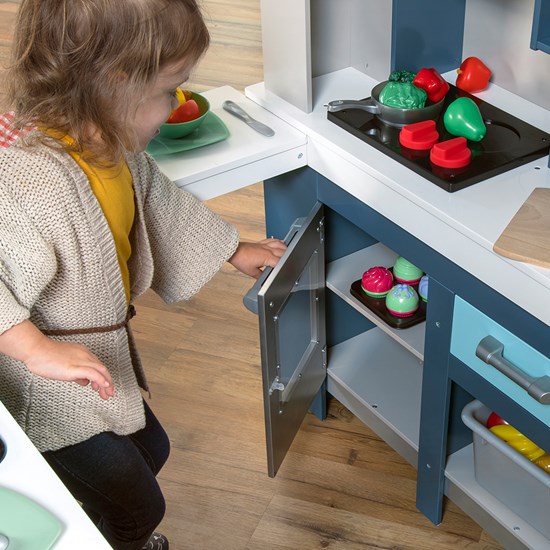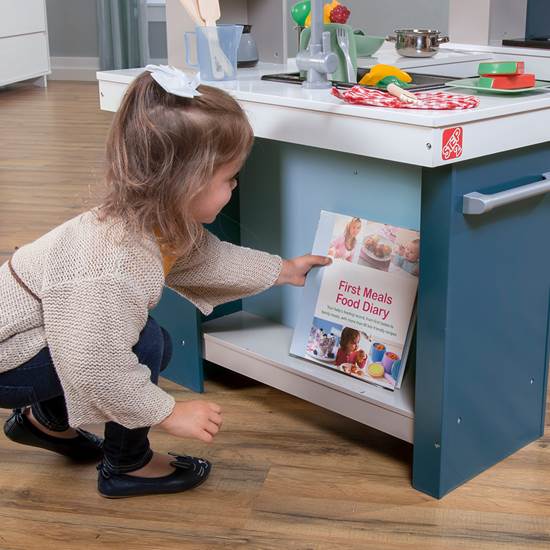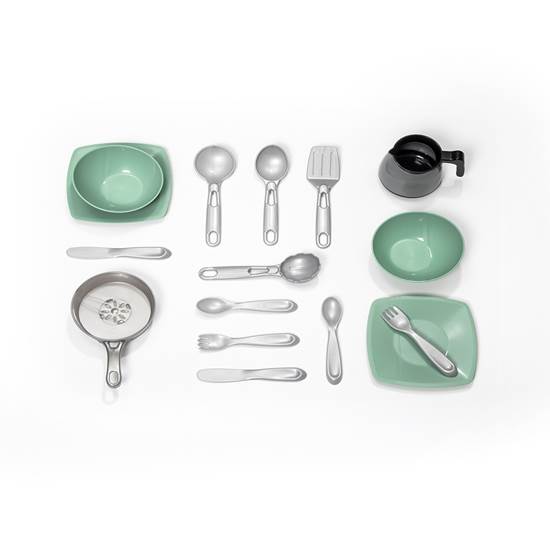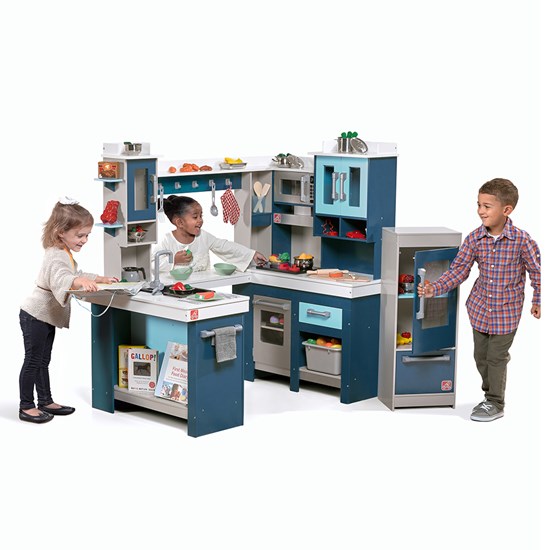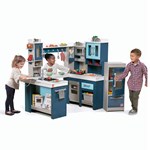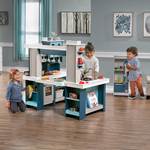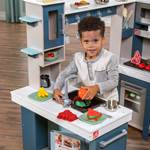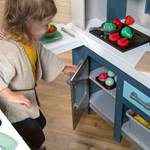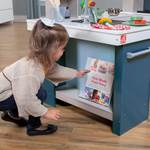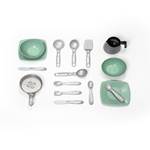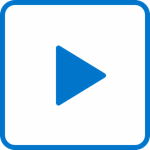 Grand Walk-In Wood Kitchen™
Out of stock
$299.99 $289.99
+4.99 shipping (via FedEx)
Be the envy of every little chef with this extra-large and luxurious wooden play kitchen by Step2.
IS THIS A GIFT? DON'T SPOIL THE SURPRISE!
This item ships with an image of the product on its outer packaging.
Rated 2 out of 5
by
jordbc
from
cute but not worth it
This kitchen took more than 3 days to put together. I thought the other reviewers were exaggerating. It was so time consuming we had to hire someone to finish the assembly (which ended up costing almost as much as purchasing the product!) The very thin particle board cracked and broke several times when screwed together. The wrong size screws were provided and didn't reach through the holes often times and several screws were missing...This was after we painstakingly marked each piece, part and screw when taking it out of packaging. We also had to use wood glue to keep the shelves sturdy.
Date published: 2018-01-14
Rated 5 out of 5
by
Zoe135
from
Fantastic Play Kitchen
My girls absolutely love this kitchen. They spend hours everyday pretending to cook and grocery shop. The kitchen is really sturdy, well made and looks great in our playroom. There are lots of shelves and storage areas outfitted in the kitchen, but I think that there is an opportunity to think through the layout of those. There was really only one option for set up against a wall. Flipping around the design a bit would likely solve this and offer more adaptability. The kitchen did come with a lot of parts and there were a lot of steps to put it together. There are few accessories that are included, so be prepared to purchase plates and play food additionally.
Date published: 2018-01-15
Rated 4 out of 5
by
Bethie985
from
SO cute! Very complex assembly.
This kitchen is terrific. The eyes on the stove light up which my son loves. It's the perfect proportion for my 3 year old. The colors are great for a boy or a girl. Most kitchens I have seen are very feminine or sad colors like brown and grey. This is a great turquoise and dark blue. It comes with a few dishes, a pot, some cooking utensils and coffee pot. There are many places to put your food and dishes. The instructions say 4-6 hours assembly time. It took us around 7.5 and we are pretty competent with you assembly. If it was easier to put together I would give it 5 stars. Thank you to Step2 for letting me test this item as part of the Step2 toy tester program.
Date published: 2017-12-21
Rated 5 out of 5
by
Kthrash
from
WE LOOOVVVEEEE THIS KITCHEN!!!
This kitchen is EVERYTHING!!! We've had two other wooden kitchens in the past, but none like this. Mind you assembly was pure madness, that's the only downfall i can point out, and it took us almost 10 hours to put together. Once it was done however, the durability and sturdiness was outstanding. My 4 year old is the reason we received this kitchen, but my almost 7 and 9 year old have enjoyed playing with it as well. The little stove tops light up, and the space to store kitchen food and pots is a plus for me. My daughter was ecstatic about the fact that she has a separate fridge to walk and store her food in. I know we will have years of play with this kitchen. Thank you Step2 for allowing my littles to test this kitchen out. If you're on the fence about ordering DONT BE!!! It's worth every single penny!
Date published: 2017-12-26
Rated 5 out of 5
by
MFreer
from
Best Kitchen on the Market
Before buying I read a lot of review. The conclusion was that it was hard to build, but a great kitchen. I bought this for my 17 month old, and we are expecting #2, I wanted something that would be large enough for them to play with together.Get our moneys worth. I am very happy with the product!!! Yes it is harder to build than Ikea furniture. :) The trick is to pay attention to the numbers on the wooden pieces, and if you see some numbers missing use your deductive reasoning, and the images of what that number should look like. It took us about 7 hour from start to finish, doing it a little at a time during nap times.
Date published: 2019-01-09
Rated 2 out of 5
by
Mary
from
Not a high end kitchen
The instructions to put this together were easy to follow. It took me about 6 hours with some help. I am handy and do have an understanding of woodworking. However, I started making a list of wood pieces that split or became misshaped when assembly, and I quickly lost track. The paint even chipped off before they got a chance to play. I'm very disappointed. For an almost $300 kitchen, it should be much sturdier.
Date published: 2018-01-05
Rated 5 out of 5
by
Angela83
from
Biggest kitchen set we could find!!!
We really love this kitchen and all the counter space. We painted the blue sections though. My only issues are that microwave and oven seem alittle short to fit a plate or a pan in and still close the door. It did take a while to put together but we did it in sections over a period of a couple nights so it wasn't to bad.
Date published: 2018-07-28
Rated 1 out of 5
by
3squishes
from
Not worth the money
My husband and I have installed 2 Ikea kitchens in houses faster than it took to complete assembly of this product. The stickers that are used to track each piece, easily come off and stick to the packaging which you throw away. You are left trying to size up one of the more than 100 pieces to see which one the poorly laid out instructions need next. On top of that the pre drilled holes are spaced incorrectly so we had to either pre drill new holes for the dowels or go without. Some screws are so large compared to the piece of wood you are inserting it into, that the wood bulges on either side of the screw, and before you ask, yes, it is the right size screw the instructions call for. It took us 7 hours and we still haven't finished the fridge yet. The paint on some places is also smudged. My husband doesn't care as it faces the wall but it is brand new. There is no way for this price point that it should be this bad. I would stick to the plastic.
Date published: 2017-12-26
Do you anticipate this being back in stock to purchase and receive by Christmas 2019? Is mid November and am really wanting to purchase but it's sold out everywhere. 
I believe this question would be much better answered by Step2 rather than them sending this out for previous customers to answer. Even though I purchased this last year, Step2 did not offer me employment or make me privy to their manufacturing and shipping timelines, nor offer me extra information as to who I would contact in China to follow-up directly on this question.   Good luck to the person asking this question, and if you do end up purchasing this item please allow yourself plenty of time to assemble it, along with a counseling session for you and the other people who work on assembling this because you will probably need it. After the attempted assembly, remember the precious children you purchased this item for and that one day the assembly process will be a distant memory (but not quite yet after 11 months). 
Date published: 2019-12-13
Do you know if this will restock before christmas? Thanks!
We appreciate your interest in the Grand Walk-In Wood Kitchen™ and hope to have this back in stock at the end of November.
Date published: 2019-11-18
How high is the surface of the countertops?
The countertop of the Grand Walk-In Wood Kitchen™ is approximately 23" high.
Date published: 2019-08-08
Are you expecting the wooden grand walk-in kitchen to be back in stock before Christmas?
Yes, we do expect to offer this kitchen very soon.
Date published: 2019-03-18
Drawer— is there a way to keep it from just coming out? 
yes - it has a built in stopper so it does not come out completely - believe the slot that it slides on only permits it to extend partially.
Date published: 2019-01-25
Are the dishes with this set available for order? 
Hello Angela loved your kitchen design can you tell me what type of paint did you use spray or can hope to hear from you 
Date published: 2019-01-12
In which country(ies) is this made?
The Grand Walk-In Wood Kitchen™ is manufactured in China.
Date published: 2018-12-17
Is it possible to move this product to different area of the house Or would it be too hard?
It is heavy and comes in sections. It can be moved but is very heavy. It is also very durable kids climb on it and it holds up well.
Date published: 2018-12-15
What type of wood is this item made out of? Does it contain MDF? Is the paint non toxic?
The Grand Walk-In Wood Kitchen™ is made of MDF and the paint is a water based-non toxic paint.
Date published: 2018-11-29
What ships in box 1 and box 2?
Please contact our Consumer Service Specialists at 1-800-347-8372 Monday through Friday, 8AM -5PM Eastern Standard Time and we will be happy to help you.
Date published: 2018-09-17
Bought this kitchen and they're are no directions in the two boxes. Is there a way to get them online????? Very important . Need to build by Friday for my son
Please open the following link to view the Grand Walk-In Wood Kitchen™: https://images.step2.com/media/pdfs/7948KR_assembly.pdf
Date published: 2018-09-13
Can you paint this to change color?
Short answer yes. Long answer is I wouldn't do it because things may not fit properly together. Everything is a very tight fit. Plus each item is labeled with a number and that is how you put it together. Take that number off to paint and your never putting it together. 
Date published: 2018-09-12
Can this playset be made in any other color?
The Grand Walk-In Wood Kitchen™ is offered in the color shown only.
Date published: 2018-09-10
How can I order replacement parts? This was a birthday gift for my daughter and it was missing the knobs for the stove.
Have to carefully looked underneath it. I thought mine were missing too.
Date published: 2018-03-21
What is the true color of this kitchen? The stock photo's look like its turquoise, however, in the one review the customer photo's look true blue.
The Grand Walk-In Wood Kitchen™ is mostly teal blue with accents of a robin's egg blue, silver/gray and white.
Date published: 2017-12-14
Does this come with play food?
No it does not.
Date published: 2017-12-13
Dimensions of each piece assembled?  Counter height?... Looks very low in the pics
The dimensions of the Grand Walk-In Wood Kitchen™ are as follows : 46.75 inches in Height X 50.00 inches in Width X 33.00 inches in Depth The height of the counter top is 22 inches.
Date published: 2020-04-26
When will this be back in stock?
Unfortunately, we do not have an ETA as to when the Grand Walk-In Wooden Kitchen will be available.
Date published: 2017-12-12
Will this be available to purchase from other retailers?
Walmart has it that's where I purchased mines from!!
Date published: 2017-12-10
What are the dimensions of the set-length, width, depth? Also height to counter?
Not put together until Christmas 
Date published: 2017-12-12
Where can I purchase the cupcake set shown?
Please view the following link : https://www.step2.com/parts/p/web-accessories/ here you will find accessories offered on our website.
Date published: 2017-12-04
does this kitchen make any sounds?
The Grand Walk-In Wood Kitchen™ features a "glass" stovetop that lights up when turning the stove knobs that make a clicking sound. The rest of the sounds are powered by imagination.
Date published: 2017-11-22
What are the dimensions of the inside of the fridge and oven? Length and width? 
Dimensions of the refrigerator and oven to come soon. We apologize for the delay.
Date published: 2019-10-29
Will this be shipped in time for Christmas?
The Grand Walk-In Wood Kitchen will be available with plenty of time to arrive in time for Christmas.
Date published: 2017-11-20
Will this be available and delivered before the Christmas holiday?
We expect the Grand Walk-In Wood Kitchen™ to be available within the next week.
Date published: 2017-11-20
How many kids can be in the u shape part of the kitchen as once. (Toddler size) 
The Grand Walk-In Wood Kitchen™ will allow 4-5 toddlers to engage in play at one time.
Date published: 2017-11-16
Does this kitchen set have any sounds or lights like the plastic ones?
The Grand Walk-In Wood Kitchen™ features a an electronic faux glass stove burner that lights up , activated by the clicker knobs.
Date published: 2017-11-15
Must this be paid for In one payment or two?
Unfortunately, our checkout system does not have an option for a payment plan.
Date published: 2017-11-14
Can this unit be placed in a corner or is it not designed to be in a corner up against a wall? 
The Grand Walk-In Wood Kitchen™ is designed to be open on three sides. The oven and microwave section may be closed off by a wall if you choose.
Date published: 2017-12-12
Will it be possible to ship in Canada?
Step2 Direct does not ship directly to our Canadian Consumers. A wide range of Step2 products are available at Amazon.ca, Costco.ca, Sears.ca, ToysRUs.ca, and Walmart.ca. Additionally, Step2 products are available at Toys "R" Us Canada, Target Canada, Costco Canada and Wal-mart Canada retail locations. You can also contact: Mini Circuit at 416-240-1988 Play Value Toys at 613-722-0175 We appreciate your interest in Step2
Date published: 2017-11-08