Great Gourmet Kitchen™ - Lavender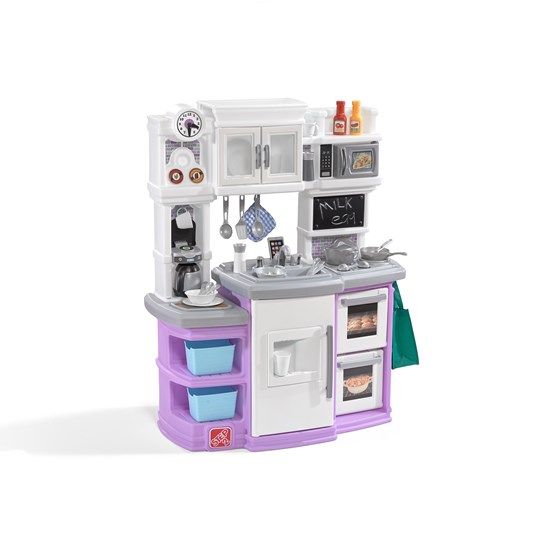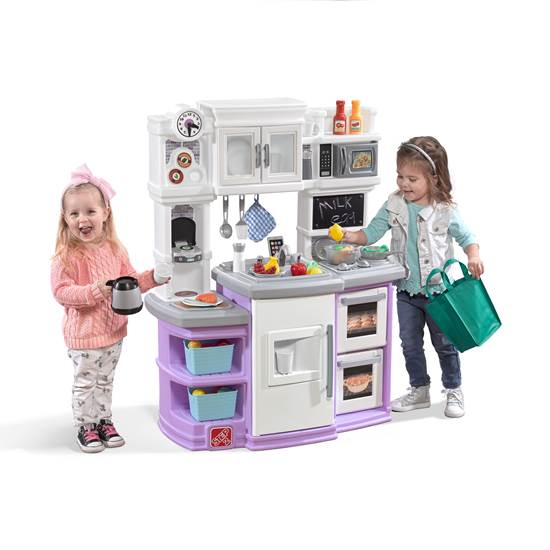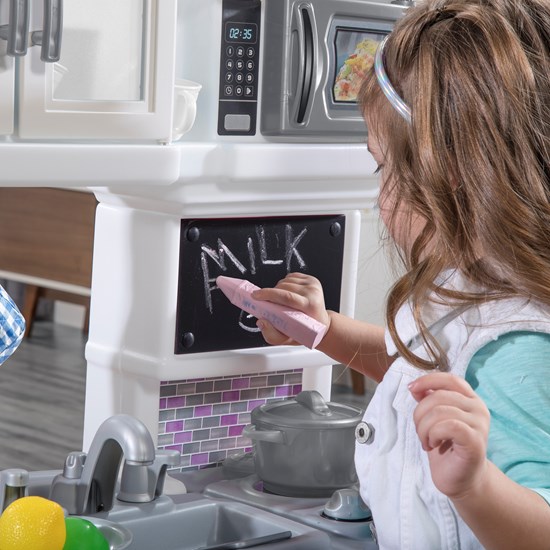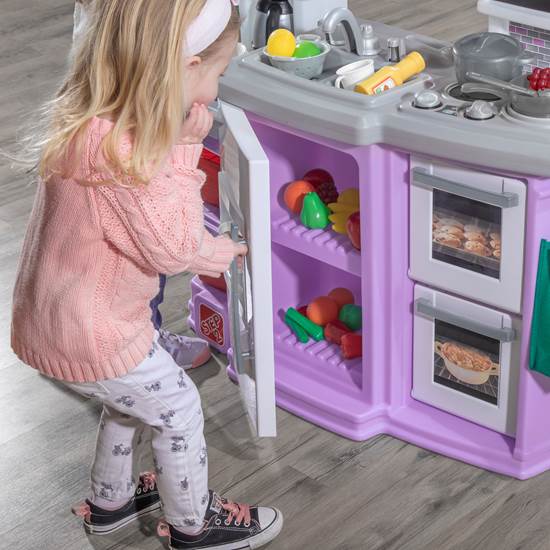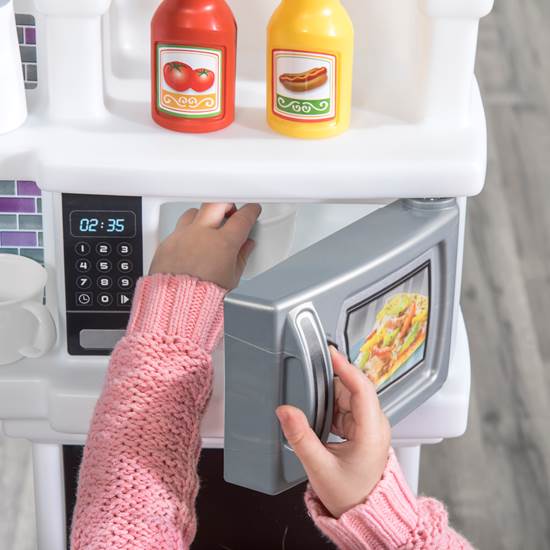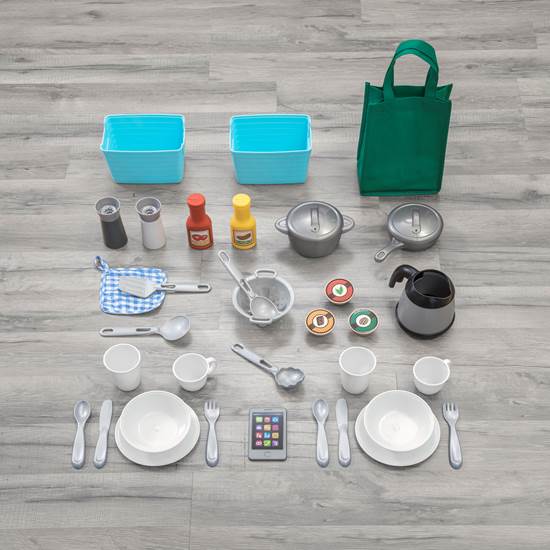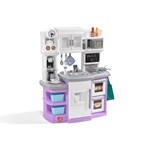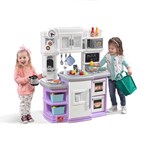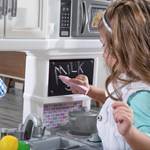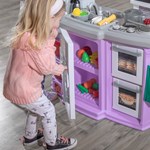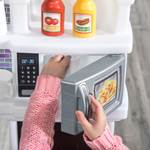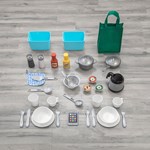 Great Gourmet Kitchen™ - Lavender
In stock
$129.99
+4.99 shipping (via FedEx) When will my item arrive?
Little ones will be cookin' up smiles for years to come with the Great Gourmet Kitchen – Lavender by Step2.
IS THIS A GIFT? DON'T SPOIL THE SURPRISE!
This item ships with an image of the product on its outer packaging.
Rated 2 out of 5
by
Working Dad
from
INSTRUCTIONS
Have had kitchens like this for my children before. The products are great HOWEVER providing me color instructions or atleast a way to download color instructions as there are a few steps that are unclear and the B&W are less than friendly. Maybe even a how to video so that someone doesn't get stuck for 30 minutes on a step and possibly mess the product up.
Date published: 2018-05-12
Rated 5 out of 5
by
Mama Kitty
from
Engaging, Modern Playkitchen
Thank you to Step2 for letting me test the Great Gourmet Kitchen in Tan as part of the Step2 toy tester program!I can't say enough good things about this adorable and very modern play kitchen! My son loves to help me in the kitchen so I've been looking for some time now for the perfect little kitchen for him to practice his culinary skills in and this one's it! It even has a great pass-through window so he can play with his little sister aka his official imaginary food taste tester.I love how sophisticated it looks - it actually matches my kitchen finishes which makes it feel more like an extension of the real kitchen for my son. He has so much fun with all of the realistic details like the incredibly cute coffee pod system, the smart phone and its dock in the countertop, and the stove top which lights up and makes frying or boiling sounds depending on whether you place the pan or the pot on it.Speaking of accessories, this kitchen comes with some great ones, starting with the "copper" pot and pan (with lids), an assortment of matching cooking utensils which can hang from a multitude of well placed hooks, a kid-sized potholder for taking things out of the double oven or microwave, a complete dish set for two including "silverware", and salt and pepper shakers that you can grind.The knobs on the stove click when you adjust them and there are loads of other great details like a moving faucet in the double sink, adjustable clock hands for learning about time, a little chalk board perfect for showing "Today's Specials" and a pretend water dispenser on the fridge door.There is also a tonne of storage - despite the small footprint of this kitchen (which makes it perfect for small spaces), this kitchen packs a big punch. It even comes with two removable storage bins - which my son loves to fill with "fresh" fruit and veggies - and an adorable little green reusable shopping bag so he can pick out his own produce when we go out to the Farmer's Market!
Date published: 2016-08-18
Could you please provide the shipping box dimensions & weight? Wondering if it would qualify as checked luggage on an airplane. Little girl in the Caribbean wants a play kitchen very badly. Thank you.
The Great Gourmet Kitchen™ packaging dimensions are as follows: 23.75 x 22.5 x 33.75 in / 60.3 x 57.2 x 85.7 cm and the weight is 31.5 lbs / 14.3 kg .
Date published: 2020-01-11
what is the floor to counter top height ? my kid is 45 inches tall, will it be good to play with, for 2 years or so ?
Sorry, don't have the exact measurement but my granddaughter is 4.5 yrs and tall for her age & my grandson will turn 3 in two months (average height) and it's the perfect size for both to play together and they absolutely love it! In fact after researching many kitchens, I chose this one specifically because it was one of the tallest ones and I didn't want my granddaughter to have to bend over it to play with it.
Date published: 2020-01-09
What is measurement to top of highest part of counter
The highest part of the counter top to the Great Gourmet Kitchen™ is approximately 23".
Date published: 2019-11-06
I am missing the stickers, the clock and the ones for the front of the stove, the ones around the coffee and such. I am also missing the chalk board and accessories. Do you guys sell this stuff separately?
We were missing stickers too.  Just call the 1-800 number on the instructions and they will mail for free.  Received in a few days.  It helps to have registered the product so they have all of your info in the system too.
Date published: 2019-08-18
One of the top tabs on the cabinet door on the play kitchen broke. Can I order a replacement?
Please contact our Consumer Service Specialists at 1-800-347-8372 Monday through Friday, 8AM -5PM Eastern Standard Time and we will be happy to help you.
Date published: 2019-04-30
What writes on the chalk board. We tried with regular chalk and it won't write on it. Thanks!
Please contact our Consumer Service Specialists at 1-800-347-8372 Monday through Friday, 8AM -5PM Eastern Standard Time and we will be happy to help you.
Date published: 2018-10-19
How do you get the stove top to "turn on"? New batteries are in.
Please contact our Consumer Service Specialists at 1-800-347-8372 Monday through Friday, 8AM -5PM Eastern Standard Time and we will be happy to help you.
Date published: 2018-09-27
Is everything in the picture included?
The Great Gourmet Kitchen™ arrives with everything in the images other than the food.
Date published: 2018-08-26