Great Gourmet Kitchen™ - Light Pink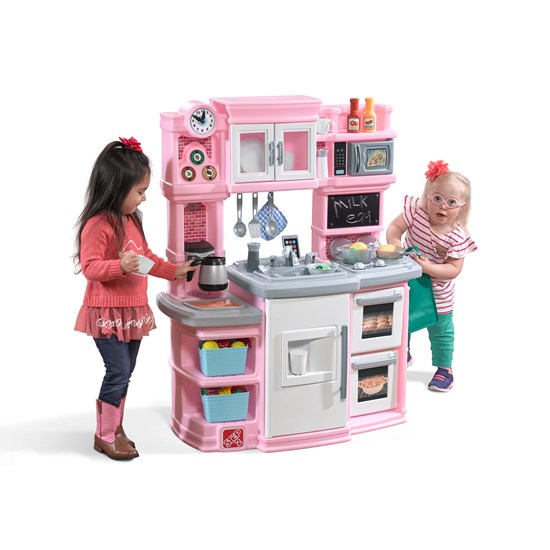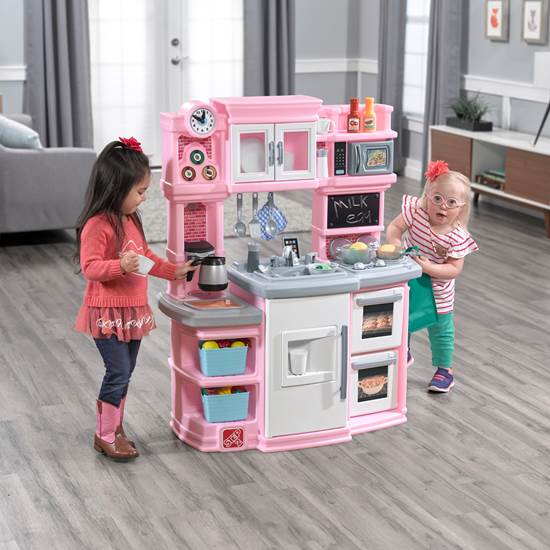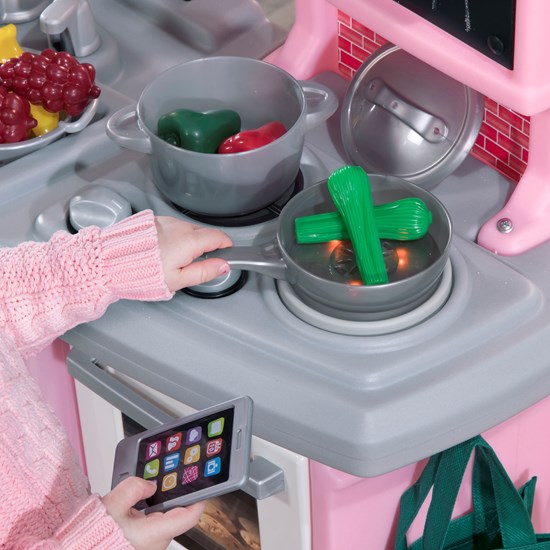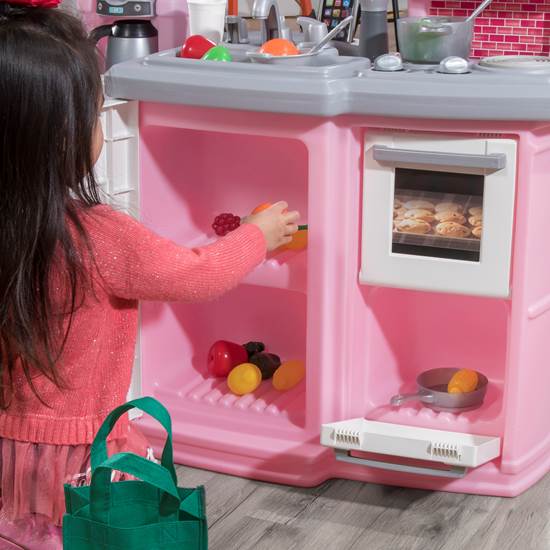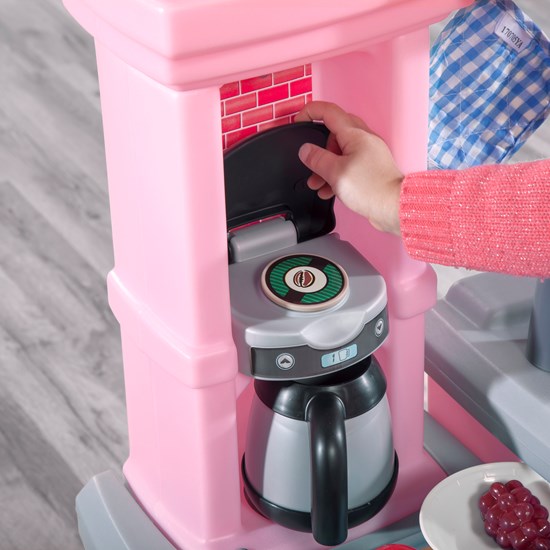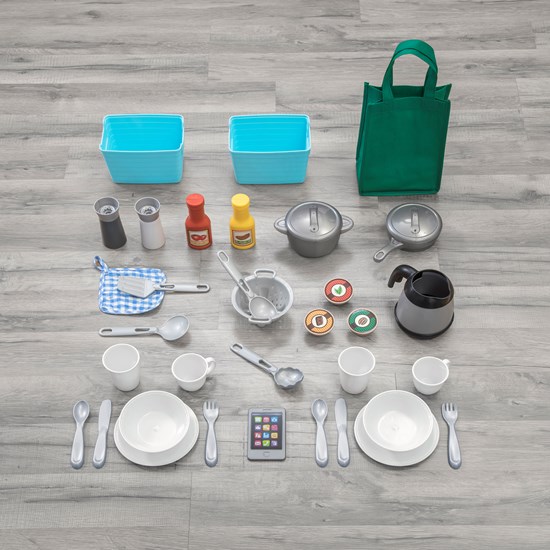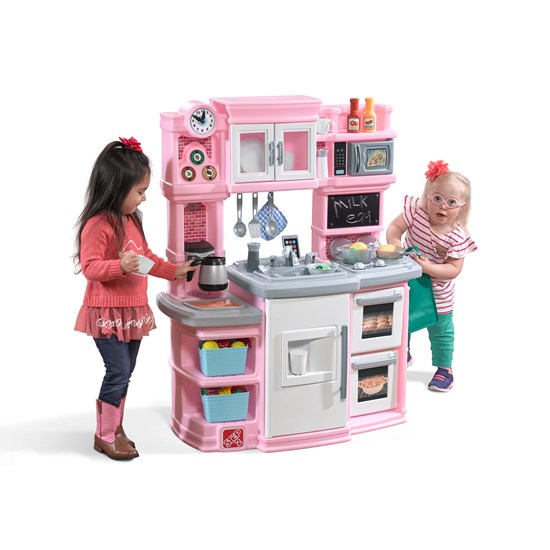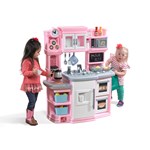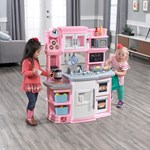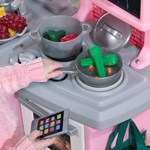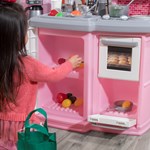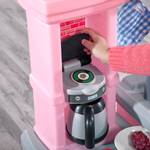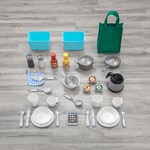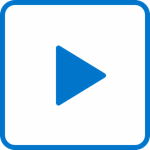 Great Gourmet Kitchen™ - Light Pink
In stock
$159.99 $149.99
+$12.99 shipping (via FedEx)
Turn your child's playroom into their very own restaurant with the Great Gourmet Play Kitchen by Step2.
IS THIS A GIFT? DON'T SPOIL THE SURPRISE!
This item ships with an image of the product on its outer packaging.
Rated 5 out of 5
by
Life With 4 Crazy Girls
from
Perfect Play Kitchen
I received this set as a ambassador for Step 2 - I have 4 girls who were so eager to open the set as soon as it arrived on my door step. It took me about 1 hour to completely put it together with 8 tiny hands helping me. It was super easy and instructions were clear.Everything is so realistic including the coffee maker and pods which were my girls favorite as they see mommy make coffee every morning so they couldn't wait to make mommy the 1st cup of coffee. Spatulas, Spoons, even a colander. 43 pieces in total with bins and a recycling bag teaching kids all about recycling.Chalk board to personalize and a bubbling stove your kids will definitely have fun with this kitchen set.
Date published: 2016-08-08
Rated 5 out of 5
by
Ali54
from
Super fun kitchen!
We got to try the Great Gourmet Kitchen as part of the toy tester program. It took me about an hour and a half to put together, but it was the first time I've ever assembled anything! My 7 year old with Down syndrome and 3 year old daughters love it! Their favorite feature seems to be the keurig, they are always asking me if I'd like a hot chocolate. I like the storage for fake food and the cabinets above the sink to teach them to "put away the dishes" Great design for 2 kids to play at a time as well! My girls have so much fun making "dinner" I would highly recommend to anyone looking for a kitchen!
Date published: 2018-05-17
Rated 4 out of 5
by
Momofboys
from
Great little kitchen!
Thank you Step2 for sending us this Great Gourmet Kitchen to test as part of the Step2 toy tester program! This is a great little kitchen! Loved that it came with a little of everything to get started playing. We did buy more play food. I have two boys 4 and 1.5 they both love "cooking" for everyone. My 4 year old said his favorite part is the chalk board. It was easy to put together with an electric screwdriver, took me about an hour but it would have been faster without the littles "helping"! My main complaint is that one of the ovens won't stay closed that part came pre put together so I know it's not my doing. My kids love all of the modern features that remind them of mommy's kitchen like the Keurig like coffee pot with the pods and the play phone that resembles an iPhone. They also enjoy the pots make boiling and sizzling noise with lights! Overall it's a great kitchen not too big while still allowing room for both kids to play at the same time. One thing I would change is instead of two ovens one should have been a dishwasher so they can learn to clean up too!
Date published: 2016-08-21
Rated 5 out of 5
by
Anonymous
from
Excellent Toy Kitchen!
My daughter absolutely loves this play kitchen and she plays with it for hours at a time! Her favorite features are the cups, pots & pans and utensils that come with it, especially the play iPhone and mini-keurig machine (so cute). I love that she can use her imagination and "pretend cook" like Mommy or Daddy. I would definitely recommend this for any child over 2, and it is especially great for my daughter who will be three in November. My only feedback is that it would be even better if it included some play food to go with it, even if you had to purchase additional food separately. The only other real setback we had was that the assembly instructions lacked some detail and it took a good 45 minutes to assemble. Other than that, it is awesome!
Date published: 2016-08-06
Rated 4 out of 5
by
KP_NJ
from
Good, inventive product
Bought for my 18 month old granddaughter, it will be a good product for a few years. She's way too short for many items, which is great because she's using what she can and even started in a week to do pretend play. I like the sounds the stove makes and the pods for the coffee maker that are perfect for her puzzle-fitting learning. I was pleased that there are pots and plates, I was disappointed that there were no vegetables or fruit - nor did I see any note that these were not included. I would have bought it at the same time. I think this should be clearer.
Date published: 2020-05-11
Rated 5 out of 5
by
PRicanBarbie
from
Fun for ALL ages!!!
Fun for kids and Adults! This was a nice upgrade from an small Dora the Explorer kitchen set that was passed down from a friend and everyone loves it! All the kids are having a great time with it. It only took two teens and a toddler to put it together. Favorite feature has to be the coffee pods. They're always brewing up some tea, coffee or hot cocoa. The kitchen is a great size too, big enough for multiple kids or two teens and a tiny toddler lol to play on together. I highly recommend the Great Gourmet Kitchen thanks so much
Date published: 2020-09-28
Rated 5 out of 5
by
Mandy123
from
so cute
This great gourmet kitchen from Step 2 is too cute. I love the color of the lavender, and how the top is white and the middle is grey. This has a chalk board that you can wrote on, and reuse over and over again. This has doors that open as if it is a real kitchen. There are hooks and utensils that you can use to hang them. Has a few bins as well for storage. Has lights and sounds, and was not hard to set up and has hours of fun. Nothing like making memories and with this you sure do!
Date published: 2020-09-22
Rated 5 out of 5
by
irisrubi
from
Super cute
This is a very pretty and sturdy kitchen, it comes with clear instructions and it makes the assembly much easier, you will only need a screwdriver, also you will need to apply the stickers yourself. Everything of this kitchen set including the accessories are pretty nice quality and enough to keep my son busy and entertained. The accessories are just enough, the coffee maker, pans and dishes are perfect. My kid loves just loves to play with this kitchen set!
Date published: 2020-10-02
Can I buy just the accessories for this kitchen? 
There are accessories available. To see availability and cost please visit our website at www.step2.com and click on replacement parts. This will take you directly to the area to buy replacements accessories for the kitchen.
Date published: 2021-01-19
How tall is it and do it requires batteries
The Great Gourmet Kitchen™-Lavender stove top burner requires two "AA" batteries (not included) and the dimensions are as follows: 46.00 inches in Height X 39.00 inches in Width X 16.75 inches in Depth
Date published: 2020-11-17
Do the microwave buttons beep or is just a sticker?
Just a sticker.
Date published: 2020-09-03
The picture shows a pink kitchen but says it is tan in the box, how do I get a pink kitchen like this?
Please contact our Consumer Service Specialists at 1-800-347-8372 Monday through Friday, 8AM -5PM Eastern Standard Time and we will be happy to help you.
Date published: 2020-08-11
Can you please restock some kitchens. The kids are counting on you especially during the pandemic.
Thank you for contacting The Step2 Company. We are currently out of stock and backordered on this item and several products. We do not anticipate having this item & other products back in stock until late - June. Please note this is an estimate as the timing could move back again based on demand, production schedule and retailer commitments. We are now running limited production as we were previously shut down due to the COVID-19 environment and unable to produce product. Continue to check our website daily for availability and updates. We apologize for any inconvenience.
Date published: 2020-06-16
Do you need a power drill to assemble or just a Phillips head screw driver ?
We only used a flat head, not a drill. P.S. our 18 month old daughter LOVES this and plays daily.
Date published: 2020-02-10
Could you please provide the shipping box dimensions & weight? Wondering if it would qualify as checked luggage on an airplane. Little girl in the Caribbean wants a play kitchen very badly. Thank you.
The Great Gourmet Kitchen™ packaging dimensions are as follows: 23.75 x 22.5 x 33.75 in / 60.3 x 57.2 x 85.7 cm and the weight is 31.5 lbs / 14.3 kg .
Date published: 2020-12-04
what is the floor to counter top height ? my kid is 45 inches tall, will it be good to play with, for 2 years or so ?
Sorry, don't have the exact measurement but my granddaughter is 4.5 yrs and tall for her age & my grandson will turn 3 in two months (average height) and it's the perfect size for both to play together and they absolutely love it! In fact after researching many kitchens, I chose this one specifically because it was one of the tallest ones and I didn't want my granddaughter to have to bend over it to play with it.
Date published: 2020-01-09