Great Gourmet Kitchen™ - Pink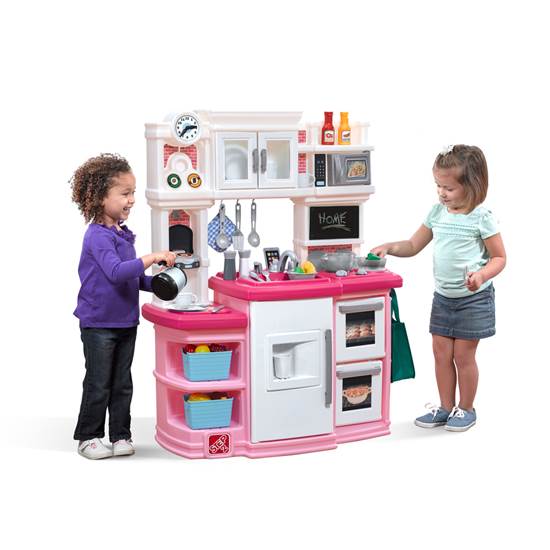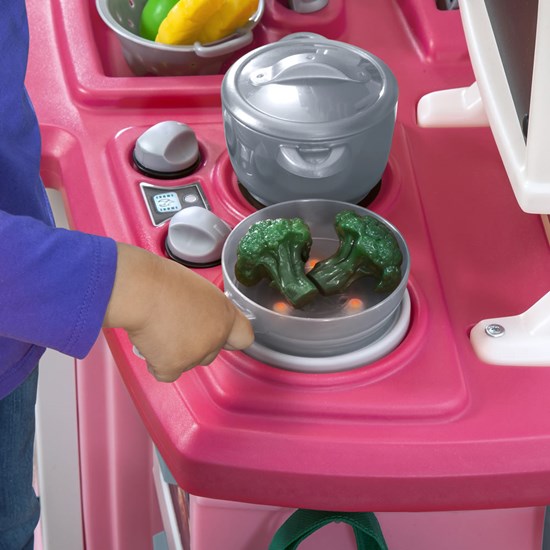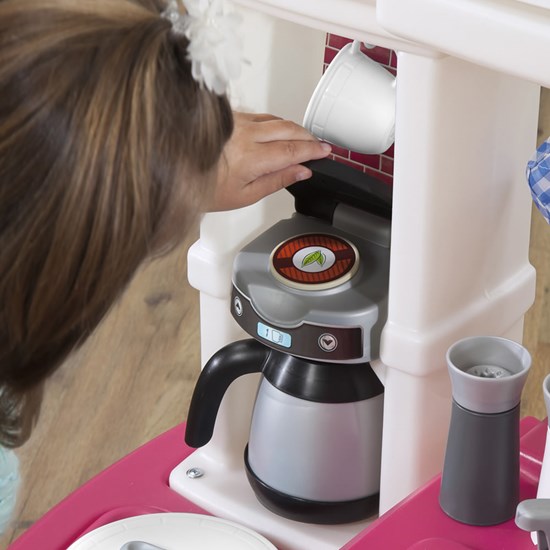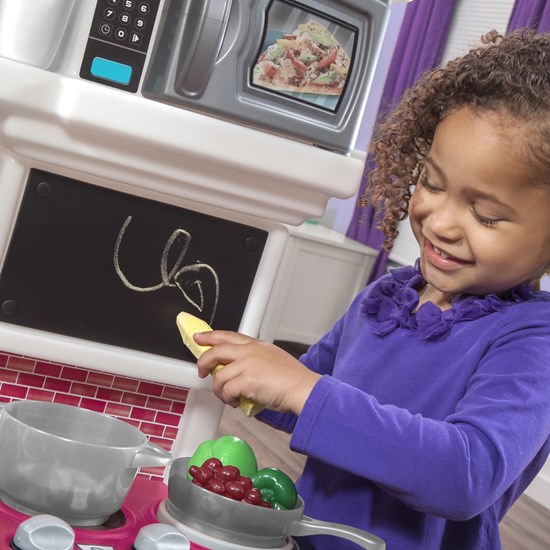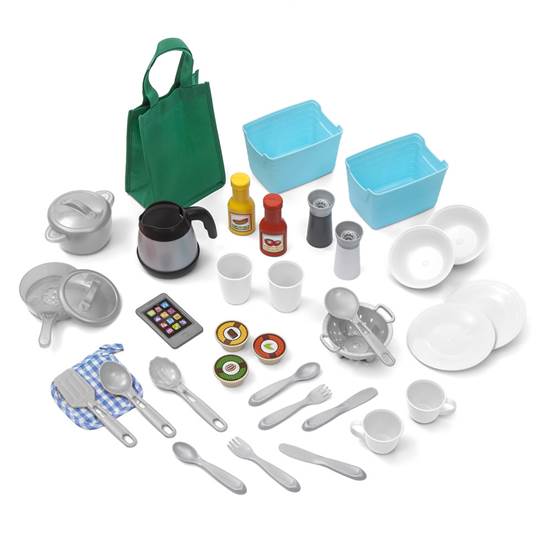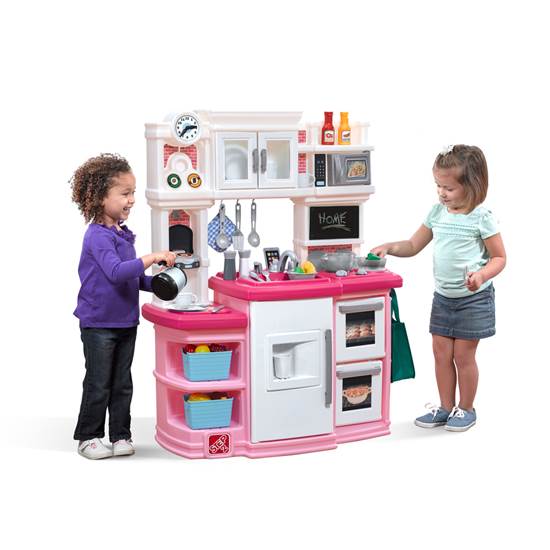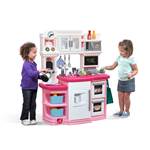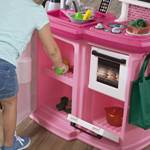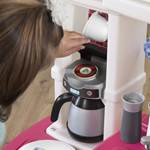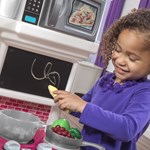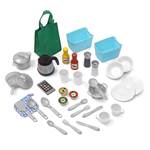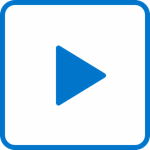 Great Gourmet Kitchen™ - Pink
In stock
$134.99 $129.99
+4.99 shipping (via FedEx)
Junior chefs can create gourmet meals and more with the Great Gourmet Kitchen - Pink by Step2.
IS THIS A GIFT? DON'T SPOIL THE SURPRISE!
This item ships with an image of the product on its outer packaging.
Rated 5 out of 5
by
Ali88k
from
Fabulous play kitchen
It was super easy to out together. Sturdy and looks amazing. My daughter was so happy and excited to play chef when we had it together. The kitchen literally has everything a little cook could want. She can make coffee just like me in her kitchen with her coffee pods and coffee pot. She loves the fact that the coffee cups even look like mine. Cute sounds activate when you set a pot or pan down on the electronic burner. Has a fridge and microwave and of course the oven. I love that this brings out so much imaginary play. Makes everything complete with a strainer, cups, plates and utensils. I would definitely buy another play kitchen in a heartbeat. Absolutely love ours.
Date published: 2020-09-17
Rated 5 out of 5
by
MrsP914
from
Super Fun Kitchen!
This pink kitchen is so much fun! My girls (5, 3, and 1 year old) love the cell phone, coffee pods, and chalkboard! My 5 yr old was very excited that she could pop the coffee pod in and brew a fake pot of coffee! While my 3 year old could write on the board with chalk. It's so cute that there's a pink option too, since they love everything pink! My husband assembled it pretty quickly, about 20 minutes, so that was convenient as well. It's really sturdy and nice that there are enough accessories, that more than 1 child can play at the same time. It seems like it will provide hours of fun!
Date published: 2020-09-18
Rated 5 out of 5
by
Itzasecret
from
Hours of fun and creativity!
Nothing is more exciting for young toddlers than cooking like mom and dad. This Step 2 Great Gourmet Kitchen is easy to assemble and made of very sturdy plastic. Very easy to wipe down and clean. My little one loves the realustic sounds the knobs and burner make. She "brews" me fresh coffee and makes pancakes and bacon. I purchased a separate selection of pretend play foods to accompany the kitchen. This will entertain and provide hours of imaginative play. No child should ho without a play kitchen.
Date published: 2020-10-17
Rated 5 out of 5
by
Mama C
from
Fabulous Kitchen!
This kitchen has it all--lots of interactives, tons of storage, and it's adorable! The kitchen is compact, but every inch is well-used. The girls have not run out of fun things to do: cook on the stovetop, bake (they love the little hot pad), "wash" dishes, make coffee, sort food, make phone calls, microwave, write on the chalkboard, shop with the little grocery bag, hang things on the hooks, and on and on! Assembly was quick and easy and the kitchen is very sturdy.
Date published: 2016-08-08
Rated 5 out of 5
by
Reetl1
from
So Much Fun
This is such a fun kitchen set. It provides hours of fun. This is something a child can play alone and with others. It has several activities that make it lots of fun. It is easy to assemble and it is very sturdy. I like that this can be used for indoor use and also outside use.
Date published: 2020-09-30
Rated 5 out of 5
by
foreign mommy
from
The kitchen has it all
This kitchen has it all - microwave, coffee machine, a hob that makes noise, and so on....everything you can find in a real kitchen. My toddler started playing even before we finished putting it together, she was so excited she couldn't wait. Even though the kitchen has got so many features and play options, its not as bulky and doesn't take as much room up as I thought it would. Also, since its plastic, its perfect for outdoor play in summer. You can easily move it from one room to the other which is a huge advantage. My favorite features are the accessories, it comes with a lot of different items: plates, cutlery, pots and pans, groceries and even a grocery bag. Oh and a phone - my toddler takes that phone everywhere. It really is fully equipt, you don't need to spend an other dollar, its all included.Putting the kitchen together was fairly easy too, I think it took my husband and myself about 45 min to put it together.Thank you to Step2 for letting me test this item as part of the Step2 toy tester program.
Date published: 2016-08-12
Rated 4 out of 5
by
Shelly
from
Missing parts
The product came with some parts missing. My husband called, sat on hold for 45 minuets, to have the missing parts shipped to us. We received most of the missing parts, but are still missing 6 pieces.
Date published: 2017-12-24
Rated 5 out of 5
by
Kathleen
from
My girls have had a blast with this kitchen!
I had two girls that are 3 and 2 that love to cook. When I open the box and they saw their new kitchen they were ecstatic. A major plus is it's roomy enough for both of them to have their own space. The two ovens make it easy for them to both cook at the same time, without the normal fighting. Having the overhead cabinets is cute. I like that you can see through those doors. When there are dishes in them, it sets off the whole set. They love the little chalkboard we have one in our house kitchen. They feel so big to write the grocery list on their chalkboard while I'm doing the same thing. Because it is so easy to clean, I'm able to give them real food to cook which they love. It takes no time to spray it down and whip it off. We love to be outside, so a few times a week I'll move it from their bedroom to the back porch. It is very lightweight I'm able to carry it and move it by myself easily. But it's also very strong and durable. I know that if my kids are leaning on it it's not going to fall out from underneath them. A really cool feature is the boiling sounds the cooking eye makes. when I showed them it they got a big kick out of it. I love this bright pink model, it's girly. I put it together by myself and it took me right at 30 minutes. I had no problems getting it together the instructions we're very clear and understandable. All the accessories that come with this kitchen are up to date and perfect for this age group. My girls and I are very pleased with his kitchen set. I would recommend it to any moms and dads better looking!
Date published: 2016-09-12
Our set came with two identical parts that were never called for in the instructions and are not on the inventory. I can't tell what they are, but they look like they could be knobs because they have "clicker" tabs on the bottom. Are these needed?