Happy Home Cottage & Grill™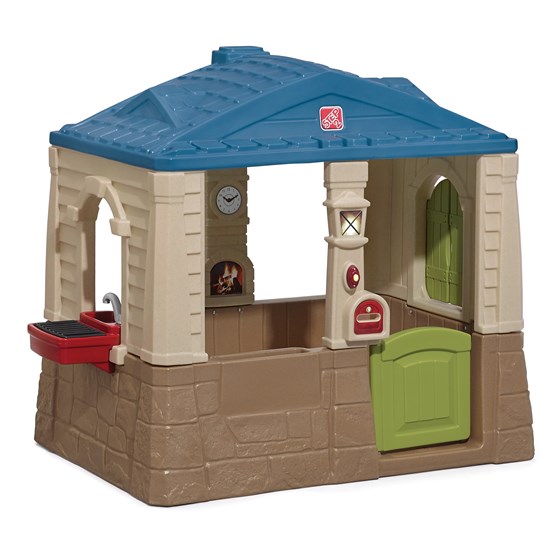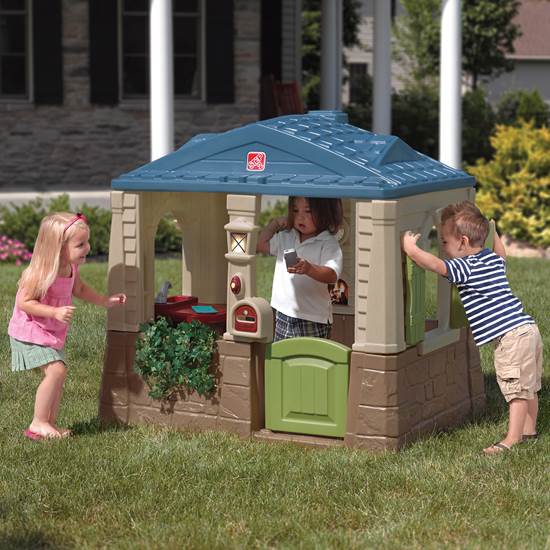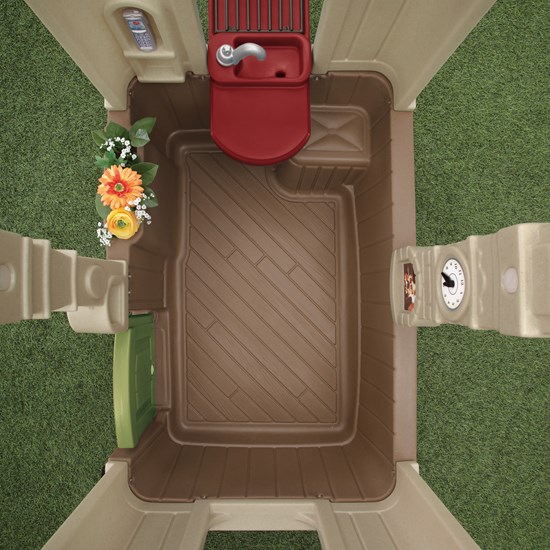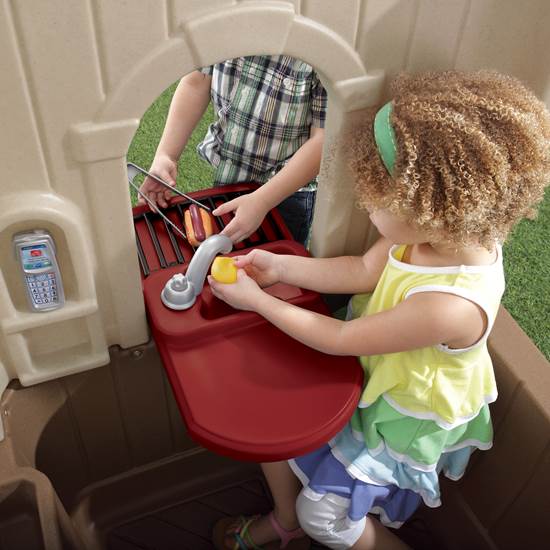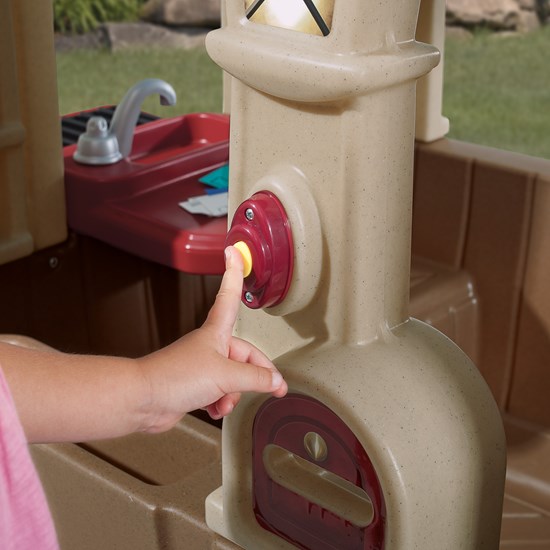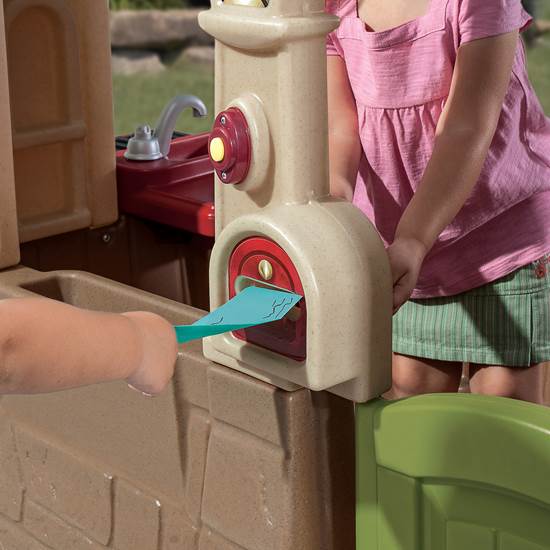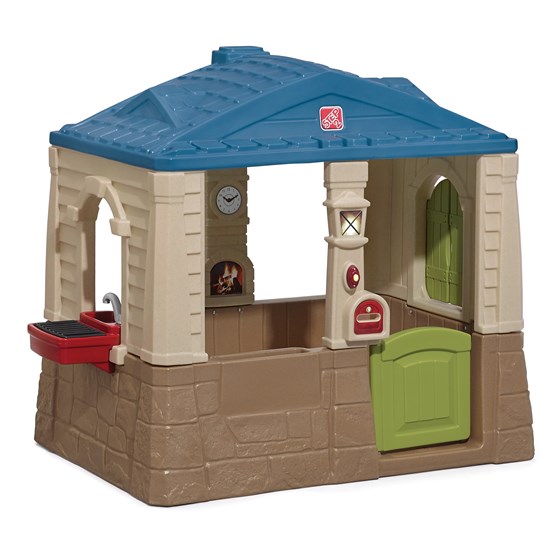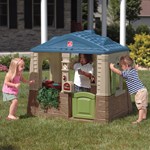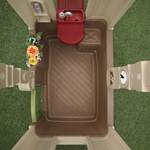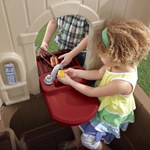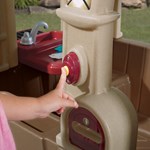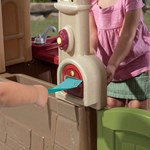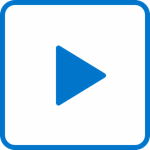 Happy Home Cottage & Grill™
IS THIS A GIFT? DON'T SPOIL THE SURPRISE!
This item ships with an image of the product on its outer packaging.
Rated 1 out of 5
by
Anonymous
from
I would not buy this again.
After repeated visits to Toys r us I just want to return it. My grandson likes to play in it but if you can't even get the doorbell to work, How good is the whole product? Whats worse is all the other products I have bought. I really would like to switch to another company I can trust. Your company isn't doing a good job.
Date published: 2016-05-22
Rated 1 out of 5
by
Unimpressed
from
Missing screws and stickers
How hard is your job? All you had to do was put directions and stickers in a box. Because there were no instructions, we had to figure out where the pieces went and halfway put it together because someone was absent on " put the screws in the bag" day. Seriously, not satisfied and now my 3 year old has to wait for screws to get here so she can play in her house safely. Also, no stickers were included for the fireplace, mailbox, clock, or light that is pictured quite clearly on the box.
Date published: 2017-12-26
Rated 4 out of 5
by
Anonymous
from
Perfect Toddler Cottage
I received the Happy Home Cottage & Grill as part of the Ambassador Program.This cottage is the perfect space-saving playhouse for toddlers! My daughter is 3 years old, and she loves having her very own spot to play that is sized right for her. This cottage is on the smaller side, which makes it great for families who don't have a lot of extra space and for children under 4, and it could also work well in a playroom. The colors are perfect for girly girls, and I love the little extras that are tucked in - the mail slot, a doorbell, shutters that open and close, the little clock on the wall, and the sitting area with a small attached table. My daughter loves sitting beside the window and having "lunches" with her dolls.My favorite feature as a parent is the floor because my kids love kicking their shoes off during play, but outdoors that isn't always a good idea. Because of the floor, they can play with their shoes off and not have to worry about bugs, mud, wet grass, or stepping on rocks. When the floor gets dirty, I can quickly vacuum it out with a hose attachment.Overall, we are super happy with this cottage and plan to keep it around for the next few years. When my daughter gets older we will invest in a bigger one, but for now, it is perfect!
Date published: 2016-08-04
Rated 5 out of 5
by
Anonymous
from
Such a FUN playhouse!
My three year old absolutely LOVES this cottage. We have it outside and she uses it every day! It was easy to assemble even with two kids climbing all over it. I used a screwdriver but a power drill would have made it a little easier and faster.I love that the sides are open and I can see the kids playing while I'm doing other work in the yard. At first I wasn't sure if I'd like the built-in floor but it has drain holes for when it rains which was my main concern. It's also nice that I don't have to worry about my little boy eating leaves or grass while he's in the cottage!The working doorbell is such a fun feature-my daughter makes everyone ring it before they come in. It does take two AAA batteries that aren't included so make sure you pick some up! The mail slot is also lots of fun, and the clock and fireplace stickers add to the playhouse to make it more homey.The shutters and door open and close and are easy for little hands to use. There's a little phone that comes with the cottage and my three year old loves to pretend to talk to her friends while sitting on the built-in seat inside.The grill feature is our favorite and my daughter has already made tons of pretend burgers and hot dogs for us! I like that it's got a pass through window to encourage interactive play with other kids.Overall we love the cottage and grill-it's the perfect addition to our front yard! Thanks to Step2 for letting me review this item as part of the Step2 Ambassadorship program!
Date published: 2016-08-17
Rated 5 out of 5
by
Anonymous
from
Perfect Toddler Playhouse
The Happy Home Cottage & Grill™ is the perfect size for toddlers. And it has just the right number of features to keep them interested without overwhelming them.Because it's getting cold outside, we set up our Happy Home Cottage & Grill™ indoors, and we were pleased with the just-right size: not too big and not too small. It's not large enough for elementary kids, but there's plenty of room for multiple toddlers to walk around inside, sit down and play. And because I'm already a fan of Step2 products, I can tell that it will be durable when we move it outside in the spring. Assembly was just a matter of finding the right pieces and drilling in the screws, and it took under an hour for one person.My toddler's favorite features are the doorbell, the mail slot and the doors and shutters. I love that the doorbell has a muted volume so it's not irritating to listen to repeatedly, but he can still enjoy hearing it over and over. The shutters are perfect for endless games of peek-a-boo, and I love that there's no way for little fingers to get smashed in them. At first I thought the planter box was a waste of space, even if you were planting real flowers in it outside, but my son loves to put his books and small toys there for safekeeping, so now it's a favorite feature, too.On the downside, the toy phone seems like a wasted opportunity for accessories. I would have loved to have toy mail or grilling tongs or something relevant instead, especially since there isn't a "holder" or special place to put the phone and it could easily be lost. The grill is the least entertaining part of the playhouse because there isn't really anything for toddlers to play with there. We used some of our own play food, but there are no knobs to turn, so it doesn't interest my kid at all. We would have been just as happy with the plain table extending out of the window there, and that's basically how the grill is functioning at the moment.Overall, this playhouse is now a favorite at our house.Thank you to Step2 for letting me test this item as part of the Step2 Toy Tester program.
Date published: 2014-11-20
Can you please tell me the inside dimensions of the Happy Home Cottage and Grill?
Please see below for the inside dimensions of the Happy Home Cottage and Grill : The highest point is 47 inches. The lowest point is 42 inches. The inside width is 42 inches. The inside depth is 25 inches.
Date published: 2019-12-12
Hi . How easy is it to disassemble the playhouse and reassemble in a new location ? Would you recommend disassembling before moving to a new location , or is that likely to damage the playhouse ?
Yes, the Happy Home Cottage & Grill may be disassembled and reassembled when using caution to not enlarge the holes.
Date published: 2019-04-24
Is this the same colors as the Alpine Ridge Climber?
Yes, the Alpine Ridge Climber and the Happy Home Cottage & Grill share the same color scheme.
Date published: 2019-12-12
Hello, the clock is just are sticker or have some pass can move?
The Happy Home Cottage & Grill™ features a sticker for the clock and does not move.
Date published: 2019-01-16
Could yo tell me the size of the package it is delivered on? thanks
The packaging dimensions for the Happy Home Cottage & Grill™ are as follows : 36 x 18.25 x 52.5 inches
Date published: 2020-04-17
Where can I get replacement decals
We now offer replacement parts/decals online. Please view the following link : https://www.step2.com/parts/ Or you may also contact our Consumer Specialist Staff at 1-800-347-8372, Monday through Friday, 8am-5PM Eastern Standard Time for assistance.
Date published: 2018-07-23
How do I disassemble the house without breaking pieces.
To disassemble the Happy Home Cottage & Grill, you would want to follow the assembly instructions in reverse.
Date published: 2017-11-27
What is the difference between the neat and tidy cottage and the happy home cottage and grill? 
The Neat & Tidy Cottage™ and the Happy Home Cottage & Grill™ are the same other than colors.
Date published: 2019-12-12