Heart of the Home Kitchen™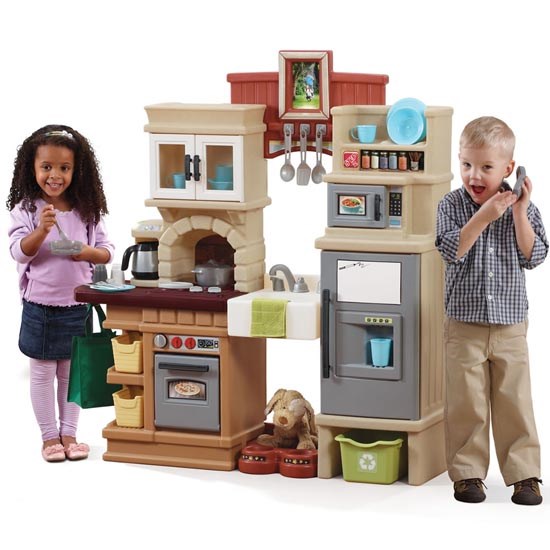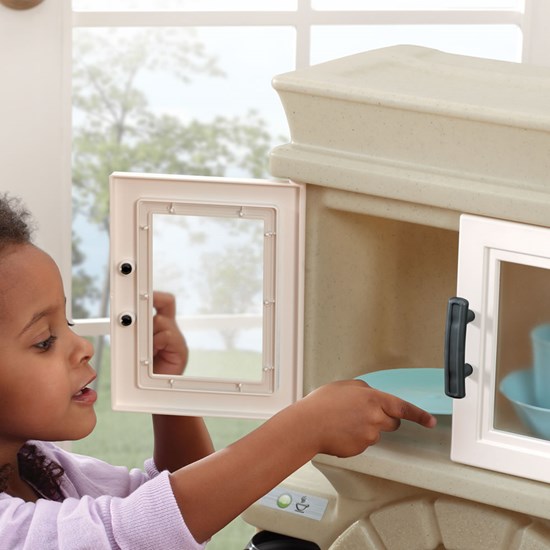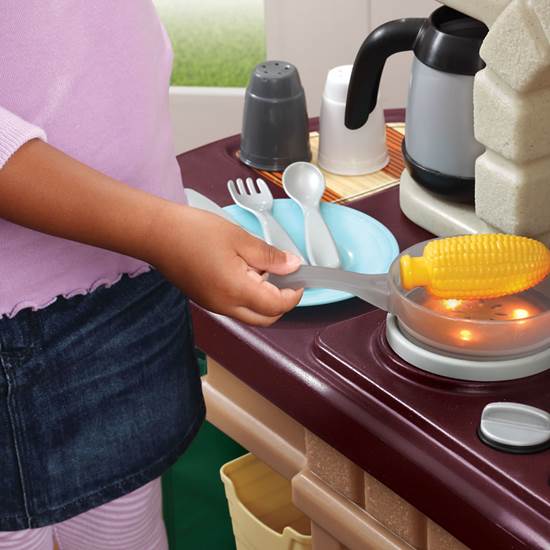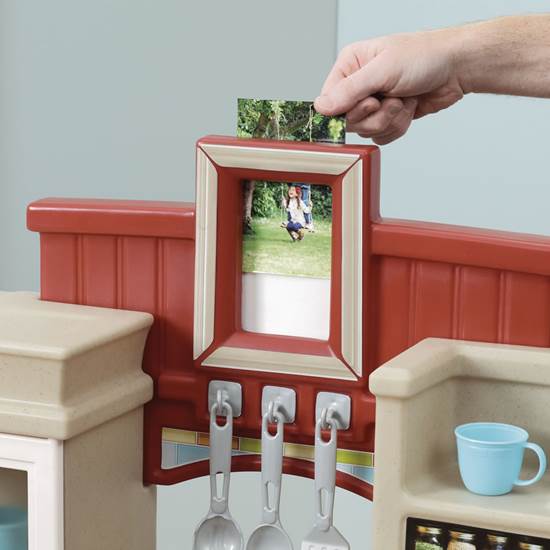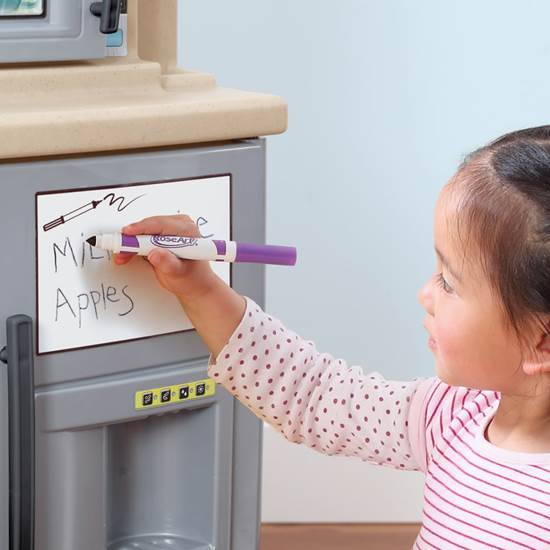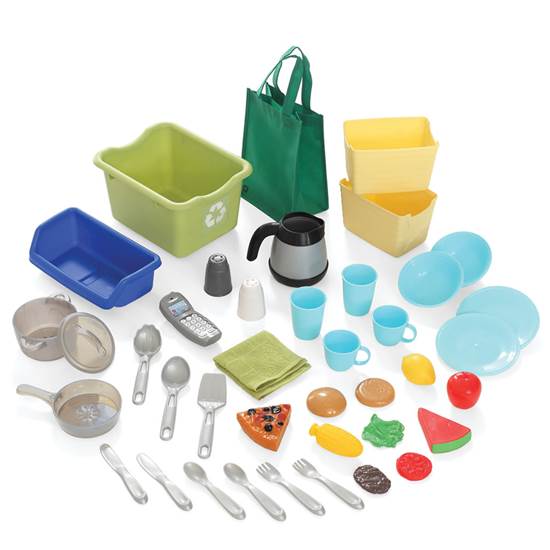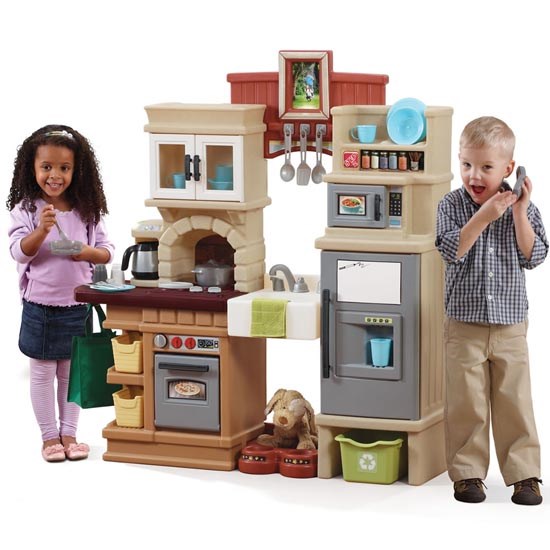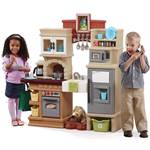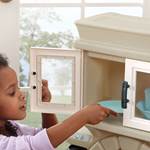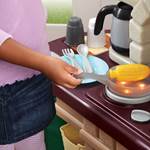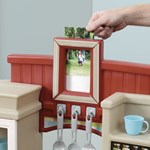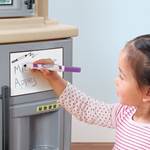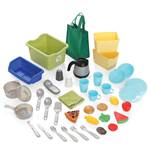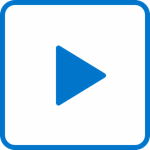 Heart of the Home Kitchen™
In stock
$159.99 $149.99
+4.99 shipping (via FedEx)
This Step2 kitchen is the perfect balance between traditional and modern design kitchen elements!
IS THIS A GIFT? DON'T SPOIL THE SURPRISE!
This item ships with an image of the product on its outer packaging.
Rated 3 out of 5
by
Anonymous
from
Fun for one year old, needs to be better for $100+
Love the neutral colors and the features of microwave and coffee pot, as well as the sounds on the stove and phone. The holes should be predrilled and one major "indentation" for making the two sides level wasn't there on one side so we had to fix that ourselves. The blue bin doesn't stay in the fridge when you open it. There was also a scuff on the front and a small hole in the recycling bin. Little things but annoying for a new product just the same. Also- the oven should have a see-through window like the cabinet. It shows a pizza cooking (decal) no matter what your chef makes. A cute product that my toddler enjoys but wish it were more carefully made.
Date published: 2017-06-04
Rated 4 out of 5
by
frugal mom
from
Excellent Buy for the Money!
Purchased Christmas 2012. GREAT VALUE! Used by 2 year old girl and 4 year old boy. Both are enjoying the kitchen. The hooks and upper shelves are too high for the 2 year old, but she'll grow into it. Would have liked the larger counter space and storage that comes with the similar "Creative Cooks Kitchen," but didn't want to pay the difference. Kids like the stove top sounds and the phone. There is always some sort of furry animal at the pet station. We like the look of the farmhouse sink. The coffee pot is a big hit. The plastic food is just OK - small so it fits in the pots, but rather boring looking. A power drill will come in handy when doing assembly.
Date published: 2012-12-28
Rated 5 out of 5
by
Anonymous
from
PERFECT FOR MULTIPLES!!!
Looking for a kitchen that would interest triplet two-year-old grandchildren--two girls and a boy--was challenging, but, once again, Step 2 came through with a product that is an ideal fit! The view-through (and crawl-through for one of the triplets!)sink/pet center area allows all three toddlers space to interact yet feel uncrowded. "Feed puppy!" became a frequent request, and the marker board for lists on the refrigerator also was a hit with the kids. Washing dishes in the sink and drying them on the towel that was included with the accessories along with the phone and pots with sounds gave each child an activity he/she enjoyed. Perfect choice for multiples!
Date published: 2013-11-28
Rated 4 out of 5
by
erinb24
from
Niice kitchen
This was a great first kitchen for my almost 2 year old. We surprised him with it for Christmas. My only disappointment is that the pieces that came already assembled had some flaws. The microwave door and the cabinet door looks crooked. It affects how it opens and closes making it a bit difficult for my child. I understand flaws in the plastic being molded but in assembly I would think someone could have easily seen this or when the doors were tested to be working. This was easy for us to put together and is a good size for our small livingroom. I hope my son gets many years of use from it.
Date published: 2019-01-16
Rated 4 out of 5
by
Mom to 2 under 2
from
Love this kitchen!
We are giving this product as a Christmas gift, so we have not actually played with it yet. It took me about 45 minutes to assemble this item using a drill. Super easy to put together, instructions were very clear and simple. My only complaint is that the kitchen did not come with much play food, not a big deal but I was definitely surprised by how little was included. We purchased a big basket of food afterwards to add to the kitchen, and it stores it all great. I am very excited about giving this kitchen to my son for Christmas. It seems like it will really hold up well!
Date published: 2013-12-20
Rated 5 out of 5
by
Julia M.
from
Love this kitchen
We love this kitchen. We searched for quite some time to find a kitchen that would provide all of the features we wanted (sizzling stovetop, coffeepot, etc.) was the right color and size for our space and "fit" our family. We are heavy recylcers, pet friendly and have a farmhouse sink of our own so this kitchen was perfect for us. We also have a Step 2 Grocery cart and cash register (not Step 2) and a Step 2 Bus/slide combo. The four items make for great kitchen/grocery play including the "ride home" in the bus and meal prep afterward in the kitchen.Julia M.
Date published: 2014-01-07
Rated 5 out of 5
by
Anonymous
from
Very nice kitchen, came with more food than shown
Our 20 month old loves this kitchen and I suspect she will for years to come. As soon as she saw it, she started exploring it and putting the food in different places! We put a family picture in the picture frame, just one of the few features that makes this kitchen unique. We are very happy with it. Also, it came with more food than what is shown in the ad which was a nice surprise. We haven't felt the need to buy more food.
Date published: 2017-01-08
Rated 5 out of 5
by
Anonymous
from
Wonderful purchase
Bought this for my 17 month old grandson and I couldn't be happier with it. The pots and skillets make sizzling or boiling sounds which fascinated him. He played for hours with it making coffee and feeding his dog. Also, it has a telephone which I wish was louder because you can barely hear anything. it came with some dishes and we added some grocery items. Perfect to keep a toddler happy,busy and learning. I ended up buying a step 2 table and chair set to accompany it. Love it too. There is a lip on the table so that his crayons don't roll off!
Date published: 2017-01-02
Do y'all sell replacement pot, pan and dishes that to go this kitchen set? We loved how it lined up perfectly with the burner and made the life like noise. Bought a different pot and pan set and did not line up properly.
Hi. Yes, check the website. Here is the link. https://www.step2.com/p/lifestyle-dining-room-and-pots-pans-set
Date published: 2018-01-03
We assembles our Heart of the Home kitchen set and found that the after adding the batteries, the stovetop lights up, but will not bubble. Is there anything I can do to troubleshoot? Or do I need a replacement? 
I'd request a replacement. Ours immediately bubbled when we placed one of the pots on it so it sounds like it's faulty. 
Date published: 2017-12-27
What kind of plastic (number) is the kitchen made out of? Thank you 
The Heart Of the Home Kitchen™ is recyclable at a level 4 .
Date published: 2017-09-25
My shipment only had one box! Is there a way to get replacement pieces or box 1 of 2? 
Please contact our Consumer Specialist Staff at 1-800-347-8372, Monday through Friday, 8am-5PM Eastern Standard Time for assistance .
Date published: 2017-08-16
Do you deliver to the uk?
Unfortunately Step2 Direct ships within the United States only. Thank you for your interest in Step2 product retailers in England/Ireland. Specific products and quantities vary by retail location, please contact Saber International Ltd. with your specific request. Saber International Ltd. Unit 1004, Great Bank Road Wingates Industrial Estate Westhoughton Bolton BL5 3XU 0844 8800 915 (p) 0844 8800 916 (f) sales@saber-<a href="http://international.co.uk" target="_blank">international.co.uk</a> (e)
Date published: 2018-03-27
Can you tell me what size picture goes in the picture frame? Thank you
The opening of this picture frame is 3.5" x 5."
Date published: 2018-03-27
I cannot get the screws out of the stove burner to get batteries in. Do you have any tips??
Please call toll free 1-800-347-8372 Monday - Friday, from 8-5 ET and we will be happy to assist you further with this request.
Date published: 2018-03-27
Does the product come with pictures for the microwave and oven? Mine didn't so I'm just wondering if it should have
The decals should have been included with your Heart of the Home Kitchen™. Please call toll free 1-800-347-8372 Monday - Friday, from 8-5 ET and we will be happy to assist you further with this request.
Date published: 2018-03-27
Does this set include the dog and food dish?
The food dish is part of the kitchen set but it doesn't come with any type of pet.
Date published: 2018-03-27
Where does the blue bin go?
We put it inside the fridge and it fits perfectly. It's a holder for toy drinks and condiments.
Date published: 2019-12-25
What is the floor to countertop height?
The Heart of the Home Kitchen countertop is approximately 18 " from the floor.
Date published: 2018-03-27
How big is the box, does it fit in a regular suitcase? planning on buying and then taking with me on a plane or maybe just checking the box directly in the airplane.
The Heart of The Home Kitchen™ box sizes are as follows: Box 1 is 13.75" H x 12" W x 43" D and weighs 14.5 pounds. Box 2 is 19" H x 12.25" W x 42.75" D and weighs 23.5 pounds.
Date published: 2018-03-27
Hi just wondering if you deliver to the UK ?
Step2 Direct only ships to the 48 contiguous states. Please visit our UK website at <a href="http://www.step2uk.com" target="_blank">www.step2uk.com</a>
Date published: 2018-03-27