Heart of the Home Kitchen™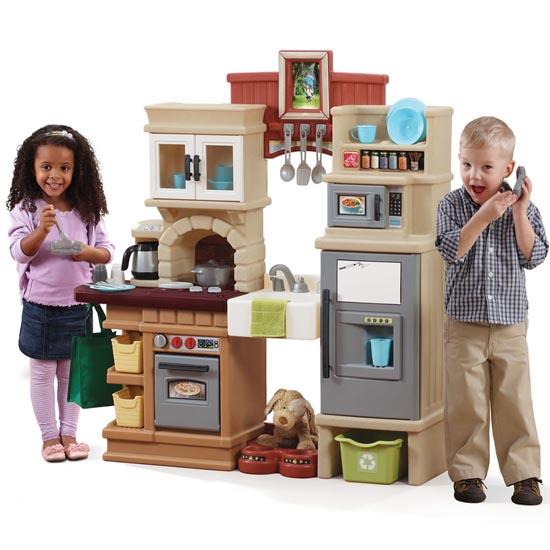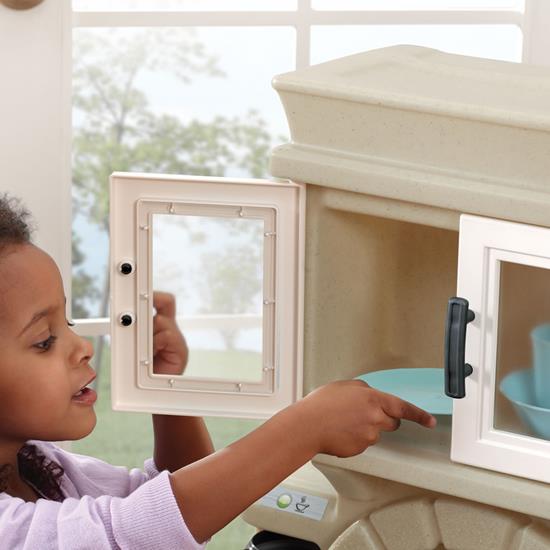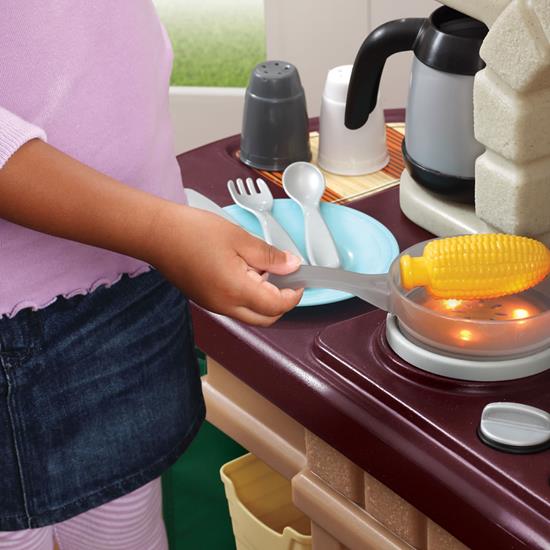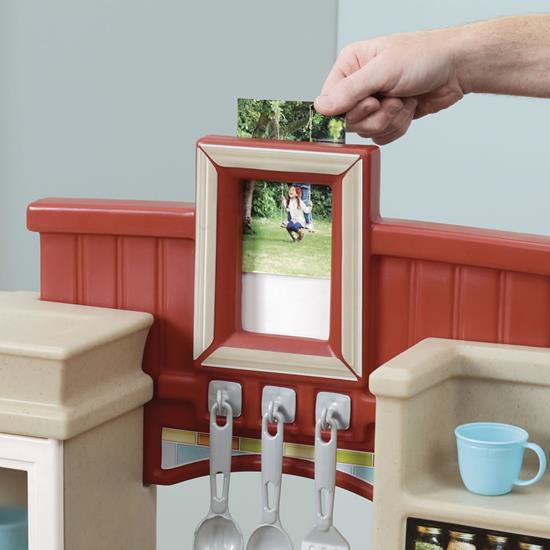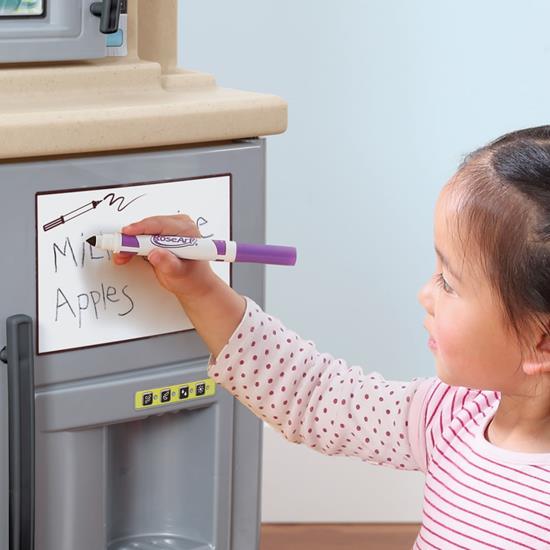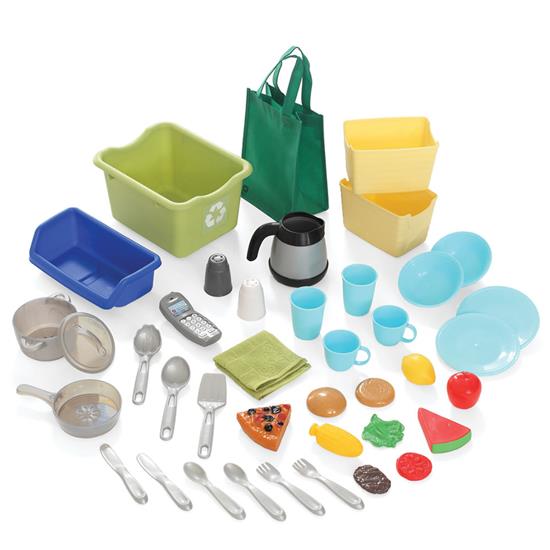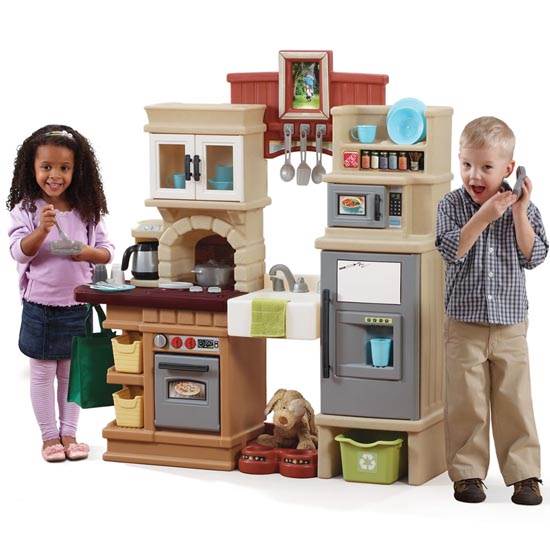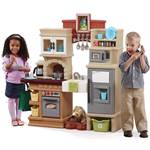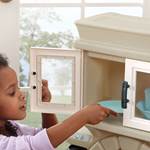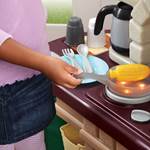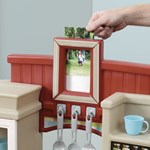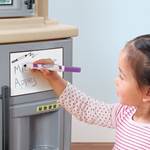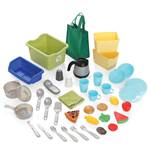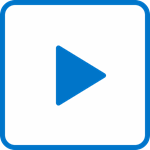 Heart of the Home Kitchen™
In stock
$169.99
+4.99 shipping (via FedEx) When will my item arrive?
This Step2 kitchen is the perfect balance between traditional and modern design kitchen elements!
IS THIS A GIFT? DON'T SPOIL THE SURPRISE!
This item ships with an image of the product on its outer packaging.
Rated 5 out of 5
by
Wifemeetslife
from
All the Bells and Whistles!
This kitchen is just perfect! We got it for my 2 year old for Christmas and he loves it! He "makes coffee" for my husband and me with the coffee pot, and the lights and sounds on the burner keep him cooking for hours! It comes with some food (enough to get kids playing, for sure) but I recommend getting the extra food set. There is plenty of storage space in this kitchen for everything. The realistic and gender neutral colors are great, too. I'd much rather have a mini version of my kitchen that a primary-colored (or pink) monstrosity in my house.
Date published: 2018-01-03
Rated 5 out of 5
by
Chelby
from
My daughter loves this kitchen!
My daughter loves this kitchen the most (out of the three she has!) We did not expect this, since it was a gift. We nearly returned it because we already had two kitchens, but we are lucky we kept it! Our daughter plays with it daily - so it certainly is put to good use. There are plenty of "gadgets" and extras to keep our curious kid occupied and continually learning. Thumbs up on this one!
Date published: 2013-02-25
Rated 4 out of 5
by
Anna H
from
Spacious kitchen!
I love how spacious the kitchen is. It's disappointing the microwave doesn't make noise. There needs to be a better way to store the telephone, it doesn't hold well. The pet area under the kitchen is creative and adorable! This kitchen. Is perfect for 2 or more kids to play. It comes with food to get you started if it's your first kitchen. I would spend the extra $10 and go to the party time kitchen for the extra digital noises. Kids love more noises! Very easy to assemble, one person can do it easily. Took about 35-40 minutes to assemble
Date published: 2016-07-22
Rated 5 out of 5
by
Anonymous
from
Exactly what I was looking for.
I did a lot of research looking for a kitchen for my toddler for Christmas. I looked at a lot of brands, read reviews and ended up ordering this kitchen. I am so happy with my purchase. She squeals whenever she goes into the room and sees it, she loves playing with it and her older cousin had a blast playing with it as well. I think it will be a toy that she will be able to grow into and play with for years.(Food shown was a separate purchase. There is minimal food included but I still recommend this over other kitchen sets.)
Date published: 2014-12-30
Rated 5 out of 5
by
Anonymous
from
Heart of the Home Kitchen meets up to all expectations!!
I am the Grandparent of a 1 1/2 and 4 year old. I love this play kitchen! When I purchase something I always look at the reviews. This play kitchen meets all of the reviews and Step 2 description. There was a comment on the phone not being loud enough - this is true. However, I understand the design; if a Child puts the phone up to their ear the phone is plenty loud! The sizzle, boiling water, and clicking sounds of knobs is great! In putting this together we did need to use a small drill bit to make the holes bigger. It took my husband about 1 1/2 hour to put together. Other Play Kitchens stated that it took them up to 4-hours, so this is about in the middle. I also liked this Kitchen because it easily is big enough for 2 or more children to play with.
Date published: 2017-04-21
Rated 5 out of 5
by
Anonymous
from
This kitchen is amazing!
We bought this kitchen for our 4 year old son for Christmas, and he loves it! It came in two pretty big boxes, and was very easy to put together. My husband helped me assemble it, but it can very easily be put together by just one person. I really liked how many extra fun things came with this kitchen, such as all the food, salt and pepper shakers, and all the cups and plates.I'm very glad we bought this kitchen. My son loves to pretend cook and do his own dishes, just like mom and dad do in the real kitchen!
Date published: 2017-01-13
Rated 5 out of 5
by
nannys
from
excellent choice
Great gift for my 3 year old granddaughter. Some kitchen sets are really short for her , but this one is much taller than ones she has had in the past and she loves it being taller than her. Another plus is the dog bed and water and food bowl. This kitchen keeps her busy for hours
Date published: 2013-12-24
Rated 5 out of 5
by
Anonymous
from
I would buy this product again in a heart beat!
I'm a young mother, attending college full-time, with three little ones at home. This kitchen set has by far been one of the best purchases I have made! It keeps my children entertained, all while using their imagination, which in turn gives me time to get my school work done. The quality of the Step2 materials is incomparable to other brands. Sturdy, all while looking eye-catching. I would recommend this product to anyone looking for an affordable, yet worth every penny, type of children's set!
Date published: 2017-01-04
Rated 4 out of 5
by
Sarah
from
Heart of the Home Kitchen Set
Our son loves his heart of the home kitchen set! It was pretty easy to set up and the little extra touches such as the picture frame and dry erase board on the refrigerator give it a nice personal touch. The only downsides I noticed after setting it up were 1. That the bubbling stovetop was faulty. It would light up, but not make the boiling noise. So instead of dealing with the hassle of calling it in, we were just able to purchase a replacement boiler from the website for about $10. And 2. Some of the doors, i.e. the microwave and refrigerator door were a little tough for our 1 1/2 year old to open. The seemed a lot stiffer that some of the other doors. But that is nothing a little play time and WD40 can't fix. Overall, it is a great product and our son doesn't want to leave it alone!
Date published: 2017-12-26
Rated 5 out of 5
by
Momof5
from
My children love it
My 3 sons (ages 2, 4, and 7) were given this for Christmas last year. They played with it some and it was pushed to the corner for a while. Now that my 2 year old is more mature, they all have fun playing with it. They like to pretend they have a to go resturant and use the window to order food. I like that it is tall and there is the window. They write the resturant name in the back above the window. I plan to buy more "food" and items to go with it this Christmas.
Date published: 2018-11-29
Rated 5 out of 5
by
abk7
from
Best Play Kitchen!
This is the most impressive kitchen! I bought this for my 21 month old daughter for Christmas and she hasn't stopped playing with it! I loved the dog bowl feature and the amount of accessories included. The assembly was a little difficult because the holes weren't pre-drilled. It is sturdy, but lightweight so it's easy to carry. The burners light up and make different sounds depending on which pan, very realistic! I would definitely recommend this play kitchen!
Date published: 2018-01-04
Rated 5 out of 5
by
Busymom101
from
Buy this one! I see no flaws.
I can't compliment the step 2 company and this product enough. First of all, I ordered this product the week before Christmas and it arrived in 3 days. I can't thank them enough for the fast delivery. The instructions were easy to read and it took about 30 minuites to put it together (not including placing the stickers). I used an electric screwdriver. It could be done without one, but it made it a lot easier. The kitchen itself is tall and sturdy. I have a 6 yo, 4 yo, and 2 yo. All boys. They loved it. My 4 you said it was his favorite Christmas gift! It was their main gift. I love all the features and that there are things at EVERY HEIGHT for them to open and play with. ❤️ I feel like the only way it would have been better is if I added a play puppy dog at the bottom. I missed that, and want to suggest it to everyone else.
Date published: 2017-12-26
Rated 5 out of 5
by
Anonymous
from
Love, Love, Love this kitchen!
We bought this kitchen for our 21 month old daughter. She LOVES it! She loves all the knobs that turn and make noise, opening and closing all the doors and the interactive bubbling of the pots. This kitchen has really stimulated her pretend play. Not only does she cook when I'm cooking, she cooks for her babies, gives them baths in the sink and is constantly washing her hands and dishes. We had no challenges with assembly.
Date published: 2017-01-05
Rated 4 out of 5
by
Lirael
from
Great sturdy kitchen
This kitchen is wonderful. It comes with plenty of accessories by itself, including food and utensils. My kid loved it for Christmas. The only thing that displeased me was that the set came missing a fork and knife! It did require a bit of assembly and there were a lot of stickers involved, but we'll worth it. Based on my past experiences with Step 2 I'm sure my kids will out grow this kitchen long before it gets destroyed.
Date published: 2018-01-03
Rated 4 out of 5
by
Irish Mom O' 5
from
LOVE THIS KITCHEN
I loved this kitchen for it's realistic look and neutral tones. My son 1yr loves to cook at stove, My daughter 4yrs was thrilled with picture of herself in frame. My only wish would be for the height and depth to be increased. My 4 yr old is very tall for her age and it took forever to find a play kitchen I thought she could enjoy. The shelves are not as deep as I would like to store accessories but all else is wonderful.
Date published: 2014-01-08
Rated 4 out of 5
by
Anonymous
from
Good kitchen set for the price!
My 2 boys ages 2 & 3 loved the kitchen set! Since purchased have been playing with daily. They love imitating mom and bringing me they're little creations from their kitchen!The only thing I have noticed that would improve this kitchen set is the ice holder in the fridge. It falls out every time the fridge is opened. Can't hold anything without falling out.Other than that well worth then money. My boys love it!
Date published: 2017-01-13
Rated 5 out of 5
by
Anonymous
from
I would definitely recommend this
The step2 heart of the home kitchen is perfect for my 6 year old! The size was great, the style was modern, the accessories and storage space were equal and abundant and most of all my daughter was so EXCITED when she woke up on Christmas to find her very own kitchen with a spot for her favorite dog AND a picture of her hanging in her kitchen!! She is in love and that makes me happy to know it's money well spent.
Date published: 2016-12-29
Rated 5 out of 5
by
Aliana
from
Great purchase and shipping was fast
Bought this as a Christmas gift for my 2 year old. She absolutely loves it. The height is perfect for her. She loves the sounds that the stove makes. Assembly was easy. We didn't wrap it, instead we had it out near the tree and she immediately ran to it yelling "my kitchen." She was so engrossed with it she didn't want to leave her kitchen to open other gifts. This was a great buy and worth the money!
Date published: 2016-12-28
Rated 4 out of 5
by
Emily
from
Wonderful product!
My husband and I absolutely love this product. Our daughter has not stopped playing with it since Christmas morning! The only reason why I did not give this product five stars is because the holes were not drilled out of the pieces so we were not able to easily snap the kitchen together. My husband had to drill holes with his own drill in order for us to put the kitchen together.
Date published: 2018-01-03
Rated 5 out of 5
by
Zara211
from
Pleased so far
My husband and I put together this kitchen right before Xmas and it took us less than an hour. After reading the reviews, we knew to have a drill ready, which made the difference. Wish the stickers could have come pre-placed and the phone volume was louder but our 2 year old doesn't seem to mind. Only time will tell how this product holds up over time, but we are happy.
Date published: 2017-12-26
Rated 5 out of 5
by
Anonymous
from
Great kitchen!
Bought for my two year old. She loves it and spends a lot of time opening and closing doors, putting food items in various places, making "coffee" and making "dinner!" Her eight year old sister even enjoys it. Very sturdy. Doesn't take long to put together. A power drill is recommended versus a Phillips. Came with tons of accessories.
Date published: 2017-03-25
Rated 5 out of 5
by
Anonymous
from
Wish we had bought sooner!
Love!!! We purchased this at the beginning of the summer and it's been a huge hit with our three year old son and twin two year old girls. They can push the car back up on their own and have figured out how to push themselves to go down the coaster. Couldn't be happier with it! Wish we could add more track.
Date published: 2016-09-02
Rated 5 out of 5
by
Alysa
from
Love our kitchen
I bought the set for my 3 1/2 year old son who is speech delayed and has SPD. I don't know who loves it more me or him. It is adorable and we play for hours and it's definitely getting him n cooking and talking!! The product is overall great, pricing was awesome and shopping went off without a hitch!!
Date published: 2017-01-09
Rated 4 out of 5
by
Gpettyjohn
from
A kitchen for all my kids!
We love this kitchen! We originally bought this for our 4 year old for Christmas. And quickly realized all 4 of our children love it! Hours of fun and compared to other toys I've built it didn't take nearly as long as expected. We will be keeping this kitchen and possibly upgrading next Christmas!
Date published: 2019-03-13
Rated 5 out of 5
by
Kervi
from
I definitely recommend this product!
My daughter really loves this kitchen. She is 3 and at the age of pretend/ role play. This toy is perfect for her and has many functions for her to discover. My other two older kids (7 and 9) loves to play with this kitchen as well. It was well worth the price.
Date published: 2016-12-06
Rated 4 out of 5
by
PMB
from
Adorable!
I picked this kitchen because it had a few different options then the other playsets, specifically the pet section which I know my daughter will love! It really was not hard to put together at all, took my husband and I about 30 mins with his electric drill.
Date published: 2013-12-24
Rated 4 out of 5
by
Anonymous
from
PERFECT AND STURDY
Bought this kitchen for my 3 year old son as a Christmas present and he loves it! It was easy to put together and can be used by boy or girl. Neutral colors and the sound effects are fun for him to listen to while he cooks. I recommend this product.
Date published: 2013-12-26
Rated 5 out of 5
by
Anonymous
from
I would do it again
The only problem was with putting it together. The indentations were there but the holes for screws were not it took along time to assemble. The end result great and my granddaughters Birthday gift worth every bad word I said putting it together
Date published: 2017-01-22
Rated 5 out of 5
by
Anonymous
from
This kitchen is worth buying!
We purchased the Kitchen for our Grandson. He loves to pretend he is cooking just like Grandpa. I love the Front burner on the stove that makes a boiling sound or frying sound depending on which pan you use. He will use this for a long time.
Date published: 2017-01-15
Rated 2 out of 5
by
Mercedes
from
Parts missing
I'm dissapointed because I just put this together for my daughter and multiple pieces are missing and one of the knobs for the oven came broken :( I'm going to call tomorrow but I doubt the pirves will come in time for my daughters birthday.
Date published: 2017-02-08
Do you sell a replacement phone for this kitchen? That's one of my grandchildren's favorite features but ours seems to have disappeared.
Please contact our Consumer Service Specialists at 1-800-347-8372 Monday through Friday, 8AM -5PM Eastern Standard Time and we will be happy to help you.
Date published: 2019-05-06
Do u ship to leb
Step2 Direct ships within the Contiguous United States only.
Date published: 2018-11-15
Does the microwave make sounds? 
No it does not. 
Date published: 2018-09-29
What is the hight from the floor to work area?
Approximately 21.5in from floor to cook top, sink area.
Date published: 2018-06-02
Do y'all sell replacement pot, pan and dishes that to go this kitchen set? We loved how it lined up perfectly with the burner and made the life like noise. Bought a different pot and pan set and did not line up properly.
Hi. Yes, check the website. Here is the link. https://www.step2.com/p/lifestyle-dining-room-and-pots-pans-set
Date published: 2018-01-03
We assembles our Heart of the Home kitchen set and found that the after adding the batteries, the stovetop lights up, but will not bubble. Is there anything I can do to troubleshoot? Or do I need a replacement? 
I'd request a replacement. Ours immediately bubbled when we placed one of the pots on it so it sounds like it's faulty. 
Date published: 2017-12-27
What kind of plastic (number) is the kitchen made out of? Thank you 
The Heart Of the Home Kitchen™ is recyclable at a level 4 .
Date published: 2017-09-25
My shipment only had one box! Is there a way to get replacement pieces or box 1 of 2? 
Please contact our Consumer Specialist Staff at 1-800-347-8372, Monday through Friday, 8am-5PM Eastern Standard Time for assistance .
Date published: 2017-08-16