Hot Wheels™ Car & Track Play Table™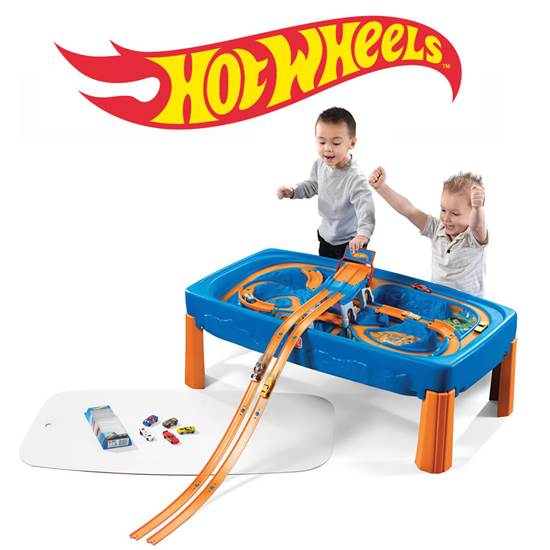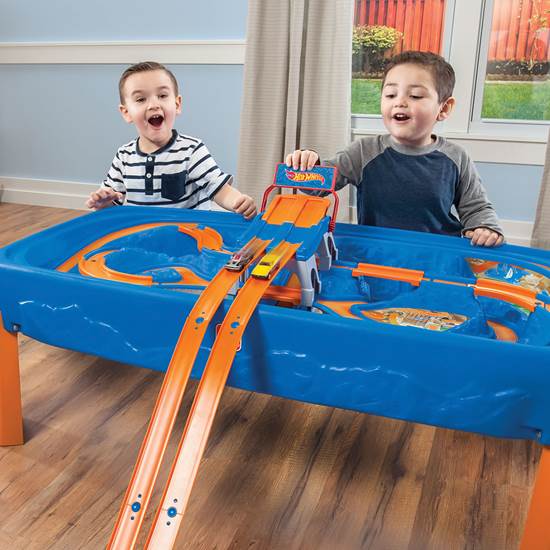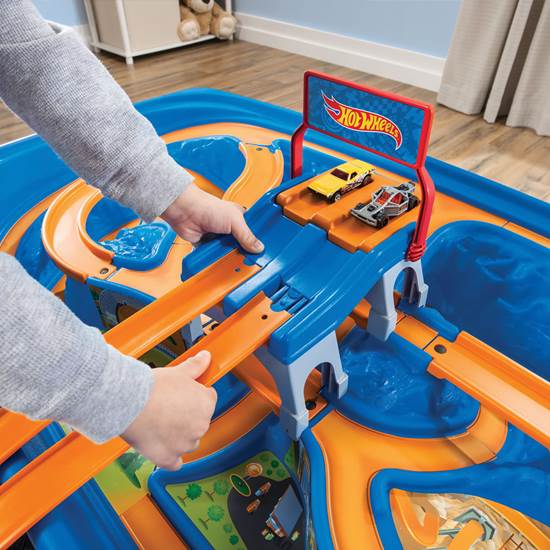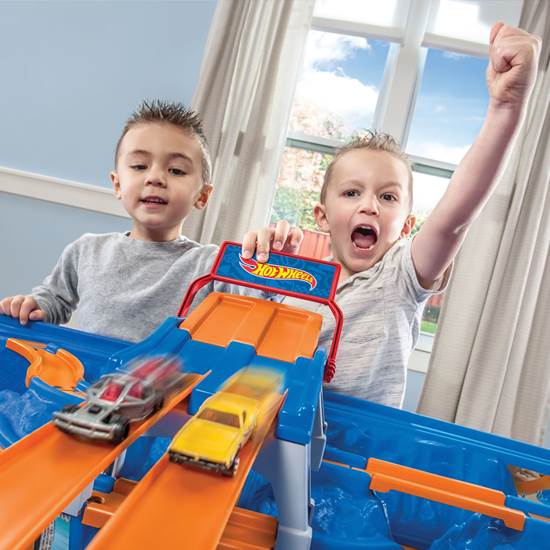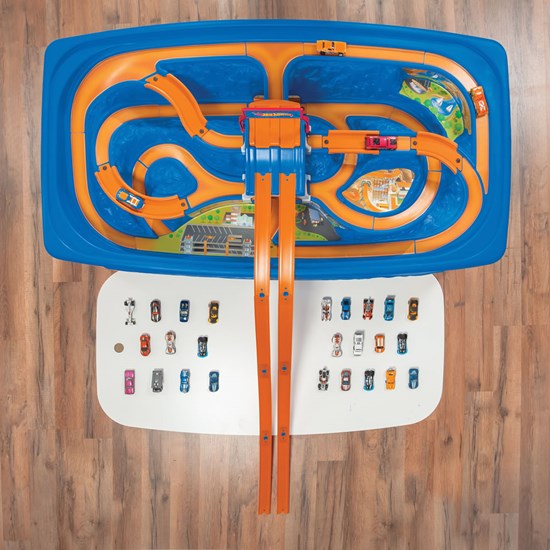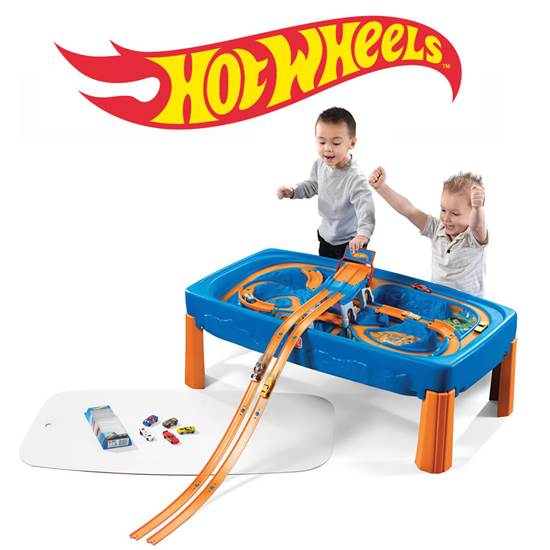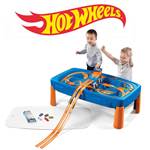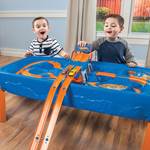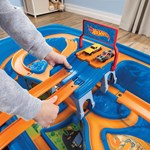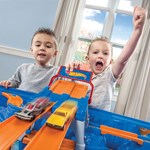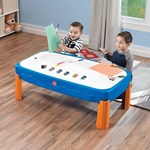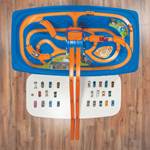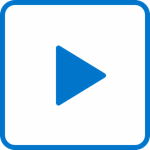 Hot Wheels™ Car & Track Play Table™
IS THIS A GIFT? DON'T SPOIL THE SURPRISE!
This item ships with an image of the product on its outer packaging.
Rated 5 out of 5
by
Anonymous
from
Kids love it
I bought this for my son's 4th birthday but my 7 year old (and 2 cats) won't stop playing with it either. My older son even had some of his friends over to play with it! Be prepared, it is large, the size of a coffee table, so when you add the tracks that come down it takes up most of the bedroom. The long tracks are easy to snap off though so we just remove them when not in play. Putting it together wasn't so bad, but a power screwdriver would have been great (we were trying to be quiet and didn't). Most of the track on the top is actually stickers, and they aren't long enough to touch/overlap so leave tiny spaces (1-2 cm).
Date published: 2017-03-12
Rated 3 out of 5
by
Anonymous
from
Great track, not so great table
My twin 2 year olds love this table for the racetrack. They have hours of fun with collisions and pile ups. But when it comes time to cover the track and use it as a table, we are so very disappointed. The cover is too big for the grooves and too small to just sit atop the table. This causes it to be slated and unsteady for any other activity. I expected more from Step 2 especially after seeing this issue brought up multiple times with the previous version of this design, the Canyon.
Date published: 2017-02-02
Rated 1 out of 5
by
jewels
from
disappointed
Open the box to put my son's Christmas present together to realize there's no instructions missing pieces it doesn't match the Box. So disappointing spending that much money and it only being my son's Christmas present. This is the first time I've bought a step 2 product and I won't again!
Date published: 2016-12-24
Rated 4 out of 5
by
GFmomB
from
Really fun for the kids
This toy is fun for the kids and if you have hardwood or laminate flooring it makes the cars go faster. Pros- easy to read instructions , Really colorful Super cool for hot wheels Cons- the nails we're too long for the leg posts The push buttons weren't easy without a hard flat tool like a hammer
Date published: 2017-09-13
Rated 5 out of 5
by
Anonymous
from
Awesome addition!
Thank you to Step2 for letting me test this item as part of the Step2 toy tester program.We absolutely love this table! I had been contemplating buying a train table but lil man was starting to outgrow his trains and start a love for Hot Wheels.It was easy to assemble. Easy to clean. (Kiddo spilled his chocolate milk within a minute of it being put together)There's plenty of room for both my kids and not fight for space (5 yr old and 13 yr old). It's fun to watch my oldest interacting with my youngest.
Date published: 2016-09-10
Rated 3 out of 5
by
Twins dad
from
Good idea, poor craftsmanship
The table and track system is a great idea, and my boys love it. However, as a perfectionist, the quality is sub-par. The decals aren't long enough and gaps are left after applying. Also, the starting gate doesn't fit together properly and the platform is warped, causing the cars to roll without releasing them. The bridges don't fit flush into the molded track either, causing the cars to stop suddenly. For $80, my boys won't know the difference. But I'd rather pay more for a better quality product.
Date published: 2017-12-26
Rated 5 out of 5
by
The Sentimental Mama
from
My Busy Boy's Favorite Toy!
My son is EXTREMELY active and has now become obsessed with cars - specifically Hot Wheels cars. As soon as I saw this toy, I knew my son would LOVE IT and that he did! I love how toddler friendly it is. There wasn't anything I had to show him how it works or anything. He just walked right up (or ran right up rather) and started to play with it. He calls this his "Really REALLY really REALLY fast cars". We co-sleep and first thing in the morning when he gets up he gets in my face and says "Mama, REALLY REALLY fast cars Mama?" It is about the only toy I don't have to be a helicopter Mom over him too. He gets his enjoyment playing with this solo. This toy is bulky however I like that it is. It isn't bulky to were I can't move it around. Because in fact I move this toy from his toy room to the living room just about every day - so that isn't an issue. Its easy to clean and is sturdy enough to where it doesn't knock over when he is leaning on it. Overall, if your toddler is active and loves cars, this is a must have! Especially with the holidays coming up!!!!I received this as a gift in exchange for my unbiased review.
Date published: 2016-09-13
Rated 5 out of 5
by
Voani
from
HotWheels Car and Track Table
We did have issues with the table and customer service kindly handled and replaced the table. Yvette was kind and very helpful. We sent pictures of the issues, she kept in contact until all was solved. The table was purchased for my grandchildren that I watch. They are all delighted with it. I must add we own many of STEP2 products and plan to continue to purchases more in the near future. I have my eyes on a few things for my home and my grandchildren's homes near and far.
Date published: 2017-12-01
Will this product be available again? 
Call STEP2, I didn't know it wasn't available. My Grands are playing with mine as I reply to this. 
Date published: 2021-04-06
My son got a Hot Wheels™ Car & Track Play Table for Christmas from his grandparents. The table top was broke when we opened it. How could we get it replaced? Thanks in advance for any help with this.
Please contact our Consumer Service Specialists at 1-800-347-8372 Monday through Friday, 8AM -5PM Eastern Standard Time.
Date published: 2021-02-26
The bridge part at the top has a defect that will not allow the pieces to snap into place. Is there a way to just get a replacement for those gray and blue pieces to the bridge? We would prefer replacement parts rather than returning the whole item.
Please contact our Consumer Services toll free number at 1-800-347-8372 Monday through Friday between 8am and 5pm EST. and one of our representatives will be happy to assist you.
Date published: 2021-01-19
How do i purchase through step 2?
Step2 Direct does not offer this, please check out Kohl's, it appears to be in stock online at Kohl's.com.
Date published: 2020-12-11
Where can I buy this? Has it be discontinued?
Just ordered on Kohls! In stock for home delivery only. Good luck!!!!
Date published: 2020-11-03
I can't find this anywhere! Can I order off the site? Thanks
Thank you for contacting The Step2 Company. We apologize but we are currently out of stock and backordered on this item and several products. We are now running limited production as we were previously shut down due to the COVID-19 environment and unable to produce at that time. Our current production has been limited due to social distancing guidelines. We do not anticipate having this item & other products back in stock until mid to late August. Please note this is an estimate as the timing could move back again based on demand, production schedule and retailer commitments. Continue to check our website daily for availability and updates. We apologize for any inconvenience.
Date published: 2020-08-06
I already own this table but I would like to buy the Hot Wheels attachment (parts E, F, G, H and I). Is this possible?
Call customer service, STEP2 carries replacement parts. They are priced reasonably and I truly believe they have the best customer service I have ever experienced.  We love our Hot Wheel table, I watch my Grandchildren they let me know when they need the lid on. Art, puzzles, hex bugs and wooden trains are some things we do when the top is on. Endless Hot Wheels fun with it off.
Date published: 2019-05-11
How do I get hardware for my hot wheels car and track play table.. mine didn't come with any screws
It should have come with screws.. I would call customer service to send you some.
Date published: 2017-12-30