Hot Wheels™ Extreme Road Rally Raceway™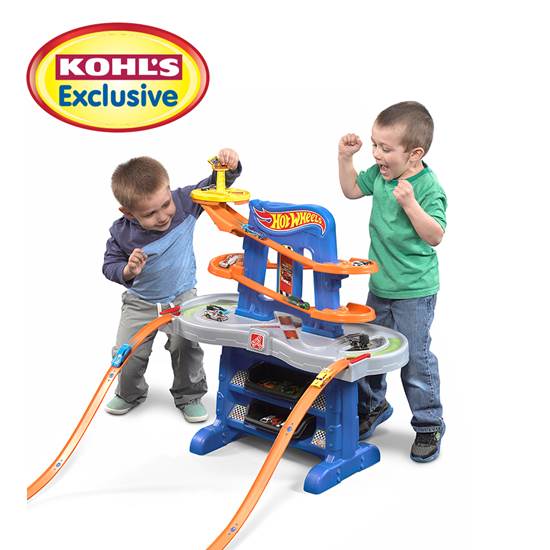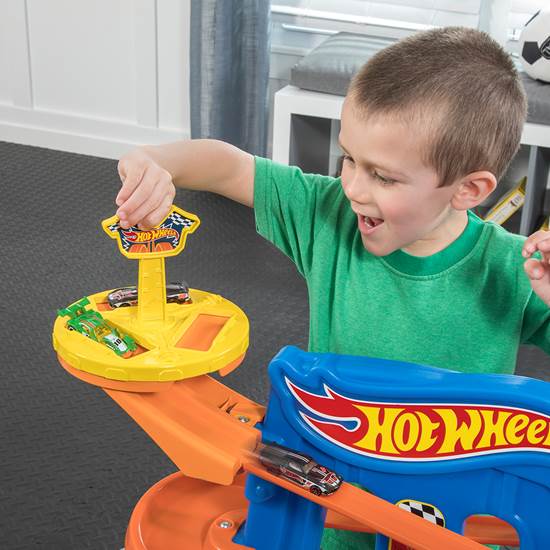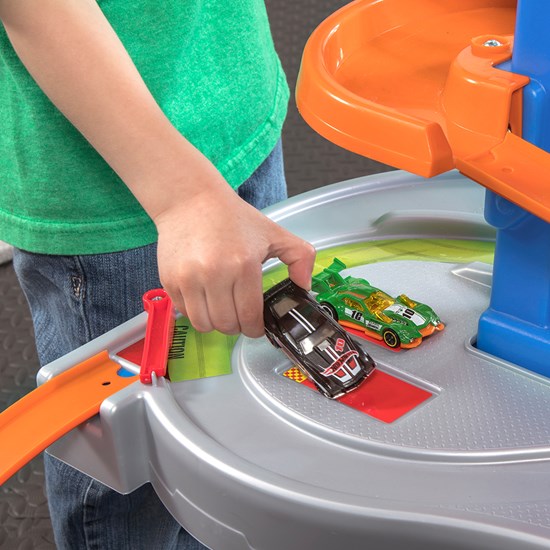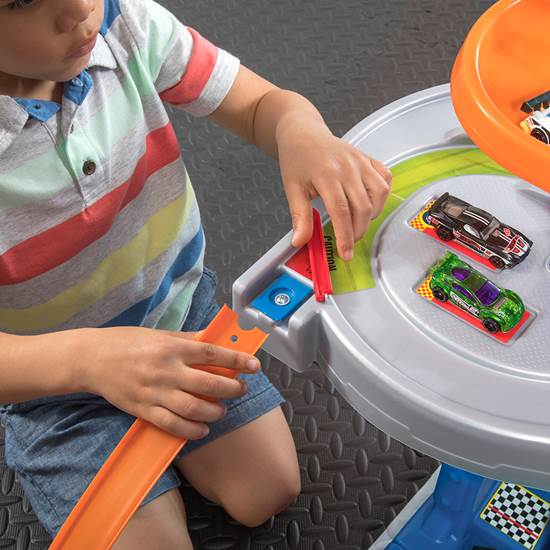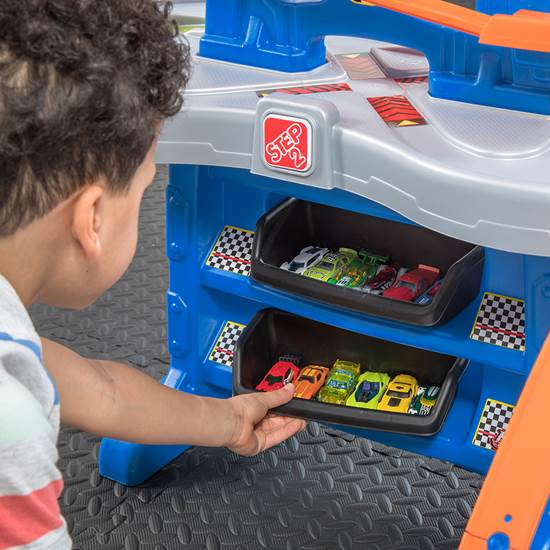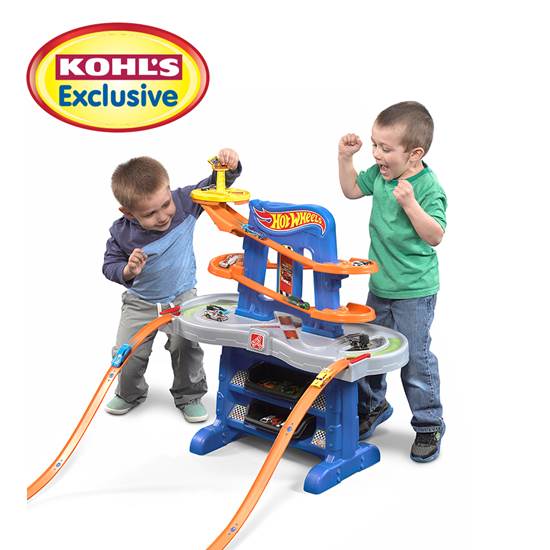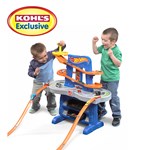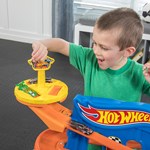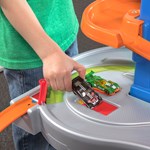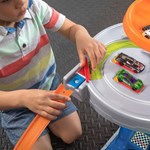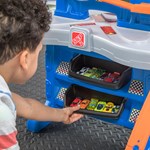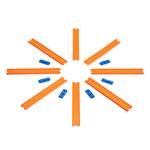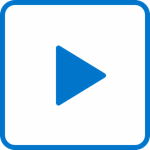 Hot Wheels™ Extreme Road Rally Raceway™
Little speed racers will love watching their cars cross the finish line with the Hot Wheels™ Extreme Road Rally Raceway by Step2.
IS THIS A GIFT? DON'T SPOIL THE SURPRISE!
This item ships with an image of the product on its outer packaging.
Rated 4 out of 5
by
Breezy
from
Fun car track!
When I opened the box, I was surprised at how many pieces were included for assembly. It took me a solid 30 minutes to put together. The instructions recommend a screwdriver, but you would be better served using a drill! ! There are not holes where the screws go in, so you have to push them in as you assemble. The drill saved me lot of time and energy! That being said, I believe the track is sturdy and will hold up to a lot of playing! The cars seem get stuck on the turns, but started moving a bit better with more use. I also like the black bins for car storage! Overall, I believe this is a good product that will hold up with lots of use! The kids really enjoy it!!
Date published: 2018-08-07
Rated 5 out of 5
by
NatalieC
from
Perfect toy for Hot Wheels lovers!
Thank you Step2 for letting us test this item as part of the Step2 Toy Tester Program! Perfect toy for little boys or girls who love hot wheels! It took less than an hour to assemble with easy to follow directions. What we loved about this toy is that our autistic four year old son could play with his two year old brother. This is huge for an autistic family! There is plenty of room for multiple kids to play together. Perfect little bins to hold the cars and the toy itself didn't take up to much room. Some of the cars did get stuck around the turns, but this did not stop them from having fun. The only thing I would suggest is use a drill instead of a screw driver.
Date published: 2018-08-11
Rated 5 out of 5
by
Kphillips918
from
Our new favorite toy!
Thank you Step2 for letting me test this item as part of the Step2 Toy Tester Program! It took me less than an hour to assemble this but I would highly recommend using a power drill with a Phillips head on it. It would have taken forever to use a screw driver like the directions say to use. Once assembled the fun begins! You need to be sure it's on a level surface or the cars won't make it all the way down. My 2 1/2 year old loves this Hot Wheel's Extreme Road Rally Racewa! He can easily move the top part with the cars. He has to have help with the extra tracks when he wants to add more or take them off but he plays with this everyday. He loves making his Hot Wheels race on the track! He can't wait to have his friends over to show them how cool new track!
Date published: 2018-08-08
Rated 3 out of 5
by
Coto
from
Building a Turning Tower of Cars
Wearing more fashion than function, the Hot Wheels Extreme Road Rally Raceway looks exciting but fails to fully deliver. Young boys (and girls!) love toy cars and race tracks, so what better than both together? The image on the box promises two Hot Wheels cars and a downward winding track with hairpin turns that lead to a high velocity ramp. I opened the box eager to piece together the final product. The number of parts didn't overwhelm me, despite the 36-step instructions (not counting decals). I jumped in with confidence but quickly found myself frustrated by step eight. The manual suggests having two people around for assembly. While one person can manage, two really facilitate the process. Yet, even with help, having to fasten 30+ crews soon tired me out. I pressed on nonetheless. Finally built, I invited my boys to have at it. They loaded the cars, released them, watched them roll down the winding track, and stop prematurely before the final ramp. They tried this several times before I stepped in to find out why the cars wouldn't continue. Perhaps I failed during the assembly process. After several investigations we concluded the cars turn too fast during the last spin and rather than proceeding onto the ramp, they hit a corner and stop. We tried other Hot Wheels cars and found the same (and worse) results. Exhausted, I left my boys to play on their own. They simply closed the roadway to the final ramp using the built-in stopper and played without it. While this toy carried a heavy assembly burden and we had to close off the final ramp, my boys had some fun using its abbreviated form. A few more design tweaks would greatly improve this product. Thank you Step2 for letting me test this item as part of the Step2 Toy Tester Program!
Date published: 2018-08-20
Rated 4 out of 5
by
ProudDad
from
Nice
Very nice product. Be sure to put track on turns b4 you screw them on. 1 Negative. No stickers... I will call for them in morning.
Date published: 2018-12-24
Rated 5 out of 5
by
gracejulie725
from
Wonderful product, and NOT just for boys, either!
My kids were thrilled to see this on the front porch and couldn't wait to play! My husband and I installed it together by following the instructions and taking turn screwing it all together. Some people might think it is a pain to have to go to these lengths, but honestly, it'll last much longer and hopefully for years to come! And I'm a big fan of durability!! The kids could barely stand waiting but finally got to start zooming cars down the track! It was nice that 2 Hot Wheels cars are already included! The kids especially like putting the cars in the spinning launch bay to send them soaring down the raceway. I like that we can add more track in the future, if we want to, to make a longer racetrack. They really love watching their cars going down the zigzag track and it's kept them very entertained playing with this toy. My daughter actually played with this toy longer than her brothers! One thing this mom appreciates is the storage bins in the bottom, where hopefully my children will store their extra cars. What a great feature! The Hot Wheels Extreme Road Rally Raceway gets 5 stars from this mom and her 3 kids! Thank you Step2 for letting me test this item as part of the Step2 Toy Tester Program!
Date published: 2018-08-07
Rated 5 out of 5
by
cwinniebear24
from
Exceeded Expectations
Thank you Step2 for letting me test this item as part of the Step2 Toy Tester Program! This product surprised me. When I received it, I was pleasantly surprised that the directions were very understandable. I was fine with not having predrilled holes, yes it is a little more work but it makes it so much more durable. My son is 4 years old, special needs and he is not easily amused by any tracks. I was so surprised when he wanted to play with this one immediately. This is the first car track that has held his interest, the zig zag tracks are very engaging. The zig zag track placement also keeps little hands from wanting to pull the tracks apart. The only criticism I have is that the spinning launch is a little bit tight to turn for children. But, the launch is also a very good addition as my son loves putting the cars in the hole and watching them race down the track. I love the storage bins on the bottom of the raceway, they are big enough to hold several cars. There are some hot wheels cars that will not go down the track correctly but I have also found there to be quite a few that will go just fine. I would definately recommend this product as a good option for children that love hot wheels tracks but might not be ready for the majority of them.
Date published: 2018-08-15
Rated 5 out of 5
by
Melissa311
from
So much fun!
We received this product and within minutes my boys (2 & 4) were trying to tear through the box. The assembly was easy enough and the directions very easy to follow. I was surprised at the sturdiness and durability when we were finished. That's always important with toys around here! We have a large collection of Hot Wheels and most all of them worked great on the tracks, a few odd shaped ones needed an extra push on the way down. I am also very happy to report that the fun has not yet faded and we have had the raceway for almost 2 weeks. Its played with daily and doesn't lose their interest. They have taken parts of the track off quite a few times but they are easily put back and then they are right back at it and racing away. There are 2 storage baskets that are held below the track on shelf areas which are an added bonus and help keep things a little tidy. My 4 year old really enjoys the spinning part at the top that allows you to put 3 cars in so they can go down the track one right after the other. You could easily attach more tracks to keep the cars going which we have yet to try but definitely plan on it. Overall I would highly recommend this toy for any Hot Wheels fan out there. My 4 year old has been obsessed with Hot Wheels since he first picked one up and he says this is the best track ever. Thank you Step2 for letting me test this item as part of the Step2 Toy Tester Program!
Date published: 2018-08-14
Mine didn't come with the yellow top as well I noticed some one else said there's didn't come with one how do you get the missing part ?   My kids seen the website when we went to find instructions to put. Decals and together and now there unhappy because
Please contact at us 1-800-347-8372 Monday - Friday, 8:00 am - 11:00 am and 12:00 pm - 5:00 pm EST, and ask for a Customer Service representative who will assist you in order to find a resolution to your satisfaction
Date published: 2020-08-07
Bought an incomplete set extreme rally roadway racer set at kohl's.... can I purchase missing pieces???
Please contact our Consumer Service Specialists at 1-800-347-8372 Monday through Friday, 8AM -5PM Eastern Standard Time and we will be happy to help you.
Date published: 2020-01-07
We have this table for our grandsons but it doesn't have the yellow wheel on top. Is that something that will make it work better and if so how do I get one?
Regretfully, the yellow wheel is not offered separately from the Hot Wheels™ Extreme Road Rally Raceway™.
Date published: 2019-09-12
Are the tracks that come in the separate packages the ones that go off the front or are they part of the zigzag track?
Please contact our Consumer Specialist Staff at 1-800-347-8372, Monday through Friday, 8am-5PM Eastern Standard Time for assistance.
Date published: 2019-01-16
I bought this table for my grandson...I had to download the instructions because they were missing and I am also missing one of the black holders. How do I get a replacement?