Hot Wheels™ Extreme Road Rally Raceway™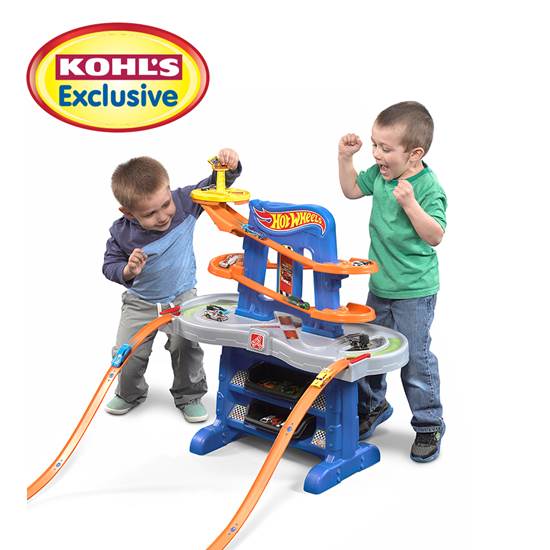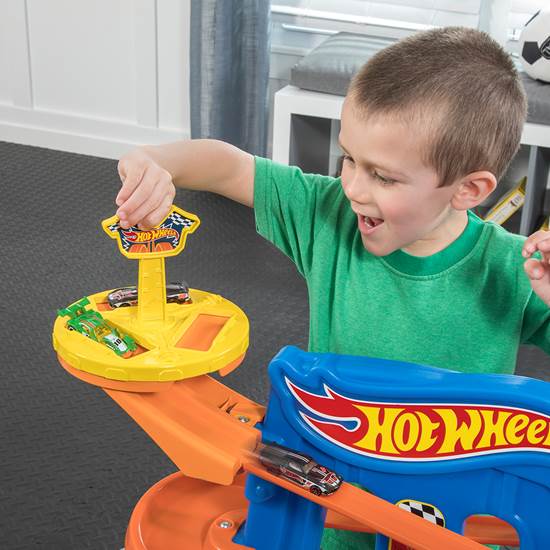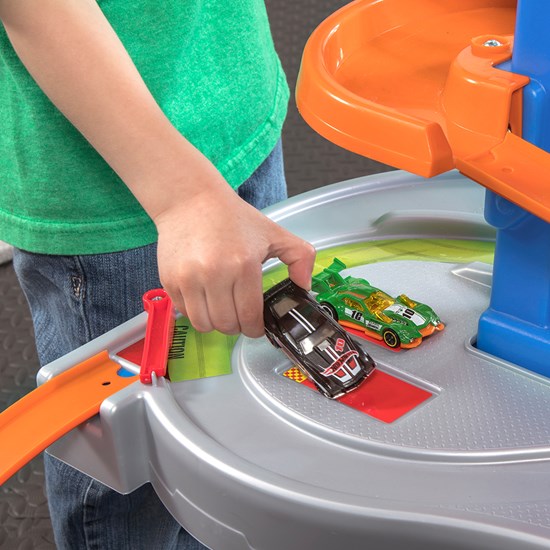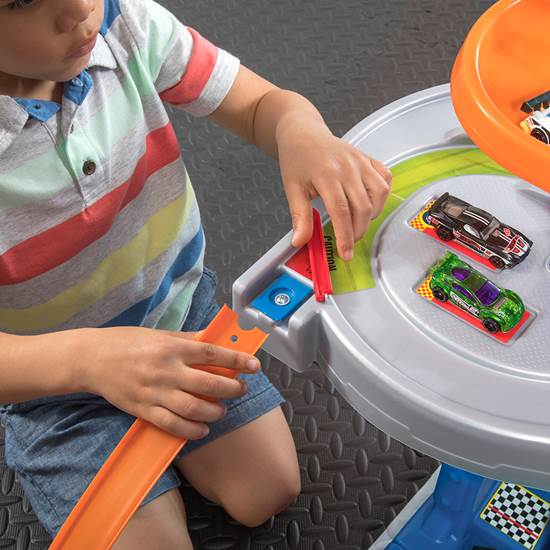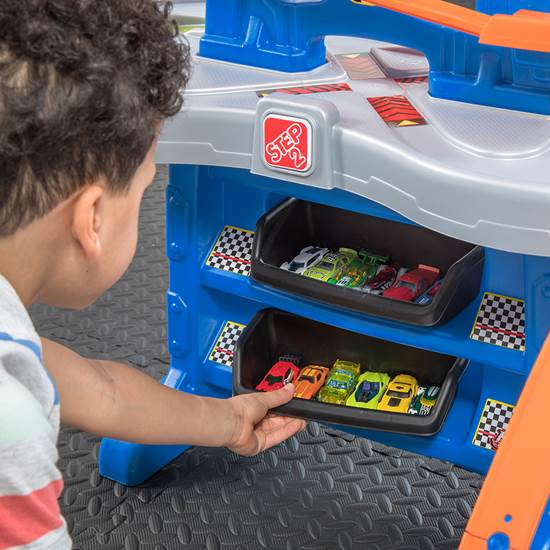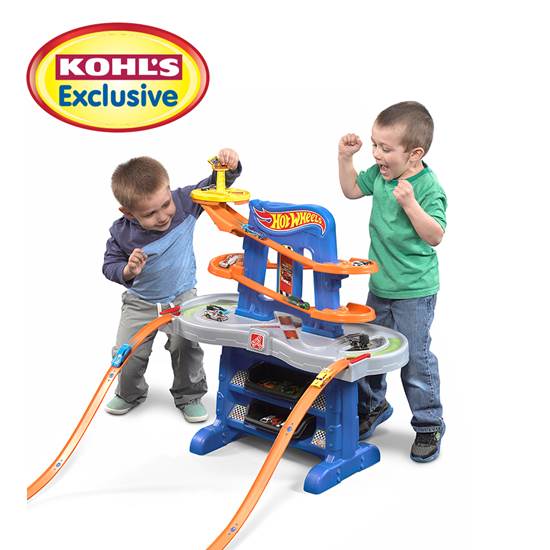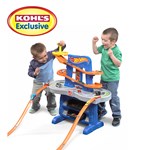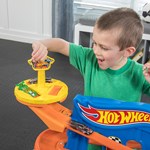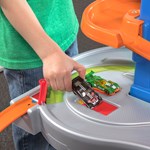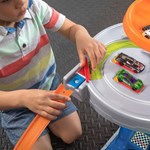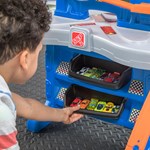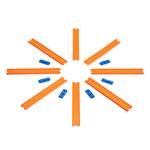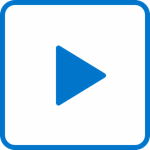 Hot Wheels™ Extreme Road Rally Raceway™
Little speed racers will love watching their cars cross the finish line with the Hot Wheels™ Extreme Road Rally Raceway by Step2.
IS THIS A GIFT? DON'T SPOIL THE SURPRISE!
This item ships with an image of the product on its outer packaging.
Rated 4 out of 5
by
kfol24
from
Versatile fun for boys and girls!
I received this product as a test product. Thank you Step2 for letting me test this item as part of the Step2 Toy Tester Program! That being said, I let both my two year boy and four year old girl have at it. I love that it was a toy they could both play with together. They raced with it using the two different end tracks and also used the gates at the end to play another sort of game where they tried to time it right and block the others car from completing the track. I love that it was adaptable, and that the track was flexible. My kids are rough on absolutely everything and toys don't always make it very long in my household between getting stepped on, thrown or fought over with two toddlers. The flexibility of the track and its connectors allowed for all of that without ever comprising the track which was great. I love the storage bin for extra track we aren't using and connector pieces as well as future cars. Now, for cons. The overall unit seems a bit wobbly and after about two weeks the turns don't seem to be quite level so the cars have slowed a bit at the turns so I will have to try and make adjustments. My kids love the toy. I think the most frustrating part about it and the only reason I couldn't give it a full 5 stars is the installation. Some of the pictures are bit obscure and more pre-drilled holes are really a must for proper install.I think it would help keep things more stable and level as long as possible. The location of the holes was also difficult to get to. Simple pre-drilling would simplify this for most parents and that would speed up installation for parents and those waiting kids. One last suggestion. Already looking at buying more track and cars for the holidays, maybe include additional track configurations or add-ons for ends in brochure or instruction manual for parents?
Date published: 2018-08-14
Rated 5 out of 5
by
Atherkildsen
from
Exciting + Engaging Toy!
Thank you Step2 for letting me test this item as part of the Step2 Toy Tester Program! My kids and I were very excited when we saw the box for the Hot Wheels™ Extreme Road Rally Raceway™ sitting outside our door. Our experience with this product has been great, we haven't had any issues and the kids are beyond entertained. They play with this toy multiple times a day and we love how it stores all the cars right in the bins on the toy. Great toy + storage= one happy mama. This toy was very easy to put together, however, be prepared to use a drill to screw the pieces together! The holes are not pre-drilled, but this is to ensure that tiny plastic shavings do not get into the mouths of the kiddos. Also, I do not mind the holes not being pre-drilled as it makes for a more secure and durable fit when assembling the toy. My kids ages 2 (boy) + 5 (girl) could not wait to play with this toy. So much that they were playing with it as I was putting the parts together! Some people have said that the cars get stuck around the curves, however, my kids played with it while assembling and tested each ramp so we had no problems with the cars getting stuck! I suggest doing this and then tightening the screws to avoid any issues. Listen to your kiddos, sometimes they are smarter than they look and onto something good! :) I love how this toy provides hours of fun and anticipation, my kids tested every car they had in the toy box to see which was the fastest. It is very durable, even with two kids banging on it and flying cars off of the ramps. One thing to note is that although the picture shows two track ramps, it comes with only enough pieces to assemble the top ramps and one off ramp. You will need to purchase an additional track set if you have two kids like me that want race their cars down the off ramps! Overall, I would definitely recommend this toy for any child that loves the excitement and anticipation of racing cars.
Date published: 2018-08-08
Rated 4 out of 5
by
Lemitchell07
from
Hot Wheels Fun
Thank you Step2 for letting me test this item as part of the Step2 Toy Tester Program! When the product arrived, I was worried that assembly might be lengthy and tedious, but assembly of the product was straightforward, and the instructions were clear. When first put together, it did take several slight adjustments to make sure that the cars could make it around each curve on the track, as they started to slow down and stop on each turn. After a while, with some adjustments to the attachment points of the track, the cars made it down the track without difficulty. My sons are ages 4 and 1. Both of them enjoyed playing with this product, together and individually. A definite plus to the product is that it allowed enough room for both boys to play at the same time without getting in each other's way. I also enjoy the storage bins on the lower part of the product for holding extra cars; this is a nice addition. The age range for this product is listed as ages 4-8, but I do feel that the target age range could be lowered slightly. My 1 year old is not tall enough to work the top turntable, and his fine motor skills are not advanced enough to place the cars precisely on the track, but the height of the table was perfect for him to stand at and move the cars around the lower level. I could envision a child as young as 3 years old being able to easily enjoy all aspects of this product. For my 4-year-old, the best aspect of the product was the ability to attach other Hot Wheels track pieces to the table to create a larger network of raceway. My 4-year-old did seem to tire of the toy more quickly than I may have anticipated. It would be difficult for me to see a child as old as 7 or 8 years old fully enjoying this product. Overall, I think that this toy is a great addition to our already extensive collection of Hot Wheels products and racetrack pieces. However, I don't feel that it would serve as a stand-alone toy that I would purchase if we did not already have other Hot Wheels products.
Date published: 2018-08-13
Rated 5 out of 5
by
Stacy10684
from
A Fun Toy For All Ages
My family received the Step 2 Hot Wheels Road Rally Raceway in August of 2018 as part of the Step 2 Toy Tester Program. My children, ages 1, 3, and 5 were very excited about the experience. When the toy arrived on our doorstep, the kids were squealing in excitement! We quickly opened the box and put it together. I have listed our pros and cons to the toy below: Pros: It is a toy that is fun for all ages, and I even found myself playing alongside my kids. Each one of the kids liked the toy and spent time playing with it. My oldest liked to build the tracks, my 3 year old liked racing cars down the sides, and my youngest just liked putting cars at the top and watching them go down. This is a very appealing toy with its bright colors and decals. The little turn table at the top that sends the cars down has been the kids' favorite part and really seems to work well. It is part of the Hot Wheels Track Builder System, so all of our previously acquired tracks, loops, etc… worked perfectly. It comes with enough track to get started, but more track definitely makes it more fun! We will be looking to add more to it when the holidays roll around. It is a toy that can be used differently each time it's played with. Depending on the configuration of track after it comes off the table, there are millions of ways to set it up. In the week that we have had this toy, it has already provided my children with hours of enjoyment. In checking out the toy on the internet, the cost (approx. $65) seems to be a fair price for the quality of the toy and what is included. We don't have too many cons, but here are a few things that we thought could use some improvement. Cons: The biggest con is with the assembly, which took nearly an hour. This toy does not have "pre-drilled" holds for the screws, so therefore when you're building it, it is very hard to keep everything together and level. Since the cars travel down the track by gravity, this is a key factor. Although there is storage for cars included, I would have liked for there to be additional storage for the track (possibly in the back). The black storage bins in the front are a great place for car storage, but there is only enough room for about 25 cars. The size of this table is not large which is great, but when additional track is added, it becomes much bigger and can take up a whole room. Overall, I have to say that I would highly recommend this toy, and that the positive qualities of this product definitely outweigh the negative. In the week that we have had it, there have been a few other children who have stopped by and have played with it. It has been a "hit" with all of them, no matter the age, ability level, or gender. I think that it is a toy that will be used for many years to come and my kids will continue playing with it. It is also a toy that I may be buying for a gift in the upcoming months! Thank you Step2 for letting me test this item as part of the Step2 Toy Tester Program!
Date published: 2018-08-14
Bought an incomplete set extreme rally roadway racer set at kohl's.... can I purchase missing pieces???
Please contact our Consumer Service Specialists at 1-800-347-8372 Monday through Friday, 8AM -5PM Eastern Standard Time and we will be happy to help you.
Date published: 2020-01-07
We have this table for our grandsons but it doesn't have the yellow wheel on top. Is that something that will make it work better and if so how do I get one?
Regretfully, the yellow wheel is not offered separately from the Hot Wheels™ Extreme Road Rally Raceway™.
Date published: 2019-09-12
Are the tracks that come in the separate packages the ones that go off the front or are they part of the zigzag track?
Please contact our Consumer Specialist Staff at 1-800-347-8372, Monday through Friday, 8am-5PM Eastern Standard Time for assistance.
Date published: 2019-01-16
Mine didn't come with the yellow top as well I noticed some one else said there's didn't come with one how do you get the missing part ?   My kids seen the website when we went to find instructions to put. Decals and together and now there unhappy because
I bought this table for my grandson...I had to download the instructions because they were missing and I am also missing one of the black holders. How do I get a replacement?