Hot Wheels™ Extreme Thrill Coaster™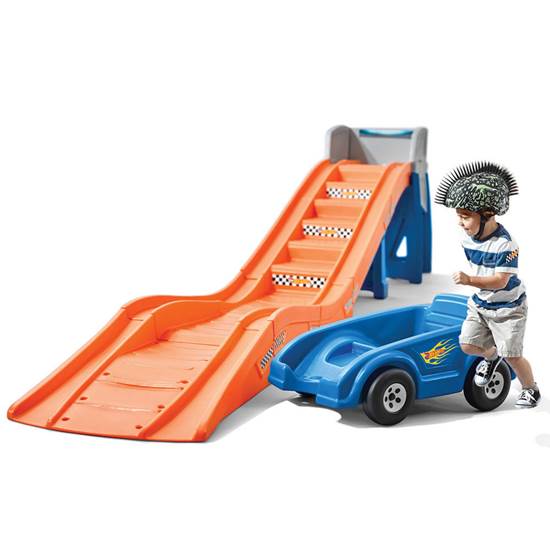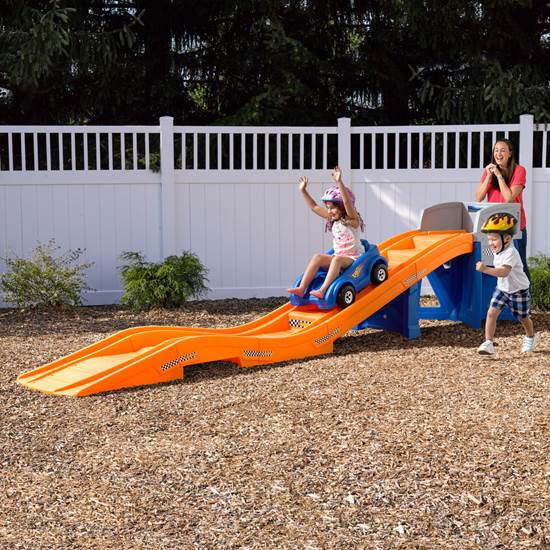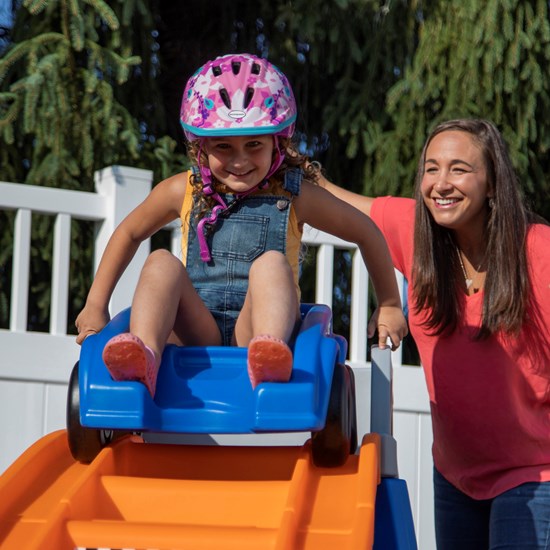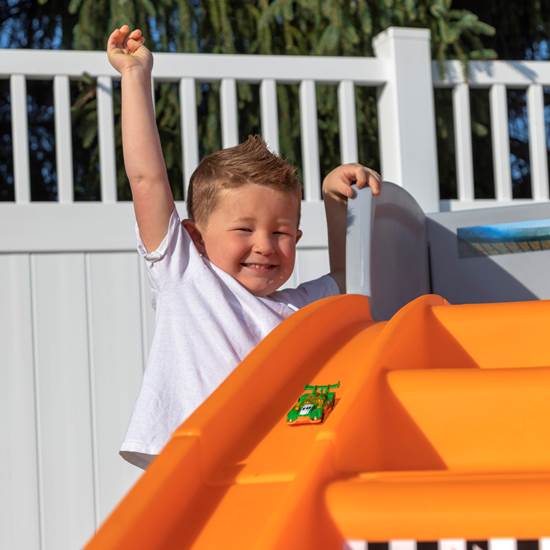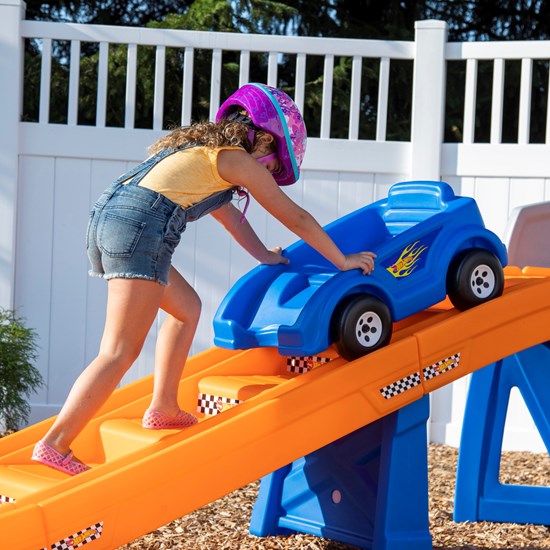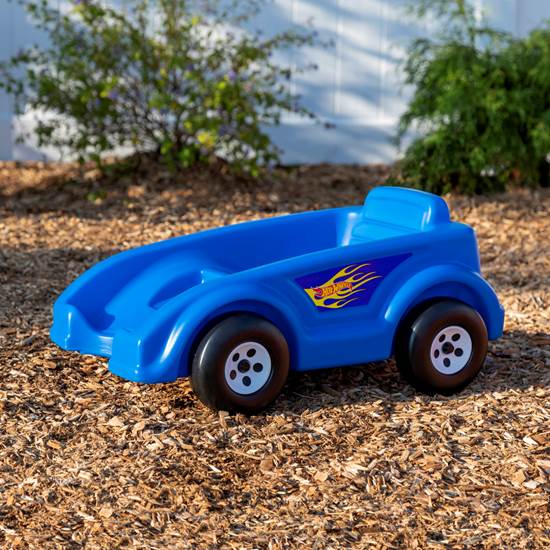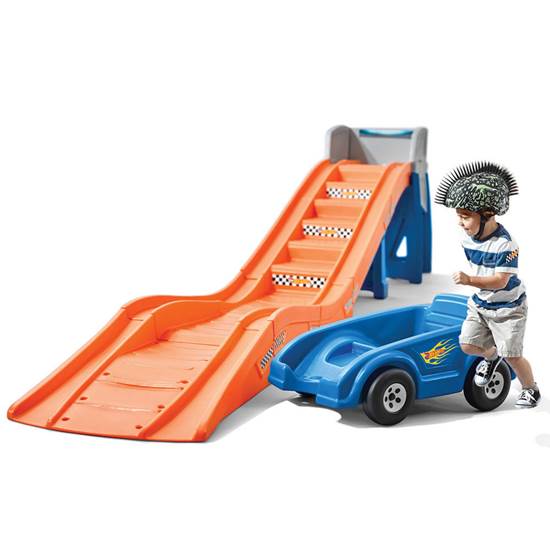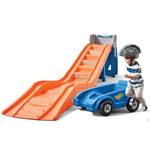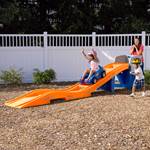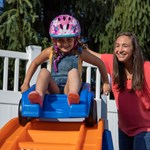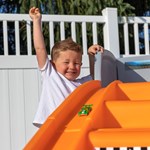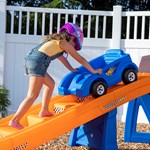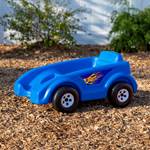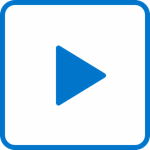 Hot Wheels™ Extreme Thrill Coaster™
Out of stock
$329.99
+29.99 shipping (via FedEx)
Bring the excitement of coaster toys and Hot Wheels™ cars to your backyard!
IS THIS A GIFT? DON'T SPOIL THE SURPRISE!
This item ships with an image of the product on its outer packaging.
Rated 5 out of 5
by
Anonymous
from
Happiness is having your own coaster!
My grandchildren are 2 (girl) and 4(boy) and this coaster has made their outside playtime go up to a whole new level of fun! They quickly learned to take turns, and little sis gets pushes from big brother, which they both enjoy-she waits, and he comes around the back of the coaster and gives her a little push and they both squeal with excitement! He is able to wiggle it forward on his own. I had the small up and down roller coaster years ago for my sons, and was thrilled to be able to get this cool coaster for my grandchildren, as I watch them every weekday and we are building many happy memories in the yard with this amazing riding toy!
Date published: 2017-04-23
Rated 5 out of 5
by
CeCe213
from
Best Birthday Gift Ever
We bought this awesome Hot Wheels Extreme Thrill Coaster for our grandson's third birthday and it was a big hit. This coaster has an amazing wow factor and is loved by our little guy, his six year old sister and his nine year old brother. I thought that it would make a great addition to their playground in their huge yard and boy was i right. All three children love it and it is the first thing they run to when they go outside to play. It is very well made like all of Step 2's products and I would highly recommend this to anyone who is considering a coaster purchase or just as a fun filled gift that will continue to thrill your little ones for years to come.
Date published: 2017-07-10
Rated 4 out of 5
by
Bob H
from
Nice Product, but some issues
We saw one of these at a birthday party our grandson attended. He liked it a lot, so we purchased one. The instructions were good, but there were 2 issues- the first was that the 5" bolts were too short for the assembly procedure 18. We were only able to get 1 thread showing. I made a trip to a hardware store and bought 2 3/8 x 5 1/2 bolts and that issue was resolved. Item H had 2 issues. The first is that there is no Step 2 Step label. The bigger issue is that the 2 holes for the pins were not drilled. I have a boring bit, so that was easily corrected, using the template in the part. Looking foward to our grandson playing on it!
Date published: 2018-09-18
Rated 5 out of 5
by
toymama
from
the best toy i have ever bought !
lets say it ,i have 6 kids , so i bought a lot of toys ! this one is the cream of the cream ! my 1 1/2 years old loves it , my 4 years old loves it and my 8 years old loves it ! its nice to have a toy that both girls and boys like and that can be played with by such a big range of kids age ! and as always its made well so i know its going to last a very long time ! , in the summer its outside , once the first snow arrives in the basement play room it goes ! it keeps my kids active inside the house so i love it .. they dont need a climber or a slide .. they have that ! warning , it looks small but its very big ! (exemple everyone knows these 2' x 2' interlocking foam tiles on my floor) and once off the slide the car makes it all the way to the end of my play room (20 feet away) to hit pillows to gently stop them because it would go much further !
Date published: 2017-12-07
Rated 5 out of 5
by
Allison28
from
The best thing we have ever bought for our kid !
This roller coaster has been the biggest hit as far as gifts for our son. We got it from him for Christmas in 2017 so he was about to turn two. He couldn't push his self down it yet but he learned how to quickly once his arms were long enough. He is about to be three now and still plays on it every time he goes outside. My newphew is five and also loves it. This coaster is perfect for all ages. It has been in our back yard since we got it and has held up perfectly even the stickers have held up. Don't regret a penny spent on this. Also the assembly was pretty easy. Only took one night to put it together. If your thinking about buying it do it !
Date published: 2019-03-27
Rated 2 out of 5
by
Frustrated
from
Lousy instructions
I know my grandson would love this toy if I could get it together. The directions are almost nonexistent and labeling is not there. A few stickers on the parts would have really helped. Also needs a socket wrench which does not exist in my household. Try putting those bolts together with a wrench and pliers, then taking them apart because I put the wrong parts together....I think. Step2 said to view a video they said would help. Unfortunately it is for their 2015 model. 2017 has a different configuration. I'm so disgusted about the whole thing it will probably sit there until he's old enough to put it together himself(sarcasm). I gave 2 stars because he is enjoying pushing the car around.
Date published: 2017-10-17
Rated 5 out of 5
by
Anonymous
from
3 year old loves it!
I bought this for my son on his 3rd birthday and he LOVES it. There were lots of kids ranging in ages (2-8 years old) at the party and all of them wanted to ride it. It was a hit! Everyday since his bday (it's been about a month) he's excitedly asked to ride on his "coaster" and he giggles with joy every. single. time. It's super adorable to see him get so excited :) The only con about this thing is the price--so expensive! We bought a 15ft trampoline for the same price last Christmas!? Way over budget on this present but it'll last and it's something fun to do outside so we went for it and we are happy we did!
Date published: 2016-11-28
Rated 5 out of 5
by
Hanna
from
Awesome Roller Coaster/Car Track!
Our 4 year old and 6 year old absolutely love this awesome roller coaster - it provides a thrilling ride, helps enforce taking turns, and gives many opportunities for running as they have to run the car up the ramp and stairs to put it in place. We have a 2 1/2 year old who was a little nervous at first because this does go fast, but he's warming up to it as he watches his big brothers play on it. This thing is durable and I can see it getting a lot of use - the kids already want to play for hours each day, and we just set it up. We do make them all wear helmets, but the actual ride is surprisingly safe and sturdy. I think accidents will only occur if kids are riding it in a way that is not intended, so keep an eye on them. Excellent buy!
Date published: 2017-02-24
Hello would you deliver this to England in the UK? How much would it cost? Or do you know any retailers in the UK that stock this hot wheels coaster? Many thanks
Step2 Direct ships within the contiguous United States only. Regretfully, we do not know of any retailers in the UK that offer this product.
Date published: 2019-12-04
 Can you shorten the track and expand it when needed?
No, unfortunately you cannot. It is bolted together, and very sturdy. If you would take a section out, it would not be safe to ride.On a more positive note, my son was scared of it at first, (I think he was too young/small), but now he and his cousins can't get enough! It never gets old to them. If you can make it work for you, you WON'T be disappointed!!!!
Date published: 2019-11-14
Can I order a second car for the hot wheels coaster? 
Unfortunately we do not offer the coaster car separately.
Date published: 2019-11-07
Do you have a supplier in New Zealand or can you ship to NZ.  Looking at the Extreme Hot Wheels roller coaster.  Thanks 
Step2 Direct ships within the Contiguous United States only.
Date published: 2019-11-07
Hi can you ship to England uk??
Step2 Direct ships within the Contiguous United States only.
Date published: 2019-11-07
Can this be used in the winter or will the plastic crack when used in the cold.
Here in south Louisiana we get really cold for only a few days at a time. It can be in the 30's in the morning & really warm in the afternoon & we very seldom get snow so we have use our coaster anytime of year that the weather is nice out .
Date published: 2019-10-29
What is the reason for putting the screws in before the bolts? It seems you would have less chance of stripping the screws out of the plastic if you put them in after the bolt.
Please contact our Consumer Service Specialists at 1-800-347-8372 Monday through Friday, 8AM -5PM Eastern Standard Time and we will be happy to help you.
Date published: 2019-10-16
Hi Could you send me the dimensions of the delivery box? Im gona get it shipped within the USA and delivered on to Northern Ireland but need to calculate the delivery costs.
The Hot Wheels™ Extreme Thrill Coaster™ arrives in three boxes, please see below for the dimensions : Box 1) 24.5 x 17.75 x 44.25 inches / 62.2 x 45.1 x 112.4 cm Box 2) 29.13 x 13.75 x 41.5 inches / 74 x 34.9 x 105.4 cm Box 3) 26.75 x 20.75 x 30.13 inches / 67.9 x 52.7 x 76.5 cm
Date published: 2019-09-17