Hot Wheels™ Extreme Thrill Coaster™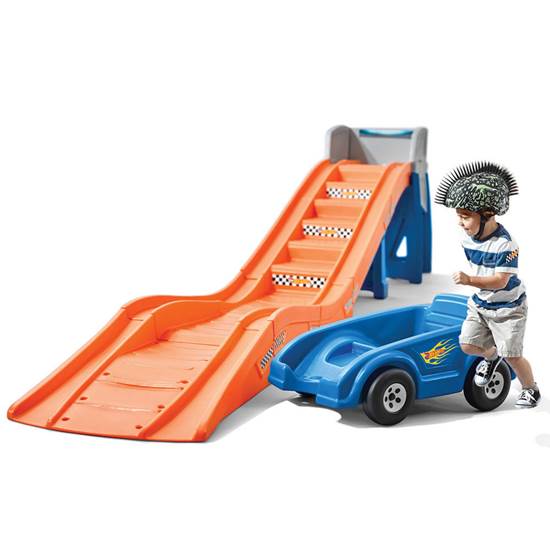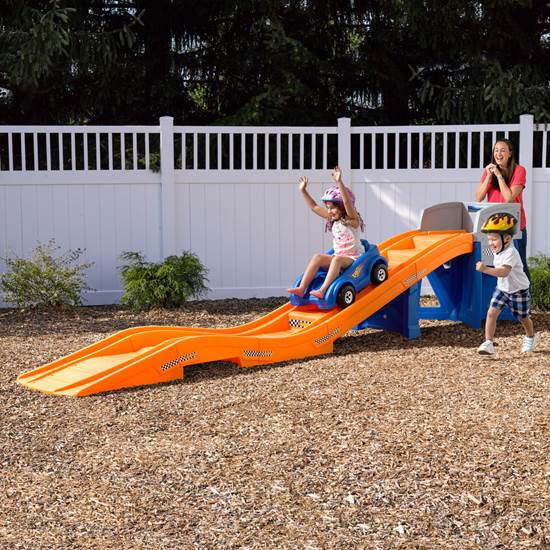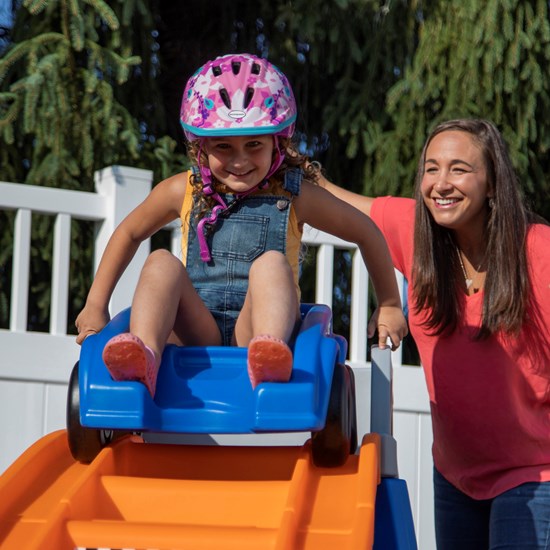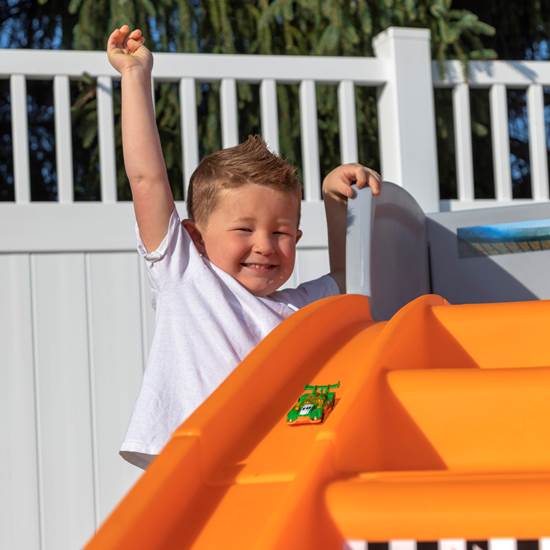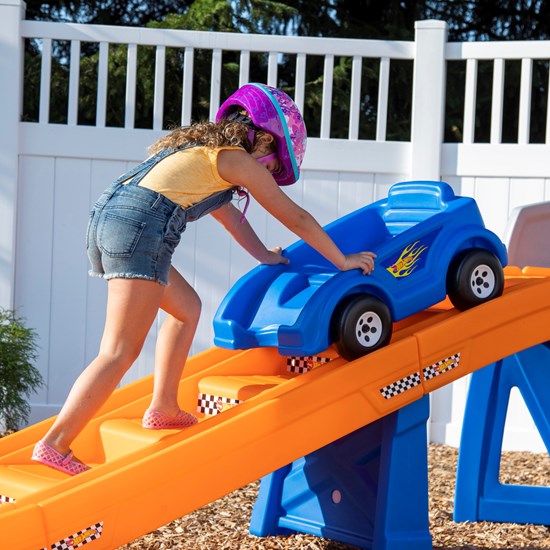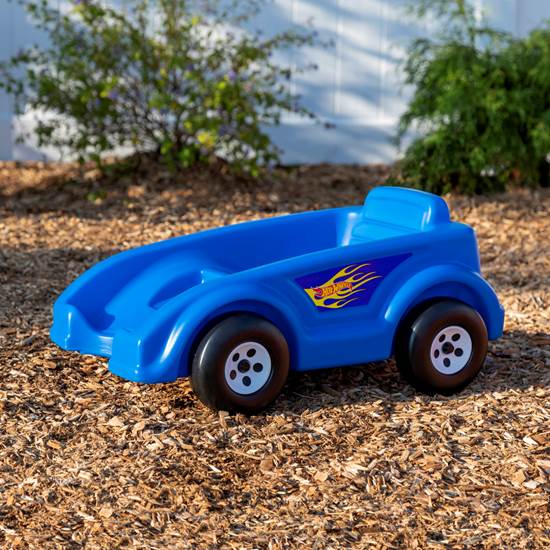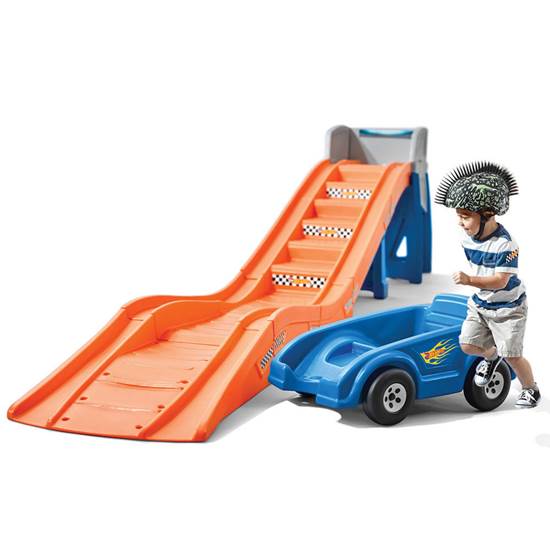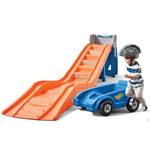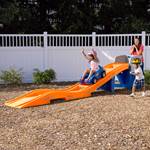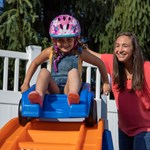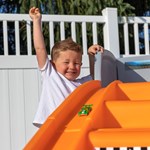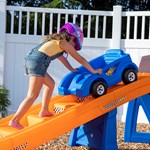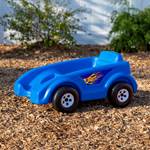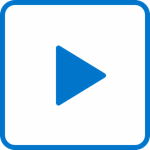 Hot Wheels™ Extreme Thrill Coaster™
In stock
$329.99
+29.99 shipping (via FedEx) When will my item arrive?
Bring the excitement of coaster toys and Hot Wheels™ cars to your backyard!
IS THIS A GIFT? DON'T SPOIL THE SURPRISE!
This item ships with an image of the product on its outer packaging.
Rated 5 out of 5
by
MrChaney
from
Kids LOVE IT (2 & 4 yrs old)
My kids love this, their favorite Christmas present. 1. If you install this on cement, you're going to need a lot more than 6 feet of clearance. 2. Assembly wasn't very hard, I did it myself, but it was difficult to get organized before getting started. A power drill will help insert the screws (tip from YouTube). AND, I found it more assuring to put in the bolts first, tighten, and then screw in the screw. 3. It would've been great if the pieces were labeled, but if you line them all up first, it's pretty simple to see which piece is which. 4. Seems sturdy enough, my 2 year old does wear a helmet, but after watching them for the first couple hours, I didn't see him get anywhere near to falling (but safety first). GREAT PRODUCT...VERY happy with this purchase. If I could recommend one thing, I would LOVE it if there were some other attachments to vary the experience, like what, I don't know...but I would think it would be boring to just go up and down, up and down...though the kids LOVE It. So, maybe I'm just a grumpy old man...a grumpy old man who's very happy with this purchase. : ) OH...And, I would've loved if this thing had a tarp or something to cover when it rains.
Date published: 2018-01-07
Rated 5 out of 5
by
Meehan Family
from
Hours of our door fun!
Way to go Step 2! We have had products of yours last through generations in our family so when it's time to make a large purchase we know where to go. Our littlest daredevil got this for his birthday and both him (2) and older sis (4) LOVE it. I have to be honest, I wish I was with the weight limit to try it myself. My husband installed it easily and it passed this crazy moms safety and security check. The kids figured it out quickly. It is amazing to see them push it back up to the top themselves with no problems due to the stairs. It's actually very light too and we can move it into the garage easily when needed. The extra little bump at the end is perfect for little daredevils! I have no doubt this product will be used for years to come. We definitely recommend it!
Date published: 2016-08-15
Rated 5 out of 5
by
Anonymous
from
Lots of fun for little ones.
Lots of fun for little ones. Although it was not recommended for two year olds, my two year old granddaughter rides it successfully. Her big sister, 6 years old, pushes it back up the track for another ride. Love that the children get a fun ride and exercise when they return it to the track. They both love it. Two safety tips: Teach them to sit it the car properly with their feet on the foot rests. Teach them to make sure the path is clear of pets and other children before they start their ride.
Date published: 2017-04-23
Rated 5 out of 5
by
Anonymous
from
Great! Great! Great!
So much fun! My grandchildren (3 and 5 yr old girls) absolutely love it! Their friends are in awe when they come over. Huge hit! Very sturdy. Only thing to beware of is that it took my son-in-law (who is a homebuilder/contractor) 2 1/2 hours to put it together. Not a simple snap here and snap there. Also beware, if you assemble it on hard ground (i.e. cement), the car will continue rolling quite some distance… Which is great, but they can also slam into a gate/wall or whatever is in its path, if you're not aware of this. So just be sure there's plenty of distance for the car to roll on hard ground, or be sure to put up a buffer of some sort where you want the ride to finish. Still giving five stars even with the lengthy assembly, because the kids love it so much! And it feels very strong, sturdy and safe.
Date published: 2016-09-01
Rated 5 out of 5
by
elsa
from
Mommy of three approved
All three of my daughters ages 2, 5 and 7 love this! They have hours of fun and get some exercise pushing the car up the coaster as well. It appears pretty durable so far, although, I have only had it for about a month now... Assembly was not that bad, it took myself and my husband about an hour to put together. I would definitely recommend this coaster as my children are still enjoying it after a month and have not tired or become bored with it unlike they have with so many other toys. A couple of things to consider would be that this structure does take up quite a bit of space and the grass under the structure as well as where the car wheels roll over does tend to die. Our solution to the grass dying was to move the coaster a little every time a patch of the grass starts to yellow so that the grass can recover. So far that's worked!
Date published: 2016-10-27
Rated 5 out of 5
by
4649miranda
from
Lots Of Backyard Fun For The Kids
Safe, backyard fun for ages 3 to about 8! This Hot Wheels Extreme Thrill Coaster was fairly easy to put together but took about 45 minutes. Great heavy duty construction that should hold up to years of play. Perfect for use on solid surfaces or grass. The kids love how fast they zoom down. I love how the design allows the kids to get the car back up themselves. Highly recommend.
Date published: 2018-08-10
Rated 5 out of 5
by
Anonymous
from
Hot Wheels Extreme Thrill Coaster: An Extreme Hit
I bought this coaster for my grandkids (family of six and ages 10 to 1) as a SECOND coaster to add to their outdoor fun. Like the original Extreme Thrill Coaster, it's a great hit and the kids actually "race" by putting the two coasters side by side and having contests. The product is sturdy, thoughtfully designed with safety and play both in mind and gets lots of fun use.This is the FOURTH coaster I've purchased: the second for this set of grandkids, one for my other two small grandchildren and one for a special nephew. Always a hit!
Date published: 2017-03-15
Rated 5 out of 5
by
Becs Coaster
from
This Coaster is Awesome!!!!
My kids and all their friends and cousins cannot wait to come over to go on the coaster! My kids are 2 and 3, the bigger kids even go on it which are way over the weight limit but it is pretty sturdy!!!! I do not recommend that by the way that is just what my crazy OLDER kids do!!! It is definitely a hit though!! I would highly recommend this product with no reservations!
Date published: 2017-01-09
Rated 5 out of 5
by
Anonymous
from
BEST TOY EVER!!!!
My 4 year old grandson LOVES LOVES LOVES this roller coaster!!! He was so excited to unwrap it at Christmas, he just couldn't wait to "go so super super fast" on it. He rides it everyday and loves for his mom and dad to video him so he can see himself go fast! He even loves to ride it backwards, such a little daredevil. This product is the best yet!!! Shipping was very fast and so was customer service. Minor issue with not receiving the decals in the box, but customer service had them to us in no time! LOVE Step 2 products!!!!!
Date published: 2017-01-13
Rated 5 out of 5
by
Lee
from
Extreme Roller Coaster and More
I bought this for my grandson who loves the Thomas Train Step 2 Roller Coaster, but is getting too big for it.For days it was a never-ending cycle of pushing the car up and riding it down. Now he takes it to another level by rolling balls, Hot Wheels and anything he can find down the tracks.It's comical to see his confusion on why his sand shovel or blocks won't roll down the track.He also likes to climb to the top and see over the privacy fence, especially when he hears a train coming.Who knew it has so many uses?
Date published: 2017-02-16
Rated 5 out of 5
by
Anonymous
from
Great addition to our backyard playground
My children ages 9 and 6 love this. It has been a great addition to our backyard playground. We live in Florida and it has so far stood up to the heat, and rain storms very well. Great purchase. It was also pretty easy to put together, but you do need two people.
Date published: 2016-07-20
Rated 5 out of 5
by
Anonymous
from
Great gift. Plan ahead on where you install it.
This was a xmas gift for our three year old grandson. He loved it from the first ride, as did his cousins, up to 65 pounds.It should definitely be constructed the day or night before gifting. It requires a decent wratchet set and would be a disappointment to take the pieces from three large boxes and expect a 3-5 year old to wait around while the car and track were put together.Also, we knew that we would move the coaster from our home to our grandson's home, so tried to imagine how to move it easily. We found that we could take out 4 bolts and two screws (after three days of use) and move it in two SUVs (we don't have a pick up truck.Even on gravel the coaster needs about 30 feet for most enjoyment (14 of track and another 15-16 -- or more on concrete/less on grass) for a full ride.
Date published: 2017-01-05
Rated 5 out of 5
by
Lance
from
Fun and Great Exercise Too!
My wife and I were looking for "energy buster" toys for CHRISTmas this year. As is also true for adults, many activities that are good exercise aren't very enjoyable. This exciting kid pleaser shatters that notion. My two oldest kids, 7 and 3, absolutely love riding this coaster and the best thing is that they provide all the effort also. They have to push the car back up to the top of ramp so that they can ride again. We put this on our wood deck so the car rolls another 20+ feet after leaving the ramp. That makes for a lot of running and pushing in between rides but the kids don't even slow down. The one who isn't riding often runs along side in a race. This coaster is a wonderful idea. I highly recommend this for any families with young children who have the space to set it up.
Date published: 2017-01-05
Rated 5 out of 5
by
KAITLIN
from
For endless fun for you and your children, buy this!!
My parents gave this coaster to my niece for Christmas. We left it in the box for easier set up at my nieces house at a later date. When all the grandkids saw it, they wanted it opened immediately (of course!!). It took three adults approximately 30 mins to set it up in my parents living room and our entire family had such a ball Christmas day watching the kids ride with joy for hours! I think the adults had as much fun as the kids!!! You or your children will not regret this purchase!
Date published: 2017-01-05
Rated 5 out of 5
by
HAPPYGRAM
from
EXCELLENT!!!!
Grandma to 3, they love this thing to bits! The oldest is 8 and has been having a blast on it since he was 2. We leave it outside in the weather year round in New England. It's the BEST! WHOO-HOO!!!
Date published: 2019-01-23
Rated 5 out of 5
by
Kylie
from
Happy customer!
We purchased this coaster for our almost 5 year old daughter. She already has the smaller version of the Step2 coaster & loves it.This coaster was a lot more work putting it together compared to the (very easy) smaller version. It took a couple hours to get it all together. It was all worth it though because our daughter LOVES it! I wish we would have gotten it last Christmas when she was almost 4 years old. Don't be like us & wait to purchase it, it's awesome & kids love it!
Date published: 2017-01-05
Rated 5 out of 5
by
Marijo
from
Overall, the Best Present Ever! A Real Family Favorite!
Awesome! This was purchased for my three grandchildren, ages 2+ through 7+, and they all absolutely love it! It's such an exciting thrill ride, and yet the design is well thought out and seems to be perfectly safe, even for our two year old. I love that it gives them a great work out as they push the car and climb the steps to the top of the platform, and they continue to do it over and over! They get tired out while they are having a blast! I can't recommend this too highly!!
Date published: 2016-11-30
Rated 4 out of 5
by
Alaina
from
Assembly is a pain
The product arrived within a few days so kudos on the shipping. My husband cursed quite a lot while putting this together. There were pieces that didn't line up exactly so the ride down is a bit bumpy but my son does not seem to mind (3 yrs old). It seems very sturdy though and he has been on it literally every day. It never seems to get old, but we've only had it a month so there's still time. I would buy this again being that this one of several Step2 products that we own.
Date published: 2017-03-30
Rated 4 out of 5
by
Lewber
from
My kids love it! I love it now that it is together
Kids 9 and 3 love it and play for hours! Assembly was a beast but straightforward... Pre-punched holes to start screws would be nice!
Date published: 2018-01-03
Rated 5 out of 5
by
Anonymous
from
Best Christmas present
It was the best Christmas present ever! I just can't put into words how perfect of a gift this was!
Date published: 2017-01-06
Rated 4 out of 5
by
Anonymous
from
Entertained for hours!
We absolutely love this product! It is a toy my son can play on for hours with minimal adult support! I can be doing yard work and this toy keeps him entertained! My only complaint is I wish the side walls at the top of the coaster were a bit higher. Every once in a while when my son turns to get in the little blue car I get a slight heart attack thinking he is going to fall off the top of the coaster. All in all this is a great toy and well worth the money!
Date published: 2017-03-06
Rated 5 out of 5
by
Anonymous
from
Extreme Fun
Our grandchildren love this roller coaster. We love the steps in the middle of the track so they can get some exercise as they push the car back up. It's a bit time consuming to assemble, but well worth the time in fun! We didn't apply the stickers. I think they wouldn't hold up and end up looking nasty and peel off. Looks great without it. I think the rod that holds the wheels in the car could be a bit more substantial. I hope it holds up.
Date published: 2016-09-01
Rated 4 out of 5
by
Anonymous
from
Great Ciaster, wheels could be better.
This is a great coaster the kids love it. Set up is pretty easy, took about an hour. I am a little concerned about taking it apart and reassembling it since much of the assembly involves screws right through the plastic. I also think the wheels on the car should be better. They are hollow smooth plastic and a bit wobbly. I might try to engineer my own wheel and axle assemblies down the road after the warranty expires. I did contact customer support about the wheels because I thought they were too loose and they were great, mailed out a new hardware pack so that I could reattach them since the end caps were not reusable. Sent them overnight at no cost since it was close to Christmas. And reattaching wheels didn't make them better, there is just a lot of play in them and causes the car to wobble a bit and not roll straight. Fun coaster though.
Date published: 2017-01-01
Rated 5 out of 5
by
Anonymous
from
Highly Recommend
It's huge, but SO.MUCH.FUN!!!! If you have little ones 6 or 7 and younger, you'll be pleased with this purchase! This gets used every moment that we allow. Which in my opinion, makes it a great buy, even for the price. I've paid close to the same amount for toys that get played with for an hour or two, never to be touched again. This is worth every penny bc it is played with again and again and again by ALL of our grandchildren!!
Date published: 2017-01-04
Rated 5 out of 5
by
Anonymous
from
My son loves his extreme coaster!
We bought this for my sons second birthday. He recently started to like the playground and slide so we figured this would be perfect for him. He absolutely loves it. We cannot get him, or any of my older nieces and nephews off of it when they come over. The kids love it. I even tried it myself and it is a blast. The best part is my two year old can push the car up the ramp himself by using the stairs so I do not have to do it.
Date published: 2017-02-13
Rated 5 out of 5
by
Anonymous
from
Great fun!
I bought this for my grandsons, ages 1 and 3 years old. They both love it! It's bigger than I expected even though I knew the measurements; possibly due to the sturdy design (but that's a good thing). The steps allow the children to push the car to the top safely. The car locks in place, requiring a slight push to roll down. I can't wait for the warmer weather to take it outside. I couldn't be happier with this purchase.
Date published: 2017-01-15
Rated 5 out of 5
by
Anonymous
from
Super fun addition to the backyard !
Great product. Lots of excericse for my 3.5 year old son and all his friends. Handyman put it together for us and said the pieces were not labeled. I also noticed the directions were printed in black and white making it even harder to decipher which piece goes where! So Step 2 could step it up with instructions. But overall what a fun time and lots of laughs. Also some fighting about whose turn it is to go next!
Date published: 2017-02-17
Rated 5 out of 5
by
Anonymous
from
Amazing.
My kids love it. I ordered two weeks before Christmas and it only took 4 days to arrive. The package does come in boxes with the picture of the coaster on it so be mindful of that. my husband was able to assemble it alone and it was done in no time. I love how my 1 year old can walk the car back up the slide after using it. It teaches him independence and enhances his motor skills. Don't forget to buy a helmet.
Date published: 2017-01-01
Rated 5 out of 5
by
5boymom
from
Awesome toy!
This coaster has gotten loads of use every day since we got it. It's very well built and so much fun. My kids are 6,5,3,1 and they all love it. Even the one year old goes down the coaster and the older 2 will not outgrow it any time soon. They also love just climbing up and down and rolling hot wheels down the ramp. They want to invite friends over to ride it and it's always a hit. Would definitely recommend!
Date published: 2016-04-05
Rated 5 out of 5
by
Anonymous
from
Awesome!
Purchased as an early birthday gift for my 3 year old daughter. After almost a month of use, I have only great things to say. My daughter loves it. Her friends love it. The neighborhood kids love it. Kids up to age 10 have taken a ride, no issues! Parents have been threatening to take a ride but so far none have actually attempted. If you are considering this, just buy it! You won't regret it.
Date published: 2017-04-11
Hello would you deliver this to England in the UK? How much would it cost? Or do you know any retailers in the UK that stock this hot wheels coaster? Many thanks
Step2 Direct ships within the contiguous United States only. Regretfully, we do not know of any retailers in the UK that offer this product.
Date published: 2019-12-04
 Can you shorten the track and expand it when needed?
No, unfortunately you cannot. It is bolted together, and very sturdy. If you would take a section out, it would not be safe to ride.On a more positive note, my son was scared of it at first, (I think he was too young/small), but now he and his cousins can't get enough! It never gets old to them. If you can make it work for you, you WON'T be disappointed!!!!
Date published: 2019-11-14
Can I order a second car for the hot wheels coaster? 
Unfortunately we do not offer the coaster car separately.
Date published: 2019-11-07
Do you have a supplier in New Zealand or can you ship to NZ.  Looking at the Extreme Hot Wheels roller coaster.  Thanks 
Step2 Direct ships within the Contiguous United States only.
Date published: 2019-11-07
Hi can you ship to England uk??
Step2 Direct ships within the Contiguous United States only.
Date published: 2019-11-07
Can this be used in the winter or will the plastic crack when used in the cold.
Here in south Louisiana we get really cold for only a few days at a time. It can be in the 30's in the morning & really warm in the afternoon & we very seldom get snow so we have use our coaster anytime of year that the weather is nice out .
Date published: 2019-10-29
What is the reason for putting the screws in before the bolts? It seems you would have less chance of stripping the screws out of the plastic if you put them in after the bolt.
Please contact our Consumer Service Specialists at 1-800-347-8372 Monday through Friday, 8AM -5PM Eastern Standard Time and we will be happy to help you.
Date published: 2019-10-16
Hi Could you send me the dimensions of the delivery box? Im gona get it shipped within the USA and delivered on to Northern Ireland but need to calculate the delivery costs.
The Hot Wheels™ Extreme Thrill Coaster™ arrives in three boxes, please see below for the dimensions : Box 1) 24.5 x 17.75 x 44.25 inches / 62.2 x 45.1 x 112.4 cm Box 2) 29.13 x 13.75 x 41.5 inches / 74 x 34.9 x 105.4 cm Box 3) 26.75 x 20.75 x 30.13 inches / 67.9 x 52.7 x 76.5 cm
Date published: 2019-09-17