Hot Wheels™ Toddler-to-Twin Race Car Bed™ - Red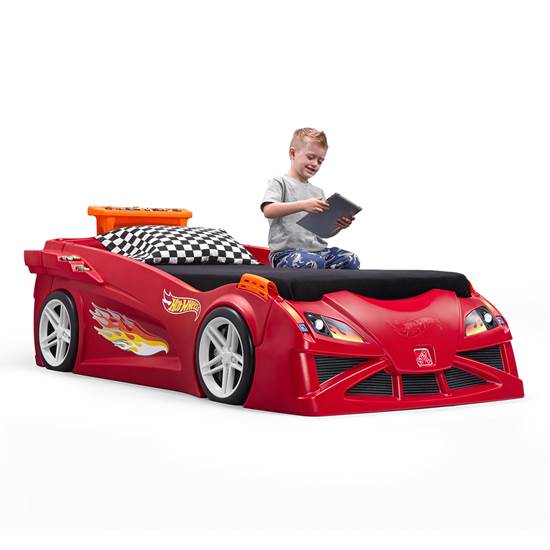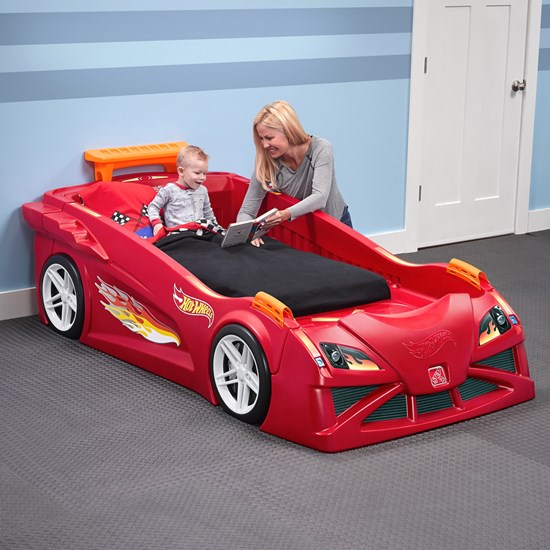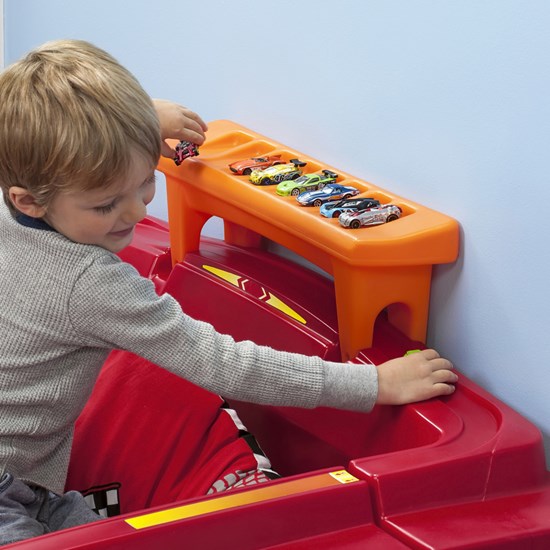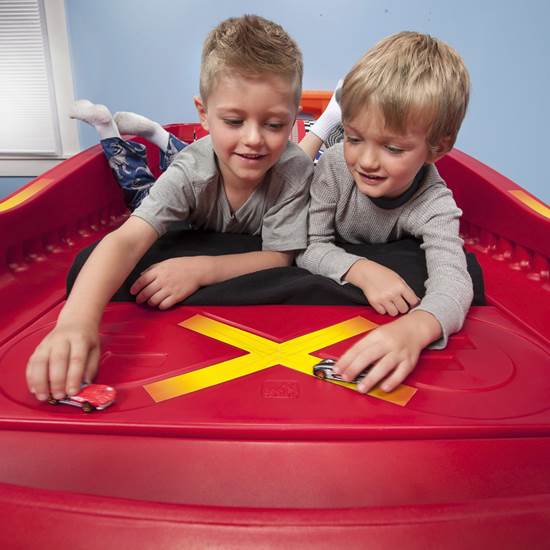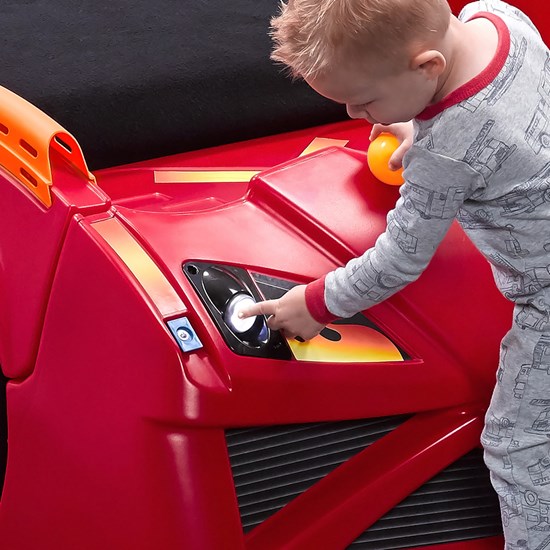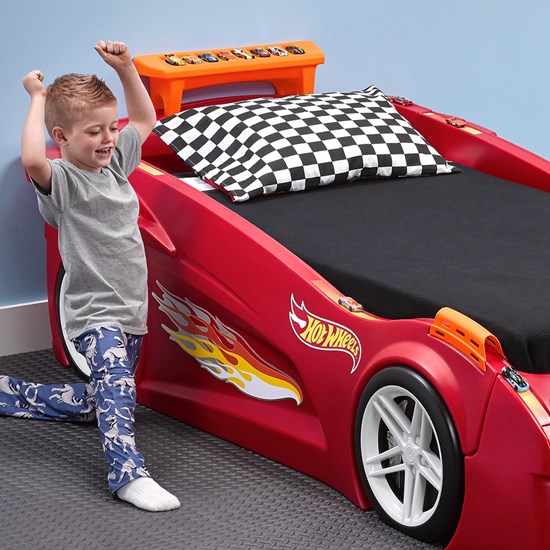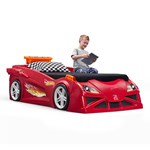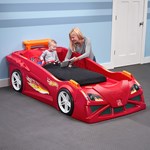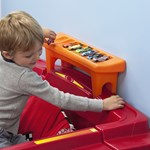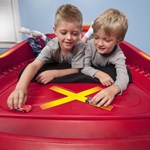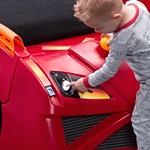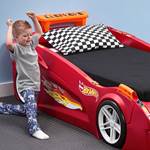 Hot Wheels™ Toddler-to-Twin Race Car Bed™ - Red
In stock
$404.99 $399.99
+79.99 shipping (via Truck)
Young racers will be off to dreamland at 100mph in the Hot Wheels™ Toddler to Twin Race Car Bed by Step2.
IS THIS A GIFT? DON'T SPOIL THE SURPRISE!
This item ships with an image of the product on its outer packaging.
Rated 5 out of 5
by
Anonymous
from
Our son loves his new big boy bed!!!
I would like to start off by giving a big thank you to the step2 company for choosing us to test this item as part of the step2 toy tester program.our son was so happy to see it arrive and could barely wait to get it out of the box and put it together. It was easy to put together he even helped us. our son loves to race his trucks down both sides of the bed to see witch one gets to the end first.Now that he is a sleeping in his new hot wheel car bed he can't wait to race off to bed every night in his big boy bed!!
Date published: 2015-09-24
Rated 5 out of 5
by
Anonymous
from
We LOVE this bed!!!
First off, we want to thank Step2 for letting us test this product as part of their toy tester program. My 3 year old son absolutely loves this bed. He never wanted to take naps or go to bed at night, but now he actually looks forward to it!
Date published: 2015-09-22
Rated 5 out of 5
by
Bubbas mom
from
This product is awesome
First of all I would like to say thank you to Step2 for letting me test this item as part of the Step2 toy tester program!!! At first I was really intimidated by the size of the box but once I started putting the bed together it became easy. My son absolutely loves it and wouldn't stop playing on the side tracks until we put the cars night night ;). It's definitely a big bed so you need a big room for it.
Date published: 2015-09-17
Rated 5 out of 5
by
Mom of half a dozen
from
"Mom this is the best bed ever" said by my 3 yr old:)
Thank you to Step2 for letting me test this item as part of the Step2 toy tester program. The box was very very large and the delivery guy was very sweaty after getting it through our door. We took it upstairs in pieces but they were not too heavy. My husband used the instructions;) and it took an hr to put together with the kids help. He said overall easy to put together one suggestions would be to have holes predrilled for the screws. My kids love the bed and it has plenty of room for me to lay with my son;) He can't wait to get some more hotwheels cars to race on his bed. The front push lights are too cool and he used for night lights. The bed is very sturdy like all step two items we have owned and we are so grateful our son will be out of our bed in his own AWESOME step 2 hot wheels bed!! We would definetly buy this bed for our other kids. Thanks again step 2 for letting us test this bed- we absolutely love it:)
Date published: 2015-09-20
Rated 5 out of 5
by
Kathy Chen
from
Loads of Fun!
Thank you Step2 for selecting me to be part of the Step2 Toy Tester program.I am so honored and overjoyed because my 2 year old son is obsessed with Hot Wheels! This is really a neat bed! It is very nicely designed , details are well thought out. Assembly took only 1-2 hours, some drilling required, but not bad at all and instructions were fairly simple. As a parent, I really like how a toddler mattress can be used as well as a twin mattress when child is ready. This is especially important for parents as we are always looking to save with ever growing expenses in raising a child. It is also made of very sturdy and durable plastic so that kids can enjoy for many years to come. Best part of all is the tracks on the side for cars for cars to slide down and a spoiler on the back for cars to park.Not to mention, the headlights at the end of the car as my son is afraid of the dark. Would be nice if the frame made Vroom, vroom noise, but overall, I love it, kids LOVE it! Thank you Step2 for making my dream as a Toy Tester!
Date published: 2015-09-26
Rated 5 out of 5
by
ChitChatMom
from
Awesome boys bed!
We got this bed several years ago for our oldest son and he absolutely loved it and used it for a couple years before wanting a different bed. We love the Step 2 brand and this is a great quality product that kids will love, especially toddlers.
Date published: 2020-03-12
Rated 5 out of 5
by
Liz P.
from
Vroom Vroom for Young Car Loves
Thank you to Step2 for letting me test this item as part of the Step2 toy tester program.One of the fun things about being a parent is the ability to decorate their rooms and give them things that they truly enjoy and fit their personality. When I found the Twin Race Car Bed by Step2, I knew I had to get it for my son. My son is all about racing these days and needless to say when it arrived he loved it!The Race Car Bed is designed for a Toddler to Twin size and is a great way to transition little ones from the crib. The old crib mattress fits perfectly into the car and can easily be converted into a Twin size when little ones are ready for a bigger mattress. It's an ideal bed for kids 3 years and older.My son loves driving himself to sleep in his new Hot Wheels bed which is equipped with all the fun things a car needs and a little boys like him enjoy. The car is designed with air intakes on each side of the bed, which is perfect for a cup, book or his car collection. He loves tapping on the headlights to turn them on and off just like a real car and fun way to play in the dark.My son's favorite part of his new bed is the molded-in race car tracks on each side of the bed. Every night he gets ready for bed and then climbs in to play with his hot wheels in bed. He's able to line them up and push them all around the Race Car Bed. Sometimes he races his cars against daddy and with the ability to add more tracks these two can have an even longer race.Not only is the bed a fun and entertaining design and concept, but I like the craftsmanship of the product. The mattress is strongly supported with two support boards and the car mold is perfectly safe for my kid to move around safely while sleeping. It's the perfect way to get my son to go to bed on time and transition him from playing to slumber.
Date published: 2015-10-06
Rated 5 out of 5
by
Aprilyn
from
Speeding into dreamland!
Special thanks to Step2 for allowing my son to test the Hot Wheels Toddler-To-Twin Race Car Bed as part of the Step2 toy tester program. All opinions are my own.The adventure starts with a massive box! Seriously, it wouldn't fit in the door but the delivery guy was nice enough to help me get it as close as possible. I had to remove all the pieces to get them into the house but it didn't take very long at all. The instructions are pretty straight forward (basically all pictures) and very easy to follow. Not sure on the exact amount of time it took to assemble but I know it was under an hour.There are no pre-drilled holes on this product. On Step2 products I have purchased and put together in the past, without a power screwdriver, it was sometimes difficult and painful on the hands. With this product, that is not the case. A power screwdriver will definitely speed up the assembly but isn't necessary and won't leave your hands feeling mangled.My son is 26 months old and loves cars. At first he didn't know what to think of this bed and seemed a bit scared of it because it was new. Once we got the batteries in for the lights, he went nuts! He sat there for quite a while turning the lights on and off, even trying to stretch his little arms to reach both at the same time. We've only had the bed for a couple days and while he hasn't quite mastered sending the cars down from up near the spoiler, he puts them on the side tracks closer to the middle/end of the bed and sends them through the tunnels like a pro! Speaking of the tunnels, they just pop on/off. My son can easily knock them off on accident and get a little frustrated over it if he can't get it back on. Minor issue which I am sure he will learn to manage as he interacts with it more but was a little surprised that those didn't screw on as well. He also loves picking the cars up and trying to put them into the slots on the spoiler.This bed is really well designed and looks amazing! Everyone who has seen it so far has said that they want to sleep in it, even the adults! :) The headlights, tracks around the bed and slots at the end of the bed to add additional tracks are fun features that will keep the kiddos entertained for hours, even when they should be sleeping! I love that not only are you are able to use the crib mattress to transition to this bed but that is also grows with your child. You can quickly and easily change the support boards around so it can hold a twin mattress as your child gets bigger. There are also some flat surface edges on the outside top portion of the bed that could hold smaller items such as a cup, little lamp / night light or even more cars though they might also roll off. It's also very easy to clean! It was a bit dusty out of the box so I had to wipe it down. I would imagine Armor All wipes every once in a while would keep it looking pristine as well.Overall, this is an awesome bed! Attractive on the eyes, well put together with fun features that engage little ones, bigger kids and even adults! I am very impressed with this bed, even more so after watching my son get used to it and interact with it...racing his cars along the tracks! Step2 never ceases to amaze me when it comes to quality, safety and fun! I know my son will be enjoying this bed for many years to come. Thank you again, Step2, for allowing us to test the Hot Wheels Toddler-To-Twin Race Car Bed. You've made my son a very happy, little boy! <3
Date published: 2015-09-23
PLEASE restock this red hot wheels car! I have been waiting to afford it and now it's not available. This is the only bed I plan on getting my son. So excited!
We apologize but we are currently out of stock and backordered on this item and several products. We are now running limited production as we were previously shut down due to the COVID-19 environment and unable to produce at that time. Our current production has been limited due to social distancing guidelines. We do not anticipate having this item & other products back in stock until mid to late August. Please note this is an estimate as the timing could move back again based on demand, production schedule and retailer commitments. Continue to check our website daily for availability and updates. We apologize for any inconvenience.
Date published: 2020-08-07
When will the red race car bed be back in stock?
The Hot Wheels™ Toddler-To-Twin Race Car Bed™ in red should be available within 2-4 weeks.
Date published: 2020-08-05
What is the weight limit on this bed?
The maximum weight-Toddler Bed: 50 lbs. and maximum weight-Twin Bed: 200 lbs.
Date published: 2020-06-12
Is there a place I can buy replacement parts for the bed? The bed I have is missing the back spoiler where they keep the cars and I would like to buy that piece.
Unfortunately, we are unable to offer the back spoiler separately as the bed is made in as a complete set.
Date published: 2019-11-27
Do i need a box spring for this bed. Or just the matress and whats the recommended width matress for the twin
The Hot Wheels™ Toddler to Twin Race Car Bed does not require a box spring. Please open the following link to view the instructions : https://images.step2.com/media/pdfs/854600_assembly.pdf
Date published: 2018-04-02
Can a boxspring be used with it?
We do not recommend using a boxspring with The Hot Wheels™ Toddler-to-Twin Race Car Bed™ as it will raise the bed too high. Please note that there are support boards included.
Date published: 2018-01-30
How can i buy this product in Canada? I wanted to buy this for my Son's birthday. I live in Toronto.
Unfortunately, we do not ship directly to our Canadian Consumers. Step2 items are available at many retail locations in Canada. Please use the Store Locator to search retailers in your area that carry our products and internet retailers that ship to Canada.
Date published: 2021-01-04
Is it bpa free?
Step2 products are generally manufactured from Linear Low Density Polyethlene and/or Polypropylene plastics which do not contain Bisphenol A (BPA). Our products are also compliant to the CPSIA phthalate requirements as independent.
Date published: 2018-03-27