Hot Wheels™ Toddler-To-Twin Race Car Bed™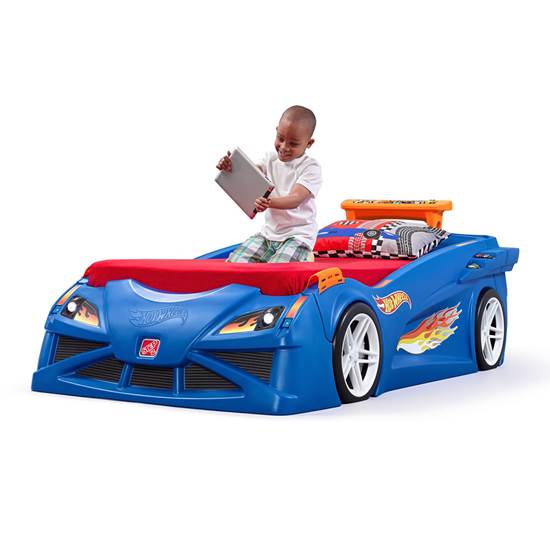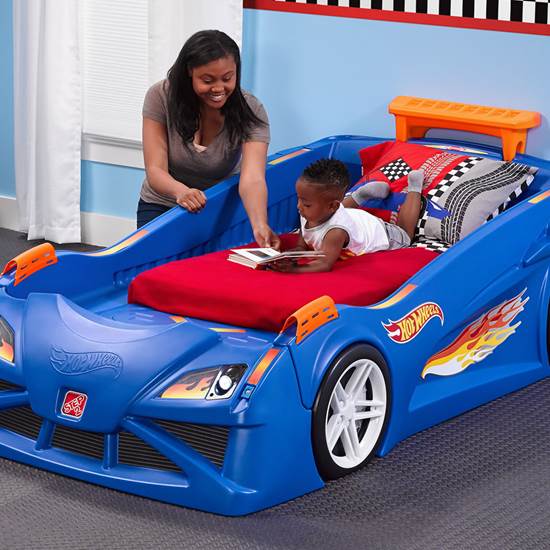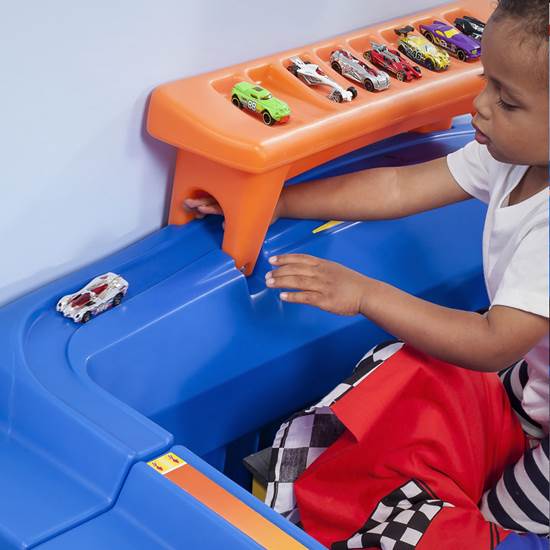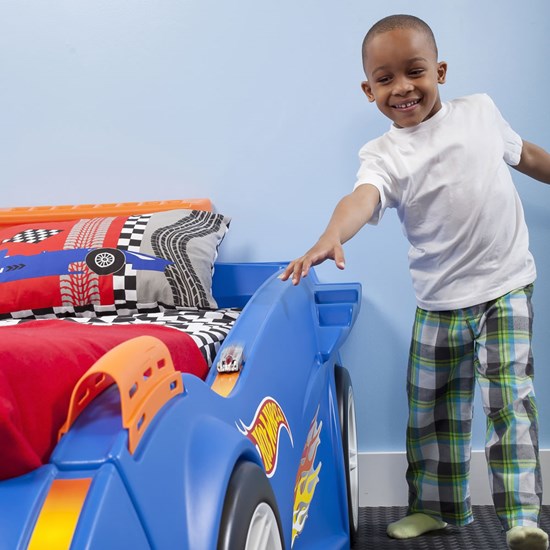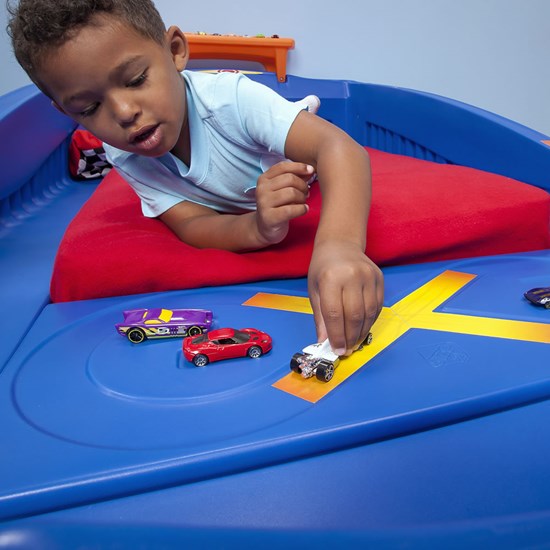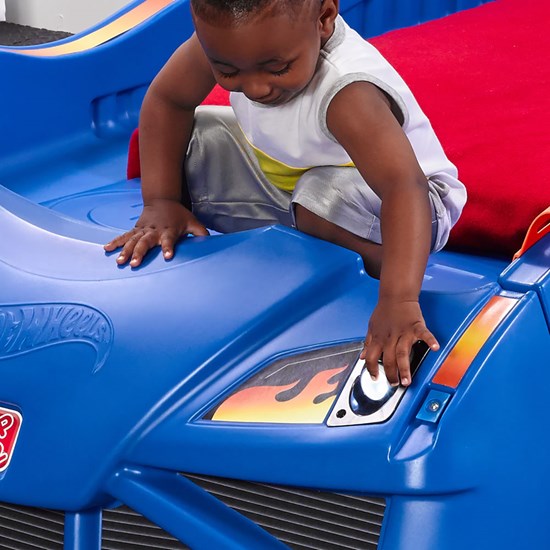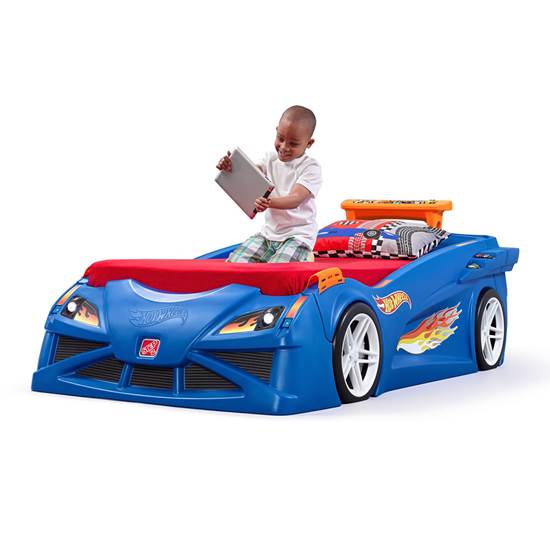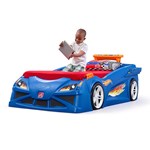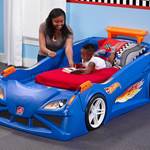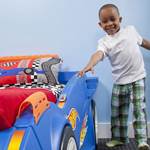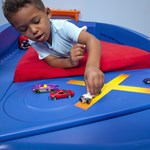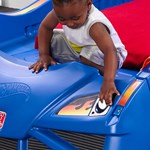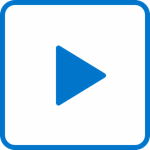 Hot Wheels™ Toddler-To-Twin Race Car Bed™
In stock
$404.99 $399.99
+$89.99 shipping (via Truck)
Little car lovers will race off to dreamland at 100 smiles per hour in this race car bed by Step2.
IS THIS A GIFT? DON'T SPOIL THE SURPRISE!
This item ships with an image of the product on its outer packaging.
Rated 5 out of 5
by
Junior
from
Beautiful car
I bought for my son and he love it ! First time in a " big bed" Arrived in time and good quality
Date published: 2017-09-24
Rated 4 out of 5
by
Anonymous
from
Genius product for co-sleeping separation!!!
I purchased this bed to get my 1 yr old comfortable with sleeping on his own. It worked like magic. He sleeps well all night and doesn't ask to come into our bed at all. He plays on it all the time. It's really genius!!
Date published: 2015-12-06
Rated 5 out of 5
by
Grandma Amy
from
Grandson LOVES this bed!!
I purchased this bed for our 3 year old grandson to have at our house (grandparents) when he visits. He is a car and truck fanatic and loved it so much at our house, we got him this identical bed for his home. Loves the spoiler bar to store his cars on, loves racing his cars along the sides of the bed and onto the track that projects off the front of the bed (cars and track are not included). He actually stays put in his own, big boy bed now!! Not terribly hard to assemble at all...
Date published: 2019-11-04
Rated 5 out of 5
by
Anonymous
from
Hot Wheels Bed ... A GREAT BUY...
I purchased this bed for my 3 year old grandson. He was thrilled with it!! It is made very sturdy Assembling this bed was not to difficult the race track was a complete hit with my little race car fan. I also purchased an extended Hot Wheel Track set, just for his bed. Delivery was perfect, driver was very courteous .Also want to give a thanks to Mary who answered the phone at Step2 she was very kind and helpful. Thank you Step2 for making such a fun product for kids.
Date published: 2017-02-21
Rated 5 out of 5
by
Anonymous
from
Great for a transition from a crib
I received this product as a Step2 Ambassador, but all opinions regarding the product are my own.My little boy loves this bed! My son started jumping out of his crib at 14 months old. We transitioned him to a toddler bed, but he seemed to dislike it. He would get out and fall asleep in the floor next to the door every night. Ever since assembling this bed for him, he has fallen asleep in his bed every night! I like that it can accommodate either a crib size mattress or a twin mattress. We upgraded to the twin mattress for this bed, and I think it made a huge difference. He needed more room than a regular toddler bed could offer. I wish we could have started with this bed from the beginning! The assembly was easy. My son is obsessed with Hot Wheels, and he is so excited to go to sleep in his very own Hot Wheel every night!
Date published: 2015-09-18
Rated 3 out of 5
by
Anonymous
from
Poor Shipping
Bed arrived in completely trashed box from shipping company. Box was completely torn open and smashed on one side. Parts for the bed were falling out of the box. All pieces were covered in dirt from box being open. One wheel that attaches to bed has a dent. Not happy with the customer service pertaining to shipping this product. For the price, I would expect a completely enclosed box with all my pieces sealed and undamaged! Other than that, bed is as advertised.
Date published: 2020-09-06
Rated 5 out of 5
by
Justin
from
Awesome product!
This thing is great! Just one problem, I don't fit! I originally bought this bed for my 2 year old son but it is so cool I tried to sleep in it myself. It's just a bit small for me, especially with the crib mattress. Because of the size, my wife was unable to get comfortable either. On the up side, all 3 of my kids sleep in it even though my daughters have their own twin beds! But hey, it got them to stop coming into my bedroom in the middle of the night!
Date published: 2017-01-05
Rated 4 out of 5
by
BenHead
from
looks great, works mostly great
Overall, this bed is great, and my 2.5-year-old son (who is obsessed with cars) loves it. It was pretty easy to assemble and looks awesome. The working headlights and Hot Wheels track are really cool touches. The body panels give even a little one like mine enough to grab and step onto to get himself into and out of bed. And it's mostly quite durable. Downsides are minor but there are some I thought worth mentioning, and why I went with 4 stars instead of 5. The flexibility of the plastic means it'll hold up to impacts great, but it means the provided screws don't hold real well. Again, my little one is only 2.5 but he managed to yank one of the hubcaps off with his bare hands, twice. We're going to leave it off until he's old enough to know not to do that, or the screw holes will be totally stripped. The decals are hard to apply just right; would be nicer if they were pre-applied or better yet, painted. I'm not sure how well they'll hold up, either. We decided to go straight to a twin mattress, so I'm very glad I read ahead in the instructions. Anyone doing so needs to do that, as the instructions tell you how to assemble it for a toddler mattress, then how to change it from toddler to twin. But changing it involves taking half the bed apart! Would've been no fun to go to the effort of putting it together just to take it apart. Improved instructions could help here.
Date published: 2018-04-10
Rated 5 out of 5
by
Jess T
from
Best big kid bed I've seen!
I received this bed as a Step2 Ambassador. All opinions are my own. This bed is absolutely perfect! My 5 year old son is obsessed with Hot Wheels, and this was the perfect addition to his new room. It is extremely sturdy, and the features go above and beyond any bed I've seen of this kind. I love that the entire edge around the bed is a real working track, and the fact that my son can connect his other tracks to it is just icing on the cake! There are also small table-like edges near the head portion of the bed where he can set his water cup or a small LED lamp. it is longer and wider than a standard twin bed, but it doesn't take up too much space even in his small bedroom. The blue is true to the picture, it fits a standard twin mattress perfectly, and the headlights are battery operated and very powerful. All in all, this is the whole package and more.
Date published: 2015-09-17
Rated 4 out of 5
by
Mike
from
Good Product With One Flaw
Overall this is a great race car bed with great value at that price point. The plastic molds fit together well and installation is simple. Once assembled with all the decals applied, it takes on the look of a race car pretty well. There's one flaw that Step2 should work on. The gap created between the side and front end molds causes the Hot Wheels cars to fly off the molded track before getting a chance to hit the attached tracks (not included) that would send the cars off the bed and down to the ground. While assembling I foresaw this issue and was as careful as possible when connecting those molds, but to no avail. I plan to make some modifications to smooth out the rough transitions on either side, but recommend the manufacturer address this issue with future builds. All in all my son loves his new race car bed and so we're happy with this product.
Date published: 2020-12-26
Rated 5 out of 5
by
Anonymous
from
Nap time made fun!!
Thank you step 2 for allowing us to test this product thur your toy tester program, all views expressed in this review are my own.The hot wheels infant to twin bed is amazing your son loves it. It offers great support, even for me when we lay in bed playing cars!! Set up was easy it all went together with 1 Philips screw driver and only took about 30 mins!! I would definitely recommend this product to others!!!
Date published: 2015-09-24
Rated 4 out of 5
by
Tish
from
Beautiful product however... *sigh*
My two year old gson was over the moon when he saw this, he loves Hot Wheels. However, we did not take into account that it's ACTUALLY a twin bed. There is no conversion, other than to move the boards that hold the mattress to different spots. Check the measurements, we did not. We assumed it was like the other toddler beds out there... so it's in the garage for now. Oh did our little man cry... *sigh*
Date published: 2019-07-25
Rated 5 out of 5
by
Anonymous
from
Love this bed!!
My son LOVES his new bed. I love that the bed not only looks great, but he can play in it too. He actually wants to go to bed now! I also love that it goes from a toddler mattress to a twin so he can stay in it for a few years.The bed was a little tricky to put together and the box came really damaged (gaping holes and tears everywhere). But it doesn't take away from how much we like this bed.
Date published: 2017-01-08
Rated 2 out of 5
by
Rick
from
Very annoyed
Received product on time. It was for my son's 3rd birthday and he was so excited to help us open and set it up. Unfortunately it was missing all the hardware, rims and one of the boards was damaged. I thought buying from the actual company would avoid any hassle that u may find with amazon...wrong. We are now waiting for replacement parts. We are less than happy.
Date published: 2017-09-26
Rated 5 out of 5
by
GatorJim
from
Better than Expected
My two year old absolutely loves this bed!! He went from his crib to this bed, twin size, the second he saw it...no transition needed. I'm glad I read some reviews and Q and A before the bed arrived so that I knew to skip to the last 5 directions to set it up as a twin bed...so do the same if that is your intention. On the other hand, some of the previous reviews over played the parts not fitting well, or not going together properly. Simply put, don't be lazy when assembling. When inserting screws lift the parts up, or at the very least remove downward pressure when fastening...common sense. This bed went together amazingly well. I was pleasantly surprised at the size of the bed, before it arrived I was concerned it was going to be monstrous but that is not the case. Yes, it is big, but no, it is not overwhelming. I couldn't be more pleased with my purchase, and more importantly neither could my two year old!!
Date published: 2021-03-05
Rated 1 out of 5
by
Kendra
from
Still haven't received my bed
I ordered on aug 15th it said 5-10 days for shipping I live 3 hours from the store so surely I should have the bed but it's aug 29th and I've had no FedEx freight call for me to schedule a delivery date. I've called step 2 multiple time I finally got an answer to what is happening this last time I called. She stated that for some reasons the bed went to cleaveland Illinois then Wisconsin instead of stopping in Cincinnati so my bed is still is Wisconsin right now no expected shipping date or no call from fed ex to schedule a delivery. I understand with COVID but to pay 75$ for shipping for 5-10days and it to have been this long with no answer until today is ridiculous. I'm also scared once the bed finally does get here it's box is going to be completely destroyed I hope I'm wrong but to load a package on the 19th and it to be 10days later still not delivered doesn't look good... I love step 2 products but this dropped the ball forsure...
Date published: 2020-08-29
Rated 5 out of 5
by
Anonymous
from
A little boys dream bed....
We bought this to transition our three year old to his own bed. He loves this bed! Every night he likes to race the cars down the ramp before bedtime. Not too difficult to assemble. We had delivery to our front porch so we took it in the house piece by piece. The parts aren't heavy. We'll probably get the red one down the road for our younger son.
Date published: 2016-05-12
Rated 2 out of 5
by
Anonymous
from
I would buy this product agin
Purchased the step 2 toddler to twin race car bed. It arrived a week before Christmas so I was excited about that. Took it out of the box to put it together and one of the sides were bent. Had to wait until the 29th to receive it. It looks great and my son loves it. I just wish I could have gotten it put together before Christmas.
Date published: 2016-12-29
Rated 5 out of 5
by
cladoux
from
Awesome bed!
My two year old son loves this bed! He loves sending his cars down the built in track. He actually wants to sleep in his big boy bed instead of ours! I would recommend this bed to anyone with little kids it's awesome! The lights are an added bonus, he can't get enough of turning them on and off. Overall a great bed!
Date published: 2016-01-07
Rated 5 out of 5
by
Rojo1971
from
Awesome bed!
We purchased this bed for our son as a gift for his 3rd birthday. The box it came in is huge so its a lil intimidating! However, it is very easy to assemble and my husband did it in about 30-45 mins. We had no problems at all (except the Step Two sticker on the front was placed very crooked and when I tried to fix it it tore). The actual car decals are way more forgiving and easy to put on or pull off and reapply if needed. Our son loves the bed. He doesn't take well to change but easily fell asleep on this bed tonight. He has only had it a few hours even! We are using it with his toddler mattress for now but here soon we will be switching that out to a twin size mattress. Toddler mattress fits well into this. All in all we are very pleased with this bed. My oldest child is 21 yrs old and I have purchased Step Two products and toys since he was a baby and I have never been disappointed or unhappy. All three of my kids have been Step Two product kids. Thanks Step Two for making childhood fun!
Date published: 2015-12-20
Rated 5 out of 5
by
Anonymous
from
Grandsons love them!
Purchased two of the hot wheels race car beds for twin 2 year old grandsons. The beds look awesome and are great quality. My grandsons Love the beds. They began racing their toy cars down the tracks on the sides of the bed immediately! We ALL give these beds a 5 star rating.
Date published: 2017-03-16
Rated 5 out of 5
by
Dmhall
from
Awesome product
This car bed exceeded my expectations. The joy on my son's face when he drives the cars down the side of the bed was well worth the time spent putting it together. What a great move from his crib to this "big boy" bed. We are well pleased.
Date published: 2018-01-03
Rated 5 out of 5
by
judy1
from
Great product
My 2 year old grandson loves his bed. Durable. easy set up and fun. He loves to race his cars and turn on the bed headlights. Just wish a mattress option was included as we had a hard time deciding on which one to purchase.
Date published: 2020-01-13
Rated 4 out of 5
by
Anonymous
from
Good investment
The bed is great. My son loves it. The only issue I have is the orange tunnels at the end are only held on by tiny little nubs. So they never stay on. Pop off constantly. I'm suprised they haven't been lost already.
Date published: 2015-11-23
Rated 5 out of 5
by
oscar
from
Great experience
Service was amazing. They called to set up a drop day ahead of time. Driver delivered box right to my door step. Great bed for kids! simple to install. Highly recommend Step2 and the hot wheels bed.
Date published: 2017-02-02
Rated 5 out of 5
by
janao
from
Great car bed
We love this bed!! It's very sturdy so that mommy or daddy can lay down in it if needed. Our son loves his "new bed car"! He talks about it to everyone. We greatly enjoy racing cars on the track!
Date published: 2018-10-13
Rated 3 out of 5
by
Tiffiny
from
Not what I expected
The size is good but didn't know I was getting a used bed no accessories included so I bought the stickers separately but can not find the bridge track that goes with the bed as seen on photos
Date published: 2020-07-19
Rated 5 out of 5
by
Rhonda
from
Great buy!
My son loves this bed! He is 2 1/2 years old. He loves playing with the tracks. It is a pretty good size so we ended up buying a twin mattress. Would definitely recommend this!
Date published: 2017-02-03
Rated 5 out of 5
by
Anonymous
from
We love this bed.
This is the second step 2 bed we have bought ( we also have the corvette bed), my grandchildren love them. This hotwheels one is great. You can even add track to the front of it!!
Date published: 2016-09-01
Rated 5 out of 5
by
Anonymous
from
Every Boys Dream!
My two year old loves the race track. Its hours of entertainment for us all. He is in a small room so having a mutifunctuonal piece of furniture is very important.
Date published: 2017-01-18
Is twin matress included ?
No
Date published: 2021-05-16
Will you ever actually make this product and sell it?
We apologize but we are currently out of stock and backordered on this item and several products and look forward to offer more products in late May.
Date published: 2021-05-12
What kind of track do I buy that clips into the bed race track by the headlights. I tried different pieces that we have from other sets and nothing holds the straight track piece in place - need a piece that connects the additional track pieces to bed.
The regular orange thin track, usually has the blue connectors. The peice you screw onto the bed will act as your blue connector peice.
Date published: 2021-02-11
My son is going to be 10 in 1 month. He has autism & LOVES HOT wheels and wants a car bed. It says this is best for 3-10 yrs. He is only 65 lb. Would this bed be ok for him?
I'm 6 foot and 175 lbs. I can lie on the bed comfortably with my toddler. We have it in the twin mattress style. It's a legitimate twin size bed for us, and solidly placed together so that beneath the mattress there are no gaps to sink in to.
Date published: 2021-01-21
Do you ship to Thailand?
We do not ship outside of the 48 contiguous US states.
Date published: 2021-01-19
How long does it take to receive this bed? I ordered from Amazon 3 weeks ago and still haven't received and they can't even give me an estimated delivery time. I would cancel and order here if I knew I could get the bed quickly. It was supposed to be a
As this ships via Freight Truck, depending on what state you are in will depend on shipping. It usually takes about 2-3 weeks.
Date published: 2021-01-19
Is there anyway to buy the Hot wheels step 2 bed replacement piece to make it back into a toddler bed? 
Regretfully, we do not offer this part separately.
Date published: 2020-08-07
Does the bed include the track as shown in the picture?
No. Extended tracks that connect to the bed are available for purchase separately.
Date published: 2020-08-03