Infant to Toddler Swing™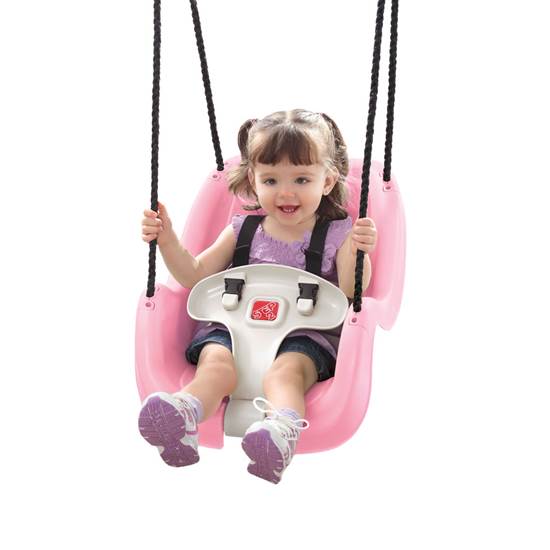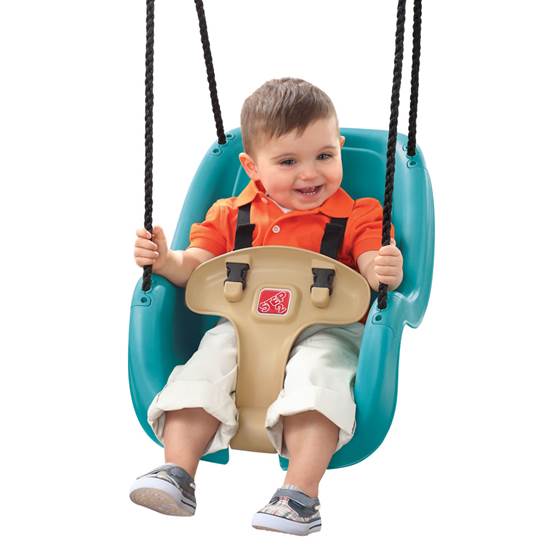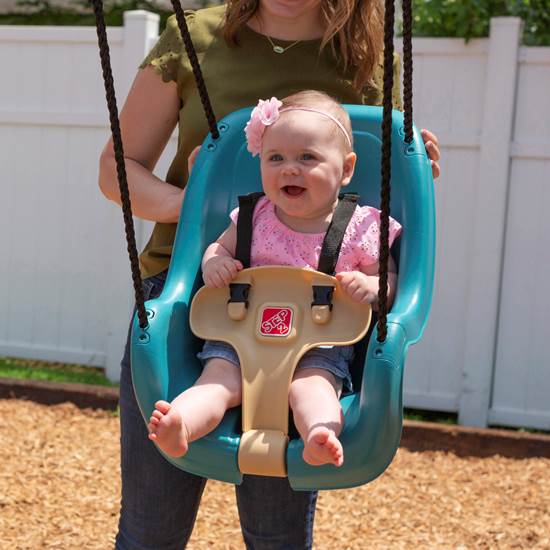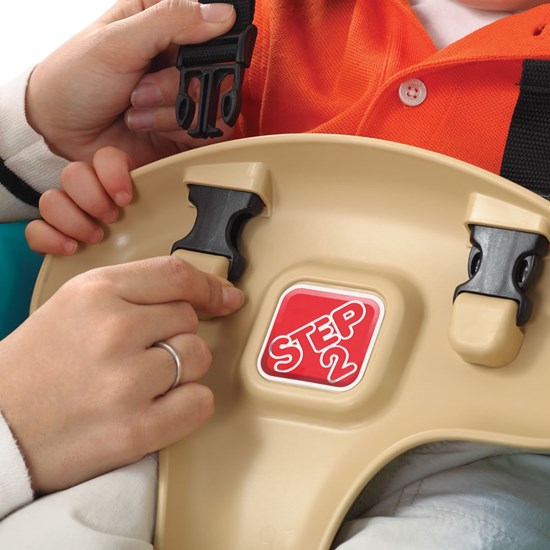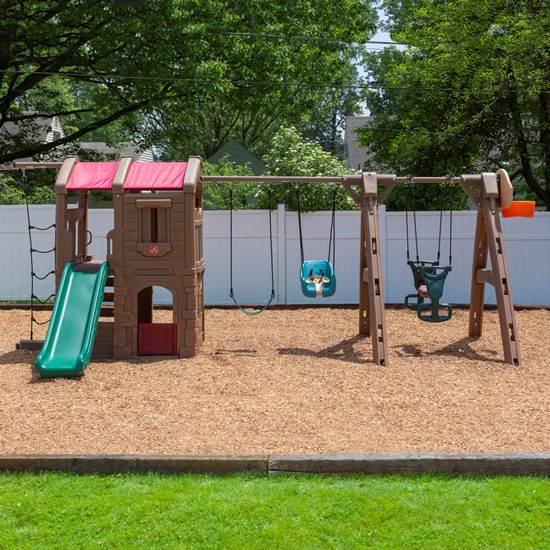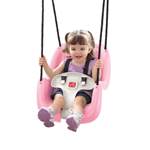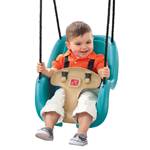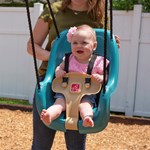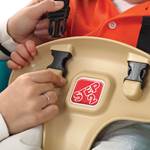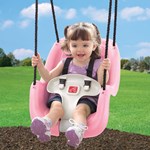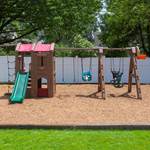 Infant to Toddler Swing™
In stock
$44.99 $39.99
+$5.99 shipping (via FedEx)
The Step2 Infant to Toddler Swing is an easy loading and comfortable toddler and baby swing.
IS THIS A GIFT? DON'T SPOIL THE SURPRISE!
This item ships with an image of the product on its outer packaging.
Rated 5 out of 5
by
Anonymous
from
I would buy this product again.
I received the swing quickly after placing my order, but it had a large crack in the seat. I called the company and the lady I spoke with was very nice. She asked me to take a picture of it and email it to her. I emailed her the picture and the next morning I received a return email saying a new swing was being shipped out that day. I received the replacement four days later and it was perfect. I have purchased Stage 2 products before and like them so that is why I chose this company to order from. Customer service was excellent. I will continue to use this company.Love the swing, it is perfect for our grandbaby!
Date published: 2016-05-24
Rated 5 out of 5
by
Grand pappy proud
from
American Made Quality shows through
Wanted a quality USA made product. This is for our petite grandchild who loves the outdoors. I love that it has the safety harness straps. As a toddler it will keep her from jumping or sliding out of the swing. It was preassembled when we pulled it out of the box. Great plus. We ordered directly from Step 2 which I feel helps because if you have to contact them it's easier. I do wish they offered more colors but the Aqua color is gender neutral so when more grandchildren come along there won't be a problem. Keep up the good work Step 2 we are happy you are proudly made in the USA.
Date published: 2015-05-07
Rated 5 out of 5
by
Ga mom
from
Great swing
It is a great swing for my 2 year old little girl. I really love that the ropes are weatherproof. We have the swing on our deck and use it lots. On the other swing we owed the ropes were fraying since they were outside. I am glad that with this swing we will not have to worry about it. I would recommend this swing to others. The assembly was easy and I was able to do it by myself and I am not vey good with these types of things. This is a great product.
Date published: 2012-10-14
Rated 4 out of 5
by
Nana
from
Just what we needed
I'm a grandma and got the swing for my 9 month old grandson. It was easy to assemble. We took a bench swing off it's frame and put the swing on that frame with some short chains. Worked out great. Baby loves it!
Date published: 2018-05-31
Rated 5 out of 5
by
Najmama
from
Swing Set and Infant to Toddler Swing
We purchased the gift for our granddaughter's 2nd birthday. It was a big hit for her. She had a play date with 2 other children and they all loved playing with the swing set. We knew she would love the set since she loves going on the swings at the park. We kept one of the swings and the other we converted to an infant to toddler swing. The swing set has provided many hours of enjoyment for the children
Date published: 2012-10-01
Rated 5 out of 5
by
Anonymous
from
Step 2 Swing.... or Easter Basket
I purchased this for my 9 month old Grandson for Easter and I actually used the swing AS the basket!! He absolutely loves it! It is so much cuter and safer looking than any others I looked at, and the style will allow him to grow into it and use it for a long time. It was such a great first Easter gift. thank you for such a great product and for making the Easter Bunny look like a champion!!#sweepstakes
Date published: 2017-04-23
Rated 5 out of 5
by
Anonymous
from
Toddler Swing
The swing is well constructed,sturdy. We use it for my grandson and feel he is very safe while sitting in the swing. I do find the hooks to hang the swing very well made but hard to unhook and reattach if you want to change the direction of the swing. The two ropes that are connected to the hook from which the swing hangs get in the way and make it difficult to open the hook. Love the product .
Date published: 2017-06-05
Rated 5 out of 5
by
ken5086
from
fun swing!
Great swing for young baby! This was a great addition to our big guys swing set. This swing keeps our young baby safe and sound with the clips. I highly recommend it!
Date published: 2019-08-16
1. what is the warranty and 2. is the front support sturdy?
Please see link for warranty information. https://step2.custhelp.com/app/answers/detail/a_id/176/kw/warranty Please note that this does meet all of our ASTM (American Standard for Toy Testing/Manufacturing). Yes the support is sturdy.
Date published: 2021-01-19
Can I order replacement parts for the infant toddler swing?  I need the screws and small plastic piece. 
Please contact our Consumer Service Specialists at 1-800-347-8372 Monday through Friday, 8AM -5PM Eastern Standard Time and we will be happy to help you.
Date published: 2020-11-25
I need the bottom restraint for the toddler swing
Replacement parts and decals can be ordered by calling our Customer Service team at 1-800-347-8372, Monday - Friday, 8:00 am - 11:00 am and 12:00 pm - 5:00 pm EST. Please have your product close by during your call so that we may quickly assist you to answer your question, find a resolution and or provide product or part pricing and lead-time(s).
Date published: 2020-11-12
How wide/far apart do I make the swing supports that this swing will clip into?
Thank you for contacting Step2. We do not have this information - we apologize. Regards, Step2 Consumer Service
Date published: 2020-07-28
The straps on the toddler swing need to be replaced. Can they be ordered?
We do not sell the rope or straps separately. These must installed with special equipment during manufacturing.
Date published: 2020-07-13
How do I select the teal swing to purchase? There's no option to choose a color but when I add it to my cart it's automatically pink. It says pink and teal are available.   
The teal color is on backorder.
Date published: 2020-05-04
Will the infant/toddler swing attach to the play up gym set?
I don't know what a play up gym set is, but it does attach to regular chains on a swing set.
Date published: 2020-04-10
How do I get a replacement for the black clip receiver (female part) that is used to clip in the shoulder harness? This is for the infant/toddler swing
Please contact our Consumer Specialist Staff at 1-800-347-8372, Monday through Friday, 8am-5PM Eastern Standard Time for assistance.
Date published: 2020-03-05