KidAlert! V.W.S.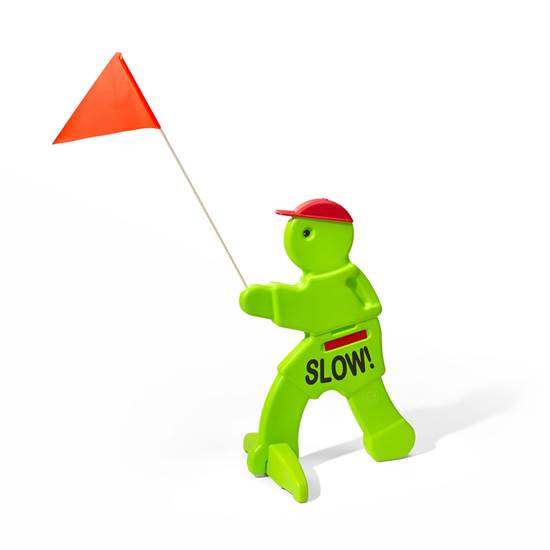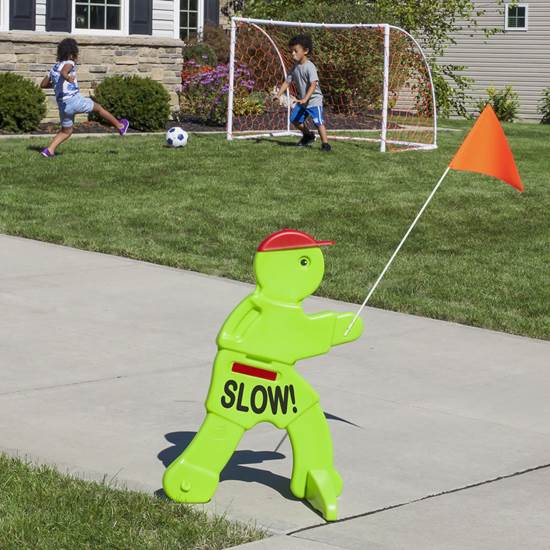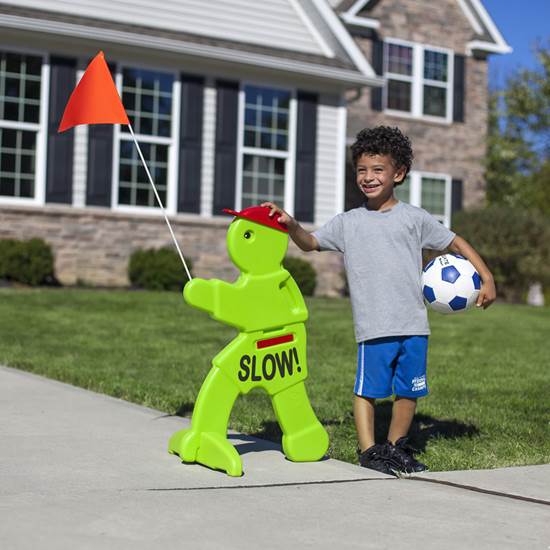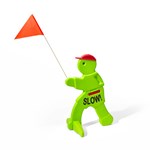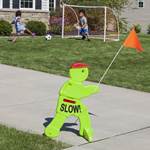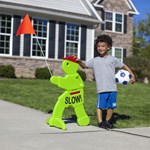 KidAlert! V.W.S.
In stock
$34.99 $32.99
+$5.99 shipping (via FedEx)
Meet the Step2 KidAlert! V.W.S. and feel safer when kids play outside with this friendly safety sign in the yard.
IS THIS A GIFT? DON'T SPOIL THE SURPRISE!
This item ships with an image of the product on its outer packaging.
Rated 5 out of 5
by
Anonymous
from
Mr. Slow
We live at the top of a hill, on the bend of a road which encourages cars to speed up to make sure they make the hump. Mr. Slow really brings attention to drivers that little people are present and they slow down and drive further from the sidewalk. We place him on top of my car so both sides of the hill can see him. My husband suggested putting sand in the base rather than water which may discolor our fluorescent friend – so far we haven't had to, as the sign is really stable. I would highly recommend Mr. Slow. Additionally, our 20mth old girl loves him and kisses him every day too. For the sake of cuteness alone the purchase was worth it 
Date published: 2009-09-26
Rated 5 out of 5
by
OV
from
Really does slow down cars!
Safety Sam really does work great. We put SS out only when the children are playing outside, and cars really do slow down, whereas they would not before, even when the children were playing in the same area.When assembling, I could not get the "foot" into the base. I called customer service, who said to take a blow dryer to it to soften the plastic a little. I heated up one of the nubs in the base that the foot snaps onto, and sure enough, the foot snapped on no problem.It's durable and, even when the base is filled with sand, is easy to move around.
Date published: 2014-01-13
Rated 5 out of 5
by
Mom of a speedy quick two year old
from
We named him 'Busta'
Since our yard doesn't have a fence around it, we put Busta at the corner of the property when our 2 year old is outside playing. Several teenagers live on our street and always screech around the corner without slowing down or yielding. We named him Busta because as soon as the teens come down the street, they hit the brakes and slow down - busted. Very effective at making drivers aware children are around and to slow down and look. We bring him inside unless we are in the yard so the neighbors don't get used to seeing him and forget to slow down.
Date published: 2010-05-28
Rated 5 out of 5
by
safety mom
from
"safety sam the celebrity"
We live on a very busy and dangerous school crossing route. We have set the safety sams up on both sides of the crosswalk. It helps with the crosswalk visibility and slows people down. They have become very well known in our area. Only down side is people steal them all the time. There was one missing again this morning. ARGHHH!! It gets expensive replacing them and can be a bit of a pain to find them where we live. But, they are worth it. We have tried so many signs etc to slow people down but these worked right away and had the best visual effect you can see it from 2 blocks ahead.
Date published: 2015-02-04
Rated 5 out of 5
by
AmberW
from
Best purchase we've made in a while!
My family lives in a very rural area and our street isn't very busy. Most of the people that come speeding down our road are people that know it well. I'm always so nervous that our little ones are in danger. I had no idea what to do until I had seen this pictured on your Facebook page. It was the best purchase we've made in a long time! I truly feel like it's helped. It has an easy handle so I can carry it with no issues. The color is bright and the flag on top is a perfect warning signal. I've really noticed a significant difference in traffic and most cars slow down the second they see it!
Date published: 2019-09-12
Rated 5 out of 5
by
Bob 2
from
We named our first Kid Alert, "Bob 1"
"Bob 1" did an awesome job slowing down traffic, but he was thrown over the fence multiple times, run over, and eventually "Bob Napped" with no ransom request! So our new "Bob 2" is on duty here in Sausalito in front of my driveway, and we installed a Tile PPS in case he is kidnapped. We glued it under the visor on his cap!
Date published: 2019-05-02
Rated 5 out of 5
by
Anonymous
from
This is a GREAT product!
The Kid Alert Visual Warning Sign is a wonderful item to remind drivers to watch their speed in cottage country, cul-de-sacs, beach areas, or private drive-ways while children are at play, or where Seniors are at risk as well. Nothing says it is just for Kids Safety you know! The one support foot snaps on easily and may be filled with sand or fine gravel to add more stability.This is an attractive figure, a friendly way to remind drivers to drive SLOW. Reflective decals (incl.) enhance the display nicely. Add your own reflective digits to indicate speed i.e. 20 km.
Date published: 2012-08-16
Rated 5 out of 5
by
Anonymous
from
Great Product Great Service!
I use it on my yard. It is very cute. I notice that after I have it out, one neighbor bought it too. I really want everybody with kids on my street to have the same. The shipping was very fast. I thought because it was Christmas week I wouldn't get it on time for our family party, but I did! I was very happy! The only concern is to keep it safe. We don't leave in the safest place on earth anymore... Things have changed... So I put a steel chain around de waist and around the palm tree and tied up. Maybe this is something that should be added to a future design!
Date published: 2014-01-14
My family is telling me it's a turtle, but I don't think it is, please confirm that it is not a turtle! thank you
Yes. It's a turtle. SLOW...Turtle...get it? Turtles are slow. Kind of the first thing that I think of when I see it. I bought 4 of them and made the Teenage Mutant Ninja Turtles (TMNT). I went to the local Dollar Tree store and got the color duct tape to do the eye masks. The whole neighbor loves them and even seen a few neighbors buy these guys to help keep the kids safe.
Date published: 2021-06-26
How to get the orange flag to lay flat 
If it arrived curled, you could put books on it to flatten before you put it outside, but keep in mind it is a free flying flag not a stiff one.
Date published: 2021-03-24
I need a new base. We lost ours when we moved. Do you sell the bases separate?
Please contact our Consumer Service Specialists at step2-company@step2.net or 1-800-347-8372 Monday through Friday, 8AM -5PM Eastern Standard Time and we will be happy to help you.
Date published: 2020-10-13
I can't get the base to go in!  Any tips?! Tricks?! Please help. I can't use him if he doesn't stand.  
How can I assemble this without breaking it?
Date published: 2020-09-23
Do you know when you will have more in stock?
Act fast they had them at Lowe's on Friday.
Date published: 2020-08-16
I would like to make this heavier as it keeps getting knocked down, I don't think water / sand will do it so I'd like to pour cement in the base as well as the actual body as well. Will this work?
I didn't have access to sand so I added water.  I emptied it every time we were finish using it. It worked well but wanted something permanent that we didn't have to refill every time. So once we drained out the water and let it dry, we tried rice. Rice did the job and still does. I hope this works for you. 
Date published: 2021-06-26
We have a KidAlert, we are looking for replacement stickers. Do you sell them ?
You can find replacement parts available for sale on Step2.com, or contact our Consumer Services team at 1-800-347-8372 Monday - Friday, from 9-3 ET and we will be happy to assist you further with this request.
Date published: 2020-06-17
Is there a price break for an order of 10?
Yes
Date published: 2019-11-22