Lift & Hide Bookcase Storage Chest™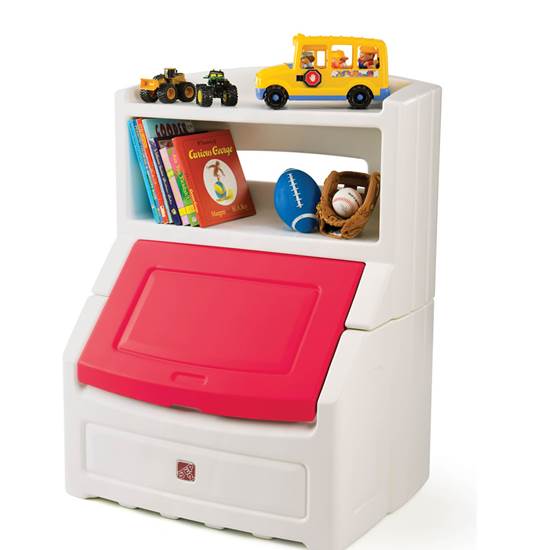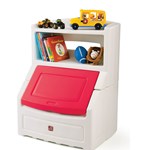 Lift & Hide Bookcase Storage Chest™
In stock
$139.99
+49.99 shipping (via FedEx)
The Lift & Hide Bookcase Storage Chest by Step2 was designed with safety and convenience in mind and has plenty of room to store toys in!
IS THIS A GIFT? DON'T SPOIL THE SURPRISE!
This item ships with an image of the product on its outer packaging.
Rated 3 out of 5
by
Anonymous
from
Not like is used to be.
I first purchased the pink storage chest for my daughter about five years ago. I loved it!! My son just recently turned one, so of course I set out to buy him the same one in red. I quickly discovered that not only is it more expensive now, but is not nearly as thick and sturdy. If it wasn't for me finding it on sale, discounted because it was a floor display, and a coupon, I would never had bought it. I was disappointed that they changed what was a wonderful product, just to save a buck.
Date published: 2011-12-10
Rated 3 out of 5
by
Jacob and Luke's Mom
from
Not as good as the old style
My 3 year old son was given one of these as a gift for his birthday, and the toybox itself was all one piece, the only thing we had to do was snap the lid on. He loved the toybox, and it fits all of his toys well and we like that the lid can't hit his head and that it had the shelves for books and stuff. So we proceeded to get one for our just now one year old, and it arrived in 3 pieces...the shelf had to be attached. No big deal, but when we went to put books on the shelf right above the toybox, we discovered that the shelf is now smaller....books that fit on the older model won't fit on the new model....what a bummer Step 2....just like everything else, the cost is the same but the item is actually smaller.
Date published: 2009-04-13
Rated 2 out of 5
by
Debbie 55
from
Old style puts this one to shame
So sorry I have the old style one to a friend years ago. This one doesn't compare. I did not realize the lid is not in a track. Falls off with every close. Edges of interior opening are sharp. I gave in to the bookshelf because I thought the door was like the old style and remains on the box at all times. It was perfect for small hands to operate. Not a practical for keeping things tidy. Door Cover will always be on the floor
Date published: 2019-04-22
Rated 5 out of 5
by
Anonymous
from
great toy box
First I wasn't sure if thats the toybox I wanted because I was thinking of a wooden toybox. I didn't know how it will look in her room since it is plastic. I decided to get it anyway because it was more safe than any other toybox I saw. After buying it I was convinced this product is great it not only looks good but is also very sturdy. The lid can't fall on my daughters head she was at that time 12 mo. There is a lot of storage room and my daughter loves it too. She loves getting toys out and putting back in. Sometimes she even crawls into the toybox.
Date published: 2009-03-18
Rated 5 out of 5
by
Jenn-Mason's Momma
from
Perfect fit for my growing boy!!
I searched and done my homework before choosing a toybox! I didn't want a "cheaply made" one since I knew my son wouldn't outgrow a toybox for many years. I'm a single mom and want the most bang for my buck! I looked at lots of reviews and found that this particular one sounded perfect. When I recieved this shipment I quickly realized how simple the assembly is! Didn't take long at all to have it together and ready to go! It's very sturdy and durable for my growing boy! I've had it for a little over a year now and it's just as perfect as the first day I assembled it! Mason can open and close the chest door by himself now that he's 2. I love that I can close the lid to hide away his messy toys when company is over! His shelf is great for books and I keep his pull-ups on the top part for my sake lol this is a wonderful toy box and definitely worth every penny!
Date published: 2015-08-22
Rated 2 out of 5
by
Anonymous
from
It's just ok
We were really excited for this toy box to contain a toy explosion that happened in our house after the kids' birthdays and the holidays.I was pretty surprised when I took it out of the box. Right away I could tell how thin the plastic was. Very different from the plastic in the two playhouses, kitchen and two wagons from Step 2 that we have. (We have the white and red one and you could see the floor tiles through the inside of the box if that shows how thin it is!).Also, the lid was scratched all over and had lumpy ridges along the bottom of the lid (where you put your hand to open it). It does hold quite a few toys and I love the shelf on top. Just not overly impressed with this item. Still on the fence if we will be keeping it or not.
Date published: 2014-01-15
Rated 2 out of 5
by
Mawr
from
Change to product
I bought this toy box for my grandson in November and loved it. Loved the fact that the lid lifted up and slid into a slot so no more toy box lids thrown across the room or falling on the head. I just ordered another one for my daughters new house and apparently they have changed the design. The lid does open and slide back but it was so hard to get into the slot I could hardly do it and forget about your child being able to pull it back out to close the lid, it was in there so tight. Once I did get it pulled out the lid just comes out into your hand, there are no more notches to keep your lid from lifting right out. It literally just sits on the ledge of the box. There was also a large gap at the top of the lid between the toy box and the bookshelf that I could fit my whole hand into. I do love all the room the toy box has in it and the bookshelf but will probably return. Not sure why they would change such a great feature.
Date published: 2018-04-13
Rated 5 out of 5
by
Anonymous
from
Love this bookcase storage chest!
This is a great bookshelf and storage chest for my girls. It was a breeze to put together and very sturdy, durable plastic. Also, I like that little fingers can't be slammed in the lid because there is a space between the lid and the bin. The corners and edges are rounded which is nice for when the girls accidentally bump it. I keep toys on top, a bunch of books on the bookshelf and then I put little odds and ends toys inside.Thank you to Step2 for letting me test this item as part of the Step2 toy tester program.
Date published: 2015-09-29
Rated 1 out of 5
by
Sanmyron
from
False product description
The description on Step2 website is saying that the toy box lid is permanent, but the toy box I received is not. I called customer service and was told that they have revamped the lid to be removable. The website states different. I will be returning this toy box.
Date published: 2018-01-09
Rated 5 out of 5
by
SpoiledPink7
from
What I was looking for
At my request my mother purchased this toy box for my son's second birthday. We've had it for 1.5 years now.It was easy to move. It is light, when empty.It offers a lot of storage space. It's easy for my son to empty and easy for him to put his toys away.Mostly he likes to pull the books down off the top shelves and climb up and stand on the top. It's been sturdy enough for him to climb on it.After he outgrows it I will take it to my classroom and I plan to store indoor recess toys within it.
Date published: 2016-01-31
Rated 3 out of 5
by
Duckhead78
from
Good product with one problem
Durable and holds and ample amount of toys. My two year old received this as a Christmas gift. The problem with this product is the loose lid. Within minutes of use, the lid fell on my daughter's foot.
Date published: 2019-12-26
Rated 5 out of 5
by
adsa74
from
wonderful toy box
This toy box is wonderful for a small child. MY 3 YEAR OLD GRANDDAUGHTER LOVES IT. not only does it hold lots of toys but lots of her favorite books as well. The lid is easy enough for her to open and close by herself. Cleanup and hiding toys are a breeze with this toy box. I own 2 other toy boxes by little tikes as well. However, this 1 holds far more toys not to mention books too than either of the little tikes does. However, not complaining about the lt boxes b/c they are good too and to think that I found all 3 in like new condition at either yard sales or a consignment shop. I would highly recomend this toy box to anyone who is limited on space and has a toddler with lots of toys.Has a small opening with lid fully closed so that little ones will not be able to smash their precious little fingers.
Date published: 2008-07-31
Rated 4 out of 5
by
Anonymous
from
Great Storage at a Great Price
My husband and I purchased this about a year ago when we realized we had nowhere to put my son's toys and books. We chose it because it was inexpensive and the store model seemed sturdy and had a lot of storage space.My son loves to go in and get his own toys. It makes him feel like a big boy. It also teaches him to clean up his toys when he's finished playing with them. Occasionally he'll pull out all the toys and climb in, which is okay with me as long as he picks them up again. :-)My only negative comment would be that, like some other reviewers have stated, it comes in three pieces, so the book shelf tends to shift. However, it isn't a problem for us since we have it against his bedroom wall. When it shifts back, it hits the wall and won't fall off. You can also screw them together, but we just chose not to.
Date published: 2011-12-19
Rated 4 out of 5
by
ProudMomOfTwins
from
Nice storage chest with bookcase
I bought two of these chests for my 18 month-old twin babies (a boy and a girl). They had a blast throwing their toys in and out the chest and the book case the first time I put it up. There is ample storage space and bookcase is the selling point for me. I would have given a 5 star review. But the lid on the pink one is really tight. I can not open and push the lid back without appling heavy forces. I will call customer service for solutions
Date published: 2009-02-04
Rated 4 out of 5
by
TJGLSV
from
Decent; used to be better b4 redesign
I have an older model I suppose of this same xact bookcase, it that one was much more durable, in my opinion. They both have the same amount of space, design and look, but the quality seems to have changed. Feel much lighter, and this one needed to be put together (only a 1 step process) however, my original one was 1 big piece, no assembly which leads me to believe this model has been recently changed (my origianl was bought 2 years ago)
Date published: 2010-01-19
Rated 5 out of 5
by
Anonymous
from
Pretty Pink Toy Chest
The lift and hide bookcase storage chest is adorable. It's sturdy, extremely well-made and just the right size. It holds a lot of items inside and has nice shelves for displaying items or books. It was extremely easy to put together and it's nice that the cover slides open instead of coming off. I have purchased Step 2 items for my children many years ago and am now purchasing for my granddaughters.
Date published: 2017-03-27
Rated 2 out of 5
by
Prinnu
from
The Lid?????????!
I bought this toy chest a few years ago for My children. So when I bought a new house I wanted to buy one just like it because I needed something brand new but I wanted the same thing because I loved it so much but to my surprise when I opened it and we got done putting it together the lid fell off and did not stay on I was horrified I want the old chess back because that one was made with quality
Date published: 2020-09-24
Rated 4 out of 5
by
suburbiamama
from
not for outdoors
We tried to use this for outdoor toy storage -- not it's intended use -- because it's durable and plastic. I wouldn't recommend it. The storage bin isn't water-tight and actually traps standing water. When bringing it back inside it took a long time and many times turning the whole thing upside down to finally drain all the water out. It's serving well as an indoor toy storage/bookshelf unit :)
Date published: 2009-09-17
Rated 5 out of 5
by
Tracy the Super Mom
from
Lift Hide Bookcase Storage Chest by Step
I had this same toy box for my first child. I had gotten rid of the original one as I thought I was done having children but when it came time to get another toy box after the birth of my youngest son, no other toy box I looked at would do, as I was so happy with the original one I purcahsed 10 years ago, so I went to the Step 2 website and made my second purchae of this toy chest.
Date published: 2009-03-03
Rated 5 out of 5
by
MommyOfOneBoy
from
Lots of Storage
I have had this item for my son for about 6 months now. It was super easy for me to put together (took all of 5 minutes if that). I have thrown all of his toys into the chest area and there is still enough room for more! The books shelves are nice since there is a backing on them so the books/items places on them will not fall behind the toy box area. I was a little worried about my son tipping this thing over but if you put it up against a good wall and have enough toys in the chest part you should be just fine. My boy is almost 11 months old now and loves to sit inside the chest too... there is just that much room. When he sits in there he will close the lid and poke his little fingers out... the best part is that his fingers will NEVER get smashed because the lid looks shut but will not be plastic on plastic on the bottom of the lid. I would recomend this item... wish it came in more colors though.
Date published: 2009-06-12
Rated 5 out of 5
by
Mom of 2 special kids
from
Absolutely love it!!!
I bought this for my son's 2nd birthday and he is now 8. It has held up very weel, better than I expected considering my son is able to break even matchbox cars. I would recommend this to everyone especially someone with disabled children like my two children are. It's very easy for both of my children to open up and not close on fingers. I highly recommend this!!!
Date published: 2008-11-04
Rated 5 out of 5
by
Anonymous
from
From board books to chapter books
This book shelf has traveled across many states. My son had this product in his room for about three years. Now my daughter age 8 has had it in her room for 4 years now. I was about to pass it onto a friend, but my daughter still loves it and wants to keep it in her room. What once held toddler toys and board books now holds chapter books and knick knacks.
Date published: 2009-06-14
Rated 3 out of 5
by
MadMama
from
Non-Working Lid
We have gotten this product in the past and needed and additional one. The "new design" has a free floating lid that actually means the lid falls out when someone tries to use it. I don't understand why this is a better option, and upon calling the company and questioning it, I was told the lid staying in was unsafe and that it was suppose to be this way.
Date published: 2018-07-17
Rated 5 out of 5
by
Anonymous
from
Very sturdy & holds TONS of toys!
This is the best toy storage system we have used. I am planning ony buying one for my daughter too. It holds TONS of toys! We also use the two shelves to display our little people playsets. I like how it is very sturdy, and wont tip over. And safety-wise - the lid has a gap, and doesn't lock. It will be good for years to come!
Date published: 2012-01-07
Rated 5 out of 5
by
Xaviesmommy8
from
Love it!
I was looking for a toybox for all my son's stuff animals, came across this and it is wonderful! Holds all his animals plus lets him put his favorites up top. Easy to put together, I did it myself and I'm not very handy! My son also likes that he can open and close the lid! Wonderful toybox!!
Date published: 2009-02-18
Rated 5 out of 5
by
Mom to Toddler, Daycare Provider
from
Very spacious
I love this product. It is so spacious inside but takes up very little room in my house. I couldn't believe it fit all my daughters toys that had been taking over the living room. Also very stable, my daughter climbs it to get her shoes on the top shelf and it doesn't move.
Date published: 2009-01-22
Rated 4 out of 5
by
first time mommy
from
Love it
My husband and I bought this for our son on his third birthday and we absolutely love it. It was so easy to put together and holds a significant amount of toys. It looks great in our sons room despite it's size. We recommend this product..I just wish it was cheaper in price.
Date published: 2011-08-09
Rated 5 out of 5
by
Anonymous
from
VERY HANDY AND SPACE SAVER
MY 2 YEAR OLD HAS THIS IN HER BEDROOM AND SHE LOVES IT. ITS NOT TO TALL FOR HER AND SHE KEEPS ALL HER STORY BED TIME BOOK ON THE SHELFS. IT HOLD ALL OF HER TOYS AND KEEPS THEM HIDDEN. THIS WAS REALLY WORTH THE MONEY. I WOULD SO RECOMEND THIS TOY BOX.. A+
Date published: 2008-10-22
Rated 5 out of 5
by
Emily887
from
Perfect for my daughters room!
This is about the only thing my daughter has not climbed on! The lid ticks away when you open it, which is great so it doesn't fall down when getting toys in and out! The little shelf is great for small books, dolls, photo frames, anything really!
Date published: 2018-03-19
Rated 5 out of 5
by
Anonymous
from
I love this product it is very well made and durable.
This toy box is very easy to assemble, and has lots of storage space. It is very durable and my child loves it. It's easy for us to use and allows us to pick up all of her mess at the end of the day with somewhere for it all to go. "Sweepstakes"
Date published: 2017-05-28
What keeps the lid on? It slides back but when we pull it out it just falls to the ground. A child cannot keep it on. 
Please contact our Consumer Service Specialists at step2-company@step2.net or 1-800-347-8372 Monday through Friday, 8AM -5PM Eastern Standard Time and we will be happy to help you.
Date published: 2020-01-11
Can a replacement top piece/bookshelf be ordered for this product?
We are unable to offer the top Lift & Hide Bookcase Storage Chest™ separately.
Date published: 2019-10-14
Is the lid supposed to be easily detacheable? My daughter can not pull it down without it coming off 
The lid of the Lift & Hide Bookcase Storage Chest™ is detachable.
Date published: 2020-12-04
I saw in the questions section that others are upset that the new design does not have a lid that stays in place. I believe this would be considered a design flaw and I don't understand how a lid that FALLS OUT when children try to operate it is better.
The design of the lid and the base were recently revised to remove the previous hinged mechanism due to changes in the toy safety standard for USA. We had to modify in order to comply with the new regulation. The lid now has two notches underneath and the toy box base has two bumps that the lid rests on to keep it on the base. The lid is now completely removable and does not permanently attach and can be put to the side during use. Note that an overfilled toybox with items beyond the opening could cause the lid to not seat properly resulting in it falling off. The lid will also slide into the area between the base and top about half way as well during use or for storage but it is again not permanent can be pulled back out.
Date published: 2019-02-09
How much is it if shipping to Hong Kong?
Step2 Direct ships within the Contiguous United States only.
Date published: 2018-06-26
Why are there no holes for the screws
Our manufacturing process does allow us to consistently place holes into parts without creating plastic shavings which are considered small parts per the toy safety industry standard for USA. We instead provide location points for screws as shown in the product instructions. The metal screws are self-tapping and when a downward pressure or force is applied onto screw with driving in with screwdriver, they will drive into the plastic and create their own hole. This would be the same or true of driving screws into a wood board without a hole. If needed or preferred, you can use a small nail with a hammer and pound a nail in a bit to create starter hole and then take out install screw. A power screwdriver or rechargeable drill can also be used to aid installing screws but we do not always recommend as driving screws in too far can strip out the plastic and cause other damage.
Date published: 2018-03-12
How deep are the shelves?
The depth of the top shelf for the Lift & Hide Bookcase Storage Chest™ is 8.75 inches and the bottom shelf measures 8.5 inches in depth.
Date published: 2018-01-22
I recently received this toy box and already have one in brown. The one I just got doesn't have the latches on the lid to keep it in place on the toy box. How can I go about getting this fixed??
Please contact our Consumer Service Specialists at 1-800-347-8372 Monday through Friday, 8AM -5PM Eastern Standard Time and we will be happy to help you.
Date published: 2020-08-25