Lift & Hide Bookcase Storage Chest™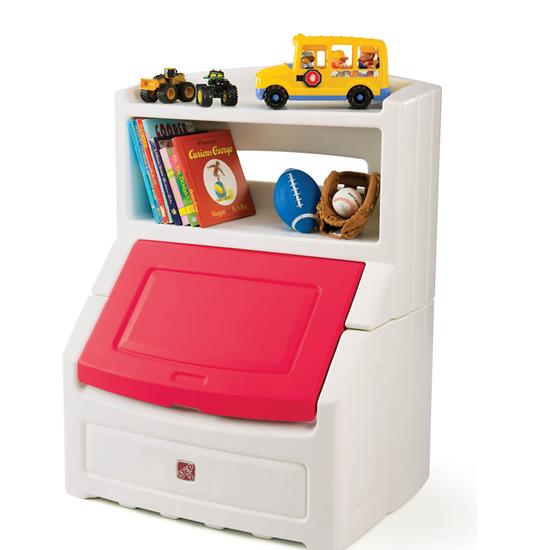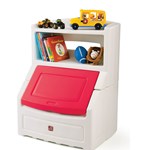 Lift & Hide Bookcase Storage Chest™
In stock
$139.99
+9.99 shipping (via FedEx) When will my item arrive?
The Lift & Hide Bookcase Storage Chest by Step2 was designed with safety and convenience in mind and has plenty of room to store toys in!
IS THIS A GIFT? DON'T SPOIL THE SURPRISE!
This item ships with an image of the product on its outer packaging.
Rated 2 out of 5
by
Michelle
from
Not as good as the old style!
This one is definitely not as good as the old style. Kind of disappointing too. The old style was made of thicker, sturdier plastic and came in one piece and the lid was easy to pull in and out by a toddler. Don't understand why you changed this. This new version is thin plastic. It comes in 2 pieces. The lid is hard for an adult to pull the lid in and out. Plus there are some really sharp pieces where they didn't trim the plastic very good. Pretty disappointed considering I specifically chose to buy this because of how great the last one we had was. Don't understand why companies always change things that are perfect to begin with or why quality cheapens. Do better Step 2!
Date published: 2018-04-05
Rated 4 out of 5
by
Kbugmommy
from
Overall a good storage chest
I have a 1 and 2 year old that both have their own storage chest. They love them and they really do hold a ton of toys. They were easy to set up (if it would have set up properly...see below) and are easy to clean and very safe for children. The only issue I have is that on one of the chests the door doesn't fit right. It is VERY tight and my two year old can't open/close it. The base of the unit isn't quite wide enough to allow the door to close all the way. I have contacted the Step 2 company to see if they will help. So far, they've just said this is a new design and had me email a picture of what I am talking about...I hope they can do more than that.
Date published: 2009-06-26
Rated 3 out of 5
by
Debbie 55
from
Pros & cons
I am writing a second review. Although I was disappointed in this version compared to the older model without the bookshelf, I think it still beats other toy boxes in regards to being toddler friendly for accessing & picking up toys. I think step 2 can take time to improve the quality and go back to products that work in the practical sense. This product will be in the family room and a door that stays on would be great! Although I did purchase in store, I was not able to see that the door does not slide down without falling off due to toybox being out of reach. I assumed it was the same as the great older model with added bookshelf.
Date published: 2019-04-23
Rated 1 out of 5
by
Disappointed Grandma
from
Very Disappointed
I purchased one of these lift hide bookshelves for my grandson 2 years ago for our home and wanted to purchase one for another grandson for his home only to find that the quality was no longer there. The one purchased 2 years ago and was on display in the store was very sturdy. It was a hard thick plastic and was in one piece. The one I brought home to give as a Christmas gift is going back. It is in 2 pieces (made to be screwed together) which is not a bad thing but it was so flimsy I couldn't believe the difference. I could actually see through the thin plastic. For the price they charged for this toy box I expected better. I think they need to go back to the quality and charge more if the profit margin is the problem.
Date published: 2009-12-21
Rated 5 out of 5
by
Madi's Mommy
from
Excellent Toy Box
I bought this for my daughter who is almost 2 years old. She enjoys lifting the lid up and down. And whats great about it is that the lid is child proof. It can not fall on her head or crush her little fingers. She also loves the book shelf part of it. It is so convenient! Every child should have a toy box. And this one just happens to be one of the best ones I've seen. The book shelf just adds more room to store all those toys without taking up anymore room. I would recomment this product to anyone out there looking for a durable, easy to clean, fun, child proof toy box. It was also simple to put together and is light enough to move from room to room. Thanks!!
Date published: 2009-01-08
Rated 5 out of 5
by
Bargain shopper Mommy
from
Perfect!!
I had this product handed down to me from a cousin of mine who had it for her boys for 3yrs. before she gave it to me she had it handed down to her from her mother in-law who had it for God only knows how long. Now I am getting ready to hand it down to my niece who is having a baby boy. I decided to give it to her since it is such a good product and after all this time it is still in mint condition. I am going to purchase the 1 with the pink lid now in order to replace the other one. It goes with everything. I have 2 toddler girls ages 3 and 5 and they both fit everything inside of it. If it can survive my 2 girls after dealing with my cousins 2 boys and whomever had it before than it will survive anything!!I love it!!!!
Date published: 2009-02-03
Rated 5 out of 5
by
Anonymous
from
We still are loving it!!
I received this toy box as a gift when my now 7 year old daughter turned a year old. We used it all along w/ her and now my younger 2 year old daughter uses it for her toys. It is very durable yet light weight, and is easy to clean (its still looks the same as when we got it 6 years ago:). It doesn't look very large, yet inside it is huge and holds all of her various toys perfectly!! I also like that she can easily open & close it herself & I like that there is a small gap so that she cant pinch her fingers when it shuts :)I have nothing negative to say about this product!!
Date published: 2010-02-17
Rated 3 out of 5
by
Jacob and Luke's Mom
from
Not as good as the old style
My 3 year old son was given one of these as a gift for his birthday, and the toybox itself was all one piece, the only thing we had to do was snap the lid on. He loved the toybox, and it fits all of his toys well and we like that the lid can't hit his head and that it had the shelves for books and stuff. So we proceeded to get one for our just now one year old, and it arrived in 3 pieces...the shelf had to be attached. No big deal, but when we went to put books on the shelf right above the toybox, we discovered that the shelf is now smaller....books that fit on the older model won't fit on the new model....what a bummer Step 2....just like everything else, the cost is the same but the item is actually smaller.
Date published: 2009-04-13
Does this tether to the wall for safety?
The Lift & Hide Bookcase Storage Chest™ is not designed to be tethered.
Date published: 2018-03-27
Where can I buy replacement pieces? I am in need of a new bookshelf piece for a lift and hide toy box.
Please call our Customer Service Department toll free 1-800-347-8372 Monday - Friday, from 8-5 ET and we will be happy to assist you further with this request.
Date published: 2018-03-27
Would this be suitable for outdoor use?
Yes!
Date published: 2018-03-27
Is there an option to get the liftable lid in brown instead of blue?
No. Unfortunately, the lid is only available in blue.
Date published: 2018-03-27
My son just turned 2 - would he be too tall or big for this?
The Lift & Hide Bookcase Storage Chest™ is recommended for ages 2 and up. He should not be too big for this however, he may or may not be taller than the unit. This unit is 38" high.
Date published: 2018-03-27
What are the dimensions of the packaging for international shipping ?
The packaging dimensions of the Lift & hide Bookcase Storage Chest™ - Tan & Blue are 30.75" high by 30.25" wide by 23.5" deep and weighs 27 lbs.
Date published: 2018-03-27
Will the lid stay on and slide back if the shelf is not put on or does the shelf have to be put on for it to work properly?
I think its all one piece so there isn't an option to leave the shelf off but I think they do have toy chests without the shelf
Date published: 2018-03-27
Will a blue top ever be available? We currently have a red one, but it doesn't really match our blue race car bed.
We have a tan and blue version available here: <a href="http://www.step2.com/p/Lift-Hide-Bookcase-Storage-Chest-Tan-Blue" target="_blank">http://www.step2.com/p/Lift-Hide-Bookcase-Storage-Chest-Tan-Blue</a>
Date published: 2018-03-27
what is this made from ?
high quality plastic. I have had several over 32 years ] of doing childcare. The last, easy to clean and well worth every penny. great investment.
Date published: 2018-03-27
My granddaughters toy chest came with 2 screws, where do they go?
There was no instructions in the box, now what?
Date published: 2018-03-27
Just wondering from a safety perspective...is this product free of BPA and PVC?
This Lift & Hide Bookcase Storage Chest is free of BPA and PVC.
Date published: 2018-03-27
How long has this toy storage box bend on the market? I have a used one and it's very durable. Looks almost new. How do I find out how old it is ? Thanks
I looked all over with a flashlight, not to over look any part of the chest, no markings. Could it be older than 2007. It's not a two part chest its all one unit. If it's older than 7 years it's a tuff chest my 2 year old grandson put it through the course. He likes to climb.
Date published: 2018-03-27
I have the one with the pink. Can I purchase just the red part so I can change the color?
You can purchase these through our Customer Service Department. Please call toll free 1-800-347-8372 Monday - Friday, from 8-5 ET and we will be happy to assist you with this request.
Date published: 2018-03-27
any other colors?
This bookcase comes in pink and red. We will be releasing an option with cream and navy within the month. Please check back for the color addition. As a side note, I personally own this product in red and I am amazed by the amount of storage room in this product!
Date published: 2018-03-27
Is this suitable for outdoor use? We need a place to store balls and water toys in our back yard. We live in Vegas so the heat is more of a concern, but it rains occasionally in the summer too. Thanks for your time!
Yes - you should bring them in during cold weather.
Date published: 2018-03-27