Lift & Roll Toy Box™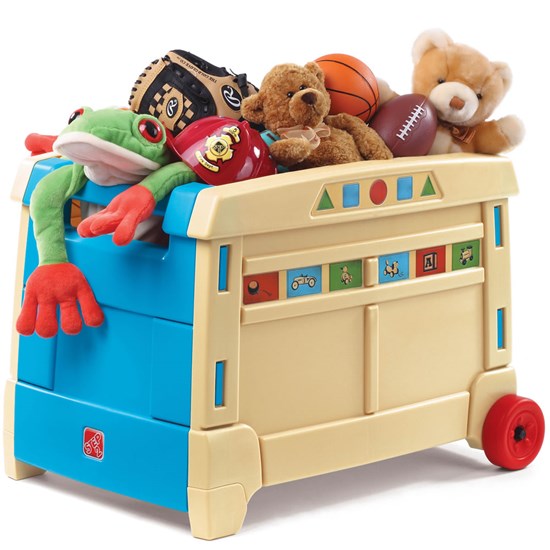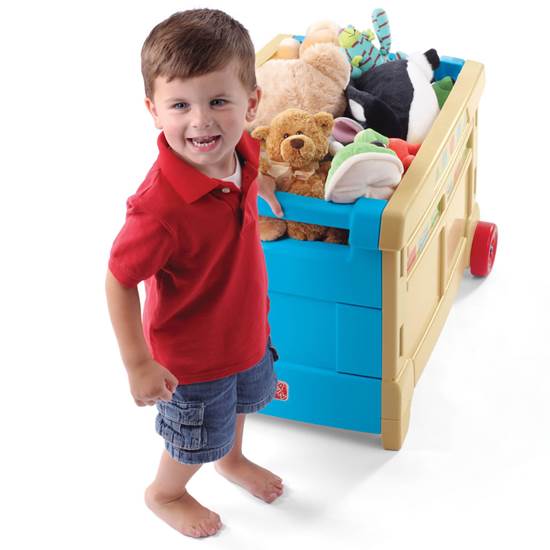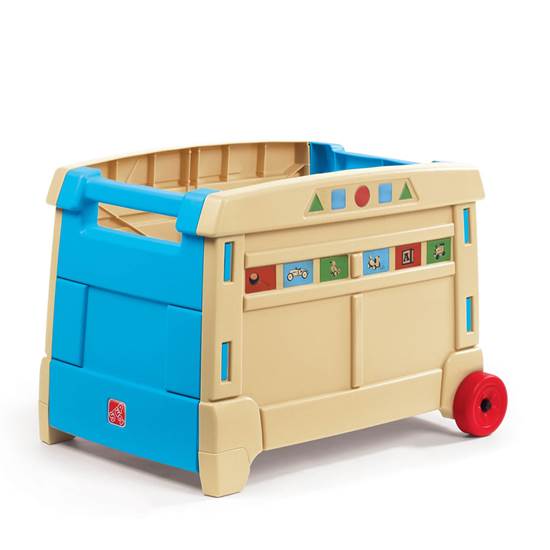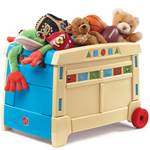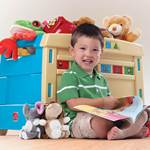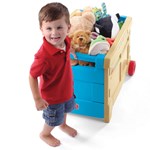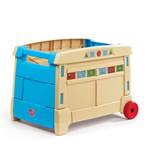 Lift & Roll Toy Box™
In stock
$42.99
+0.99 shipping (via FedEx)
The Lift & Roll Toy Box by Step2 is a toy box on wheels that will get your little ones moving as they clean their room!
IS THIS A GIFT? DON'T SPOIL THE SURPRISE!
This item ships with an image of the product on its outer packaging.
Rated 5 out of 5
by
Anonymous
from
Best toy box
I had difficulty putting it together but my husband was able to snap the pieces together with little efforts. Few pieces so easy to assemble.Smaller than most of the toy boxes available but it still holds a ton of toys and doesn't take up much space.Wheels make it easy to movie so you can sweep/vacuum under it.Surface is easy to clean which is a plus with toddlers.Attractive and I have gotten several complements from friends.
Date published: 2012-02-25
Rated 5 out of 5
by
Cosmo
from
It's perfect!
We only see our Grandson once a week and needed something that he could pull himself up with, hold a few toys, and was easy to put away until the next visit. This is perfect and can be used for a long time when his toys are bigger. Since he is only 9 months old, we put some boxes at the bottom of the toy chest so that he can reach his toys easily. The price was great and it arrived in 3 days. We couldn't be more pleased.
Date published: 2013-03-10
Rated 2 out of 5
by
Toy Box
from
Pieces don't snap together
The instructions are pictures which is fine, but a little explanation would be good. Especially with regards to getting the pieces to snap, even with a hammer they did not snap per the picture. I wish the pieces were smooth on the inside since toddlers will be toddlers and try and climb in. Getting the hub cap on the wheel axle was a bit difficult. And then it went on crooked. Definitely won't buy again.
Date published: 2019-11-13
Rated 5 out of 5
by
MasMom
from
Awesome Toy Boy
We purchased this item after reading the reviews and I'm so happy we did. It's durable and holds lots of toddler toys. We searched for about 2 weeks for the best fit for our little one. My husband and I are happy we chose a toy box without a lid since our little loves to hide in it :)He's 36 inches tall and weighs 31 lbs and gets in and out of the toy box without any problems.
Date published: 2014-10-06
Rated 4 out of 5
by
Peter Reabbit
from
I would recommend to my friends!
I ordered this toy box for my 2.5 years do daughter. She LOVED it! It is bigger than I thought but that's okey. For now, my daughter is hard to reach the bottom of the toy box, but I guess it will be no problem when she gets taller.Easy setup. My husband took around 20 minutes to have this assembled. Great toy box, reasonable price. I would buy It again!
Date published: 2011-11-20
Rated 5 out of 5
by
Anonymous
from
Great and Durable!
This toy box doesn't have much space for large toys, however, it does the job! We use it for our outdoor toys at our in home childcare. We live in AZ and this produce withstands the sun and heat. The kids can roll it into our gated area where toys are kept themselves. Although they're nt supposed to, they've climbed inside and it's survived so far. I'm very happy with this toy box and will be purchasing more!
Date published: 2013-03-21
Rated 5 out of 5
by
Prettyinink
from
Very nice toy box! [...]
I don't know why the other reviewer said it was difficult to put together..it was as simple as they come. Only a few things to put together. [...] our 2.5 year old is VERY happy. We did decide NOT to use the stickers that it came with though. I thought it made the toy box look to baby like and would come off in just a few months so we left them off and it looks great with out! Thanks again Step 2!
Date published: 2010-11-25
Rated 5 out of 5
by
Anonymous
from
LOVE LOVE LOVE
I am a new grandmother who wants to have toys at my house. This is perfect! I have stuffed animals, books, and infant toys in it now. We move it around the house as needed. Everyone who has seen it loved it. Easy to grab a toy and no worries about a lid closing on a child's head. The only thing is that it was a bit difficult to assemble, it took time and patience, but well worth the work.
Date published: 2012-09-29
what is the bottom of the lift and roll toy box made.
The bottom of the Lift & Roll Toy Box™ is made of MDF.
Date published: 2019-11-25
Does it come in pink?
Thank you for contacting Step2. This item does not come in pink. Regards, Step2 Consumer Service
Date published: 2018-11-20
How long does it normally take for you to get more toys in that are sold out?
Unfortunately, we do not have an ETA on when the Lift & Roll Toy Box™ will be available. Please view the following link and click on the Notify Me button to be one of the first to know when we have this unit back in stock : https://<a href="http://www.step2.com/p/lift-roll-toy-box" target="_blank">www.step2.com/p/lift-roll-toy-box</a>
Date published: 2018-03-27
Material ?
This product is made out of Linear Low Density Polyethylene. It is made in the USA.
Date published: 2018-03-27
I bought this toy box and the wheels didn't come in the box. Is there a way I can just purchase the wheels as it is already assembled, just needs the wheels?
You can order replacement parts through our Customer Service Department. Please call toll free 1-800-347-8372 Monday - Friday, from 8-5 ET and we will be happy to assist you further with this request.
Date published: 2018-03-27
which is the dimension of the packaging of this product ?
The packaging dimensions for the Lift & Roll Toy Box are 27.5" high by 19.25" wide by 7.25" deep and weighs 13.75 lbs.
Date published: 2018-03-27
Considering getting this for our 1 year old grandson. But wondering if it's a toy box he can use as he gets older. Don't want to purchase something that he will "grow out of" to soon? Thanks in advance for your reply.
My grandson is almost 3 now and the toybox is still working great. I recommend it.
Date published: 2018-03-27
I need better instructions assembling this toy box I have it for a month and still having problems as I'm. 74 and have tremor in my hands.please help me.