Little Baker's Play Set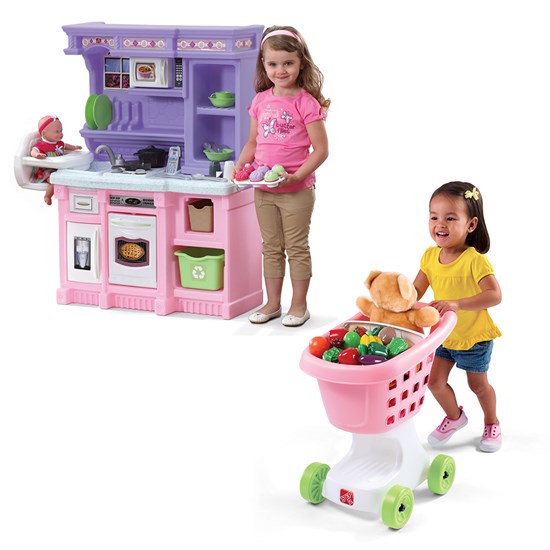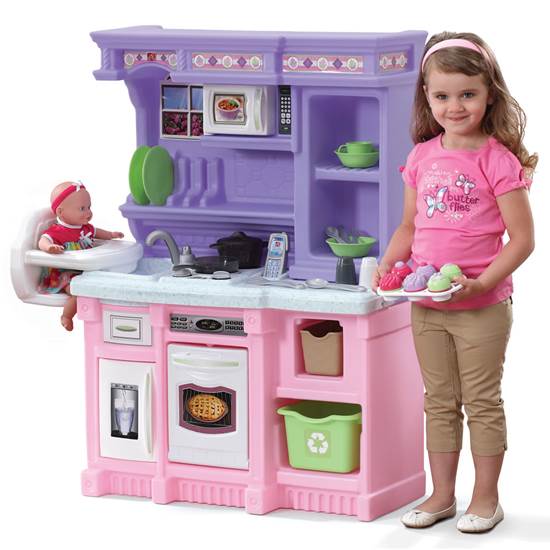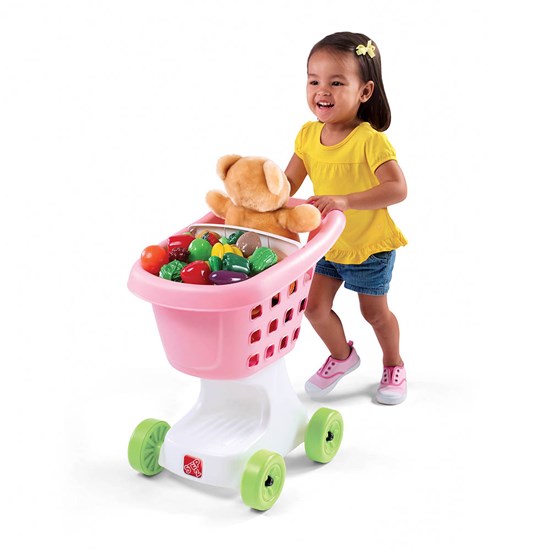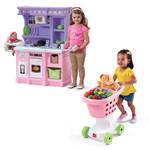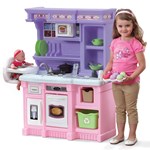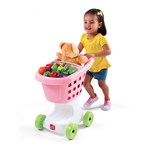 Little Baker's Play Set
With the Little Baker's Play Set by Step2, kids will love to shop and cook for their baby dolls.
IS THIS A GIFT? DON'T SPOIL THE SURPRISE!
This item ships with an image of the product on its outer packaging.
Rated 5 out of 5
by
Emily887
from
Wonderful Product
My girls love this kitchen and shopping cart! It is super sturdy!
Date published: 2018-03-19
Rated 5 out of 5
by
KimAnne
from
Hours of fun!
The Step 2 Little Baker's Play Set keeps my toddler entertained for hours. The kitchen is fully loaded including a microwave, oven, stove that makes a noise when you put the pot on it, a recycle bin, plates, silverware a cell phone and more. There is even a booster seat that attaches to the kitchen that a doll can sit in . Love that it came with a shopping cart. This was very easy to put together and I couldn't be more pleased. Another great quality product by Step 2.
Date published: 2020-08-23
Rated 5 out of 5
by
Kellyanne
from
So much fun!
This Little Baker's Play Set has been so much fun! Not just for our little girls, but for me too! First off, putting this together was easy peasy! I was able to do it myself in just a few minutes & only took 6 screws! It went together perfectly & we were able to start playing! (Pro mom tip: It comes with decals- Do that part when littles aren't around if yours are like mine & WANT/INSIST on helping.) It comes with everything you'd need for playing baking/kitchen/shopping etc. That is so nice & will save you $ later. The little high chair fits our dolls & our stuffed animals! yay! The quality of the entire set is amazing! durability & the realistic looking decals make make-belief play more fun! the fridge, stove that makes sounds, microwave, recycling bin...hours of entertainment with a bit of imagination! It's been so much fun watching our 3 yr old play with this set! Watching her mimic me in the kitchen & become a little mommy baker has filled my mama heart with joy! I've been raving about this set since it arrived!
Date published: 2020-08-30
Rated 5 out of 5
by
Robin
from
So much fun!
The Little Bakers Playset has been a huge hit for my girls! They are 2 and 4 and have played with this everyday since we received it. It was easy for me to put together and took about 45 mins (with the help of a 4 and 2 year old). They love making the cupcakes and serving them to the other family members. The high chair for the baby doll is perfect for any doll or even stuffed animals.
Date published: 2020-09-10
Rated 5 out of 5
by
trisham0912
from
Great kitchen
This is the perfect kitchen for my kids, ages 19months and 4 years. They have hours of fun cooking their food and using their shopping cart to shop at the kitchen. Its very sturdy and has held up to the test of time. Being little my kids aren't easy on their toys so to have a quality made play set is the perfect addition to our house hold.
Date published: 2020-09-09
Rated 5 out of 5
by
Maira562
from
Amazing product!!
This kitchen set and shopping cart is amazing! This kitchen set is made to last a lifetime of play on a daily basis. it is plastic but VERY strong plastic. Easy to put together with the help of my toddler! Love that it come with a little seat for her baby dolls. It has 2 bins where you can store play food and extras Dishes . The stove makes noises which any kid would really enjoy. i also love that it has a spot above the sink where you can store plates. Such a great idea. i Would highly recommend. if your in the market for a new kitchen for your little one you wont be disappointed with this. They will love playing with it for hours. As for the shopping cart the is also a great product my toddler loves shopping around the house with it and her baby doll. The only this I didn't like was that the axle part from the wheels kept snapping off so much and my toddler kept falling or tripping because of it coming off. I do recommend using a drill to screw in as it does not have holes and it's hard to screw in with a regular screwdriver.
Date published: 2020-09-09
Rated 5 out of 5
by
Dotson86
from
Awesome set
My daughter has been playing in my kitchen with my dishes and pans etc, so this was a great buy! It has dishes and food and the shopping cart adds a added touch of realness! Very high quality!
Date published: 2020-09-05
Rated 2 out of 5
by
Nette
from
Not so great
It did not come with the screws in So I had to go out and buy screws for the kitchen
Date published: 2020-12-30
How can we buy the replacement accessories? 
Please contact our Consumer Service Specialists at 1-800-347-8372 Monday through Friday, 8AM -5PM Eastern Standard Time and we will be happy to help you.
Date published: 2020-12-01
Hello, Do you have a baby doll of color?  Thanks!
Step2 does not offer baby dolls. We suggest looking on Amazon, Walmart, Kohl's or Target as they all have a diverse selection of dolls.
Date published: 2020-10-30
Will you send oversea (Okinawa, Japan)? Is it free?  If it cost, how much it will cost?
Step2 Direct ships within the Contiguous United States Only.
Date published: 2020-08-07