Little Helper's Grocery Cart™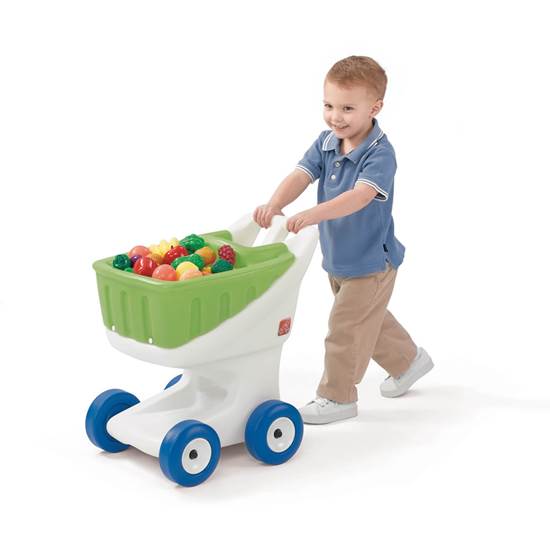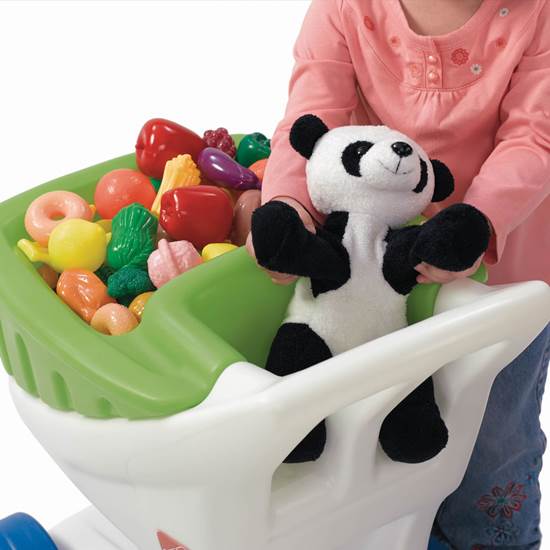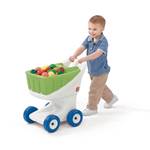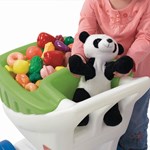 Little Helper's Grocery Cart™
In stock
$49.99 $44.99
+4.99 shipping (via FedEx)
Kids can really shop till they drop with the easy-to-push, Little Helper's Grocery Cart by Step2.
IS THIS A GIFT? DON'T SPOIL THE SURPRISE!
This item ships with an image of the product on its outer packaging.
Rated 2 out of 5
by
Grandma Rose
from
Nice but . . .
I own both the shopping cart and now this grocery cart. This one is a little bigger and bulkier. I do like that things won't fall through the solid wall construction and the overall design is very cute. But this cart is way more tippsy than the shopping cart. There is a small tab in the lower back of the cart. It is larger on the shopping cart, which is a smaller cart! The tab needs to be larger on this grocery cart to help prevent tip overs. Otherwise I would have rated this 5 stars.
Date published: 2017-08-29
Rated 5 out of 5
by
Anonymous
from
Great toy!
My son received this for Christmas. He also received a cheaper cart that we keep in the minivan for trips to the grocery store. The cheaper cart is pretty flimsy, tips very easily, and is difficult to turn. We do not have those problems with this cart at all. It even rolls better on carpet than the other cart rolls on tile floors.We have wooden groceries that our son loves to just dump into the cart. He also likes to "steal" canned goods out of the kitchen pantry if we leave the door open. But the cart still looks brand new. I'm so glad my mother gave this to him. It's one of his favorite toys.
Date published: 2010-02-18
Rated 2 out of 5
by
Anonymous
from
Not the best Shopping Cart out there
This is probably the only product from Step2 that I have ever purchased and was not wild about. I wanted to love it but just didn't. Overall I feel like there are better shopping carts out there.My dislikes are:-the cart feels pretty light and tipsy. It doesn't take much strength to turn it over, even a 2 year old can easily do this.-the design makes it wider and more bulky so it takes up too much real estate in our living room for the amount of use it getsI do however think it has a very cute design and it is well made (no sharp edges etc)But the bottom line is I am donating this one to charity and have purchased a more sturdy metal version from another children's product company.
Date published: 2012-03-19
Rated 4 out of 5
by
Anonymous
from
Happy with my purchase!
Love the product! I bought it to help my daughter walk and because she loves pushing things around the house. Love the idea of letting a doll or animal sit in the fruit. Not an excessive amount of room to carry things - just enough. I knew this before reading the comments it is easy to flip/fall when she's pulling her self up. It's less likely to happen if she's pushing it backwards. Haven't tried to the sand suggestion someone posted. Over all, it will be easy to clean and appears to be be durable enough to weather a bunch of years!
Date published: 2014-01-07
Rated 5 out of 5
by
Anonymous
from
A Must Buy!!!!
This cart is AWESOME..... Open box and pulled out entire cart, no having to put it together, yea! My 20 month old plays with this at daycare and loves it. I needed something fun and entertaining in the house for the cold winter, snowy, damp days. It's Oct and already outta the box.....he runs around the house pushing this car and putting anything and everything into it..... ie: matchbox cars, his blanket and bear, legos, puzzle pieces, etc. He feels so empowered. I love it! Def worth every penny! It's a must gift for any toddler!!!
Date published: 2016-10-09
Rated 5 out of 5
by
Naynay23
from
I would buy this product again.
I bought this Little Helper's Grocery Cart, along with the Life Style Dream Kitchen for My Granddaughter, she is twenty months old. She enjoys playing with her grocery cart ,the cart is made of durable material , I like the fact that it does not have any holes on the sides like other grocery shopping carts, which prevents her plastic foods and fruits from falling out of the cart. She also likes her Dream kitchen very much. She likes to cook so many different foods for her mom and dad . I like the fact that the kitchen has an over light. Its a durable material . The only thing is that the holes where the microwave goes screwed to, are in the wrong place, my daughter had to screw another screw next to it. I wish that Step 2 will keep an eye on this fact , for future kitchens .
Date published: 2011-01-19
Rated 5 out of 5
by
Anonymous
from
Sturdy and well built!
We bought this for our youngest son for Christmas. It is a well built quality product that both of my children have enjoyed playing with since Christmas morning. We were also pleasantly surprised to see that it came out of the box with NO ASSEMBLY REQUIRED!!!!!! That was a much needed sigh of relief for a flustered dad with a screw driver on Christmas morning! We love Step 2 at our house and will continue to be loyal customers as we have never been disappointed with any product from the company.
Date published: 2014-01-01
Rated 5 out of 5
by
E. J.
from
best shopping cart I found
I bought this for my 2 yr. old granddaughter, I buy toys that will last me for a long time so all my new grandchildren will be able to enjoy them. I had bought her a Little Tikes shopping cart and when we finished putting it together the wheels fell off, I returned it. This shopping cart came assembled, I opened the box and took it out and she started to play with it. This toy is sturdy, durable, and nothing folds so her little fingers won't get caught on anything.
Date published: 2012-03-06
is there a way to add some weight to the bottom so it doesn't tip so easily?
You could drill a small hole in the bottom fill with some sand. And plug the hole back up
Date published: 2019-09-12
Hello - What type of plastic is this cart made of? Is it free of bpa, phthlates and pvc? Thanks.
Step2 products are manufactured from Polyethylene and/or Polypropylene plastics. Step2 products are third party tested and are compliant to the CPSIA phthalate and heavy metal requirements per ASTM F-963 Toy Safety Standards as well as EN71 - Part 2 and 3 for UK chemical requirements.
Date published: 2019-07-21
Item is full of water. I pulled a bottom plug out. I see there are 2 small plugs that might separate the 2 parts-to clean it and to get the water out. How to remove the 2 small plugs without breaking them
Please contact our Consumer Service Specialists at 1-800-347-8372 Monday through Friday, 8AM -5PM Eastern Standard Time and we will be happy to help you.
Date published: 2018-07-05
What age is shopping cart step 2?
The Little Helper's Grocery Cart™ is recommended for ages 2 and up.
Date published: 2018-03-27
how high is the handle?
21 inches from floor.
Date published: 2018-03-27
What is the difference between this and the shopping cart beside price?
I found this one to be more sturdy my 3 year old has even sat in the back. Also it dosent have any slots in the cart area so nothing falls thru. I love this cart I will buy it for my nephew when he gets a bit older.
Date published: 2018-03-27
Are the axles metal or plastic?
metal. it comes fully assembled and is much more sturdy than the other carts we looked at.
Date published: 2018-03-27
I have a grocery cart of unknown age ( garage sale). How can I get water out of it. There is a plug but does not work for water removal. Looks to be part of the plastic molding process. Any ideas short of making another hole?