Little Helper's Grocery Cart™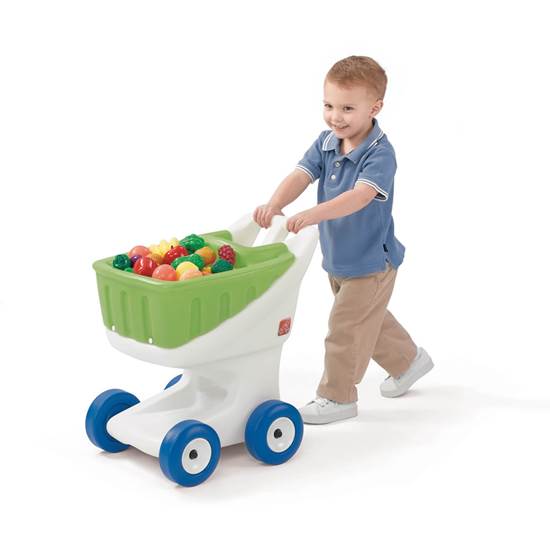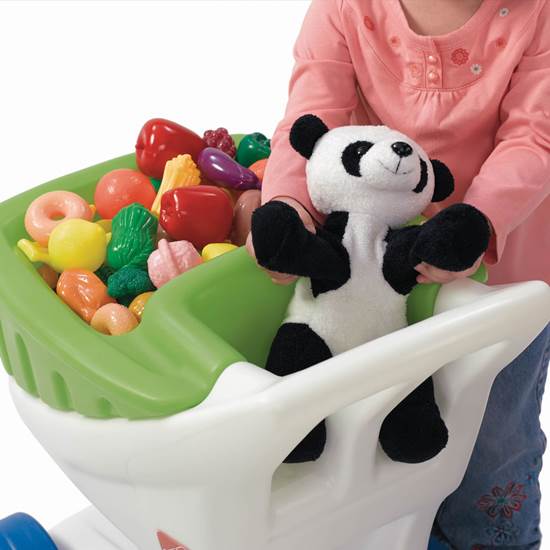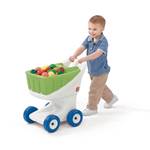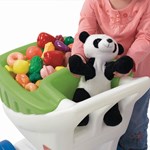 Little Helper's Grocery Cart™
In stock
$49.99 $44.99
+4.99 shipping (via FedEx)
Kids can really shop till they drop with the easy-to-push, Little Helper's Grocery Cart by Step2.
IS THIS A GIFT? DON'T SPOIL THE SURPRISE!
This item ships with an image of the product on its outer packaging.
Rated 4 out of 5
by
Anonymous
from
Larger than I imagined
I purchased the grocery cart for my oldest niece for Christmas. It was shipped right to their house in plenty of time. I video conferenced to watch her open her present and all they did was lift it out of the box it was totally assembled..can't beat that. She started filling it up with her toys and food right away. It's sturdy and stable enough for a 2 year old to climb in and sit in the basket. It will also outlast her baby sister. Very happy with the purchase
Date published: 2012-01-03
Rated 5 out of 5
by
Anonymous
from
I Highly Recommend This!
I purchased this fun shopping cart for my 1 1/2 year old Granddaughter & she totally loves it! She puts her doll or bear in the front "passenger" section, fills up the cart with play food & toys, & then usually stashes something on the bottom section and off she goes! I really like this new design, over the old design that had the open sections on the cart...nothing falls out of this new cart! I highly recommend this Little Helper's Grocery Cart!
Date published: 2016-12-08
Rated 5 out of 5
by
Nana Kate
from
Good Product
We bought this when our granddaughter was a year old and just starting to walk so I wanted something that would not easily tip over. This has been great for her. She is now 17 months old and is just beginning to understand what the play kitchen is all about. Right now she mostly puts her doll in it and pushes it around. I think she will play more with this as she gets older. We're very happy with the quality and expect it to last through several grand-kids.
Date published: 2010-11-23
Rated 1 out of 5
by
Paisley
from
Bulky With Little Cart Space
This shopping cart was given by my mother to my 2 yr old. We were both disappointed at how bulky the whole thing is and how LITTLE of a space for the cart is! The cart is shallow and small, it can barely hold anything! Shopping carts should have a large basket to be able to hold more as it is intended. Also, The product is very bulky, thick plastic and oddly shaped, it fits nowhere comfortably in the house. Seems meant to be outdoors?
Date published: 2014-12-07
Rated 4 out of 5
by
Gwen's Mom
from
Great Product
I purchased this for my 18 month old and she really likes it. She is on the small size, so this cart is perhaps a big big for her, but she will grow into it. It's much sturdier than the other ones I've seen on the market and well worth the few extra bucks. Came fully assembled, I just pulled it out of the box. The one and only complaint I have is that it really only pushes forward, it's very difficult for her to pull it backwards.
Date published: 2012-05-25
Rated 5 out of 5
by
Anonymous
from
Great purchase!
Birthday gift for my 2 year old grandson. Best purchase I could have made. No assembly required. Both my grandson and granddaughter, age 5, love to play with it. Sturdy, built to last and great for imaginative play, the cart has been for grocery shopping, moving toys from room to room, taking stuffed animals for a ride and even became part of "tent" that the grandkids built. I can't say enough good things about this cart!
Date published: 2011-03-26
Rated 4 out of 5
by
Anonymous
from
Sturdy Little Cart.
The cart came all assembled which was great. The only suggestion I would have is that the plastic fruits, vegetables, etc. should be included with the cart even if that cart was sold at a higher price to accommodate this inclusion. I wasn't able to find a set of the veg., etc. to put in the cart and it kind of defeated the purpose of the cart even though the little ones can put their toy cars, dolls, etc. in the cart.
Date published: 2013-06-17
Rated 5 out of 5
by
Pjw7
from
Grocery cart
This is very well Made. It was gift for 18 mt old and he puts his ' plastic food in it and takes it out constantly. He uses it outside with his playhouse from step 2. It gets run around in the yard and very sturdy. Very colorful. Weather resistant also. It has been left outside in the rain. He will take this in house during upcoming winter so he can collect his plastic foods inside his real house during the snow
Date published: 2017-09-12
Rated 5 out of 5
by
Anonymous
from
I think this toy is wonderful
I bought this toy used, and it is still wonderful. I have had it for over a year, and my 2, now 3 year old uses it almost everyday. He uses it and runs in a parking lot by our house for almost 30+ minutes 4+ days/week. It is very durable, the tires are still intact...no holes from his extended use. I am thinking about buying a second one for my younger child. I think this is very durable and worth the money.
Date published: 2015-01-13
Rated 5 out of 5
by
Anonymous
from
I absolutely would buy this product again!
Perfect size and function! My daughter has cerebral palsy and wears leg braces. This shipping cart is the perfect size for her to assist with walking, because she is 2yrs and is still learning. Other baby walkers are to small/short for her. Only thing i would add would be extra weight on the bottom (sand, etc). It's very light weight for the younger kids that are just starting to walk.
Date published: 2017-01-04
Rated 5 out of 5
by
Anonymous
from
Definitely a good buy
My daughter loves to "shop" for hours with this cart! She puts her baby dolls and stuffed animals in the front of the cart and strolls around putting anything and everything in the basket. This is perfect for her because she's so tall for her age. The only complaint I have is that it is easy to tip it backwards, so when she puts too much weight on the handle area, it sometimes tips with her.
Date published: 2010-03-06
Rated 5 out of 5
by
Anonymous
from
starting early
My grand daughter saw a 2 year old pushing a toy cart at a store and loved following her. That one had openings and all the toys were falling out. I went on line and found this one, much better design. Came in one piece and she could start playing right away. She is only 15 months and small but loves moving her toys from one area to another with it. I see years of fun with it.
Date published: 2011-03-20
Rated 5 out of 5
by
GwensMami
from
Best Shopping Cart
We researched shopping carts and found the reviews for this one to be very helpful. And we're very happy we got this shopping cart. Very sturdy with a spacious basket. Our 20 month old daughter loves it!Other shopping carts are cheaper but with a lot of problems(wheels come off, shopping cart tips off if too loaded, etc) Better get something that works, you won't regret it!
Date published: 2009-12-22
Rated 4 out of 5
by
Anonymous
from
Cute shopping cart!
Very durable! We have a slightly older model in pink and ours is very durable. The only negative about this product is that it is VERY difficult to turn. Our 18 month old daughter loves running up and down the driveway and sidewalk but she gets frustrated because she can't turn it around by herself. Overall we're happy with the product and would recommend it to a friend.
Date published: 2012-04-11
Rated 5 out of 5
by
Anonymous
from
We love it!
This was for our 2 yr old daughter that out grew the toddler push toys. Its great! Even her 5 yr old brother plays with it, doesn't matter to him that he's really too tall for it. It doesn't hold a lot but that also prevents the ability to sit in it like the old versions. She uses this exactly how its supposed to be. Its been one of our best bought toys for her.
Date published: 2009-07-30
Rated 5 out of 5
by
Anonymous
from
Sturdy cart - 1 and 3 year old love it!
This cart is very sturdy, which is the primary reason I purchased it. My one year old received a cheaper cart as a gift and it kept toppling over when she walked with it. This one holds strong as she pushes and walks. The space for a baby doll to ride in the front is super cute. A bonus that no building was required - it arrived assembled!
Date published: 2017-02-13
Rated 5 out of 5
by
Lillybug
from
Fun Shopping Cart Made to Last
We love this shopping cart! It is very well constructed and is very sturdy. It is easy to push for my 18month old daughter. It is a good size for her now, but will also allow her to grow with it. Very impressed with the quality and look forward to watching my children use their imagination as they play with their amazing shopping cart!
Date published: 2016-01-27
Rated 5 out of 5
by
Anonymous
from
Great Toy!
This is the best grocery cart. It is so sturdy and durable. My son received his two years ago and the grocery cart goes everywhere with him. He loads it up and pushes it around the house and in the backyard. We just bought another one for our daughter. This is the only toy they fight over. No more fights anymore with two of them.
Date published: 2011-03-11
Rated 5 out of 5
by
Granma Carol
from
Great product
My daughter loved the shopping cart quality and construction felt it was very durable and will last, but she is still a little too short to use and she is not walking as of yet. She is approximatley 10.5 month old. I figure she will be using in a couple of months. Will buy other products [...]. Food items included would be a "bonus"
Date published: 2011-03-10
Rated 5 out of 5
by
Anonymous
from
Sturdy, stable grocery cart
I've purchased two of these carts for Christmas and look forward to watching my grandchildren play. Shhh... I opened the box and was pleased with the quality of this cart. Shopping at local stores I could only find cheap flimsy carts. Was happy to find Step 2 once again came through for me. Best of all MADE IN THE USA
Date published: 2015-12-21
Rated 5 out of 5
by
Anonymous
from
PERFECT FOR LITTLE GIRLS...
WE BOUGHT TWO CARTS FOR CHRISTMAS. IT WAS THE BEST PURCHASE EVER. TONS OF FUN. I EVEN LOVE IT. A LOT OF SMILES AT THE GROCERY STORE WITH MY TWOLITTLE GIRLS FOLLOWING ME AROUND WITH THEIR OWN SHOPPING CARTS. I WOULD LOVE NEW STICKERS AND AN AREA TO PLACE THEIR NAME ON IT. LOVE THESE CARTS...VERY SAFE AND DURABLE.
Date published: 2012-07-18
Rated 5 out of 5
by
Anonymous
from
Perfect Cart for my Granddaughter!
My two year old granddaughter loves this cart! She had a flimsy one that fell apart, so I decided to go with this sturdy and large cart. It's so much easier for her to push and she can get a lot of her toys inside the cart. We've always had great luck with Step2 products, and this one is certainly a winner!
Date published: 2016-11-04
Rated 5 out of 5
by
fishmama16
from
BEST TOY SHOPPING CART AVAILABLE!
This is by far the best constructed shopping cart out there! (Our five kids have gone through three other well-known brands that would pale in construction comparison.) Perfect for your role-playing kiddos. Room for doll/bear too in seat. Big cart for lots of "shopping!" Perfect cart! Highly recommended!!
Date published: 2012-01-06
Rated 5 out of 5
by
GrandmaCat
from
BEST SHOPPING CART
Easy and useful tool. kids love it. I need to order another. I also purchased the Canyon Road Train Table for last Christmass and Playful Picinic Table for a April birthday. Both items are used everyday by 2 boys. I am sure the Grocery cart will last and last just like my other purchases. worth the price.
Date published: 2012-09-30
Rated 5 out of 5
by
Danny's mom
from
Sturdy and great for boys and girls
Finally a grocery cart that isn't just for girls (pink, purple, flowers). My 20-month old son loves to push things around and put things in boxes and now this cart! This is so sturdy. We have another baby on the way and I look forward to him or her playing with this as soon as he or she starts walking.
Date published: 2009-11-09
Rated 5 out of 5
by
GR49548
from
EXTREMELY well made!
I hope Step 2 never stops making this shopping cart no matter how much it costs! It is sooo much better than the Little Tikes shopping cart. I hate to see toys that last be replaced with cheap stuff. Manufacturers have not figured out that parents/grandparents will pay the price for better quality.
Date published: 2011-02-03
Rated 5 out of 5
by
Wen
from
Love it!
I actually purchased this for my Mother-in-Law to give to my youngest son for Christmas because I was ordering another product from Step2. When he opened his Shopping Cart he was so excited. He puts his stuffed Snoopy in the seat and heads off in the house to do his "shopping". It is a great product!
Date published: 2010-12-31
Rated 5 out of 5
by
3tinyheinies
from
It came assembled!!!!!!
Bought it for my 6 month old to use eventually. Her brother and sister get to 'borrow' it for now. Great unisex colors. Sturdy enough to withstand the occasional shove down our stairs. Big basket helps the kids gather toys and dolls and trucks during clean up time. Very happy with the purchase.
Date published: 2013-12-30
Rated 5 out of 5
by
Anonymous
from
Kids love them
Just purchased the second grocery cart for another grandchild. These are a big hit and they keep kids moving. I have some older ones inside and outside, as I had a daycare for years. My grandson loves the one I gave him to take to his home and plays with some at my home every time he is here.
Date published: 2016-07-26
Rated 5 out of 5
by
Amanda the mommy nurse
from
Perfect cart
Santa brought this grocery cart to my 15 month old for Christmas. She loves it! She has been pushing her babies around and putting all kinds of things in the cart. It is the perfect size as it is a little higher than "normal" for her now, but will be something she can grow and still play with.
Date published: 2009-12-26
is there a way to add some weight to the bottom so it doesn't tip so easily?
You could drill a small hole in the bottom fill with some sand. And plug the hole back up
Date published: 2019-09-12
Hello - What type of plastic is this cart made of? Is it free of bpa, phthlates and pvc? Thanks.
Step2 products are manufactured from Polyethylene and/or Polypropylene plastics. Step2 products are third party tested and are compliant to the CPSIA phthalate and heavy metal requirements per ASTM F-963 Toy Safety Standards as well as EN71 - Part 2 and 3 for UK chemical requirements.
Date published: 2019-07-21
Item is full of water. I pulled a bottom plug out. I see there are 2 small plugs that might separate the 2 parts-to clean it and to get the water out. How to remove the 2 small plugs without breaking them
Please contact our Consumer Service Specialists at 1-800-347-8372 Monday through Friday, 8AM -5PM Eastern Standard Time and we will be happy to help you.
Date published: 2018-07-05
What age is shopping cart step 2?
The Little Helper's Grocery Cart™ is recommended for ages 2 and up.
Date published: 2018-03-27
how high is the handle?
21 inches from floor.
Date published: 2018-03-27
What is the difference between this and the shopping cart beside price?
I found this one to be more sturdy my 3 year old has even sat in the back. Also it dosent have any slots in the cart area so nothing falls thru. I love this cart I will buy it for my nephew when he gets a bit older.
Date published: 2018-03-27
Are the axles metal or plastic?
It's plastic
Date published: 2018-03-27
I have a grocery cart of unknown age ( garage sale). How can I get water out of it. There is a plug but does not work for water removal. Looks to be part of the plastic molding process. Any ideas short of making another hole?