Love & Care Deluxe Nursery™ - Lavender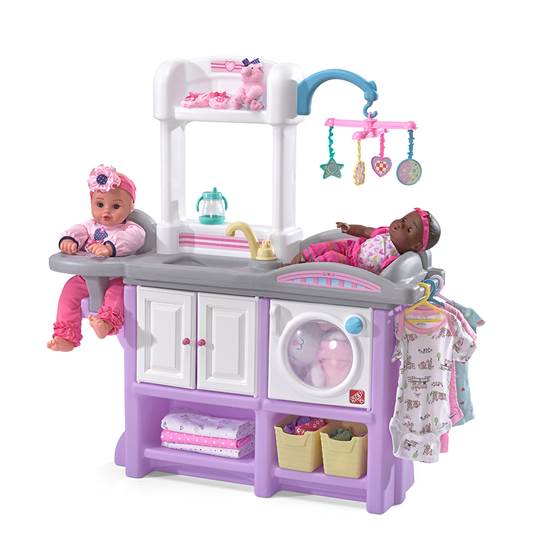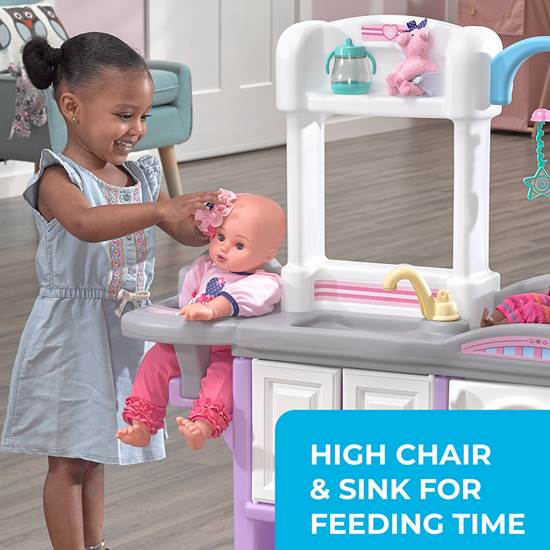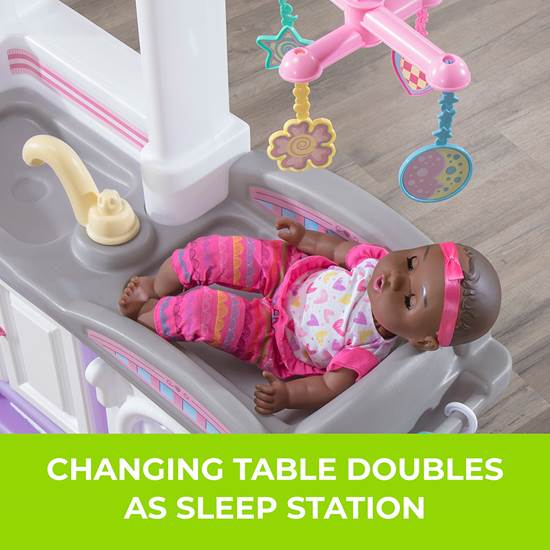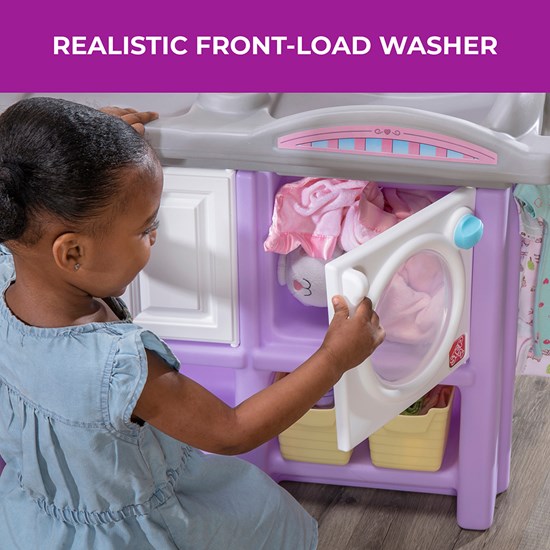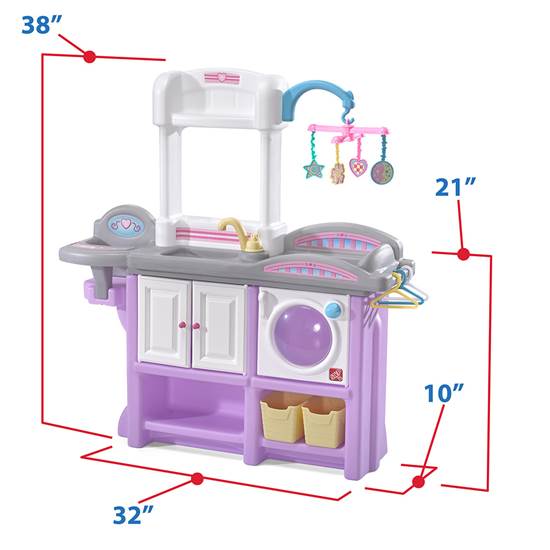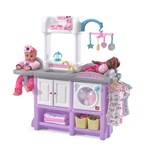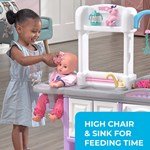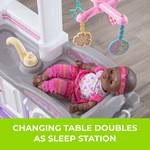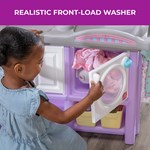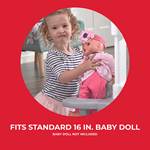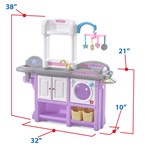 Love & Care Deluxe Nursery™ - Lavender
Little ones will love nurturing their baby dolls with the all-in-one Love & Care Deluxe Nursery™.
IS THIS A GIFT? DON'T SPOIL THE SURPRISE!
This item ships with an image of the product on its outer packaging.
Rated 2 out of 5
by
Anonymous
from
I would probably not buy this product again!!!
I ordered from step 2 for the first time ever directly, most the time I go threw someone else to get toys from them like toys rus or somewhere. I was surprised it came super fast but did not let my daughter open it until Christmas after opening it was a little disappointed because it was very flimsy and could not put together because there was no wholes for the screws!! So it sat for about a week being a single mom I did not have tools to fix it so a guy friend stopped by and helped by puncturing the spots where the whole should of been. So my daughter finally got to play with it and was not to happy with it because the doors kept falling off!!!!
Date published: 2017-01-01
Rated 5 out of 5
by
Anonymous
from
Great for dollies and other things
Got this for my 3 year old for Christmas and it was the biggest hit of all the gifts. She doesn't really understand it's for her dollies just yet but she puts everything in and on it. It's still by the Christmas tree and hasn't fallen over but I can see how it could so it will premenantly reside in her playroom up against a wall. From what I've seen it's well made and durable. She's a bit rough with her things and this is holding up so far. If you know a child into dolls or just hiding things this is a wonderful indoor gift. I also plan to let her use it outside on our patio in the spring/summer but will bring it back inside with us. Just a great great toy again from Step2
Date published: 2016-12-30
Rated 5 out of 5
by
Anonymous
from
Best Quality and imagination builder I have ever purchased
This is such a sturdy well built doll nursery set . Almost every single doll that my grandchildren have are able to be used with this plaster. It is something that they will be utilizing for as long as they play with dolls . It's a must-have to increase your child's imagination and the quality well last year's after they have grown up . Best investment I have made an a child's toy in years and I have three of my own kids ranging from 30 all the way to my granddaughter being five years old.Step two is definitely the name brand you want to look for when buying great quality products . A must-have every little girls dream to take care of her babies . No assembly except for the stickers and the mobile the rest is already together ! A must have for every kid who has a doll & imagination!
Date published: 2016-12-30
Rated 5 out of 5
by
Keith
from
A must have!
Th product was ordered & received so quick it blew me awayZ the product itself is so sturdy it's one of those that you can keep for your own kids when they grow up. Of course at Christmas the box was totally messed up- called customer service And they overnighted some missing hardware.. love love love the quality & customer service were the best out of any toy company I've ever dealt with! The dolls fit everywhere with ease. A must have for your child or Grandkids imagination!
Date published: 2016-12-28
Rated 4 out of 5
by
Anonymous
from
Cute but not perfect
This product was not too difficult to put together, but did use a small screwdriver to poke holes in the plastic where the screw needed to go, to make it easier to install. Downside is the baby mobile broke off the first day, the plastic piece the screw went it snapped very easily (my daughter wasn't being too rough with it) and the washing machine door does sit straight, tried adjusting the tightness of the screws but it did not make a difference. The high chair is also a little tight and difficult to get her baby dolls in. Even with that I am glad we purchased it, my 3 year old daughter loves it
Date published: 2016-12-05
Rated 1 out of 5
by
Brittney
from
High hopes only to Be disappointed
I honestly had high hopes for this product. Prior to ordering i read all reviews and compared it other toys. This product seem like a great toy for my 2 toddler daughters. Thinking the multiple playing features all in one would definitely be prize winner for my girls. What a Total opposite reaction! Once it's setup, my girls fell in love with it for the first day Only. After all the excitement was gone and the plastic parts broke off it was No Longer Holding my kids attention. It became boring even for the parents in interact with them. I just Knew this toy was make more sounds & noise and keep them entertained. Tends to fall over if they run past nursery care. Now it's just taking up space And feels like a wasting of buying
Date published: 2018-02-11
Rated 1 out of 5
by
Anonymous
from
Poor Quality, disappointed STEP2 fan
I am so disappointed in what could have been a great toy. The bed area should be bigger, but it does work for our doll babies with their heads up on the edge. But the plastic all feels thinner than our other step2 products. The nursery is built too tall and narrow and tips over if not up against a wall. Step 2 has made some incredible products, like the diner, which was so well thought out, and usable on all sides. But this is so poorly made, the quality is what I expect from an off brand toy in a dollar type store. The mobile will not spin, as we have to have it right up against the wall to keep it from falling over when they open and close the doors. This could be a wonderful toy if it was made on a wider base, and made out of the heavy duty plastic that we associate with STEP2.
Date published: 2016-04-21
Rated 2 out of 5
by
Jen36
from
Just okay
I expected so much more from a step2 product. The assembly was horrible. It calls for a screw driver but you defiantly need a electric screw driver or else good luck. There are no preset holes just little dimples and your expected to use a regular screw driver to get past all the plastic. The mobile broke instantly when trying to assemble. My neighbor bought the same product for her daughter and had the exact same issues. It's okay when finally assembled but you gotta work for it.
Date published: 2017-12-25
How do I place my order
Please contact our Consumer Service Specialists at 1-800-347-8372 Monday through Friday, 8AM -5PM Eastern Standard Time and we will be happy to help you.
Date published: 2021-01-19
Is this item expected to be restocked?
We apologize but we are currently out of stock and backordered on this item and several products. We are now running limited production as we were previously shut down due to the COVID-19 environment and unable to produce at that time. Our current production has been limited due to social distancing guidelines. We do not anticipate having this item & other products back in stock until late mid– late December. Please note this is an estimate as the timing could move back again based on demand, production schedule and retailer commitments.
Date published: 2020-11-25
Can I please buy the purple nursery set from you 
Regretfully Step2 does not offer the Love & Care Deluxe Nursery™ in lavender directly. We suggest checking Amazon as they should have this in the near future.
Date published: 2020-08-18
Do you suggest putting water in the bottom to hold it in place? I just put it together and it tips so easily. 
I had to place it against a wall 
Date published: 2020-07-01
Can you get the replacement of the bins and mobile?
You can but i've been trying to order from the website for a week with no luck. After I fill out the first page of information it brings up an error message. Super displeased...we got ours secondhand and wanted to get the baskets because they didn't come with ours. Hoping to call the customer service number when they are open again next week. Good luck.
Date published: 2020-05-24
Did anyone else have any issues with pieces breaking off while assembling? My husband and I were putting together this nursery for our daughter and when I went to hang the mobile, it completely fell off. The plastic piece with the screw fell off too so now we aren't able to attach the piece that would hang the mobile. This was a gift to our daughter from a family member and I'm super bummed. Is there anyway a replacement piece can be shipped to us?
I have the same problem with the arm of the mobile not staying attached. there should have been another piece made to hold it on by the other side but there is not.I am going to try and figure something out that holds it in place and will post it if its a success. thanks
Date published: 2020-01-20
If I buy today will it be here for Christmas
Please contact our Consumer Service Specialists at 1-800-347-8372 Monday through Friday, 8AM -5PM Eastern Standard Time and we will be happy to help you.
Date published: 2019-12-19
DOES THIS TOY NEED ANY BATTERIES?
No batteries are needed.
Date published: 2019-12-18