Love & Care Deluxe Nursery™ - Lavender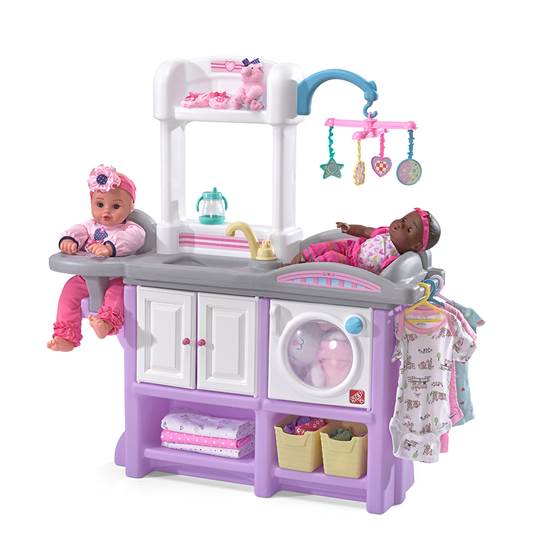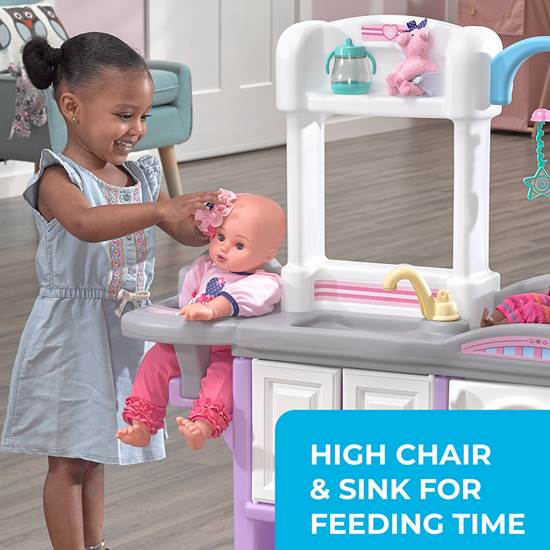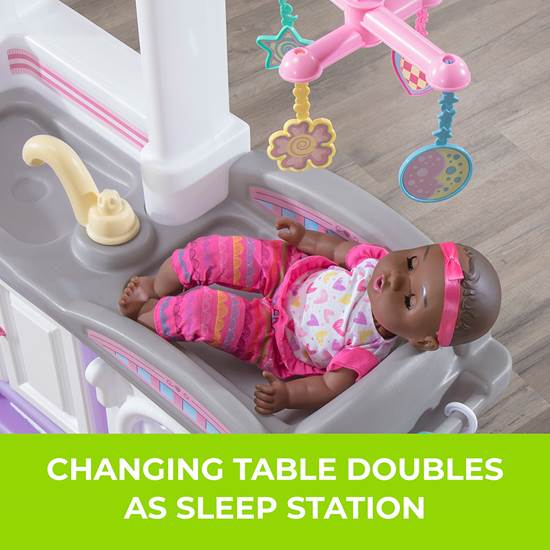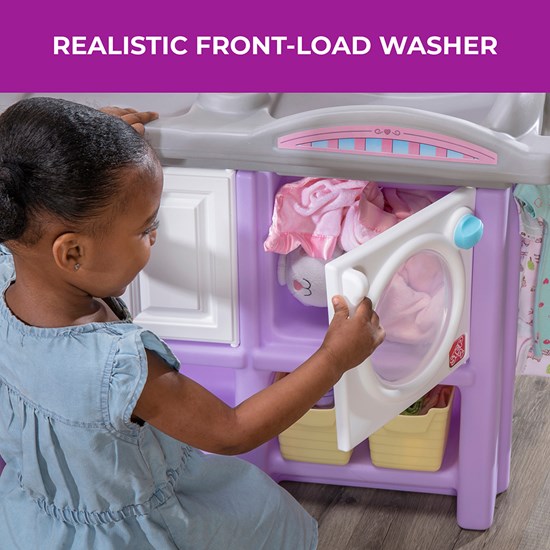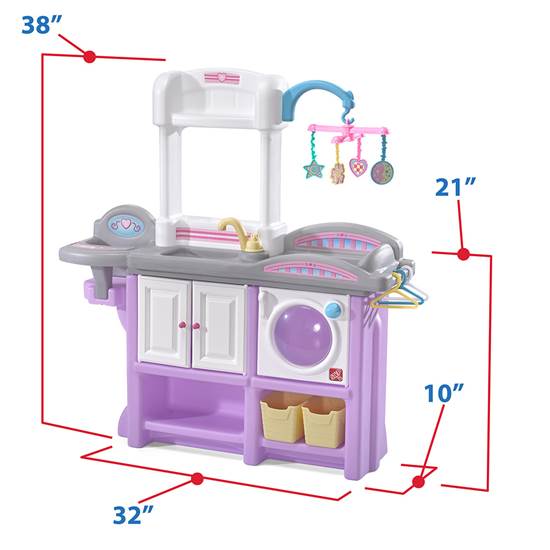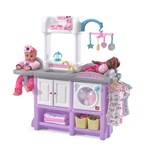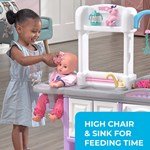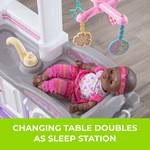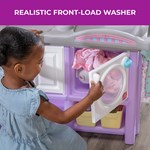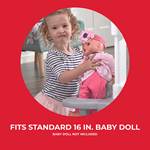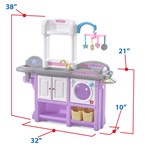 Love & Care Deluxe Nursery™ - Lavender
Little ones will love nurturing their baby dolls with the all-in-one Love & Care Deluxe Nursery™.
IS THIS A GIFT? DON'T SPOIL THE SURPRISE!
This item ships with an image of the product on its outer packaging.
Rated 5 out of 5
by
Rteacher
from
Grandchildren love it!
This was purchased for our 3 year old granddaughter and 2 year old grandsons. They immediately took on mommy and daddy personas. Two children can play easily with the different care stations. My only caution is the tipping factor if the cabinet or washer doors are pulled on too abruptly. This happened in the beginning with our 2.5 yr. grandson but he soon learned to do laundry more carefully :) In my opinion the assembly was medium difficulty as one piece was a bit "off" at first. I watched and held pieces as my husband put it together. Our granddaughter now plays with this immediately when visiting. Our grandsons still gravitate to their trucks but also use this for their animals and Mogli doll.
Date published: 2020-05-31
Rated 2 out of 5
by
Jrmyswife
from
Not thrilled
Bought this for our daughter for Christmas. Was disappointed in narrowness of the toy for one. It's on the smaller side of what I was expecting. Price far exceeds the quality. The toy falls over easily so must be placed up against the wall. The piece that connects the mobile to the play set was broken when we got it out of the box. While my daughter enjoys the doors and washer compartments, she rarely ever plays with the top part. Ended up being a waste of money for the most part.
Date published: 2017-04-04
Rated 1 out of 5
by
Deeply disappointed
from
Cute but not function
I bought this for my daughter who is 15 months old and loves dolls. She has average size dolls. Can't get any dolls in sink or sleeping area. Dolls barely fit in high chair.The set easily tips over and is not up to normal step 2 standards.I added a picture to show what size doll fits in high chair. Show that dolls don't fit into bed without standing up. There is a mini dog in the sink (not much bigger than the length of my hand)
Date published: 2016-03-23
Rated 1 out of 5
by
Jennaayy
from
Very poorly made at the factory
I should have never bought this. It has fallen on top of my daughter and anyone that plays with it. There are NO HOLES to put the screws in. Also the stickers were made too larger or too small. For the amount this product costs it should have holes to put the screws!!! I am a single mom and i don't have a drill to make holes my self. I have no family to help!
Date published: 2017-11-10
Rated 2 out of 5
by
Anonymous
from
Missing pieces from the box
Was excited to purchase this as a Christmas gift for my niece. After Christmas when her parents opened the box to put it together they found a number of pieces missing. Took over an hour on hold calling customer service, they said they would mail out the missing pieces. Hoping they come quickly with everything needed.
Date published: 2017-01-02
Rated 1 out of 5
by
Anonymous
from
Poor quality
Mobile snapped off within an hour of opening on Christmas morning, very poor quality, im livid over this , have a very upset little granddaughter. For the price, the quality is very poor. the high chair and crib are way too small for most baby dolls
Date published: 2016-12-25
Rated 2 out of 5
by
Anonymous
from
Not the quality I expected from step2
The mobile broke while screwing it in very cheaply made and one sided. The plastic isn't as thick as step2 normal kitchen sets disappointed in the quality of this product.
Date published: 2016-10-08
Rated 1 out of 5
by
Disappointed2017
from
Mobil broke during installation
The mobil broke while an adult tried to assemble this product. Now we are stuck with a broken brand new product for our daughter's Christmas present. Very disappointed.
Date published: 2017-12-25
Rated 1 out of 5
by
Minnesotamom
from
terrible
The door broke as soon as my girls went to open their xmas gift. So disappointing. If i could figure out how to ship it back I would.
Date published: 2017-12-30
Rated 1 out of 5
by
Acworth A
from
Light weight. Tips over.
This product was a disappointment. It kept falling over on my granddaughters with their dolls. It was not stable.
Date published: 2018-01-05
Rated 1 out of 5
by
Kim D
from
Not Impressed
Not impressed on the lack of sturdiness! Crawlers are constantly pulling it over
Date published: 2017-10-18
Rated 2 out of 5
by
Amber
from
It's ok
My daughter loves this, but I feel it needs more. Cute design but rather plain.
Date published: 2017-10-25
Rated 5 out of 5
by
Anonymous
from
Perfect for a little girl who loves taking care of her dolls
We bought this deluxe nursery for our 3-year-old granddaughter. She loves it. It's just the right size for her playroom. She has all her doll clothes hanging on the little hangers and the diapers stacked on the shelf. She has one doll in the high chair and another sleeping in the crib portion. This is very well constructed. The delivery was prompt and the box was in perfect shape. I would recommend this as a perfect gift for any little girl who loves her dolls.
Date published: 2017-01-02
Rated 5 out of 5
by
Anonymous
from
Love & Care deluxe nursery
I bought this for one of my granddaughers last year for Christmas, she loved it. I bought it for another granddaughter this year. Many options for them to play with their babies. She was just telling me last night everything her baby can do with her new nursery. She is 2 years old; the 4 year old still plays with hers daily. I would highly recommend this product. Very durable. I bought this item this year on sale and free shipping well worth the money.
Date published: 2016-12-29
Rated 1 out of 5
by
Mommaof2
from
Poorly thought out
This was a complete disappointment from Step 2. We have bought a kitchen set from them and I wanted this for my little girl. We were very disappointed. The holes are not pre drilled so it takes a lot of force to get the screws in. The purple part is held together by 1 screw on one side which leaves the other side flapping. The doors won't stay shut no matter how tight the screws are. Completely disappointed and I will steer everyone away from this product.
Date published: 2020-02-01
Rated 1 out of 5
by
Amie
from
Very disappointed
I had high Hope's for this product. Step 2 tous are usually very good quality. This is basically junk. It said you could use a screwdriver to assemble but in fact needed a drill. The holes were not cut. Once assembled it is very flimsy. The doors won't stay closed, the mobile is already falling apart after 10 minutes, the highchair part is too small to hold any normal sized doll. I have never been disappointed with Step 2 until now.
Date published: 2019-10-25
Rated 4 out of 5
by
crmondi
from
Very Cute
My 3 1/2 year old daughter really enjoys playing with this nursery. Her favorite part is the changing table. She also likes the washing machine. She says the baby gets her clothes dirty and she has to wash them. The only "complaint" I have is that instead of a sink, I would have liked to have seen a crib. My daughter has one and she just moves the baby into her the toy crib she has after she changes the baby's diaper.
Date published: 2018-01-10
Rated 5 out of 5
by
CouponCrazyMommy
from
Great Quality!
Thank you to Step2 for letting me test this item as part of the Step2 toy tester program! This was built with great quality and is made to last. I love that it can be easly wiped clean. This has many "areas" of play and can keep my daughter busy for hours!It has some assembly required and you need to put the decals on yourself too. It didn't take long though.Highly recommend!
Date published: 2014-08-21
Rated 4 out of 5
by
Anonymous
from
I would buy this again, but I would love an upgrade.
The product is sturdy and fairly easy to put together. I do wish it had more interaction as far as sounds or lights on it for the mobile or sink. I like the storage compartments for all of the baby accessories. The instructions were easy to follow. I always struggle with getting the screws in the hard plastic. Would it be possible to have at least a pinhole to start?
Date published: 2017-03-20
Rated 5 out of 5
by
Anonymous
from
Great choice
I bought this for my 5 year old daughter. It was easy to assemble. It took me about 20 minutes. It came with self tapping screws but I used a power drill instead. It's perfect for my little mama and she loves that she can wash her baby clothes and hang them on the side. It also has storage baskets at the bottom for accessories.
Date published: 2017-01-03
Rated 5 out of 5
by
Anonymous
from
Would buy again!
This product is exactly what we were looking for. Two kids can play together and not have to push each other out of the way. The washing machine feature is really cute and gets a lot of use. The only complaint is the changing area/crib is not big enough for a 12 inch doll to lay flat but the kids don't seem to mind at all.
Date published: 2017-02-13
Rated 5 out of 5
by
Holly27
from
Amazing care center
I was originally afraid this was maybe going to be big for my niece. But once it care and we put it together it was the perfect size for her to reach everything! She was so excited and couldn't stop playing with it. She was opening the washer and placing the baby back and forth between the height chair and changing table!
Date published: 2017-12-11
Rated 5 out of 5
by
DEIDRE
from
Great product!!!
I really love this product because my daughter and grandchildren love it so much it brings out the kid in me :-) I enjoy it also:-) it's strong and sturdy and very pretty it's a nice size also and the representative I spoke to was a real darling :-) she also saved me money thank you step 2 it's been a pleasure :-)
Date published: 2016-12-28
Rated 3 out of 5
by
Mbpze57
from
Not the greatest quality
Honestly in my personal opinion, the Quality is lacking a bit. Which is disappointing. We own many step 2 products and this one wasn't one I was happy with, especially for what we paid for it. Don't get me wrong my girls loved playing with it but it's cheaply made in my opinion.
Date published: 2019-12-14
Rated 4 out of 5
by
Anonymous
from
Super cute and would recommend to others
Bought this for my 2 and a half year old daughter who loves taking care of her babies. This product was easy to order and super easy to assemble. I recommend keeping it on a hard surface and not carpet as it had the tendency to tip. It is super cute and my daughter loves it!
Date published: 2016-12-29
Rated 5 out of 5
by
Taryn
from
3 1/2 year old loves it!
My 3 1/2 year old got this for Christmas, and she loves it! Wasn't too hard to put together, and all the great "stations" keep her quite busy! Not really intended for larger dollies (like 18"+ but that's fine - she's using it for her smaller stuffed animals and dollies).
Date published: 2016-12-29
Rated 4 out of 5
by
Gretchen
from
Great buy, a little pricey
Great product! Cute, sturdy and my girls love it. Great toy that enhances imaginative play. Just like a lot of step 2 toys it's very durable and will hold up throughout the years. Only reason I gave it 4 stars is because it's a bit pricey if you can't find it on sale.
Date published: 2016-12-31
Rated 4 out of 5
by
Anonymous
from
Great product!
I love this set! I wish it were more interactive with sounds, perhaps a voice or numbers for scale, sound for mobile, light for mobile, etc. The assembly was pretty easy, but I wish there were pinholes to start the screws in the hard plastic.
Date published: 2017-03-26
Rated 5 out of 5
by
Anonymous
from
My granddaughters have a daycare for dolls.
I have 5 granddaughters. I needed toys they could share. Delivery was so fast and easy. No problems at all when placing my orders. The girls love their nursery. The ages range from 3 to 8. Thank you Step2. I will buy this product again.
Date published: 2017-01-01
Rated 4 out of 5
by
Karisha
from
Great product but could be better
My 2 YO daughter has enjoyed playing with the nursery. Setup was very easy. Dolls have to be relatively small to be used with the nursery and it would be nice if it made sounds, etc. To make it a bit more interactive and entertaining.
Date published: 2017-04-30
Do you suggest putting water in the bottom to hold it in place? I just put it together and it tips so easily. 
I had to place it against a wall 
Date published: 2020-07-01
Can you get the replacement of the bins and mobile?
You can but i've been trying to order from the website for a week with no luck. After I fill out the first page of information it brings up an error message. Super displeased...we got ours secondhand and wanted to get the baskets because they didn't come with ours. Hoping to call the customer service number when they are open again next week. Good luck.
Date published: 2020-05-24
Did anyone else have any issues with pieces breaking off while assembling? My husband and I were putting together this nursery for our daughter and when I went to hang the mobile, it completely fell off. The plastic piece with the screw fell off too so now we aren't able to attach the piece that would hang the mobile. This was a gift to our daughter from a family member and I'm super bummed. Is there anyway a replacement piece can be shipped to us?
I have the same problem with the arm of the mobile not staying attached. there should have been another piece made to hold it on by the other side but there is not.I am going to try and figure something out that holds it in place and will post it if its a success. thanks
Date published: 2020-01-20
If I buy today will it be here for Christmas
Please contact our Consumer Service Specialists at 1-800-347-8372 Monday through Friday, 8AM -5PM Eastern Standard Time and we will be happy to help you.
Date published: 2019-12-19
DOES THIS TOY NEED ANY BATTERIES?
No batteries are needed.
Date published: 2019-12-18
Will this set be available for Christmas? Do you plan on restocking it?
Unfortunately, we do not have a specific date as to when this product will be available again for purchase.
Date published: 2019-12-09
Will this misery set be in stock before Christmas?!?
Unfortunately, we do not have a date of availability to share. Please visit the following link: https://www.step2.com/p/love-care-deluxe-nursery and click on the notify me button to submit your email for notification of availability.
Date published: 2019-12-04
Do you ship to Mauritius?
Step2 Direct Ships within the Contiguous United States only. Thank you for your interest in Step2 product retailers in South Africa. Specific products and quantities vary by retail location, please contact Lilliputs Novelties or Crazy Concepts with your specific request. Lilliputs Novelties C.C. P.O. Box 2776 Saxonwold Johannesburg RSA 2132 27-11-788-6406 (p) 27-11-447-5258 (f) lilliputstoys@gmail.com (e) or Crazy Concepts 38 Firmount Str, Briza Somerset West, RSA 7130 27-021-8500102 (p/f) info@crazyconcepts.co.za (e)
Date published: 2019-11-25