Love to Entertain Kitchen™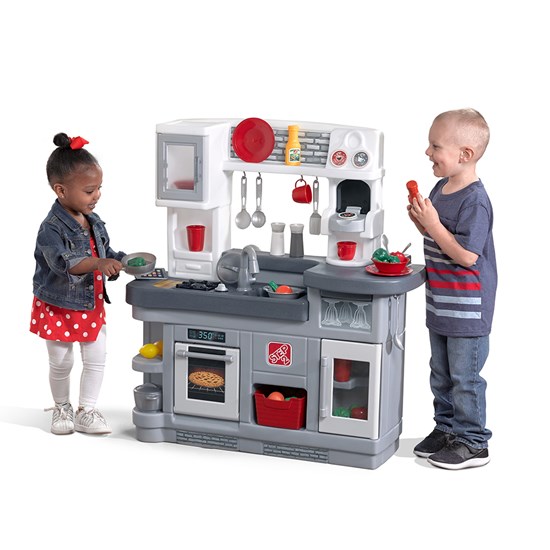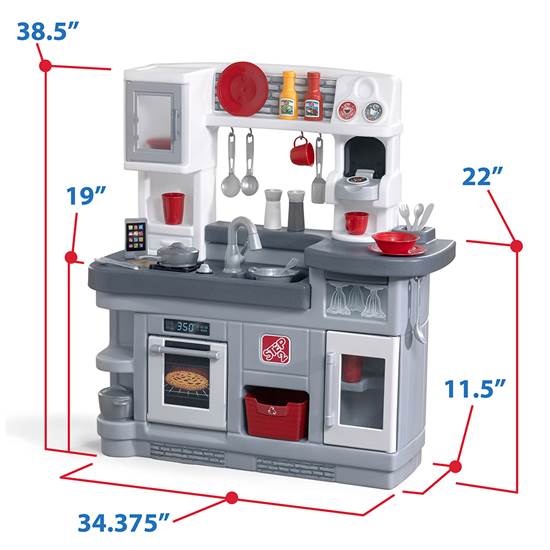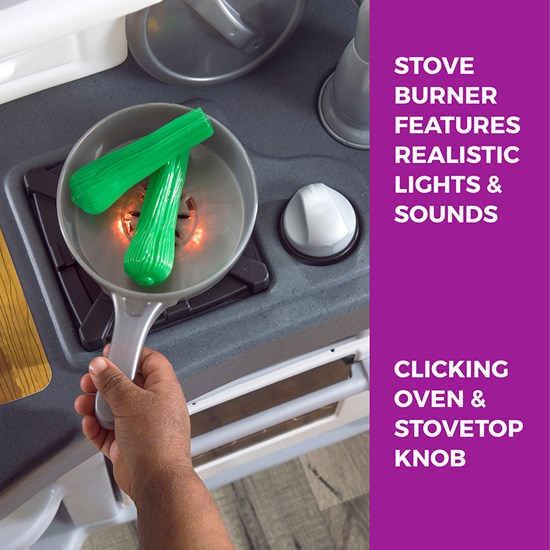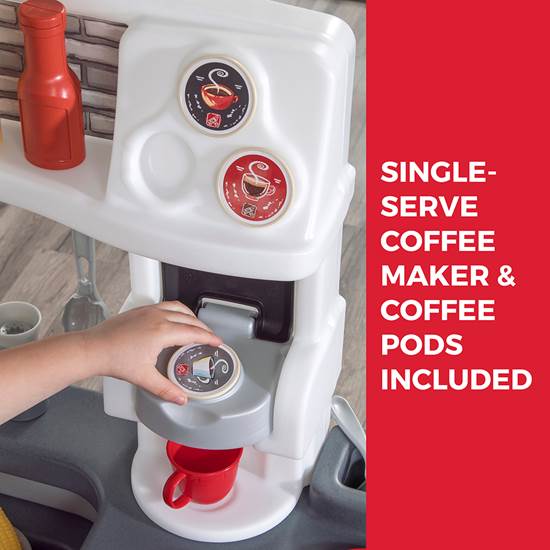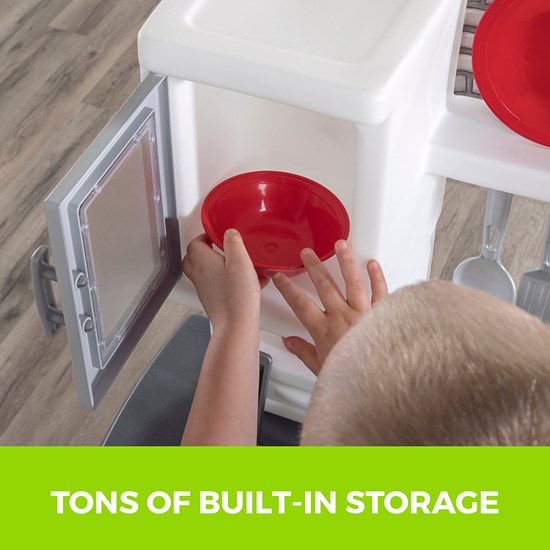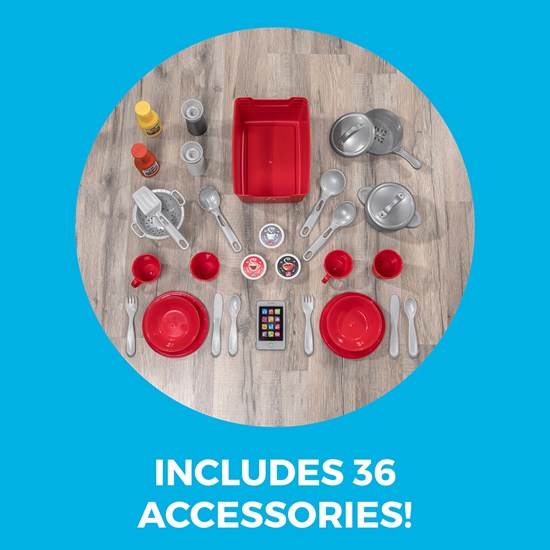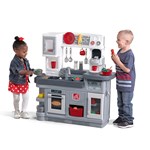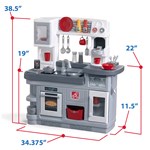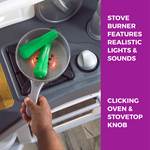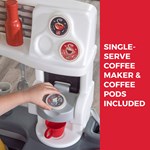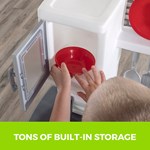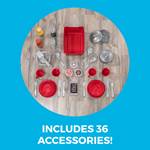 Love to Entertain Kitchen™
In stock
$99.99
+4.99 shipping (via FedEx)
The Love to Entertain Kitchen™ is a play kitchen for kids who enjoy hosting pretend dinner parties!
IS THIS A GIFT? DON'T SPOIL THE SURPRISE!
This item ships with an image of the product on its outer packaging.
Rated 5 out of 5
by
KayceeW
from
Cutest little kitchen
So, I must admit. Ive always liked the toy kitchens that looked more real and not so bright. However, my 5 year old has always wanted a pink kitchen. When this arrived I was pleasantly surprised with all the cute little details. Especially the cute little kcup coffee pot and the salt and pepper grinders. It's the perfect size and takes up less space then the last toy kitchen we had. This has kept my 5 year old entertained for hours and even matches her "barbie" kichen tools that she had gotten previously. She makes us "food" every single day. We would definitely recommend this to any parent. Its cute and the perfect size even for smaller spaces.
Date published: 2020-08-25
Rated 5 out of 5
by
MSaric
from
My kids love it!
My kids are obsessed with this kitchen! They have not stopped playing and "cooking" since we put this thing together!! We love the little fridge and the Kpod coffee maker was a big hit with my kids. They have been making us coffee all day! My daughter loves the stove stop when it makes the cooking sounds she gets super excited! The only downfall for us was that the "glass" part that should have came with the kitchen for the fridge was not included, I will reach out again to see if I can get a replacement part sent! But I want to note I had not kept my kids from playing with it, they have made it work and are having a blast.
Date published: 2020-08-22
Rated 5 out of 5
by
AntisocialButterfly
from
Perfection!
The Love to Entertain Kitchen has everything you need to keep your kids entertained! Assembly instructions were easy to follow, and although it took me a bit to put it together, it was worth it! The coffee maker and pods is super cute! My kids make me coffee all day! It comes with everything they need to cook and clean up. The split counter makes it nice for both kids to play together, and the sounds from the stove top are awesome! My kids are rambunctious and this kitchen has stood up to some rough play. Even I enjoy playing "chef" with the kids. This play set has brought so much enjoyment to my children.
Date published: 2020-09-09
Rated 5 out of 5
by
Amanda Bennett
from
Durable quality!
I am very pleased with the Step2 Love to Entertain play kitchen. While putting it together, I noticed the easy to follow directions made for a perfect product. My children are three and one. Both enjoy this kitchen so much. I really love how Step2 is designing products around today's technology with K-cup coffee makers and thin cell phones. The K-cup coffee maker was the only thing that was difficult to assemble. The whole kitchen is very easy to wipe down and sanitize which is a huge plus when I have multiple children that I care for. This kitchen is very tender neutral as well and loved by a wide age range. Thank you Step2 for letting me test this item as part of the Step2 Toy Tester Program!
Date published: 2018-08-14
Rated 5 out of 5
by
JesikahMichelle
from
Hours of fun!
This product brought hours of fun to my 4 year old and one year old! For once, they were uninterested in the television and actually played together with my four year old serving my 1 year old cups of coffee and taking orders with the phone that was included! The quantity of this product is so durable and the set up was done in less than 30 minutes so that is definitely a parent win! Most of all, I absolutely enjoyed seeing my girls share their playtime together. Thank you Step2 for letting me test this item as part of the Step2 Toy Tester Program!
Date published: 2018-08-16
Rated 4 out of 5
by
Sarah8819
from
Cute and functional play kitchen!
The Love to Entertain Kitchen is an adorable, compact kitchen, with a lot of features packed in. It took close to an hour to put together... I would recommend a drill to make the process a little faster since the screw holes are not pre-drilled. It comes with a good start up set of dishes, kitchen utensils, pans, and condiments. I wish it came with a few food products also, but those are easy to purchase separately. The salt and pepper shakers are a cute addition, they sound like real grinding shakers with a clicking noise when you twist them. My kids really got a kick out of those. The burner takes batteries to give sound effects and light up when pans are placed on them. This is very much another loved feature by my kids! They also love the cell phone, but I wish it had a holder somewhere on the kitchen to put it, as they searched for a spot for the phone to go. Overall, my younger children (1 and 4 years) very much enjoy the play kitchen and spend a lot of time using it, while my older children (6 and 9 years) were a bit tall for it and didn't spend much time on it. I would recommend it for ages 1-5, and it's great if you're looking for something that won't take much space, but has a lot of features packed in! "Thank you Step2 for letting me test this item as part of the Step2 Toy Tester Program!"
Date published: 2018-08-15
Rated 5 out of 5
by
Amerie
from
Perfect Play Kitchen!
The Love to Entertain Kitchen exceeded my expectations! My little one hasn't stopped playing and using her imagination since it was set up! The details on the kitchen are spectacular! The coffeemaker seems to be the hit feature in our house! The real life sounds on the burner are exactly the way a frying pan or a pot of boiling water would sound like. She can pick a pot to use and the sound changes depending on the size of that pot and she can either fry some food or make some boiling soup. The salt and pepper shakers actually have a "grinding" sound that makes seasoning more fun! The storage bin is great for all the accessories so that nothing gets misplaced. I love the sturdiness of the oven and fridge doors because we all know sometimes little ones aren't always gentle-I don't have to worry about them breaking or coming loose ! This is a wonderful play set - it's great to see little minds using their imaginations!
Date published: 2020-09-10
Rated 4 out of 5
by
Nightskymama
from
Great Little Kitchen
I like this little kitchen it is a good size for my 3 year old daughter. It was fairly easy to put together but hated that the screw holes weren't pre drilled and the coffee machine is not exactly perfectly placed when screwed in. I didn't realize the cupboard was a cupboard haha I thought it was a microwave but that is the thing imagination is good for, pretending one thing is another. I wish the cutlery holder was deeper to hold the cutlery better. Another storage area would be great, perhaps instead of the step 2 sign. A microwave with buttons would have been cool too! The faucet should have had the handle closer to the child instead of being on the inside. Overall this set is so awesome! The little sound effects and lights for the stove are cool! Salt and pepper grinders are so neat! And I enjoy the little fridge how it has a mini shelf. I'm sure my daughter will enjoy this for a couple years or so! It is awesome!
Date published: 2020-12-27
Are pots and pans included?
The Love to Entertain Kitchen™ does include a pot and pan with lids.
Date published: 2018-12-17
Is the imitation food included?
The Love to Entertain Kitchen™ does not include play food.
Date published: 2018-12-07
What are the dimensions of the oven?
Where can I get replacement parts for this model?