Love to Entertain Kitchen™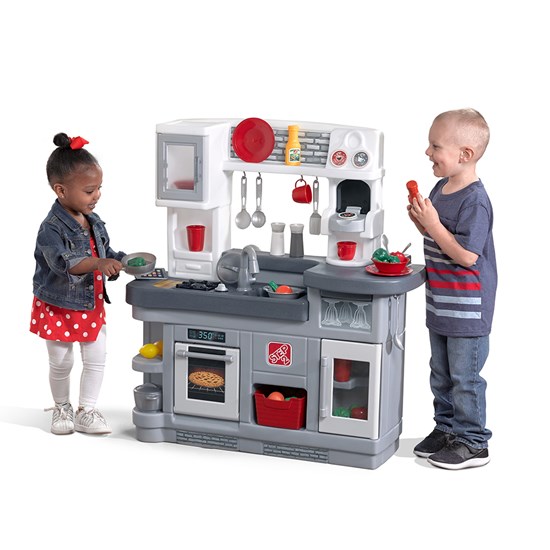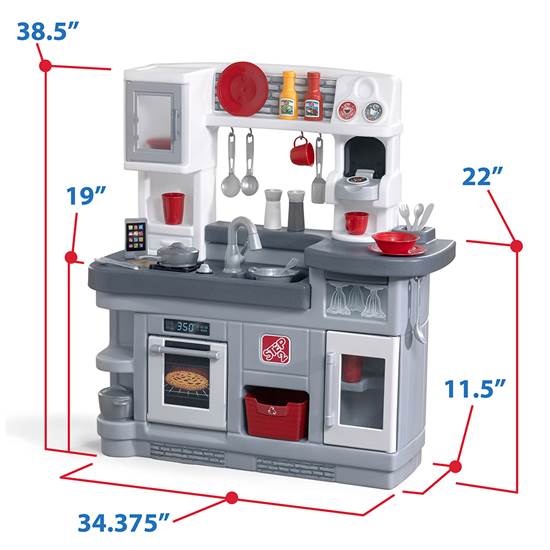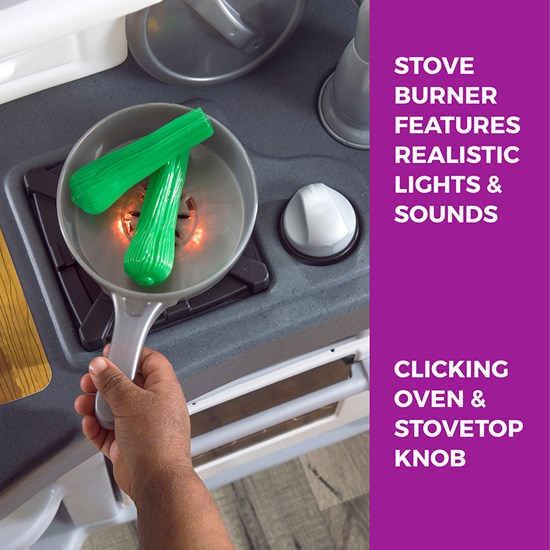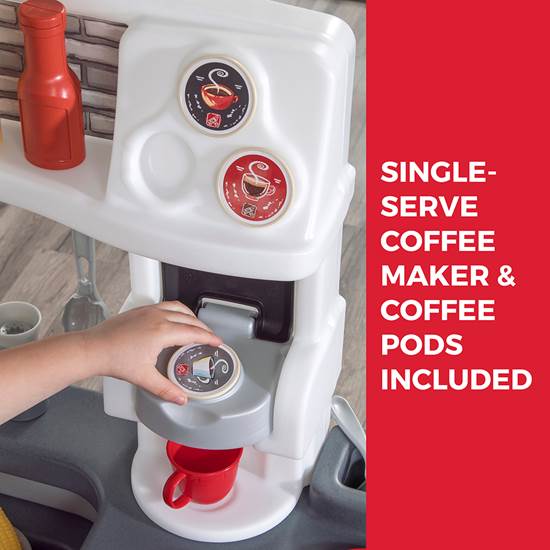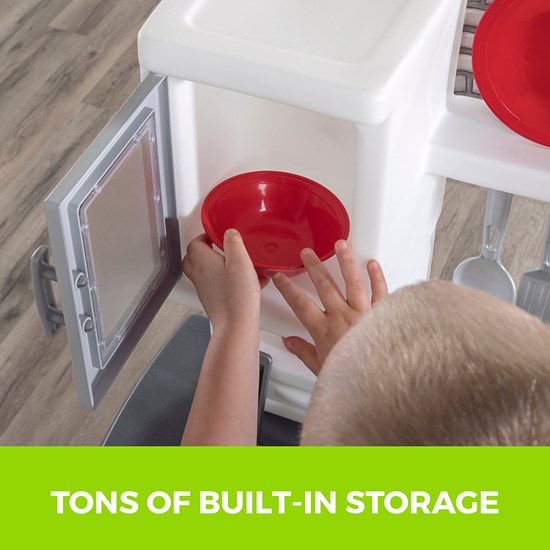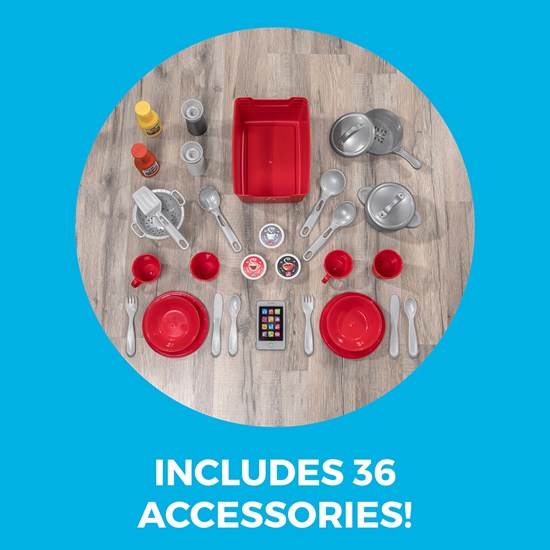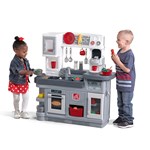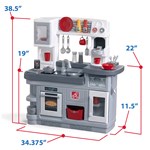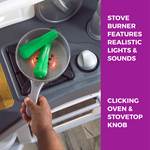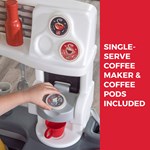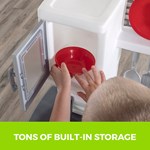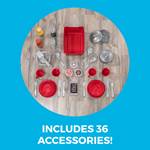 Love to Entertain Kitchen™
The Love to Entertain Kitchen™ is a play kitchen for kids who enjoy hosting pretend dinner parties!
IS THIS A GIFT? DON'T SPOIL THE SURPRISE!
This item ships with an image of the product on its outer packaging.
Rated 5 out of 5
by
Amerie
from
Perfect Play Kitchen!
The Love to Entertain Kitchen exceeded my expectations! My little one hasn't stopped playing and using her imagination since it was set up! The details on the kitchen are spectacular! The coffeemaker seems to be the hit feature in our house! The real life sounds on the burner are exactly the way a frying pan or a pot of boiling water would sound like. She can pick a pot to use and the sound changes depending on the size of that pot and she can either fry some food or make some boiling soup. The salt and pepper shakers actually have a "grinding" sound that makes seasoning more fun! The storage bin is great for all the accessories so that nothing gets misplaced. I love the sturdiness of the oven and fridge doors because we all know sometimes little ones aren't always gentle-I don't have to worry about them breaking or coming loose ! This is a wonderful play set - it's great to see little minds using their imaginations!
Date published: 2020-09-10
Rated 5 out of 5
by
Kristen
from
My kids LOVE this!!
My kids love playing with this kitchen! The design is awesome and I love the coffee pod maker, such a cute design! My girls love watching baking shows and you tube videos on baking. Let's just say they have already had several "Nailed It" competitions! Thank you Step2 for letting me test this item as part of the Step2 Toy Tester Program!
Date published: 2018-08-13
Rated 5 out of 5
by
Shawna G
from
Awesome kitchen!!
This product was we avent what was missing from my daughter's life! She is completely obsessed with it! The pans make fun noises and she thinks that is so cool! I am a big time coffee drinker and she loves being able to have her own coffee station. I highly recommend this! Your child will be in for hours of fun!
Date published: 2020-09-04
Rated 5 out of 5
by
Judy
from
My 2 year old grandson loves it
It was easy to put together (I'm 72 and did it all myself except for borrowing some strength to push together 2 pieces). My 2-year old grandson loves it. The burner lights up and sizzles wonderfully. He loves moving the pots and food (bought separately) from the oven to the refrigerator, to the cabinet, etc.
Date published: 2020-02-10
Rated 1 out of 5
by
Paige
from
Missing tons of stuff!
I bought this at Target and I got it home and it is missing all of the accessories, the black part of the stove, all of the handles for the doors, the hooks for the spatulas (which are also missing), as well as some screws and the faucet. I don't even know what happened to the receipt so I can return it either.
Date published: 2019-03-03
Rated 5 out of 5
by
Sara T
from
The Perfect Kitchen for our Son!
Thank you Step2 for letting me test this item as part of the Step2 Toy Tester program! We have been looking for a play kitchen for our son for a while. The Love to Entertain Kitchen has everything we were looking for! When I first received it I was confused as it didn't seem to have holes drilled for the screws. After contacting Step2 they let me know that they manufacturing process does not allow them to consistently place holes into parts without creating plastic shavings, which are considered small parts per the toy safety industry standard for USA. It was a simple fix; however, I just simply used a nail and hammer and got the hole started and then with a little pressure the screws went right in. Our son loves all the parts and the directions were pretty simple and easy to understand. It's the perfect size to fit in our home. I love the updated and modern design of the kitchen and the easy compartments for clean up! I would highly recommend the Love to Entertain Kitchen!
Date published: 2018-08-08
Rated 5 out of 5
by
Rebekah
from
Beautiful play kitchen!
This play kitchen is a beautiful, modern, pink and gray toy that has entertained my kids for hours! My 6 year old daughter as well as my 4 year old son love to play house and restaurant with it! Sturdy yet easy to put together. Definitely recommend!
Date published: 2020-08-27
Rated 5 out of 5
by
Lily
from
Great Product
This product exceeded my expectations. I love how many hours my daughter sits and plays with it without getting bored. I also love all the really cool updated features it has. It's also very compact and fits onto her tiny room perfectly.
Date published: 2020-08-19
Rated 5 out of 5
by
Nikki
from
Entertain Kitchen
This product was perfect for my daughter. It was just the height for her. The design is awesome, very sturdy and easy assembly. Everything functions very well. My daughter enjoys playing with it.
Date published: 2020-09-08
Rated 4 out of 5
by
Skip
from
Top heavy
The kitchen is good quality and easy to assemble. It's a little top heavy, and my grandson pulled it over on his sister. Now we try to prop it against something so it's more stable.
Date published: 2020-05-26
Rated 5 out of 5
by
GrampaKenny
from
New Style Kitchen for a New Generation
I love this little kitchen set up. It is well designed and has some surprising (in a good way) details. First the basics: the Love to Entertain Kitchen is the perfect height for the intended age range. Also, the edges are smooth and there are no pinch points. The two most important aspects of any toy are usability and safety. The Love to Entertain Kitchen satisfies both essential requirements. Secondly, it was very easy to assemble. The directions were clear and complete. I especially appreciate the divots, which helped line up the screws. One exception: the coffee maker tray could have used some divots. Lining up the screws was a bit difficult. In hindsight, I ought to have pre-drilled some holes to save some frustration. Divots on the plastic would have helped immensely, specifically because the screw comes in at an angle on the rear plastic surface. Ultimately, Step2 made the Love to Entertain Kitchen from obviously durable materials. It is going to give our children and grandchildren years, if not deades, of fun and learning. I could not ask anything more from a toy or product. Thank you Step2 for letting me test this item as part of the Step2 Toy Tester Program!
Date published: 2018-08-17
Rated 5 out of 5
by
Michelle
from
3 year old APPROVED!!
Thank you Step2 for letting me test this item as part of the Step2 Toy Tester Program! We generously received this product at no cost in exchange for our honest review. We've had the kitchen for about 2 days now and my 3 year old daughter has not stopped playing with it! Assembly was pretty easy, my husband spent about an hour putting it together. There were some confusing parts about where the screws went when assembling the coffee maker part, but that was about it. The instructions were otherwise clear and easy to read. The design of the kitchen is very compact and modern, it has a TON of cool shelving, nooks and cabinets to put dishes, food, etc in that my daughter loves. It also comes with a "smartphone" that my daughter loves to talk into while she is cooking and takes to go orders. The stove sizzles and bubbles, and you can make pretend coffee and switch out different "k cups". The only thing that could improve the kitchen is if maybe the phone could make some noises if you hit buttons that would be related to cooking. (i.e. Cake is ready, keep stirring, add 1 cup of flour, etc) Other than that my daughter absolutely loves the kitchen and is having a blast with it!
Date published: 2018-08-07
Rated 4 out of 5
by
AJAC
from
Great kitchen with lots of details
We really like this kitchen it has a lot features without taking up a huge amount of space. My daughter loves how pink it. It was easy to assemble and the great quality you expect from Step 2. The design is well thought through with loads of opportunities for repeated play. My daughter loves that there are plenty of places you can open to put things in and hooks because it means she can really get into taking her ingredients from the cupboard and chopping them on the work surface before putting them into the oven. I think the coffee press is a really cute part of the design and I appreciate little details like the notch in the shelf so a plate can stand up on it, or the pull on the tap and the hob turning. The stove top noise isnt obnoxiously loud which is good when she is playing continuously with it. The frying pan sizzles and the pot makes a bubbling sound for about 30 secs. The accessories the kitchen comes with are pretty comprehensive with pans, colinder, plates, cutlery, utensils and even a phone!! We just added some play food and were good to go. Though they have provided quite a lot of space for storing accessories we needed an extra basket for play food. If I was being really picky I'd like the shelves to be deeper.
Date published: 2020-08-30
Rated 4 out of 5
by
esrules
from
Kids LOVE it
Thank you Step2 for letting me test this item as part of the Step2 Toy Tester Program! Yes, I received this product at no cost in exchange for my honest review. I've had the kitchen set for about two weeks now and my 2 yr old son absolutely loves playing with it as did his 5 yr old cousins when they came to visit. It was easy to assemble and only took about half an hour. The instructions were easy to follow with only a couple spots where I had to stop and think to figure out what the picture meant. What we like: •It was easy to assemble. •This kitchen has a really neat stove that actually flashes and sizzles/boils based on which pot/pan you put on it. •The multi-level counter and overhead cabinet add dimension and sofistication that many other kitchens are lacking. •It has a very modern look/feel. (E.g. single serving coffee maker, arching faucet, salt/pepper GRINDERS!) •General quality... the kitchen is sturdy and sleek looking when assembled. What we don't like: Thus far the only problems we've had with this kitchen are a small imperfection in the plastic (see picture), the refrigerator door had a scratch in the clear plastic upon unwrapping, and the Step2 logo piece was stuck to the inside bottom of the box instead of the front of the kitchen below the sink where it should have been. All in all, the minor issues we had with it were just that, minor, and if I weren't looking for flaws I probably wouldn't even notice them now that it's put together. Additionally, it's my sons new favorite toy, so it's definitely a winner from his perspective!
Date published: 2018-08-04
Rated 4 out of 5
by
Erikab
from
Really fun kitchen!
We really love this kitchen! We primarily got it for our 4-yr-old, but my 8- and 10- year old seem to have just as much fun playing with it. I love the variety of items on the kitchen, from the oven, to the refrigerator, to the coffee maker, to the salt and pepper mills that actually make noise! The burner with its sizzle and bubble depending on what pot/pan you use is genius. And the hanging utensils and holes for the coffee pods actually make it fun for the kids to clean up. The recycling box is just the right size to store some play food in at the end of the day. It's like everything has a place. I especially love how the doors have just the right amount of resistance to keep them closed or open so they're not just flopping around. And even the pretend cell phone had been a huge hit. The kitchen has been so much fun for everyone! The assembly of the kitchen was easy for the most part, except for a couple spots. Most of the pieces were so easy to snap in, and I would have preferred if everything could have snapped together instead of screwing in. For example, it seems like snapping the oven handle in would have been just as easy as screwing it in. It seems that this would have been the case with the cabinet on the upper left, but the door was missing from our kitchen. We also had a very difficult time screwing in the coffee maker. We ended up just leaving it loose. And when all was said and done, our counter, cabinets and shelves didn't even come close to lining up flush with each other. But honestly, the kids could care less and probably wouldn't notice a difference anyways. We also wish the handle on the faucet was on the other side. If the faucet is pointing into the sink, it's very hard to reach the handle. Overall, this kitchen is awesome!
Date published: 2020-08-21
Rated 5 out of 5
by
Michelle
from
Great toy for my 2 year old son!
We've had this kitchen for about a week now and my 2 year old son really enjoys playing with it. It's the perfect size for him and he really likes the sounds and all the little accessories that came with the kitchen. I like the slim size of the kitchen (it doesn't stick out too much) but there is still a lot of fun features for my son to play with, like the stove, hooks, coffee maker, etc. It is very sturdy and well-constructed. It does not feel flimsy or cheap at all (even the accessories). The package arrived in a big box with all the smaller pieces organized in plastic bags. The instruction manual didn't have written instructions, only photos and diagrams. It was pretty easy to follow the instructions though. It took me about an hour to assemble; I did not have a drill but it might have come in handy instead of having to manually screw in each screw. But all I really needed to assemble the kitchen was a Phillips screwdriver. I really love how the kitchen is updated to reflect a modern kitchen! There is a Keurig coffee maker (with 3 pods!) and it comes with a small cell phone also. Lots of other attention to detail like the pepper shaker that makes a grinding noise. PROS: -the boiling noise is a fun feature and activated when the pot is placed on top of the stove -my son gets to practice fine motor skills with things like turning the stove knob and placing utensils on the hook CONS: -the boiling sound can be a little loud but it goes off automatically after about 30 seconds -the Keurig pods fall off their holders pretty easily if the kitchen moves -wish there was a little more room to store accessories Overall I am very pleased with this product! It's a great for toddlers, probably beginning around 18 months or so. Thank you Step2 for letting me test this item as part of the Step2 Toy Tester Program!
Date published: 2018-08-16
Rated 4 out of 5
by
MrsCocoBear
from
FUN to entertain!
When putting the Love to Entertain Kitchen, I enlisted my handy-man husband to put the kitchen set together. He opted to go the old fashioned way and used a manual screwdriver to build the set. He followed the instructions step-by-step and only found one main issue: the holes (where the screws go) are not pre-punctured, so a power tool may be helpful during the insertion of screws. Putting the rest of the kitchen together was easy after he finally decided to use his powertool. We did find that one long screw was missing, but luckily it wasn't something that would prevent the kitchen from being completely built. It was also missing the Step2 logo sticker that is supposed to adhere to the front of the toy. It would be nice if the salt and pepper shakers had stickers to go on the bottle to identify what they are (like what was done for the ketchup and mustard). It would also make more sense if the faucet handle was designed to go on the left side rather than the right side. This is because when the faucet is turned to hang over the sink, the handle is inaccessible. Regardless of these minor issues, my 3 year-old son could not contain his excitement and was already playing with the accessories while my husband worked . There are so many compartments to keep the included accessories organized with more room to add additional kitchen toys. Once it was finished being built, my son could not stay away from it! My overall impression is that this is a wonderful toy to keep toddlers entertained. It allows my son to expand his imaginative play while building his social and development skills. The bubbling noises that comes from the stove gives an extra touch of realism. The whole set is also light enough that my son can move it from room to room himself. Don't feel like cooking in the living room? Let's move to the bedroom! I like the fact that this toy can grow with my son as he also grows. I also love that it keeps him busy while Mama is able to cook meals! It's the perfect size for any type of space in my house. Not to mention, the color scheme is sophisticated and fun. Overall I would rate this toy a 4/5 because of the lack of screw holes and missing parts. Thank you Step2 for letting me test this item as part of the Step2 Toy Tester Program!
Date published: 2018-08-07
How much does this kitchen set cost
Prices vary for this product depending on the retailer.
Date published: 2020-09-15
what is the floor to counter top height ? my kid is 45 inches tall, will it be good to play with, for 2 years or so ?
The counter top is approximately 23" in height.
Date published: 2020-01-07
I don't understand how to put in the screws for the coffeemaker 
Please contact our Consumer Service Specialists at step2-company@step2.net or 1-800-347-8372 Monday through Friday, 8AM -5PM Eastern Standard Time and we will be happy to help you.
Date published: 2020-03-10
Does this kitchen contain any trace of pvc/vinyl or bpa on any part?
The Love to Entertain Kitchen™ does not contain pvc/vinyl or bpa. Step2 products are manufactured from Polyethylene and/or Polypropylene plastics.
Date published: 2019-02-05
I just got this kitchen for my son.  The foucet is coming out very easily.  Is there a fix or replacement part?
Please contact our Consumer Service Specialists at 1-800-347-8372 Monday through Friday, 8AM -5PM Eastern Standard Time and we will be happy to help you.
Date published: 2019-01-16
What tools are needed to put this kitchen together?
The Love to Entertain Kitchen™ requires a Phillips head screw driver for assembly. Please open the following link to view the instructions : https://images.step2.com/media/pdfs/873200_assembly.pdf
Date published: 2019-01-16
on this model, 8732, what triggers the hot plate to work? Batteries are in and assembly is complete according to visual instructions. What should I look for?
If you are referring to the gas stove burner - it is triggered by the pot that you place on it. If you look on the burner itself there is a button in the groove - when the bottom rim of the pot fits the groove of the stove it triggers.
Date published: 2018-12-27
Are pots and pans included?
The Love to Entertain Kitchen™ does include a pot and pan with lids.
Date published: 2018-12-17