MailMaster XL Mailbox™- Mocha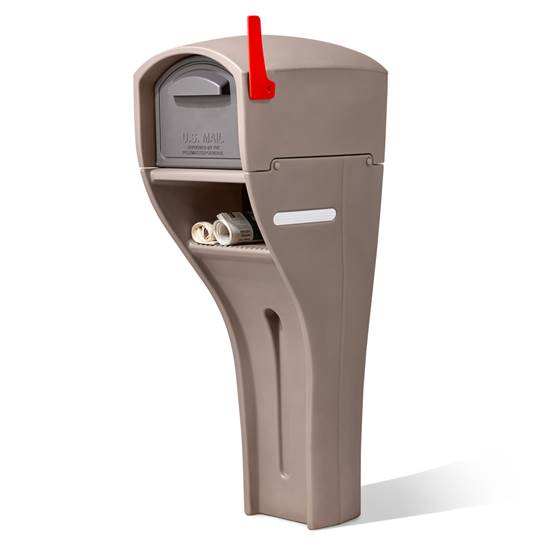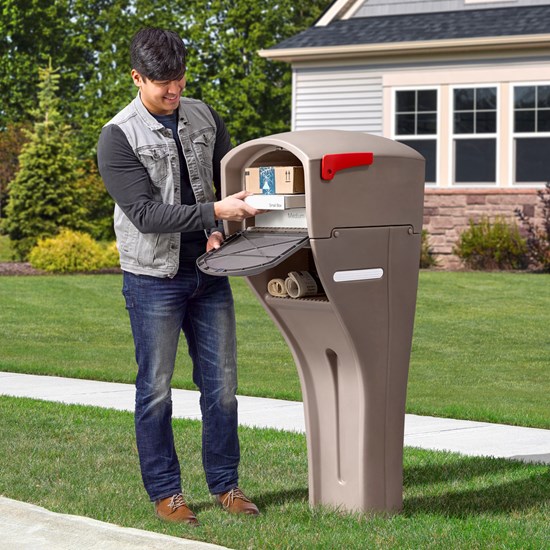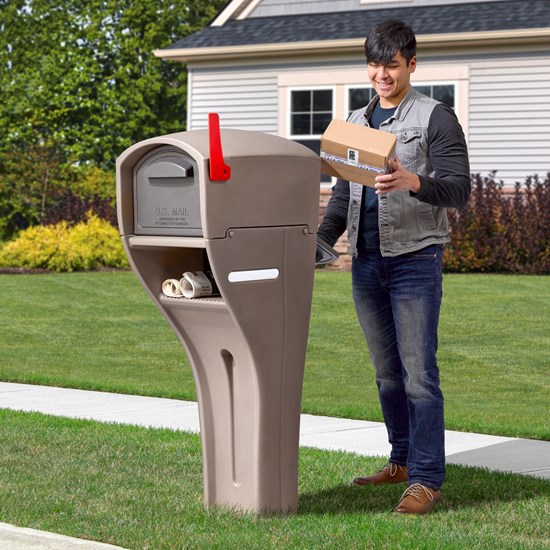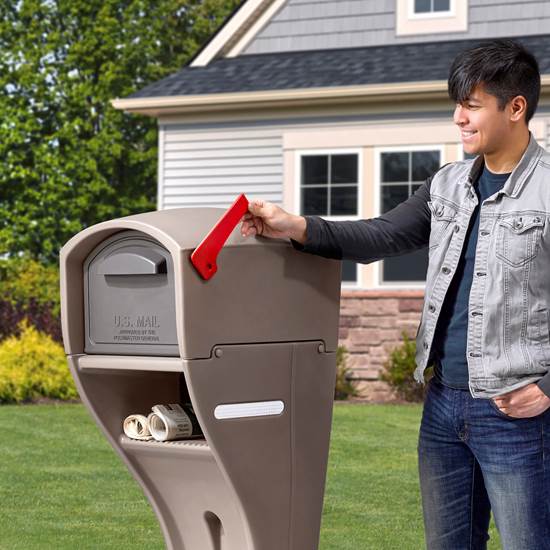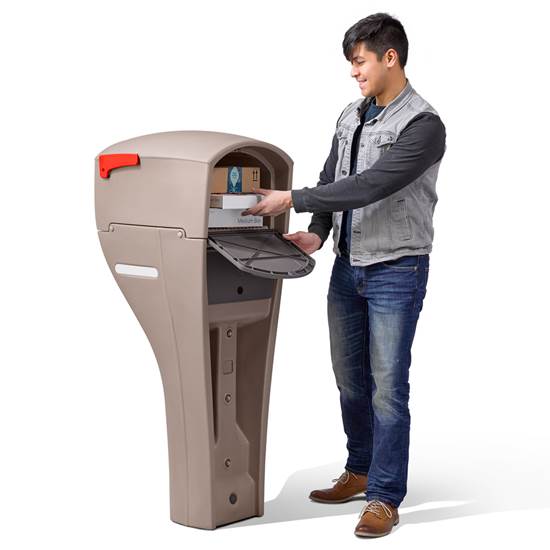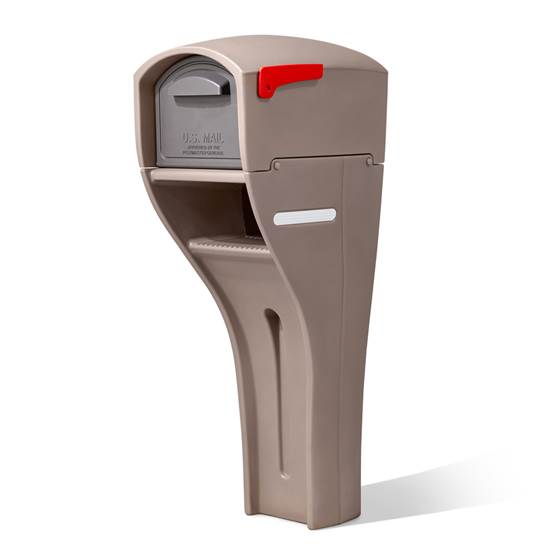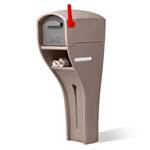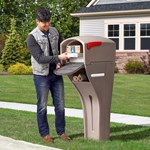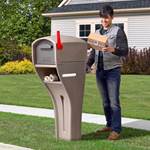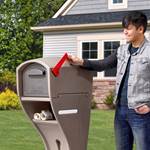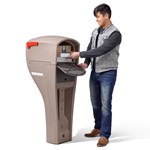 MailMaster XL Mailbox™- Mocha
In stock
$99.99
+$12.99 shipping (via FedEx)
Easy to use and install, the Step2 MailMaster® XL Mailbox™ is built for all of your mail delivery needs.
IS THIS A GIFT? DON'T SPOIL THE SURPRISE!
This item ships with an image of the product on its outer packaging.
Rated 5 out of 5
by
BUTCH
from
EXTRA LARGE MAILBOX
This is a great mailbox. I always wanted an older model from Step2 which was larger than the standard size mailbox and had a double newspaper holder under the mailbox, but Step2 stopped making them. I was looking for a extra large mailbox on the internet and saw this Step2 mailbox which I had not seen before. So I ordered it right away from Home Depot. The extra large size will be perfect large packages that I get from Amazon on a regular basis. The only thing I would add is the mailbox post should be installed around 30" to 31" above ground for the mailbox to fit correctly and not 36" as stated in the manual.
Date published: 2020-10-07
Rated 5 out of 5
by
Mama Lu
from
Check post height, good size mailbox
Box good size for small pkg delivery. Double check post height; paper instructions said 36", outside of carton said 30". Installed for 36, needed to cut to 30.
Date published: 2020-07-01
Rated 5 out of 5
by
Rocky Mount Mama
from
Mail lady loves it!
We get a lot of packages, and this oversized mailbox holds much more than our previous box. Our mail carrier actually left us a thank you note! We love the durability and solid construction as well.
Date published: 2020-06-18
Rated 5 out of 5
by
Lucy
from
Good product
Nice size to meet the new post office recommendations. Replaced a 22 year old step2 which was still in good condition. Wish it came in green like my old one.
Date published: 2020-07-28
Rated 5 out of 5
by
BV from Ohio
from
Ohio made quality
Assembles easily, with all the necessary hardware included. Plant a 4x4 in the ground and go. Shipped fast. Fair price. Great design.
Date published: 2020-11-26
Rated 5 out of 5
by
Betty
from
Xl step 2 mailbox
Great for holding packages. The mail carrier likes it. It saves them the time of coming to the front door and ringing the bell.
Date published: 2020-07-23
Rated 5 out of 5
by
Black Lives Matter
from
Perfect Size!
Great mailbox...............,................. ...
Date published: 2020-06-29
Can you reuse an existing mailbox post for this?
Yes, as long as the existing post is a 4x4 and it needs to be 31 inches above the ground. If the existing post is taller than 31 inches, the finished mailbox will sit too high up.
Date published: 2021-06-29
Any plans to offer the Mailmaster XL in colors other than Mocha (i.e. black) sometime in the very near future? I need to replace a Step2 Model 5423.
Sorry, I can't help.  This is a question for the manufacturer.
Date published: 2021-05-23
What colors is the Mailmaster XL available in? I can only find it on-line in mocha. Does it come in other colors?
At this time the the Step2 MailMaster® XL Mailbox™ is available in Mocha only.
Date published: 2020-11-24
Where do you mount the 911 sign with these?
Sorry, I have no idea what a 911 sign is.
Date published: 2020-11-03
When will the Mailmaster XL Mailbox be available for purchase? Will it be available in black? Thank you.
I just bought a Step 2 Mailmaster XL mailbox at Home Depot online on September 20, 2020. It arrived by UPS on September 24, 2020. The color of my mailbox is beige or mocha.
Date published: 2020-09-24
What are the actual dimensions for the inside of the mailbox where mail is placed?
The MailMaster XL Mailbox accepts packages up to 16 in. x 13 in. x 7 in.
Date published: 2020-09-24
Will standard mailbox letters that you can get at the local hardware store stick to the side of this box?  Or custom vinyl letters?  What is the purpose of the small decals in step 10 of the instructions?
I used self adhesive letters that are vinyl that I purchased at Lowe's. They are Hillman brand 3" Letters part number 842274 and are working without issues. The location of my box has full sun and weather exposure and has not been an issue. As for the small decals they are reflectors so the box can easily be seen by passing motorists at night.
Date published: 2020-09-07
Picture of installation ?
Please open the following link to view the instructions for the MailMaster® XL Mailbox™ : https://images.step2.com/media/pdfs/592399_assembly.pdf
Date published: 2020-08-12