Masterpiece Easel™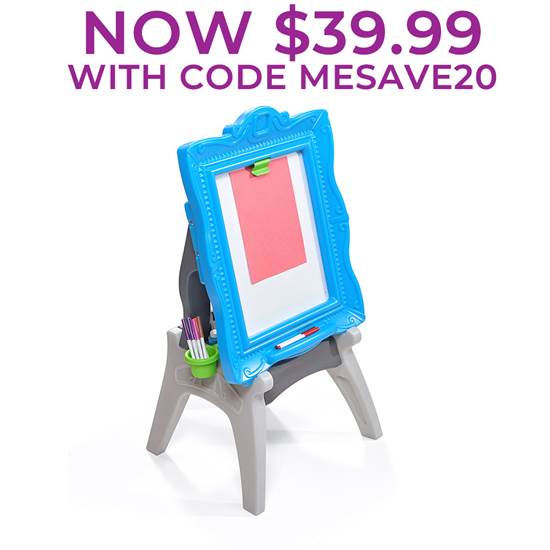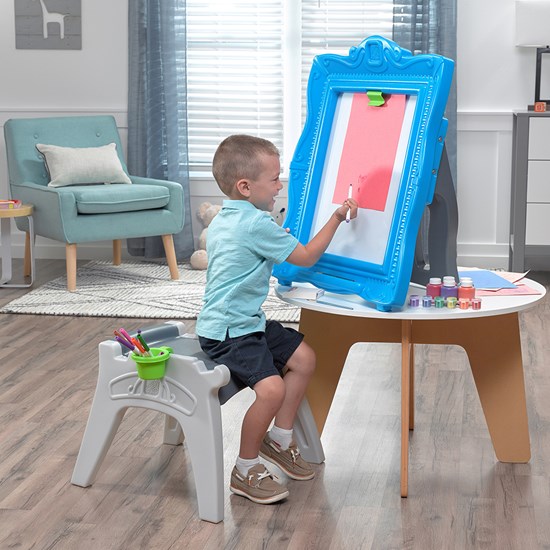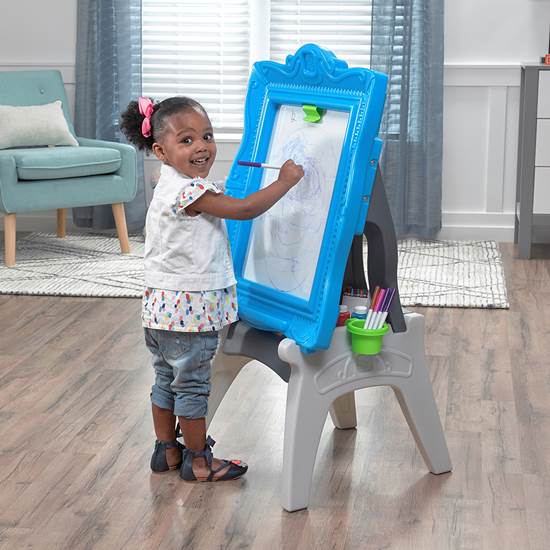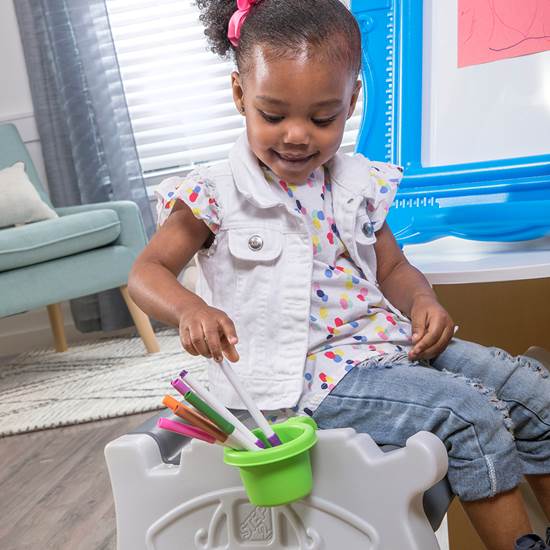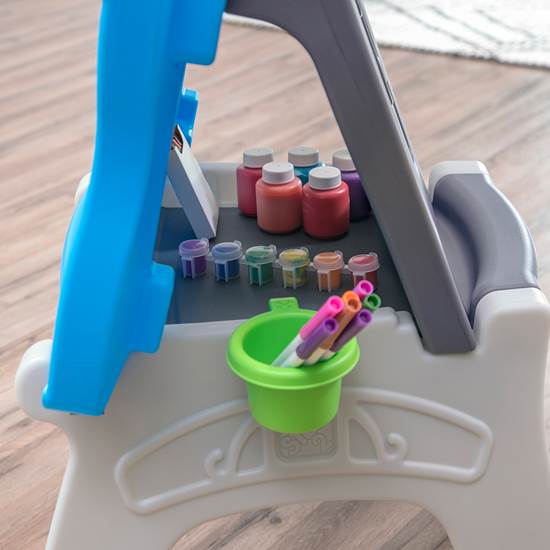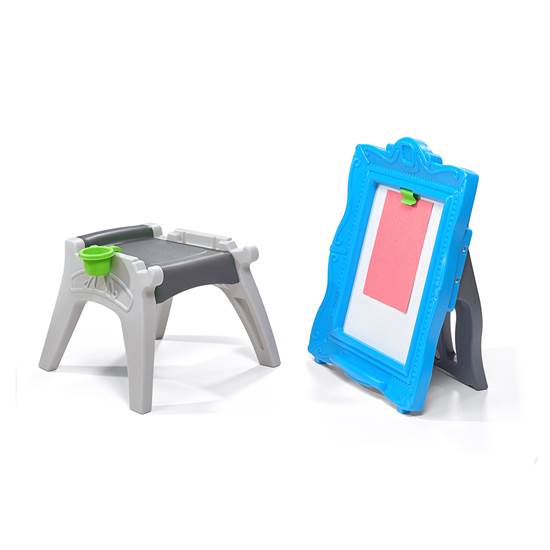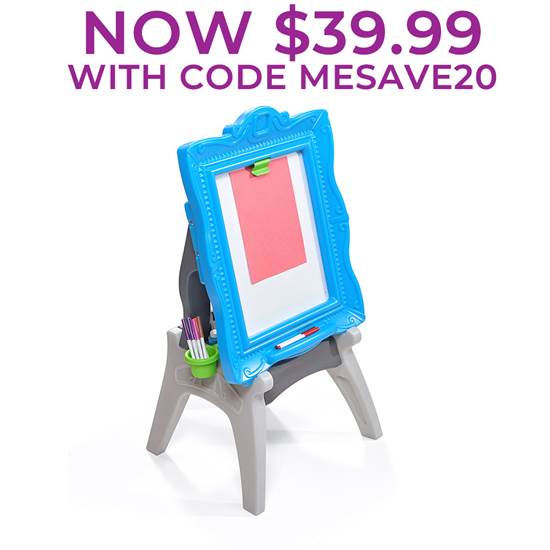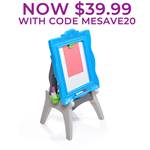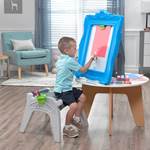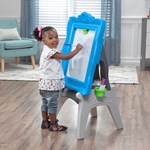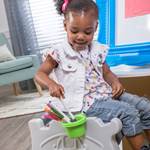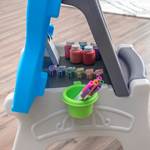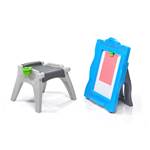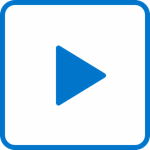 Masterpiece Easel™
Out of stock
$59.99
+$5.99 shipping (via FedEx)
Now you can display your child's artwork in the way it deserves with the Masterpiece Easel by Step2!
IS THIS A GIFT? DON'T SPOIL THE SURPRISE!
This item ships with an image of the product on its outer packaging.
Rated 4 out of 5
by
Kinder
from
Cute and Functional Easel
This product is very durable and looks cute in our Kindergarten class. The children really enjoy using it. I like that they can draw and write directly on the easel as well as use paper that is secured by the clamp at the top. Since it is in the classroom, we do not take it off the stand but the fact that the easel is removable and the stand can be used as a chair is a plus. The assembly directions were easy to follow but I did find it a little difficult to get the screws through the plastic while holding it together by myself. Once together, it was very sturdy. It is probably best for 3-7 year old children. We were sent this product for free in exchange for an honest review. All opinions are my own.
Date published: 2019-01-07
Rated 5 out of 5
by
Nbrown89
from
Great gift for any little artist!
I was provided this art easel in exchange for my honest review. This sturdy art easel is a great gift and toy addition for any little one that loves to craft. I love how easy it was to assemble and I'm also a big fan of the large board that I can remove from the easel and place anywhere to be played with. It's also nice to have all that storage space in the middle of the easel because I always found art storage to be limited with most creative play toys. Thanks Step2 for an awesome art toy for my little guy!
Date published: 2018-12-28
Rated 5 out of 5
by
CraftMomMom
from
Cute frame and great flexibility!
This easel is so cute. The frame design is ready to show off my daughter's latest art project whether she made it at preschool or at home, and makes her feel very special. The easel itself can be put on a table so she can stand in front of it to 'work,' or she can sit on the easel stand that doubles as a stool to do her 'work.' All in all, a great addition to our playroom!
Date published: 2018-10-23
Rated 5 out of 5
by
Chris
from
Step 2 got this one right
I was sent this product for free in exchange for an honest review. Packaging was great and assembly was a breeze. Instructions were very clear, not the small blurry print. Toy went together perfect and none of the cheap plastic tabs. They were real screws that makes the toy sturdy and durable. My daughter is 5 and enjoys it very much. We feel suitable for 2-8years old. Most easels are floor stands only. Best part about this is ability to come off stand place on desk or table. Light, portable and easily stores away. Thanks step 2
Date published: 2018-11-18
Rated 4 out of 5
by
CleMom
from
Cute Design and Durable
The design is very cute and the product is durable enough for a 2 year old boy. The setup instructions were clear and assembly was easy. The only drawback for us is the frame is secured to the base with Velcro and can be easily removed by a toddler. I wish it would lock in place somehow but other than that, this is a very good product. A 3-5 year old may not have this issue. Overall, this product has been a hit in our household. I was sent this product for free in exchange for an honest review. All opinions are my own.
Date published: 2018-11-05
Rated 5 out of 5
by
Mary
from
My daughters love this easel
This toy is a wonderful addition to our home. It brings the creative side out of my two daughters, especially my 5 year old. She pulls her little Step2 chair up to the easel and draws for hours. She uses her makers, crayons, and paints on an attached piece of paper and automatically stored her supplies behind the easel ( on the stand) for convenience. I like the look of the frame, which highlights her masterpieces. I also like the convenient clip which holds her paper steady while she creates. It is nice to have the dry-erase option as well - perfect for playing school. This product was nicely packaged and easy to put together. It is extremely durable and I can easily detach the easel from the stand for storage purposes. The stand can double as a chair as well if your child would rather prop the easel onto a short or outdoor table. I would recommend this product for children ages 3-7. I was sent this product for free in exchange for an honest review. All opinions are my own.
Date published: 2018-11-03
Rated 4 out of 5
by
BOBW
from
Good Easel
I was sent this easel free in exchange for an honest review. The easel was packaged well and easy to assemble. The feature that allows you to put the easel on the ground is nice. The dry erase board cleans up well. I would recommend if you have multiple kids, get a double sided easel and one that has chalk board option as well.
Date published: 2019-03-03
Rated 5 out of 5
by
Katie
from
Masterpiece Easel
This was product was super easy to assemble and my daughters (3 and 4) are both loving it. We use it almost everyday!
Date published: 2019-01-12
What is the size of the whiteboard area? I'm wondering what size of paper I would need to buy to fill most/all of the whiteboard space. The examples look like it's an 8 1/2 x 11 sheet that takes up a smaller amount of space. 
Please see below view the measurements of the whiteboard of the Masterpiece Easel™. 17 inches X 13.5 inches
Date published: 2018-10-29
Is the dry-erase board magnetic?
The Masterpiece Easel™ features a magnetic dry-erase board.
Date published: 2020-12-06