McLaren® 570S Push Sports Car™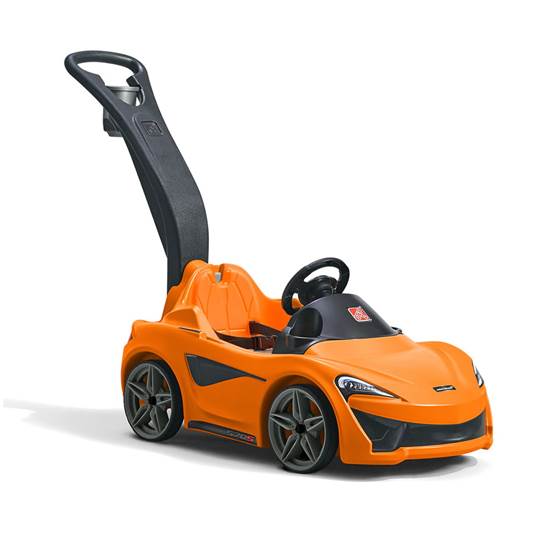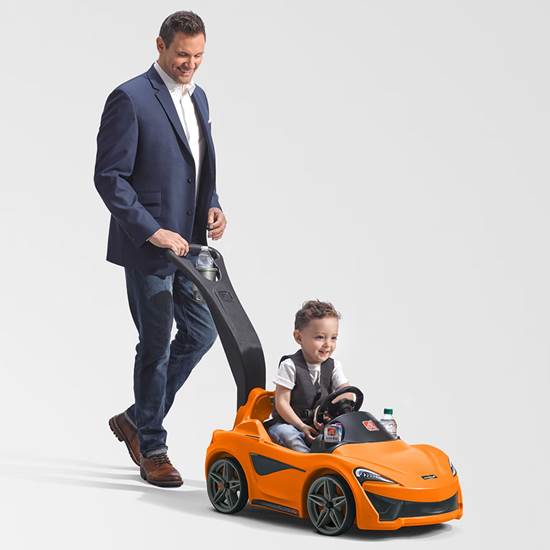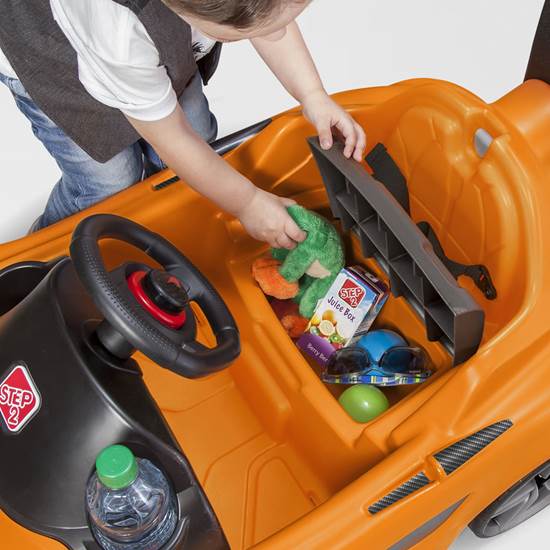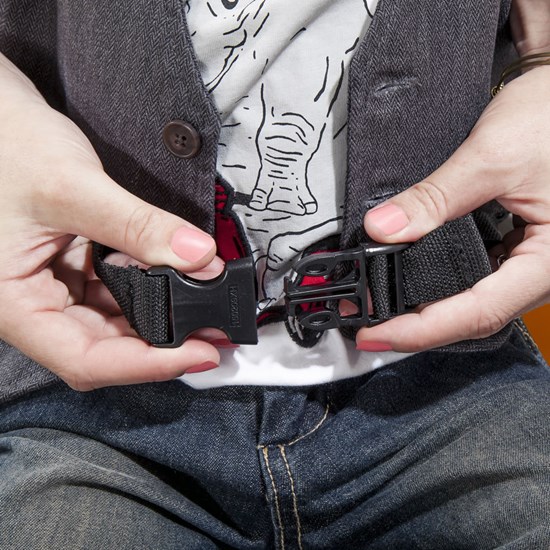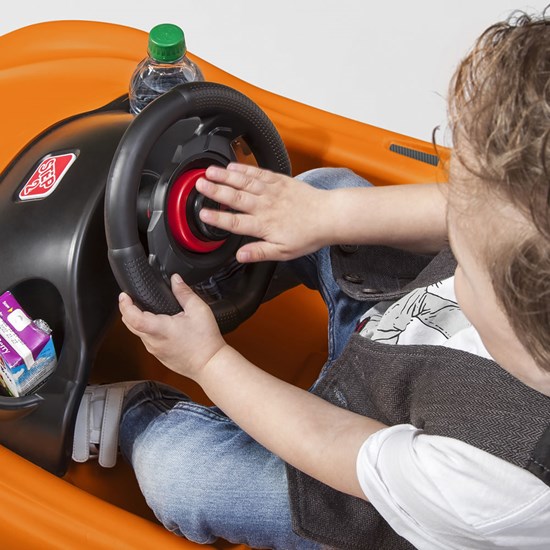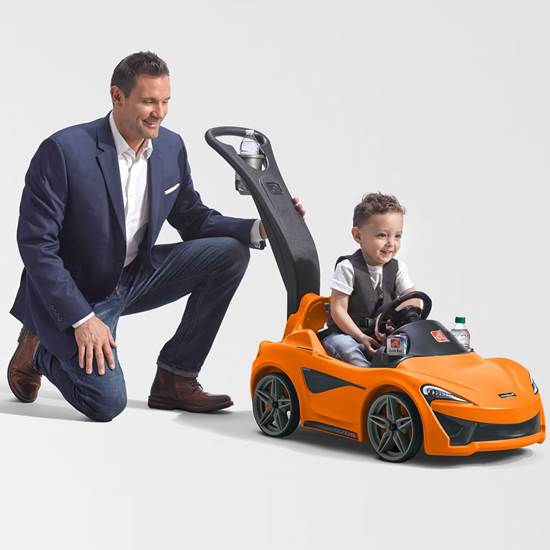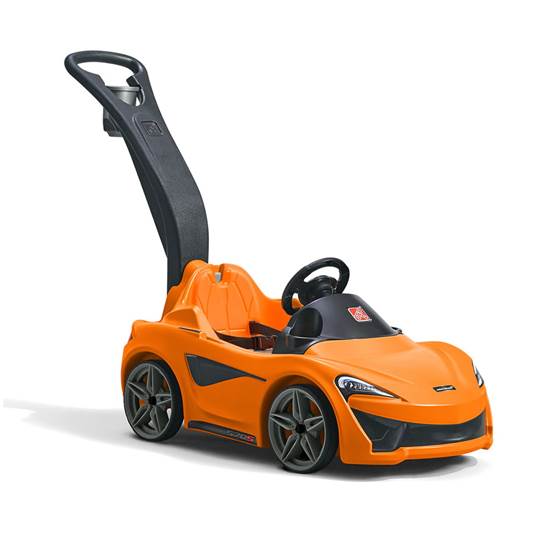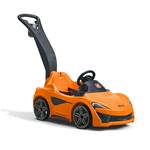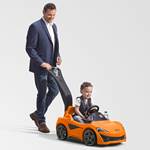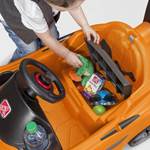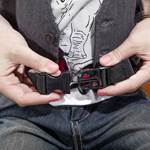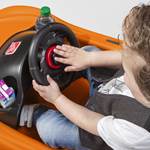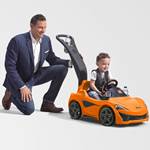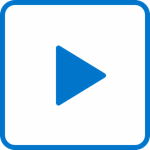 McLaren® 570S Push Sports Car™
In stock
$104.99 $99.99
+$9.99 shipping (via FedEx)
Bring to life the thrill of driving the ultimate, luxury dream car with the McLaren 570S Push Sports Car.
IS THIS A GIFT? DON'T SPOIL THE SURPRISE!
This item ships with an image of the product on its outer packaging.
Rated 5 out of 5
by
MommyinFlats
from
Awesome Ride for Christmas 2017
Santa is already shopping at our house and this was on the top of the list. My youngest is car obsessed so this was a must have for under our Christmas tree (he already got a test drive but luckily he won't know the difference). My favorites: smooth ride even on grass/bumpy surfaces. The design is realistic and the bright color attractive for the baby. The horn plays realistic car sounds at a reasonable volume. My 15 month old loved it and pushed it over and over on our walk but it didn't bother me- I even prefer it to squeaky horns. Best part, the excitement over the ride. No complaint like stroller rides can sometimes elicit. The assembly time was slightly more than I expected but still really reasonable- maybe 30 minutes for one person to do at a leisurely pace- don't plan to put this one straight under the tree but still Christmas Eve doable. Kid tested, mommy approved. This is a great, sturdy, well put together toy. Thank you to Step2 for letting me test this item as part of the Step2 toy tester program.
Date published: 2017-09-30
Rated 5 out of 5
by
Baby Jex
from
Best stroller!!!
Everywhere we go people ask where we bought it and ask for picture or snapchat. I added JBL sound system and Streetglow LEDs and now its a head turner.... Love the stroller, my boy is like a celebrity riding on it. Thanks Step2....
Date published: 2018-08-03
Rated 5 out of 5
by
Anonymous
from
Cruising
This is nice to have when walking in the park. Also I like that it has a safety belt that keeps your child strap in.
Date published: 2020-04-29
Rated 5 out of 5
by
LAM1
from
Best purchase yet!!
We bought this awesome "Sports Car" for our grandsons 2nd birthday. He's very tall for his age, 98% in height, and he has plenty of room. We've purchased most of his big toys from The Step 2: Roller Coaster, Playhouse, Jeep and Water Table and Swimming Pool and they are all of the greatest and sturdiest quality. Our grandson loves everything and now his car. Aside from being beyond cute, we love the handle which makes it so easy to push him on his long walks. And what I especially love is the seatbelt. I wish all children's riding toys had them. It teaches children at a young age to get used to wearing a seatbelt and will encourage them the importance of using it when they are old enough to drive. Keep building your great products!
Date published: 2018-10-27
Rated 5 out of 5
by
JCuevas
from
Great push car!
Great little push car. My son loves it. Easy to push around, small enough to fit in our truck space. We take it to family's home for walks around the neighborhood, lakes, around our neighborhood. Two great cup holders by the steering wheel, one at top for parent. Some mixed reviews on the top cup holder, but it fits my venti Starbucks (all cup holders hold it) so we are good! Great little storage compartment under his seat for a couple of snacks if needed. The push handle folds under to make it fit in our trunk space.
Date published: 2020-06-14
Rated 3 out of 5
by
Nana
from
Grandson loved it
This was a gift for my one year old grandson who loves going for walks with the dogs but wants to be able to see everything...the only thing is we are already looking for replacement wheels. They walk on the sidewalk but live in an area where they have to walk on the road as well and the wheels really aren't made for that as they are hard plastic. The only other thing would be if it had a horn! But that easy to add.
Date published: 2020-07-01
Rated 5 out of 5
by
Young
from
Envy of all kids at the playground!
Got this car to push our little one around, and we love it! it makes a nice engine sound when the horn button is pushed, and there's also adequate storage space. The only improvement i would recommend is make the wheels more rubbery so it's a smoother ride, Fortunately i was able to purchase some rubber strips to glue to the wheels for a nice quieter and even smoother ride.
Date published: 2019-10-09
Rated 4 out of 5
by
Grandma13
from
Good ride-on for our 31/2 year old grandson
Our grandson loved the little red ride-on, which he is now too big for. So, we invested in this larger car. Would have liked the back and sides to be a little higher, but it fits him just fine with plenty of leg room and he loves the engine sounds. We love all the cup holders. Great for neighborhood walks in the evening. Easy assembly.
Date published: 2020-07-14
Will this item be back in stock? Or is it not being made anymore?
Thank you for contacting Step2. We run products per a forecasted schedule and order projections from our retailers. Usually products are back in stock within two weeks at Step2. Retailers can take longer due to shipments and logistics. Please continue to check our website and retailer websites daily or periodically for availability. We apologize!
Date published: 2021-03-10
When will this be back in stock
At this time, we have no estimated dates when stock will be available. What we suggest is to visit our website at www.step2.com and click on product that you are inquiring about. Once the product shows, there is a button that says "Notify Me". Click on this and enter your email and once the product is available, you will get a notification.
Date published: 2021-01-20
Is the car operated by battery or do the parent have to control movement?
No battery, fully manual
Date published: 2020-11-20
when will the mcLaren 570s push sports car be in stock?
We apologize but we are currently out of stock and backordered on this item and several products. We are now running limited production as we were previously shut down due to the COVID-19 environment and unable to produce at that time. Our current production has been limited due to social distancing guidelines. We do not anticipate having this item & other products back in stock until late November– mid December. Please note this is an estimate as the timing could move back again based on demand, production schedule and retailer commitments. Continue to check our website daily for availability and updates. We apologize for any inconvenience.
Date published: 2020-11-13
Is the parent push handle removable? Is their an option for the child to use his foot to the floor?
Yes, the handle can be removed. It also can be folded under the car for storage. No, the child cannot put his feet on the ground, as the bottom of the car is solid.
Date published: 2020-08-11
Would this be safe to push a 6 month old in? He can sit up on his own already qnd doesn't like laying down
Yes I think it would be. It has a safety belt to keep children strapped in. We started my great grandson in a different model because he never liked being in a stroller. This was his favorite model however. We used it for him until he couldn't fit in it anymore. Only thing I would watch out for is the elements, no sun, rain, or cold protection.
Date published: 2020-07-14
Can we buy replace stickers
You can find replacement parts available for sale on Step2.com, or contact our Consumer Services team at 1-800-347-8372 Monday - Friday, from 9-3 ET and we will be happy to assist you further with this request.
Date published: 2020-06-16
Do the headlights light up? Are they functional or are they just for aesthetic purposes?
No, they do not light up. They are stickers. 
Date published: 2020-04-28