Modern Cook Kitchen™ - Pink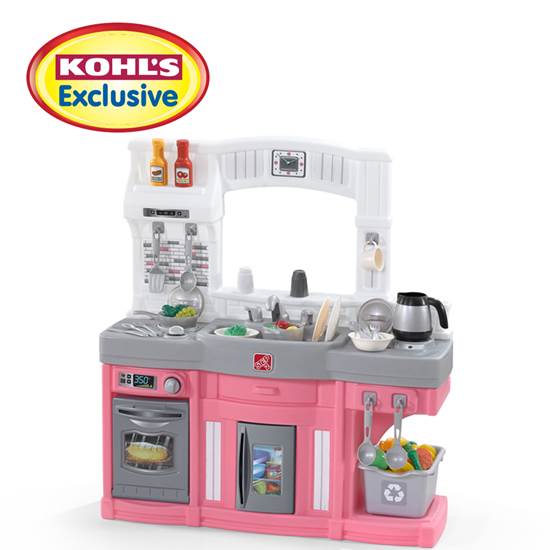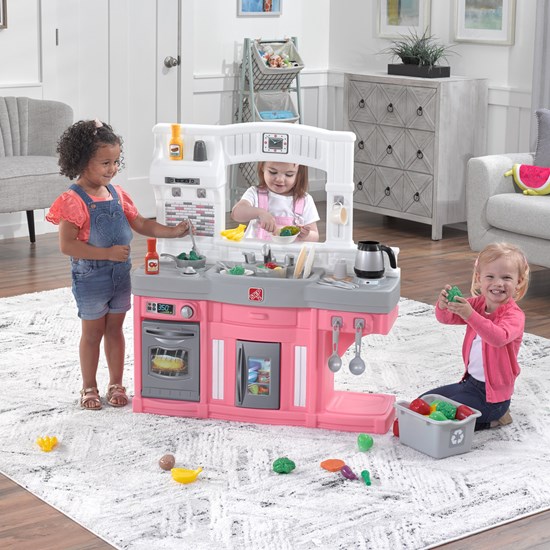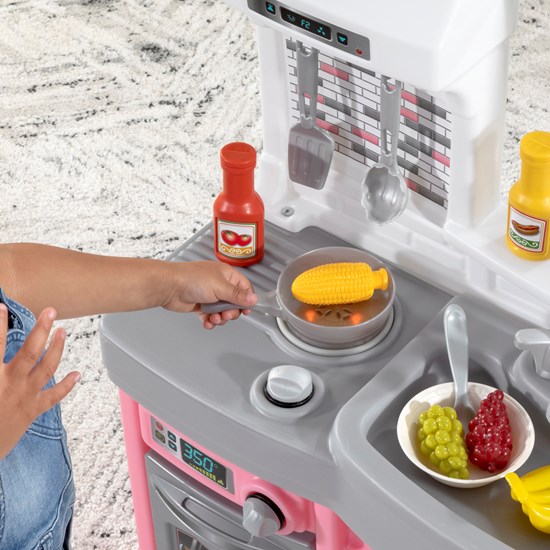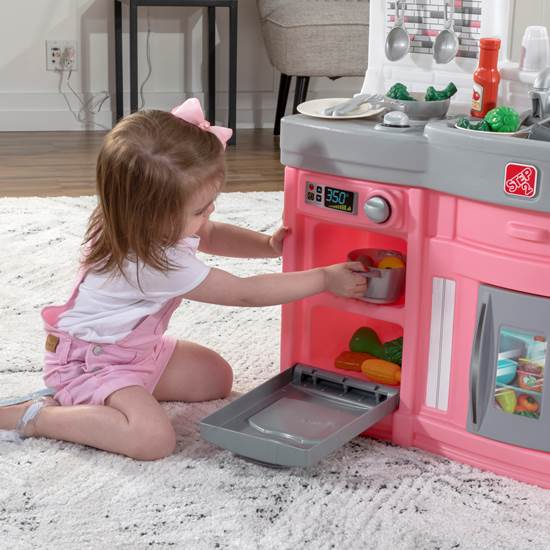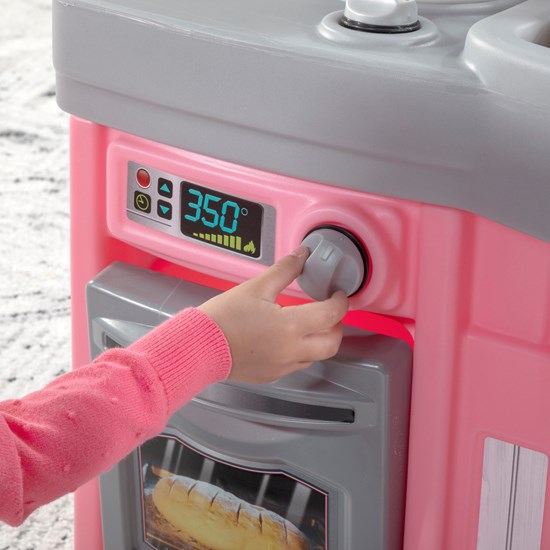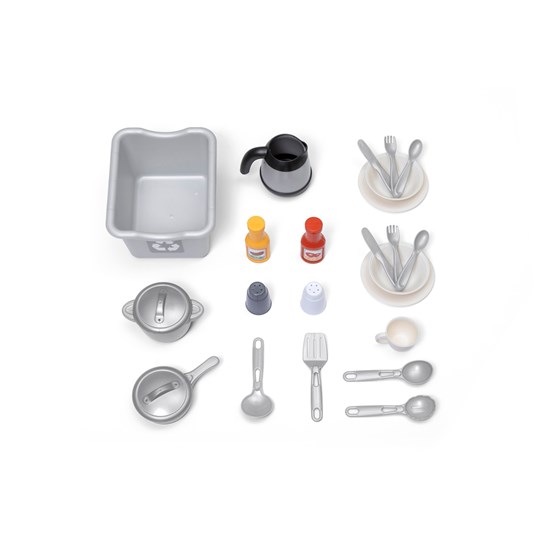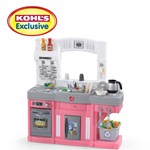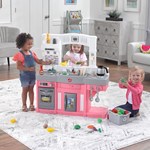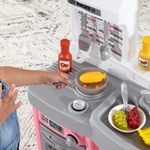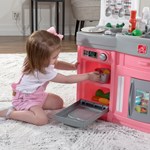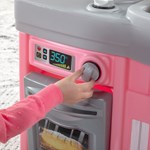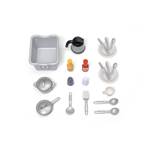 Modern Cook Kitchen™ - Pink
Little chefs can get cooking with the Step2 Modern Cook Kitchen™ in pink, sold exclusively at Kohls!
IS THIS A GIFT? DON'T SPOIL THE SURPRISE!
This item ships with an image of the product on its outer packaging.
Rated 5 out of 5
by
Izzythetrainer
from
Amazing Product
We have had play kitchens in the past and they took hours to put together, the parts were flimsy and they looked cheap. This one was easy to put together, I was able to put it together in under 20 minutes while my 2 daughters were trying to play with it. The instructions were easy to understand and everything fits right in its place. The stickers add a nice touch and it looks sleek. My kids love that they can put a pot on the stove and it "boils". I have a 1.5 year old and a 5 year old and both are getting great use for it! This is a great toy for inside or outside the house. The plastic is sturdy and will hold up to even the roughest play.
Date published: 2020-09-28
Rated 5 out of 5
by
Cozyknitsforyou
from
Fun kitchen for littles
I'm writing this review as a response to receiving it for free for my opinion. I love how cute this kitchen looks very modern. For the most part it was easy to put together I did need to drill out the holes for the hooks because they were to small to fit the pegs in. Also one person can put it together but 2 people make it much easier. My son loves playing with the stove top that makes boiling and frying sounds depending on what pot you put on it. I wish it came with toy food but that's easy to get. All and all I think this is a great toy that is sturdy and will give us tons of entertainment and imagination play.
Date published: 2019-09-09
Rated 4 out of 5
by
crystal9876
from
Perfect for small spaces!
Love the compact design of this kitchen! As my daughter has grown so has the size of her toys. We already had a larger kitchen set, but it took up most of the room and was awkward for multiple kids to play with. The Modern Cook Kitchen has everything a kid would want in a play kitchen, and can be positioned for more than one kid to comfortable play with. The kitchen does not come with play food, but it isn't missed. My daughter has play food, but she and her friends mostly imagine their food or use little odd and ends like torn up paper to be the food. The kitchen does come with plates, teacups, utensils, pot/pan, and condiments. My daughter plays with her new kitchen everyday and is happy for hours! Probably the best part is that the pan sizzles on the burner and the pot and coffee pot bubble when on the burner! This really adds some excitement when we play house and restaurant! This product was easy to put together, is a sturdy design, and nice looking! I love the space we gained in the play room without sacrificing function. Thank you to Step2 for letting me test this item as part of the Step2 Toy Tester program.
Date published: 2019-09-20
Rated 5 out of 5
by
reb85
from
Best gift ever for 1 year old
My small 1.5 year old loves to pretend to cook. This was the best purchase for him. He freaked out when he saw it. I paid about $50 for it on sale and the $50 alone was worth it for the amount of pots and dishes it came with. Keeps him busy for hours. The actual kitchen itself is very cheap plastic though. Its also a bit small making it perfect for him. I think this is the ideal kitchen for a 1-2 year old. If he was older I probably would invest in something bigger and sturdier. Some reviews say you need a drill because the holes are not pre-drilled....its cheap plastic just push. I'm weak and I was able to push the screw threw without a drill. Yeah it would have been helpful if they predrilled it but you get what you pay for.
Date published: 2018-01-04
Rated 2 out of 5
by
NIck
from
Assembly flaws
Instructions tell you to screw the top portion into the bottom portion but there are no pre drilled holes. There are very small "indentations" where a screw would go but it is very difficult to screw into very hard plastic and virtually impossible. You will have to pre drill the holes yourself which I find very inconvenient for the purchase price. Very flawed assembly
Date published: 2019-12-29
Rated 5 out of 5
by
Runningmommy
from
Love this kitchen!
We have a house full of boys!! They love using the kitchen everyday. My husband put it together in about 15 minutes! That is definitely a plus if you need to build it as a surprise the night before or right after a celebration ! Their favorite feature is the sounds the stove makes because it helps their imaginative play. We have had a couple of play dates and all their friends gravitate to the play kitchen! My youngest boy is almost 2 years and the oldest is 6 and they all can play cooperatively with this set! Thank you step 2!
Date published: 2016-08-26
Rated 4 out of 5
by
emilyh
from
Great value for Grandma's house
My 2 year old granddaughter was very excited when she saw this under our Christmas tree. She was not interested in opening any other gifts, she just wanted to make tea for all of us. This kitchen comes well outfitted with pots, pans, dishes, utensils, even salt and pepper shakers! I couldn't have bought just the accessories for the cost of the whole kitchen, making it a super value! I did not give it five stars because the refrigerator door was warped when we received it and will not open properly. This is because the lower hole that allows the door to pivot open was not properly drilled out in the manufacturing process. The door--which comes pre-installed-- was just jammed on causing it to become bowed. I do feel confident that Step 2 customer service will make this right as soon as I contact them. We love Step 2 products! At Grandma's we have the New Traditions Table and Chairs and the Neat and Tidy Cottage.
Date published: 2018-12-26
Rated 5 out of 5
by
Letty
from
Amazing!
This modern kitchen is awesome! It's so lightweight that it's easy to move around if you needed to! It's also not extremely big which I love about it as it can fit in many spaces. The plastic is so easy to clean. Which is essential when you have a two year old! The stickers and accessories are adorable. They really make the kitchen come to life! The burner that makes noise is so much fun! My daughter really thinks she's cooking when using it. I love how the refrigerator and the oven open and have so much space. This is the perfect toy for your child to have fun and let their imagination go wild! The only con I do have is that it was a little complicated to assemble. However that con is quickly outweighed once you see the full product come to life!Thank you to step2 for allowing me to test this product as part of the step2 toy tester program!
Date published: 2016-08-08
Do you sell replacement parts for this kitchen?
Please contact our Consumer Service Specialists at 1-800-347-8372 Monday through Friday, 8AM -5PM Eastern Standard Time and we will be happy to help you.
Date published: 2020-08-07
I need to replace the burner that makes sounds. Will your "silver stove burner" replacement part for the Best Chef's Kitchen (#160869) fit? Thanks 
Yes, the silver stove burner will work with the Best Chef's Kitchen™.
Date published: 2020-02-03
Where are the instructions and stickers???? How can I get them??? This is so upsetting, trying to put this together for a Christmas surprise but I don't have all the stuffs that are supposed to come. 
Please contact our Consumer Service Specialists at step2-company@step2.net or 1-800-347-8372 Monday through Friday, 8AM -5PM Eastern Standard Time and we will be happy to help you.
Date published: 2019-12-23
Are your products boa free?
Please contact our Consumer Specialist Staff at 1-800-347-8372, Monday through Friday, 8am-5PM Eastern Standard Time for assistance.
Date published: 2019-12-02
I'd like to purchase this but seems that I can't purchase this from the step2 website and The Kohl's website doesn't have it either.... any idea how I can buy it? 
Hey PamelaRN, I purchased this last week from kohl's (and did free in store same day pickup!). The SKU from the Kohl's website is SKU #30950927. Hope this helps!
Date published: 2019-11-12
Does the oven door and refrigerator door open and close? 
The Love to Entertain Kitchen™ features appliance door that open and close.
Date published: 2019-02-04
I never received any stickers or instructions for our kitchen. Is there still a way I can obtain them?
Please contact our Consumer Service Specialists at 1-800-347-8372 Monday through Friday, 8AM -5PM Eastern Standard Time and we will be happy to help you.
Date published: 2019-01-07
We're having a hard time attaching part C to part B, any tips?
Please contact our Consumer Service Specialists at 1-800-347-8372 Monday through Friday, 8AM -5PM Eastern Standard Time and we will be happy to help you.
Date published: 2019-12-29