Modern Cook Kitchen™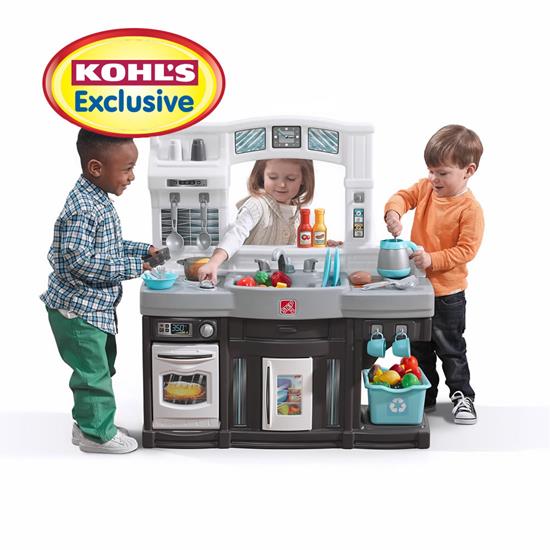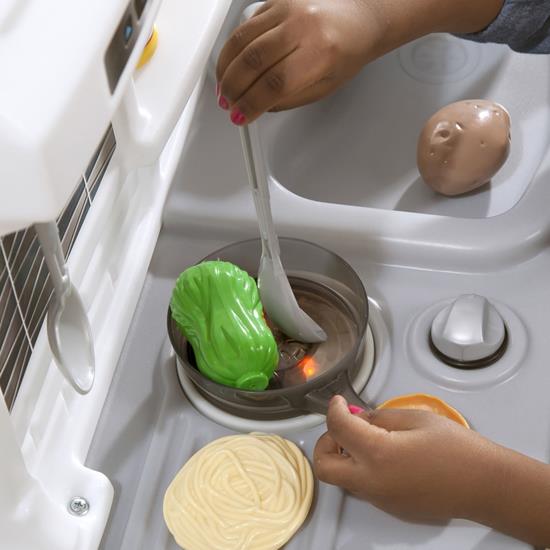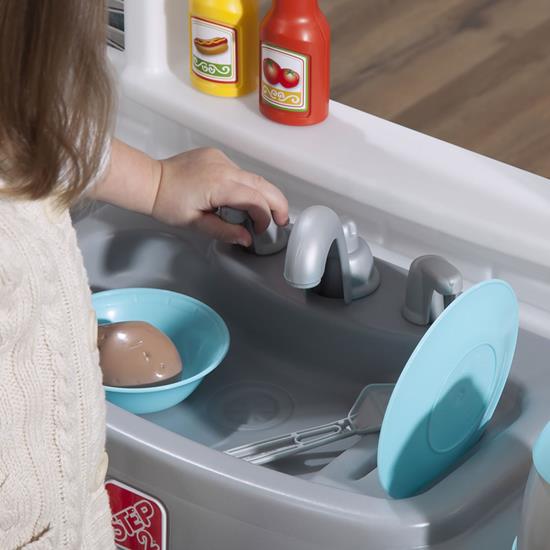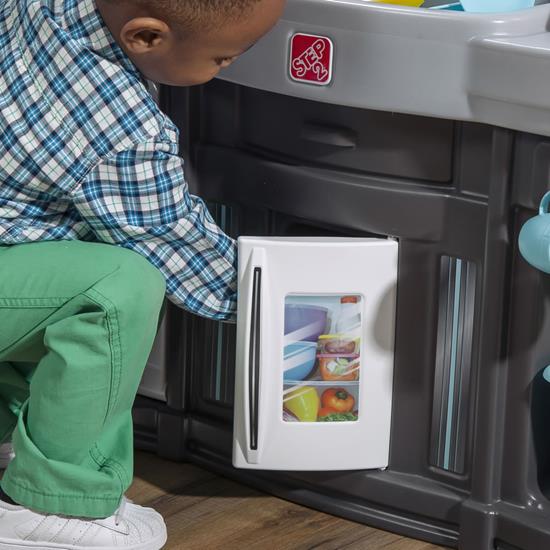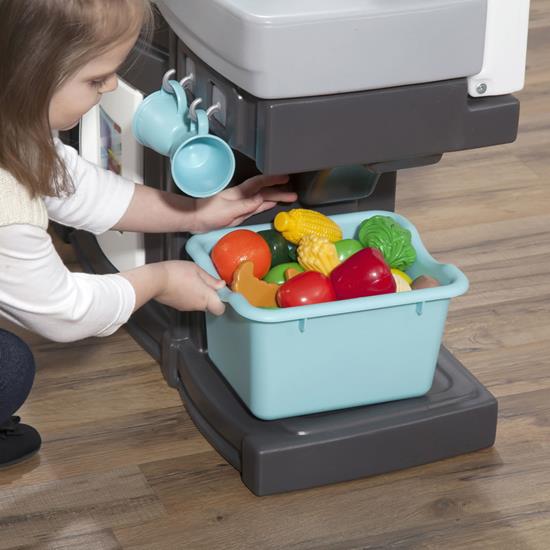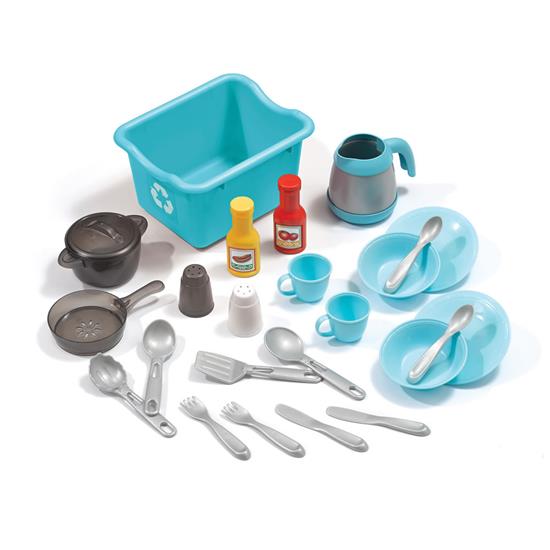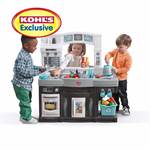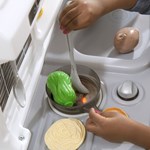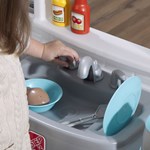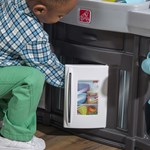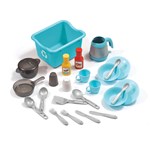 Modern Cook Kitchen™
Junior foodies can whip up some fun with the Modern Cook Kitchen by Step2!
IS THIS A GIFT? DON'T SPOIL THE SURPRISE!
This item ships with an image of the product on its outer packaging.
Rated 5 out of 5
by
reb85
from
Best gift ever for 1 year old
My small 1.5 year old loves to pretend to cook. This was the best purchase for him. He freaked out when he saw it. I paid about $50 for it on sale and the $50 alone was worth it for the amount of pots and dishes it came with. Keeps him busy for hours. The actual kitchen itself is very cheap plastic though. Its also a bit small making it perfect for him. I think this is the ideal kitchen for a 1-2 year old. If he was older I probably would invest in something bigger and sturdier. Some reviews say you need a drill because the holes are not pre-drilled....its cheap plastic just push. I'm weak and I was able to push the screw threw without a drill. Yeah it would have been helpful if they predrilled it but you get what you pay for.
Date published: 2018-01-04
Rated 5 out of 5
by
Runningmommy
from
Love this kitchen!
We have a house full of boys!! They love using the kitchen everyday. My husband put it together in about 15 minutes! That is definitely a plus if you need to build it as a surprise the night before or right after a celebration ! Their favorite feature is the sounds the stove makes because it helps their imaginative play. We have had a couple of play dates and all their friends gravitate to the play kitchen! My youngest boy is almost 2 years and the oldest is 6 and they all can play cooperatively with this set! Thank you step 2!
Date published: 2016-08-26
Rated 5 out of 5
by
Letty
from
Amazing!
This modern kitchen is awesome! It's so lightweight that it's easy to move around if you needed to! It's also not extremely big which I love about it as it can fit in many spaces. The plastic is so easy to clean. Which is essential when you have a two year old! The stickers and accessories are adorable. They really make the kitchen come to life! The burner that makes noise is so much fun! My daughter really thinks she's cooking when using it. I love how the refrigerator and the oven open and have so much space. This is the perfect toy for your child to have fun and let their imagination go wild! The only con I do have is that it was a little complicated to assemble. However that con is quickly outweighed once you see the full product come to life!Thank you to step2 for allowing me to test this product as part of the step2 toy tester program!
Date published: 2016-08-08
Rated 4 out of 5
by
emilyh
from
Great value for Grandma's house
My 2 year old granddaughter was very excited when she saw this under our Christmas tree. She was not interested in opening any other gifts, she just wanted to make tea for all of us. This kitchen comes well outfitted with pots, pans, dishes, utensils, even salt and pepper shakers! I couldn't have bought just the accessories for the cost of the whole kitchen, making it a super value! I did not give it five stars because the refrigerator door was warped when we received it and will not open properly. This is because the lower hole that allows the door to pivot open was not properly drilled out in the manufacturing process. The door--which comes pre-installed-- was just jammed on causing it to become bowed. I do feel confident that Step 2 customer service will make this right as soon as I contact them. We love Step 2 products! At Grandma's we have the New Traditions Table and Chairs and the Neat and Tidy Cottage.
Date published: 2018-12-26
Rated 5 out of 5
by
Anonymous
from
The Perfect Home Kitchen for Little Ones!
This kitchen is ideal for any child. I appreciate that it is not a bright blue or bright pink...it is a streamlined color that blends in well with the rest of the house. It is almost like an additional piece of furniture in our play area. Our son LOVES the sounds that the stove makes and he can access the kitchen from the front or through the peek-a-boo window over the sink. There are multiple pots and pans, plates, silverware and even a coffee pot! Not many kitchens come with all of those supplies, so it is an awesome value. This type of play is perfect for cultivating his imagination and allowing him freedom. He was playing with it before I even had the entire set put together. Now when he wakes up in the morning it is the first toy he runs to. I have a feeling this will be a favorite for years to come!Thank you to Step2 for letting me test this item as part of the Step2 toy tester program: http://www.step2.com/p/modern-cook-kitchen
Date published: 2016-08-09
Rated 2 out of 5
by
Alex22cortez
from
I had high hopes for this product
I was so excited for my son to get this for Christmas but after building it on Christmas Eve I made me just want Christmas to be over. The instructions where not inside the box and neither were any of the sticker and not like I could return it on Christmas Eve and I wasn't gonna have my son missing having the product as a gift so disappointed
Date published: 2017-12-25
Rated 3 out of 5
by
Anonymous
from
missing parts
this is a Christmas gift. to out 2 young children and we are very disappointed when we noticed all the stickers are missing and it didn't even have the instructions we figured it out on our own but very sad it won't look like the boxes picture, I would recommend it it's very cute just make sure it has everything is all
Date published: 2016-12-24
Rated 2 out of 5
by
Gigi
from
Only Because It Was on Sale
Being a regular Kohls shopper, I was excited to find this Step 2 kitchen on sale around Thanksgiving. My 1 1/2 year old granddaughter loves to play in the kitchen so I thought this would be a nice addition to our house when she visits. We didn't open this product til New Year's Day when she visited. While the compact size is great considering it will only be played with when she's here, the quality of the product was questionable. We were mildly annoyed that the holes weren't predrilled but, yes, the plastic was thin enough to punch through. The top part did not align well with the bottom, however, prompting my husband to add some support to it. The sticker sheet included also didn't match this particular model but we made do. After inserting batteries (which the directions are very poor) and trying out the burner, my little one said, "Fishies!" since it sounds just like her toy aquarium! Lastly, we thought the coffee pot was missing its lid because it looks silly without one, but I see by the accessories photo that there apparently isn't one. It's not the worst product, but I would advise any potential customer to wait til it's on sale.
Date published: 2019-01-13
Does the oven door and refrigerator door open and close? 
The Love to Entertain Kitchen™ features appliance door that open and close.
Date published: 2019-02-04
I never received any stickers or instructions for our kitchen. Is there still a way I can obtain them?
Please contact our Consumer Service Specialists at 1-800-347-8372 Monday through Friday, 8AM -5PM Eastern Standard Time and we will be happy to help you.
Date published: 2019-01-07
We're having a hard time attaching part C to part B, any tips?
Please contact our Consumer Service Specialists at 1-800-347-8372 Monday through Friday, 8AM -5PM Eastern Standard Time and we will be happy to help you.
Date published: 2019-01-07
How does the hot plate operate the one with the two Double-A batteries?
When the child places the pot or skillet on the burner, the plastic bottom fits between the grooves and pushes the button for noise! Since the skillet and pot are different sizes, they make different sounds when they are put on the burner. The coffee pot will also fit on and make noise as well- same as the regular pot!
Date published: 2018-12-27
Are you supposed to fill the bottom part with sand because ours tips over easily onto our children.
Please contact our Consumer Service Specialists at 1-800-347-8372 Monday through Friday, 8AM -5PM Eastern Standard Time and we will be happy to help you.
Date published: 2018-12-10
Does the sink have running water.
The Modern Cook Kitchen™ does not have running water.
Date published: 2018-11-27
Is there a silverware drawer that works?
The Modern Cook Kitchen™ does not have a silverware drawer.
Date published: 2018-10-24
I opened up the box I bought from Kohl's, and I'm missing the salt shaker, a knife, the facuet, and a tea cup. My sons loves the set and I don't know what to do. How Can I get these parts? ASAP. Thank you. 
Please contact our Consumer Service Specialists at step2-company@step2.net or 1-800-347-8372 Monday through Friday, 8AM -5PM Eastern Standard Time and we will be happy to help you.
Date published: 2018-01-08