Modern Farmhouse Kitchen™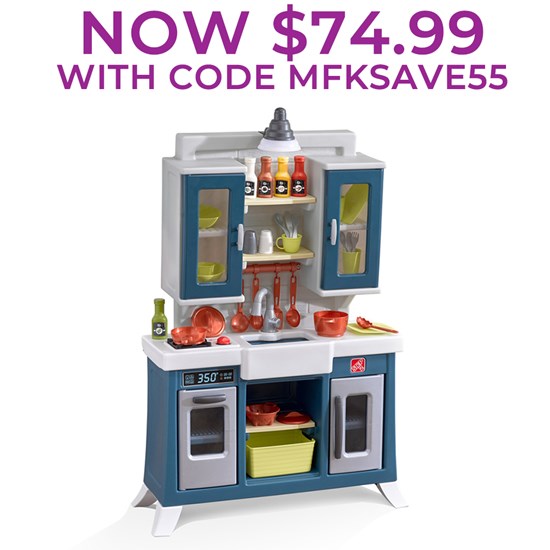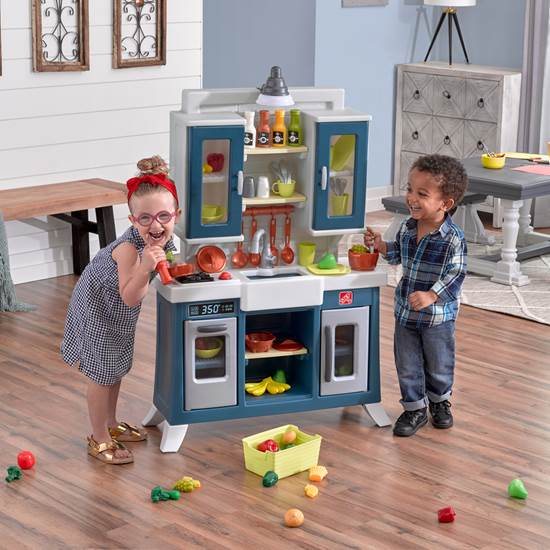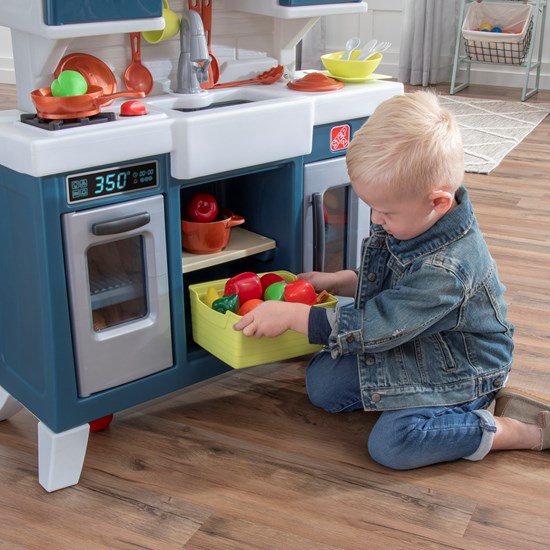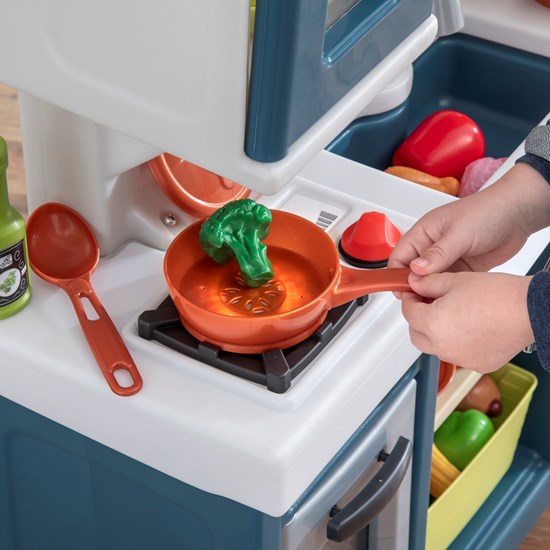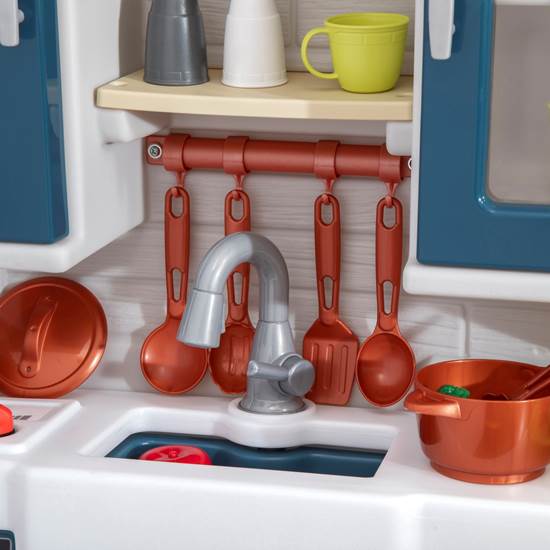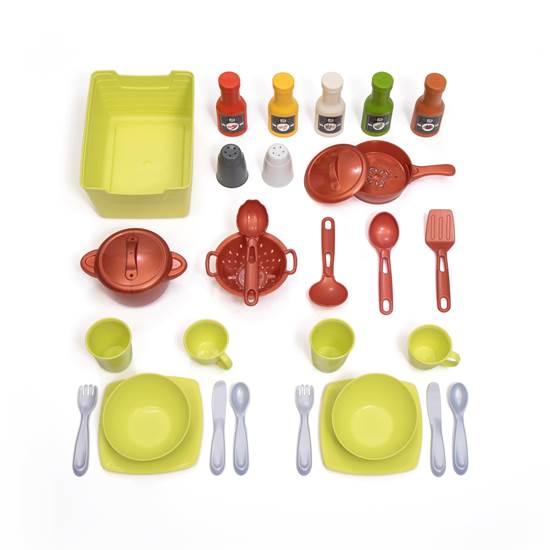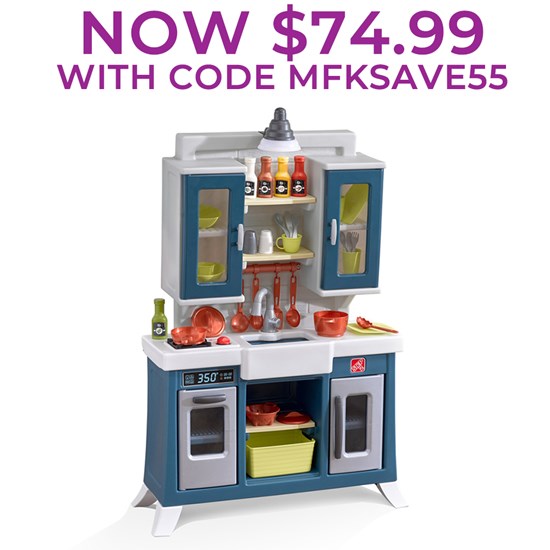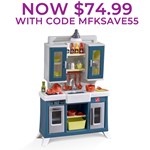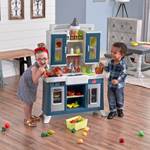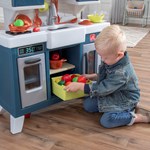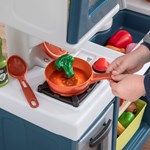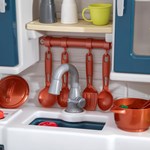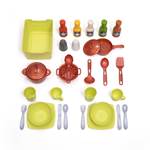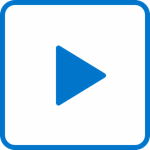 Modern Farmhouse Kitchen™
In stock
$139.99 $129.99
+4.99 shipping (via FedEx)
A kid-friendly play kitchen where modern function and farmhouse design come together beautifully!
IS THIS A GIFT? DON'T SPOIL THE SURPRISE!
This item ships with an image of the product on its outer packaging.
Rated 4 out of 5
by
Cherielynn15
from
Sturdy, heavy duty
I like how the kitchen is sturdy and heavy duty. Not cheaply made. It was a little difficult to put together because it took time to separate all of the screws and figure out what is what size screw ect. I wish they were in seperate bags for different sized screws. the only other con i have is the top of the kitchen is a little wobbly and crooked because of the way it fit on during the assembly process. my kids love it still and have been enjoying it so much. Amazing high quality plastics. the little stove burner that turns on when u put pot and pan on is adorable.
Date published: 2019-11-22
Rated 5 out of 5
by
ElizB
from
Adorable and fun for the kids.
Right out of the box the kitchen was pretty easy to assemble. Took about an hour to put together. Need a small screwdriver for some parts that are hard to reach. The utensils, pots, cups and plates are made nicely with durable plastic. They held up well as my 2 1/2 year old banged them around. The intentional details to mimic the farm kitchen are adorable- the backsplash, sink, glass looking doors and open shelving with a bin. My kids' favorite parts were the real sound affects of the stove which sizzled and boiled water when the pans are placed on them, and the top light which they could click on and off themselves. The size is compact enough for smaller play spaces while still offering two kids enough space to play together. My girls really enjoy this kitchen. Thank you Step2 for letting me test this item as part of the Step2 Toy Tester Program!
Date published: 2019-11-04
Rated 5 out of 5
by
Jeanie
from
Lots of fun for toddlers
Really easy product to put together, took less than an hour. My 3 year old and 1 year old grandkids love it and have played for many hours. I love that it is a realistic kitchen and comes with many accessories. they love pretending to wash dishes and their hands in the sink, cook on the stove top that makes sound and hang up all their pots. This is a timeless product because as the kids get older they love to get more involved in the kitchen ! Thank you Step2 for letting me test this item as part of the Step2 Toy Tester Program!
Date published: 2019-11-13
Rated 4 out of 5
by
Courtney M
from
Great for all ages
Our family loves this kitchen. We have kids ranging in age from 7-9 months and all 5 of them have enjoyed playing with the kitchen. Our 7 and 5 year old love the light at the top and our 3 year old loves the stovetop lights and noises. My biggest con for this kitchen was that the assembly was kind of difficult. Was not something I could easily put together with my kids awake. I love the look and design of this kitchen compared to others on the market and think the kitchen light is so cute. Our kids have loved having this new kitchen to play with. My favorite part of the kitchen is that all my kids can play with and enjoy it, we have a small house so having a toy that they can all use together is really important to us. Thank you Step2 for letting me test this item as part of the Step2 Toy Tester Program!
Date published: 2019-11-12
Rated 5 out of 5
by
Sapco78
from
Love this kitchen!
My daughter loves this kitchen. It was easy to assemble, the instructions were easy to understand. I will say it was pretty time consuming to put together for me. I would have put the upper shelves on before attaching the light just because it would be easier to get your hand in there to put the screws in. I noticed the top seemed a bit wobbly but that could be I put it together by myself. I would definitely suggest having help to put together the top and bottom to steady it while attaching the screws. It is very durable and easy to clean. My daughter is 3 and loves to cook for us and also has fun washing her dishes. This kitchen is great for pretend play by herself or with her friends and cousins when they come to play. She started playing with it before it was completely put together. Definitely recommend this kitchen.
Date published: 2019-10-30
Rated 5 out of 5
by
Meg27
from
Perfect for toddlers!
I really like that this kitchen comes with accessories, not only is it a bonus but they are fit to the cabinets and stovetop. My daughter really likes the light, I think it makes the kitchen more realistic to her. The height is good for her, she is three years old and in the 30th percentile for height. She can reach everything and interacts well with the kitchen at this age. I would say younger kids would enjoy this kitchen as well as a few years older.
Date published: 2019-10-24
Rated 4 out of 5
by
tracey35
from
3-year old loves it-lots of creative playtime
We received the item quickly, it arrived in great condition and it was unboxed and assembled in about 45 minutes. The hardest part on the assembly was attaching the top cabinets to the bottom section. Our top half may be slightly warped as the shelves are not level dispite 4 attempts to re-attach and straighten it out. With that said, our kiddo LOVES the kitchen! He likes to cook us all water, turn the light off and on, and "make" pasta. This mom is happy it focuses his attention for enough time for me to cook real dinner and he's engaging in some great imaginative play. Our niece and other neighborhood kids love it too and it's quickly become the favorite toy in the house. I see this kitchen being played with for years to come due to it's great quality and sturdy construction. Thanks for making such high quality products Step 2!
Date published: 2019-10-22
Rated 5 out of 5
by
Gulliegal
from
So much fun!!!
This toy is just what my 3 year old daughter has wanted for a very long time. It's exceeded our expectations of any play kitchens. The light is so darling and love that it actually works. She loves the sound it makes when you place a pot on the burner and all the cute dishes. So many cabinets for storage space and just hours of fun! Definitely recommended. 3 year old approved and mother is very happy with the role play experience!
Date published: 2019-10-28
How can I get legs for this kitchen?
Please contact our Consumer Service Specialists at 1-800-347-8372 Monday through Friday, 8AM -5PM Eastern Standard Time and we will be happy to help you.
Date published: 2020-08-07
We bought this modern kitchen for our daughter and there were no decals in the box and no instructions. Does this product come with the decals to put on the condiments and above the oven?
Yes, this product should come with decals. Please contact our Customer Service team at 1-800-347-8372 Monday - Friday, from 9-3 ET and we will be happy to assist you further with this request.
Date published: 2020-06-16
How can I make the top portion of this kitchen not wobble? Ours wobbles every time my child tries to play- everything falls down on him- very disappointed.
Please contact at us 1-800-347-8372 Monday - Friday, 8:00 am - 11:00 am and 12:00 pm - 5:00 pm EST, and ask for a Customer Service representative who will assist you in order to find a resolution to your satisfaction.
Date published: 2020-01-20