Modern Mart Shopping Cart™ -Blue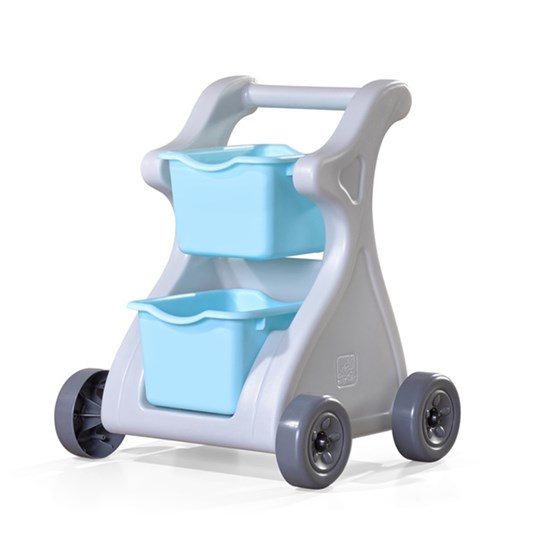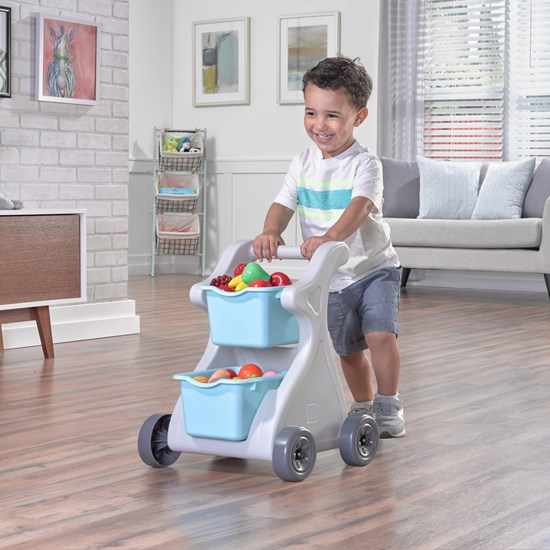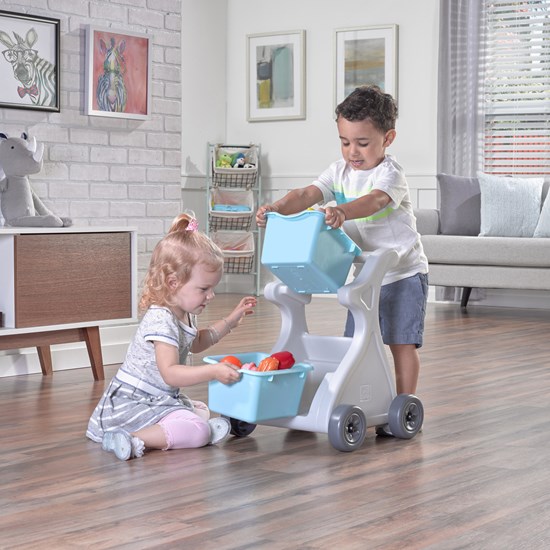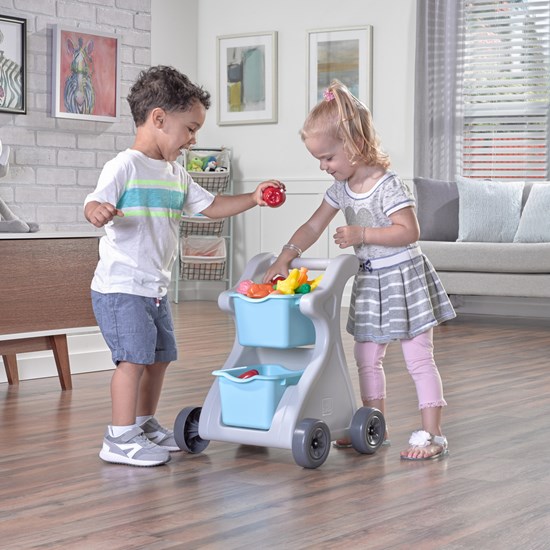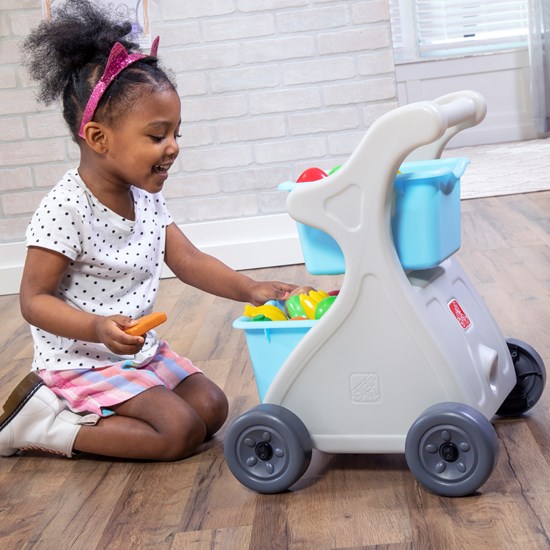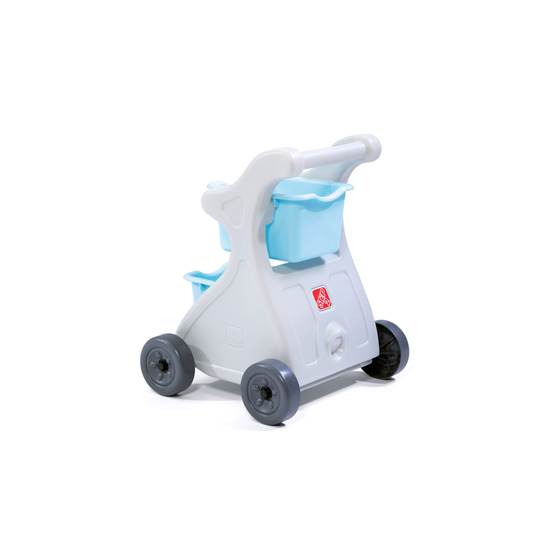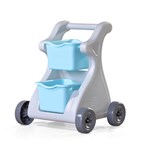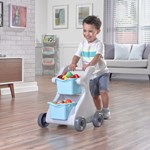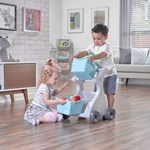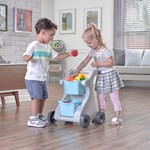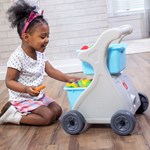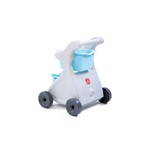 Modern Mart Shopping Cart™ -Blue
Out of stock
$39.99 $34.99
+4.99 shipping (via FedEx)
Little shoppers will cruise the pretend grocery store in style with the Modern Mart Shopping Cart™.
IS THIS A GIFT? DON'T SPOIL THE SURPRISE!
This item ships with an image of the product on its outer packaging.
Rated 5 out of 5
by
Monique
from
Fun for both my boys!
My hubby wasn't home when our cart arrived, but I was able to assemble it within 5 minutes by myself while having 2 babies tug on my legs because they were so excited to play with it! I have 2 boys, ages 11 months and 2 years, and they both loved this cart. My 2 year old is beginning to engage in imaginative play, and enjoyed "shopping" with his pretend food in the cart, and also racing around the house with it. The cart is durable, yet light enough that it doesn't cause any damage when my son would run into the walls with it. My 11 month old is just starting to walk, and the cart was perfect to help him take steps. As a mom, I wish the baskets were not removable, since this is another toy that requires me to work at keeping it together. However, both my boys loved taking out and putting the baskets back in, so I guess that's what counts! I would definitely recommend this product to parents of toddlers to encourage physical and imaginative play! Thank you Step2 for letting me test this item as part of the Step2 Toy Tester Program!
Date published: 2019-09-23
Rated 4 out of 5
by
Awarrior
from
Shopping fun
Overall kids enjoyed playing with it. We did notice when the bins were filled they tend to come out of place so bins could lock in a little better. It did seem to be a little short for our 4 year old but he didn't seem to mind so much.
Date published: 2020-09-02
Rated 5 out of 5
by
AmyL
from
My girls love it!
Modern Mart Shopping Cart is a perfect name for this product. The design of the toy matches many of the newer shopping carts you see in grocery stores. My girls love using it to hold their play food and their baby dolls. Because the bins are removable, my girls can store or transport their toys out of the cart. The height of the cart works perfectly for both my 15-month-old and 4-year-old. The cart is very sturdy, and I know it will be a toy that is used in my house for years to come. In addition to using this shopping cart for pretend shopping at our house, my 15-month-old is able to use it to help her get around the house. She recently starting walking on her own and this shopping cart is helping to build her confidence with walking! We have an older shopping cart at home, but this one is less bulky and is easier for my girls to push on both carpet and hard wood floors. The directions for assembly were easy to follow and we had no problems putting the cart together. Thank you Step2 for letting me test this item as part of the Step2 Toy Tester!
Date published: 2019-09-19
Rated 3 out of 5
by
Colleen2
from
Fun toy for my 3 year old!
My daughter loves to play with this cart BUT without the bins. She ended up using it as more of a stroller for her dolls and as a ride on toy. It would have been easier if the bins would snap in or something.
Date published: 2019-10-18
Rated 5 out of 5
by
Zelda
from
So much fun!!
This modern shopping cart is amazing! My son was so excited. I took it out of the box and assembled it in minutes. Easy to understand and put together. And hours and hours of play!! Its so sturdy too.
Date published: 2019-10-28
Rated 5 out of 5
by
Noelle753
from
Surprised by how much fun he had!
Thank you Step2 for letting me test this item as part of the Step2 Toy Tester Program! My son has been playing with this for 20 minutes straight as soon as I gave it to him. He started out by putting some items in the cart while counting them, and then he enjoyed practicing how to go slow and " ready set go... Fast Fast Fast". I love that it's not only just a fun toy for him, but it's also a great way for him to incorporate learning and imagination. My Son is verry short, so I was worried about it being too big for him, but the height seems perfect with plenty of room to grow and years to come of play. I wished the top shelf had alittle more support to it at first, but I was glad it came off easily before he could even try to climb it as a step stool. The design makes complete sense once I saw his mission to try and be alittle too imaginative with it. The assembly was extremely simple with only a few pieces to put together, so I had it up and ready for him within minutes. Overall, I am surprised by how much we both love this product! It's such a simple thing, but he's having so much fun!
Date published: 2019-09-10
Rated 5 out of 5
by
MamaTy
from
Awesome product!
My toddlers are obsessed with this shopping cart!! They love that they can take the baskets out to load their food in and there's 2 so they can share! It's modern, colorful and practical.
Date published: 2019-10-19
Rated 5 out of 5
by
Shani24
from
Versatile Product
My kids love this shopping cart! They couldn't wait to open the box. It was easy to assemble and the fun started immediately.
Date published: 2020-08-13
Rated 5 out of 5
by
Taylor
from
Perfect for my 2 and 4 year olds.
My kids love this product, it goes great with the Step2 kitchen we have. Nicely designed, and highly functional.
Date published: 2019-11-18
Rated 3 out of 5
by
MommaSteph1418
from
Good product. My 2 & 3 year olds love it.
This product is great for a confidently walking one year old or two year old but is a little short for my 3 year old. The modern design reminds us of the small Kroger carts. Pros: It is durable and well built. It is not flimsy like most of the other plastic toy shopping carts but isn't as heavy as the metal ones. Easy to put together. They added a small tool which makes putting the wheels on much easier to line up. Cons: The tubs can be removed, which means they are rarely in the cart. This could work well if the child pretends to check out or is putting the food away, but otherwise they seem to constantly be missing. And when they are missing my 2 year old has tried to ride it backwards like a scooter. It's not well balanced enough for that. Lastly, there is no designated seat for a baby. My 3 year old was very confused at first as to where to put the Baby, since most carts have a spot for them. This was the first thing they did when playing with the cart. They figured it out and just stuck it in the top tub but it seemed unrelatable to them not to have a designated place for a baby to sit. Overall, the product is sturdy, easy to build, and the kids love running around the house moving toys from room to room. Just wish the tubs were non removable and a little taller for a longer toy lifespan.
Date published: 2019-10-19
Rated 5 out of 5
by
HonestReviews111
from
My toddler is in LOVE with her new shopping card!
I hadn't had a chance to put on the wheels yet and my 2 yr old immediately retrieved the body of the cart and began dragging it everywhere throughout the house. She's a curious little one but absolutely can't stand to take a minute to listen or see what something is for. She simply creates game play from her imagination which i suppose is both good and bad. The cart gave her many imaginative ideas on how it can be utilized. For a few days she kept just pushing the base and removed the two baskets and started putting items around the house, in then out. The bins can easily be used for storage when the cart is not in use, which is one of my favorite things. The wheels on the main body act like a walker on its own without the wheels which is another versatile use for it. Though I wouldn't recommend using it as a walker for an infant or toddler who is just learning to walk or stand. This cart was the "flavor of the week" for a very long time. I love how sturdy the base as well as the bins are. I love how versatile it can be for creative play. It is easy enough to push for the little ones and the bins can separately be used for storage alone. One thing I had a difficult time with, was installing the rods on which the wheels had to attach. I was stuck on this for days and only my husband could somehow have it pushed in. Otherwise once the install is made, this is a definite winner in terms of multifunctionality and versatility !
Date published: 2020-08-24
When are they going to be re stocked 
These are now available on www.step2.com.
Date published: 2021-01-20
Is the rod for the axel supposed to snap into the opening since there isn't actually a hole for it?
I pushed the rod through from one side to the other. I didn't snap it in. 
Date published: 2020-12-24
Does this come with the toy groceries?
No
Date published: 2020-12-25