Modern Metro Kitchen™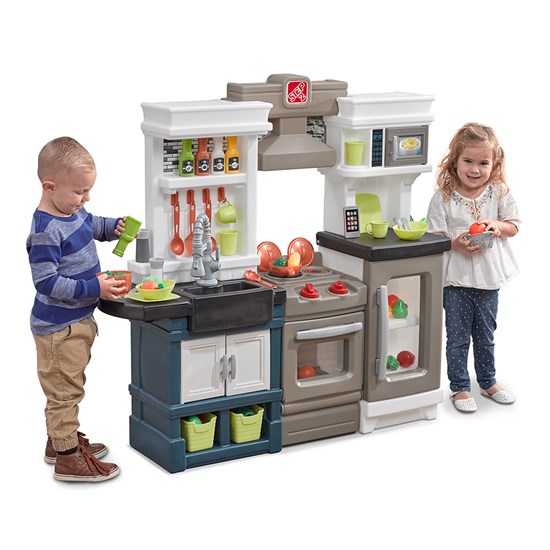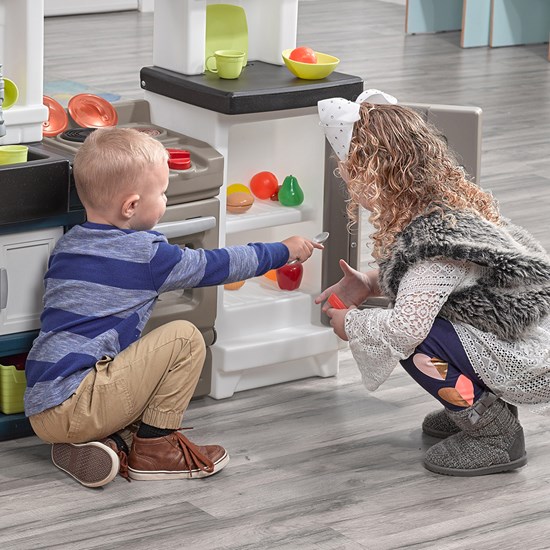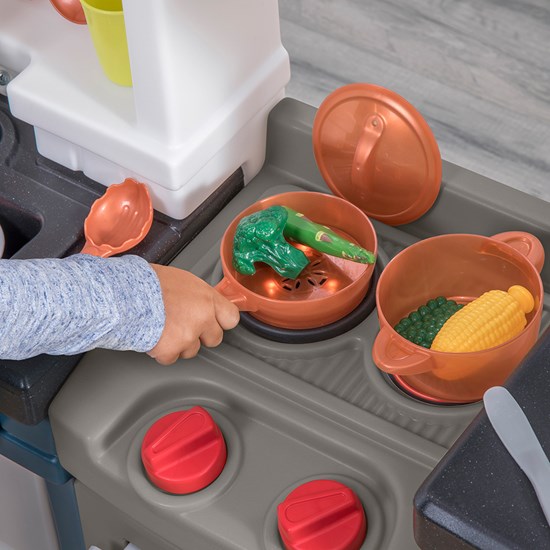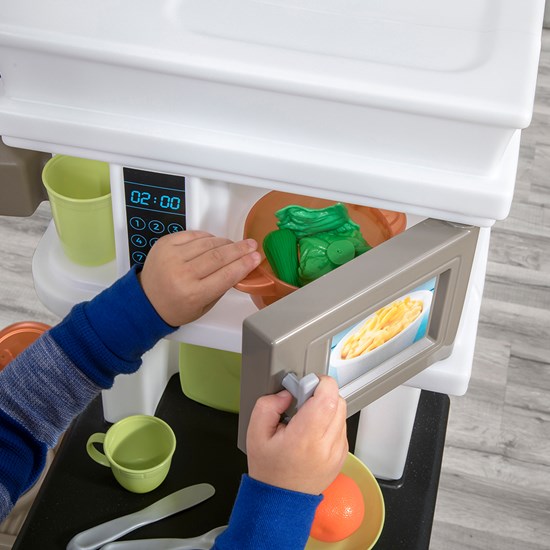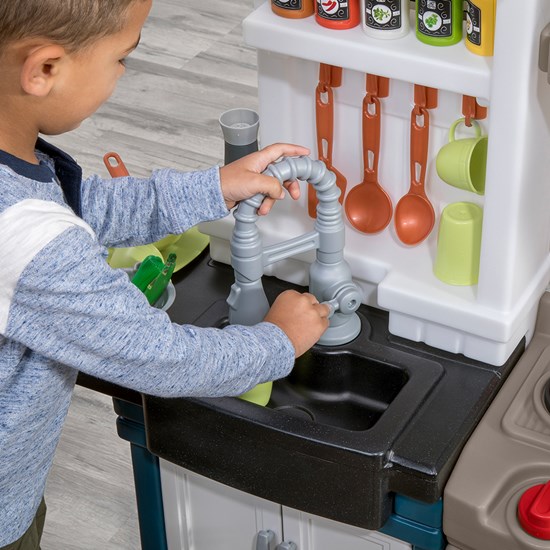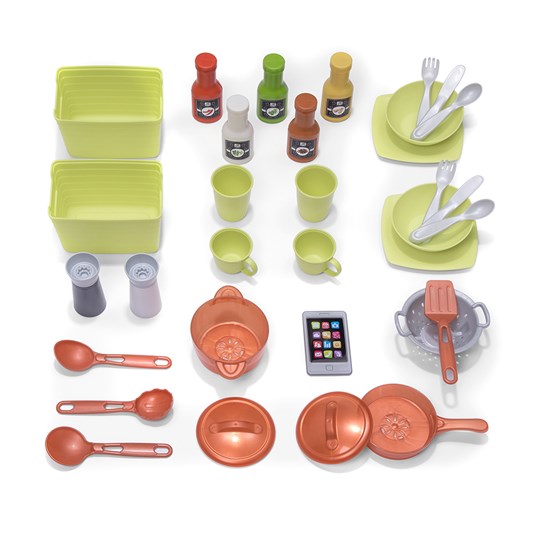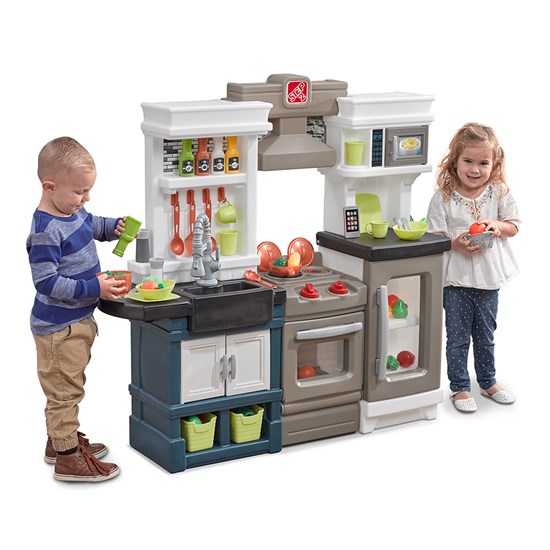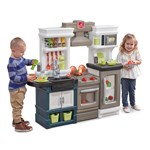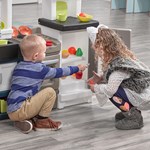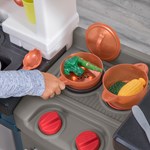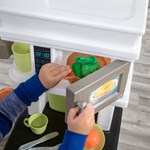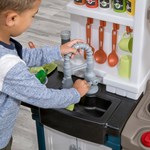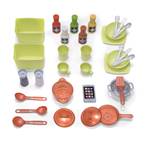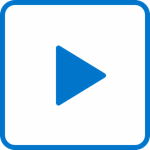 Modern Metro Kitchen™
Out of stock
$189.99 $179.99
+$12.99 shipping (via FedEx)
Mini chefs will be busy baking away with the on-trend and luxurious styling of the Modern Metro Kitchen by Step2.
IS THIS A GIFT? DON'T SPOIL THE SURPRISE!
This item ships with an image of the product on its outer packaging.
Rated 5 out of 5
by
Jellolyn77
from
Great play kitchen!
Overall, this is a the perfect play kitchen for us. It's what I would consider medium sized but very affordable for what you get. I personally like the look of it for our house. It's very cute and modern. My son loves all the doors to open and close with the cabinets, oven, microwave, and fridge, the see through doors on the oven and fridge are also a cute touch rather than stickers of food. Everything is assembled nicely. It was missing a few hooks for the utensils, but Step2 quickly shipped the missing parts. The stove makes cute sounds for the pots and pans and the water faucet has a spring loaded handle that you can pull down and it pops back up. My son loves it and it's just the perfect size. Not too small. Not too big. It is also fairly sturdy and stable too.
Date published: 2019-12-30
Rated 4 out of 5
by
Cynthia16
from
Adorable but time consuming to assemble
This play kitchen is absolutely adorable and I am sure my 3 yo granddaughter will have a ton of fun playing with it. But it is difficult to assemble. I needed a helper, almost 4 hours of time, a flashlight to see the nearly imperceptible markings where the holes are supposed to be, a hammer and drill, a powered screwdriver or it would have taken even longer, and a lot of patience and commitment. There are no holes for the many, many screws to go into - you have to create the holes by tapping on the tapping screws with a hammer, or drilling holes. And it is very difficult to see where the holes are supposed to be. And some of the screws are meant to be installed on an angle - difficult to do correctly without predrilled holes. There are no written instructions - just a series of 43 - yes, 43 - drawings to follow. It's a difficult project for sure.
Date published: 2018-12-15
Rated 5 out of 5
by
ALD316
from
Love it
My daughter loves the Modern Metro Kitchen!!! It was easy to assemble. We were missing a couple of parts, I called and Step2 got them to us right away at no charge. Customer service was excellent
Date published: 2018-04-14
Rated 5 out of 5
by
Ds mom
from
Sweet kitchen
This kitchen is tons of fun for my son and looks adorable in the house. We definitely needed a drill to put it together but it was easy to do.
Date published: 2018-04-04
Rated 5 out of 5
by
ArmyMommy
from
So cute!
Easy to put together (says screw driver but if you have a power drill it makes things go so much faster!), over all just adorable theme. No complaints. Shipped very quickly and since it was a Christmas gift for our daughter from Santa, I was very happy to see it on the doorstep with no obvious pictures of a kitchen. Just a relatively plain brown box.
Date published: 2018-01-14
Rated 4 out of 5
by
reagansmom
from
Kitchen fun for years to come...
I purchased this kitchen for Christmas for my almost 18 month old daughter. I found it a little difficult to put together as the holes were not pre drilled and I was using a regular screwdriver. It was time consuming, but manageable. My one complaint would be that the microwave will not stay closed. Probably wouldn't bother most people but I find it annoying that it pops open, and if storing food in there it would fall out. That being said, I'm sure my daughter will love playing with this for quite a long time.
Date published: 2018-01-07
Rated 4 out of 5
by
SSP516
from
Kitchen is adorable with lots of fun things to do!
My twins love the kitchen and all the doors they can open and close. The only reason I am giving it 4 instead of 5 stars is that the oven door continues to fall open and doesn't stay closed. We added a small magnet to keep it closed and that solved our problem.
Date published: 2021-01-06
Rated 5 out of 5
by
Susan
from
Fun kitchen
I upgraded from a smaller Step 2 kitchen to this one and am pleased with the new kitchen. Much more room and more counter space but must say the stickers were not in great shape and the phone is missing. I wish the faucet was a little shorter.
Date published: 2018-01-03
What is height of sink to floor? What is height  of counter in top of fridge to floor? (I like that some of your kitchens include a photo of kitchen that shows dimensions of each section.)
The counter top section above the refrigerator is approximately 24 inches in height.
Date published: 2021-02-26
Will this be restocked?
We apologize but we are currently out of stock and backordered on this item and several products. We are now running limited production as we were previously shut down due to the COVID-19 environment and unable to produce at that time. Our current production has been limited due to social distancing guidelines. We do not anticipate having this item & other products back in stock until late mid– late December. Please note this is an estimate as the timing could move back again based on demand, production schedule and retailer commitments.
Date published: 2020-11-25
I am looking for a kitchen set similar to this one. however I need the length to be 28 maximum. what options would you recommend
Please contact our Consumer Service Specialists at step2-company@step2.net or 1-800-347-8372 Monday through Friday, 8AM -5PM Eastern Standard Time and we will be happy to help you.
Date published: 2020-08-06
How does the little stove top burner work? In the Modern Metro Kitchen. I see that it lights up, but until I'm able to put batteries in there, I'm wondering how it works and if it can be shut off.
The burner is activated by setting the pot or pan on top of the burner and does shut off.
Date published: 2020-01-03
Does anyone have a video on how to put it together? Do you create holes in the plastic to screw the nails in?  I have directions and the English portion doesn't give instructions. The instructions are in every language except English.  Pictures not clear
I used an electric screwdriver so the holes wouldn't be too big. 
Date published: 2019-11-11
What are the dimensions of the inside of the oven?
Height:9.25in, width:12in, depth:9in
Date published: 2018-11-25
Are the "tile"and "stone" stickers or painted plastic?  Also, are the white cabinets functional?  Thanks!
The tile and stone are stickers
Date published: 2018-10-06
1.What is width measurement of the BASE ONLY  (part on floor) from side to side, NOT INCLUDING the little counter on left side that comes out a few inches. 2.What is Height of unit from top of kitchen over microwave? Description says 44.75. Thank you.
The base of the Modern Metro Kitchen™ measures approximately 39 inches.
Date published: 2018-09-17