My First Advent Calendar™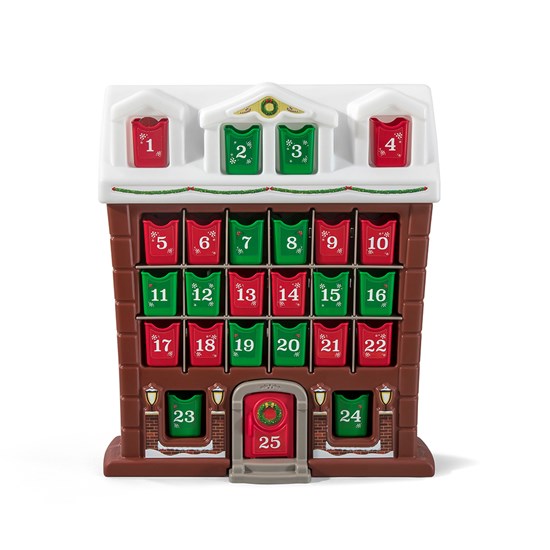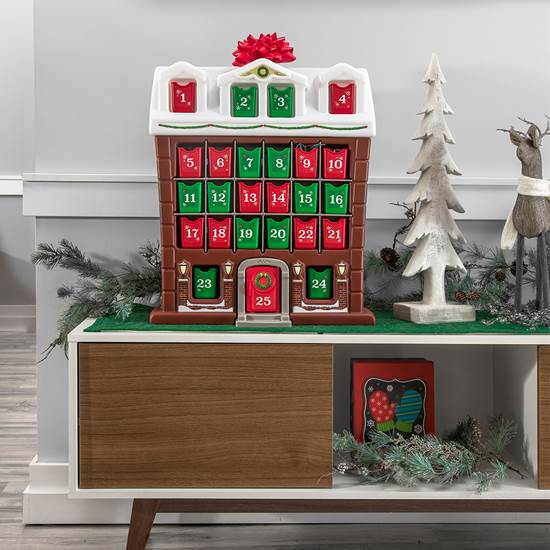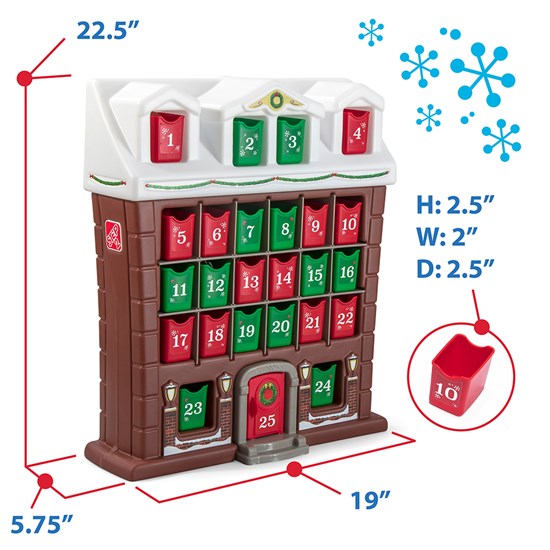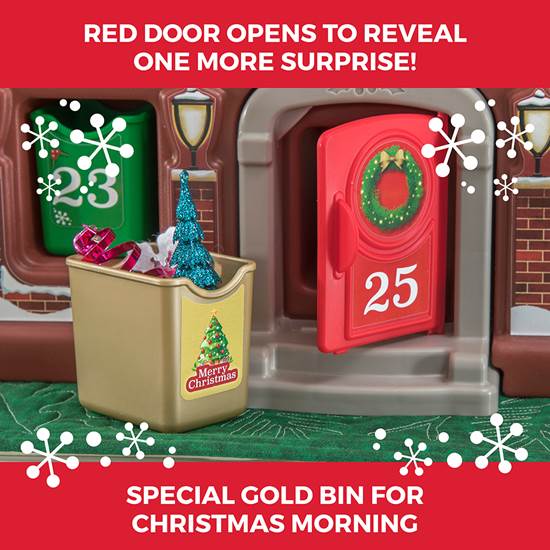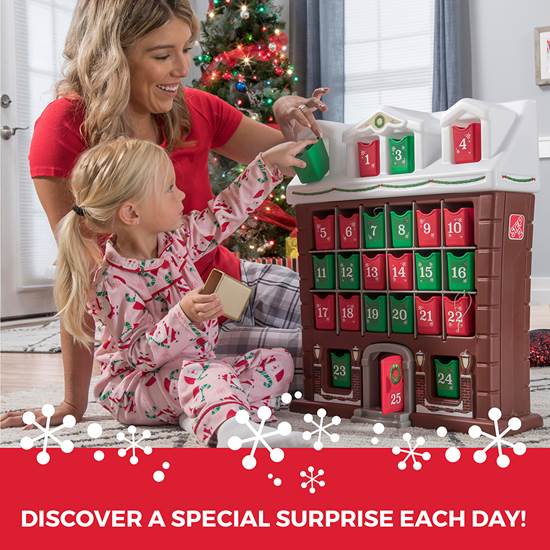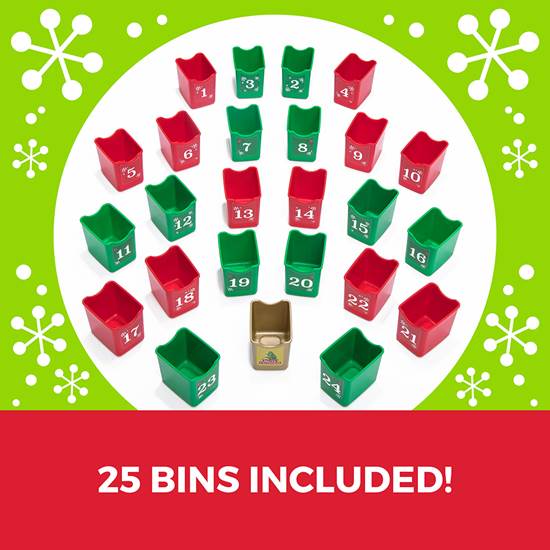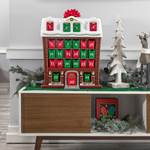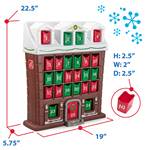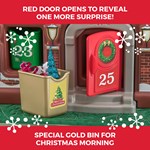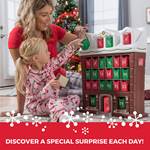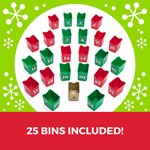 My First Advent Calendar™
In stock
$59.99 $54.99
+$5.99 shipping (via FedEx)
IS THIS A GIFT? DON'T SPOIL THE SURPRISE!
This item ships with an image of the product on its outer packaging.
Rated 4 out of 5
by
jiejie197777
from
Useful for years to come!
I'd wanted to get an advent calendar that would be good for my three year old and was excited to find this Step 2 one. It's a cute house with cute little compartments. I was a little surprised at the size of the house, but the bigger size of the compartments makes up for that. I like that they're big enough to fit a toy car, or a treat that's a normal size. I love how durable the house is and how the design of the whole thing will still be fun to use as my son gets older. The only thing I didn't expect was the amount of assembly and sticker placement that was required.
Date published: 2019-10-15
Rated 5 out of 5
by
Jenny04321
from
Everyone should get this for the holidays
This is the most fun advent calendar we have ever had. My kids absolutely adore this calendar and the treasures we put in it. It is a big size and I love the colors. My daughter got so excited that she asked if we could count down to her birthday with it. It is so fun watching the kids jump up and down ready to open up the next box. I truly love it and I can't wait to one day use it with my grandkids. I definitely recommend it. And the quality is amazing.
Date published: 2019-10-08
Rated 5 out of 5
by
Bk7021
from
Super cute and festive!
I've always wanted to buy my kids a pre-made advent calendar from the store but they are so expensive! The Step2 advent calendar is the perfect remedy for that! It's so cute and fits in with my Christmas decor. It also allows me the flexibility to put items I choose into the calendar! My 2 year old loves to pull out the boxes for the day. The coolest part about it, is that the Christmas bucket is behind the door with a super shiny " Merry Christmas" sticker on it. It's so exciting to finally open that door on the 25th. This is the perfect item to teach little ones about the advent season!
Date published: 2019-10-10
Rated 2 out of 5
by
GrammieJ
from
Nice, especially for young children
I had extreme difficulty putting the door on. One side never did go into its slot quite correctly. It appeared that the plastic should have been punched out on the house but wasn't. I think my grandchildren will enjoy it. I like that the drawers are relatively large and will accommodate more than a piece of candy!
Date published: 2019-11-15
Rated 5 out of 5
by
TeeD
from
My First Advent Calandar
This product is wonderful for the countdown to Chritmas. It is sturdy and the colorful drawers are so cute. They are big enough to put a little candy , small toy or maybe even a note. The children and adults will get a lot of pleasure from it at Christmas time and even throughout the year to keep small cars or hair ties in.
Date published: 2018-11-27
Rated 3 out of 5
by
SarahA1116
from
So cute, but too big and lots of assembly
I was very excited to receive this, but a little disappointed by a few things. There is a lot of assembly required, including a lot of stickers. There are screws that aren't pre-drilled for, which I had a very hard time inserting. If my children were older they may have enjoyed helping to put it together but they aren't quite old enough to do a lot of it. I thought the design was really cute, but it's so large that I'm not sure of a good place to put it.
Date published: 2019-10-04
Rated 5 out of 5
by
Voani
from
Loving This!
It is so adorable and finally there is an advent calendar with enough room for surprises. It also doubles as the most darling Christmas decoration. Step2 always has such great ideas for functionality. I love all of the Xmas products. I think the snowman and tree will be my next holiday purchase.
Date published: 2019-01-15
Rated 5 out of 5
by
Hjones
from
Lots of fun!
My girls love this advent calendar! They've played with it everyday opening each box and seeing what treasures they hid from the day before. This will work perfectly for Christmas with putting stickers, mini toys and candy in it for my girls to open each day leading up to the holidays!
Date published: 2019-10-03
I see this question was asked already but I could not open your answer...what is the size of the bins in the advent calendar?
As I remember (gave it to grandkids last year) About 2 x 4 inches and 4 inches high They might be just a little bigger by 1/2 inch
Date published: 2020-12-02
Is there any way to get replacement bins or stickers? I think my one year old may have thrown one of the bins in the trash! It's no where to be found and I am so upset! I am planning to use this for many years. 
I don't know.  Contact the company.
Date published: 2020-01-09
How big are the bins?
I had this question as well, so I contacted a representative. The bins are 3" High x 2" Deep x 1.5" Wide
Date published: 2020-11-18
Is this for sale anywhere in Canada? 
We suggest checking Amazon.ca for the My First Advent Calendar™ as this is an Amazon exclusive.
Date published: 2019-02-05