My First Christmas Tree™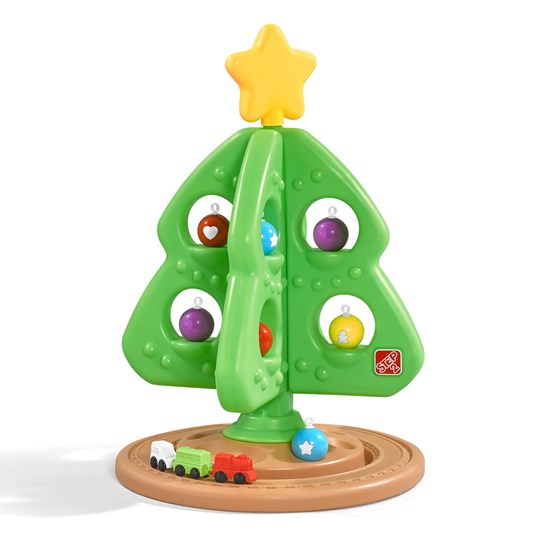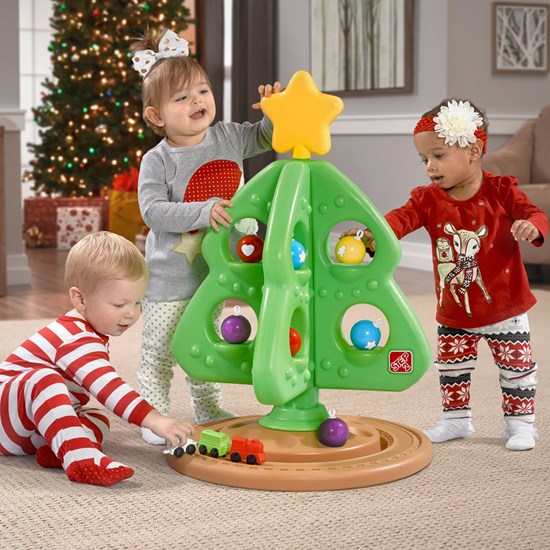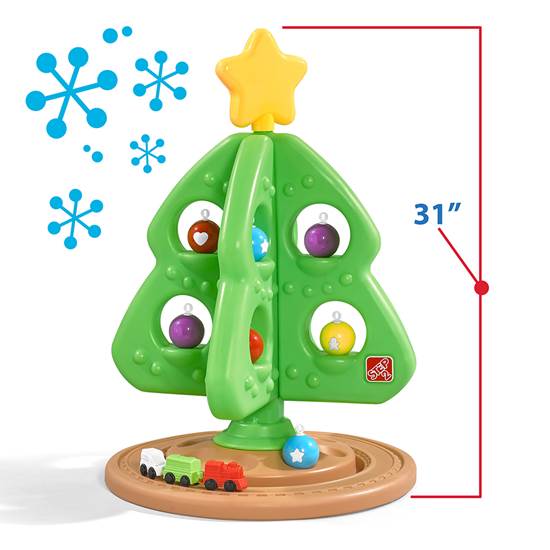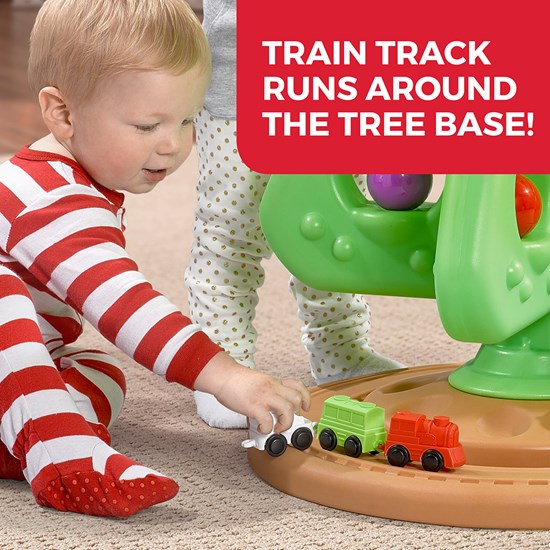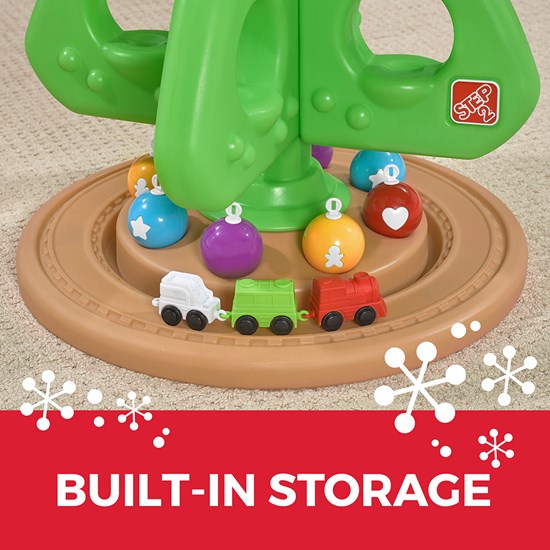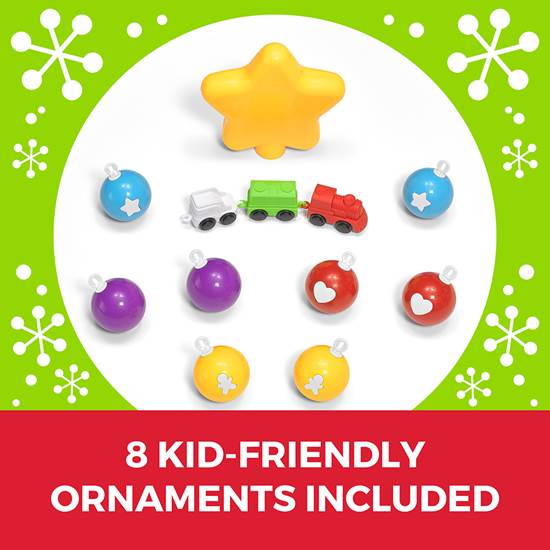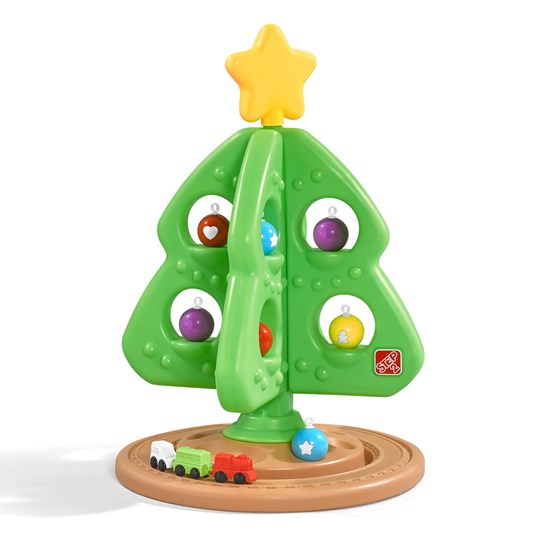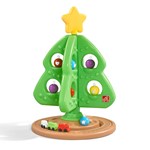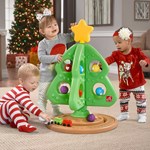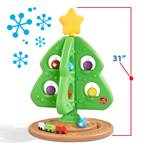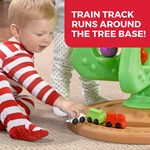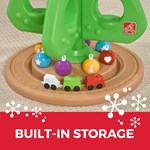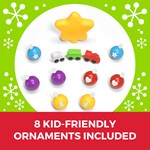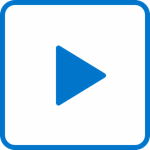 My First Christmas Tree™
In stock
$64.99 $59.99
+$5.99 shipping (via FedEx)
Toddlers can join in the fun of holiday decorating with their own adorable My First Christmas Tree from Step2.
IS THIS A GIFT? DON'T SPOIL THE SURPRISE!
This item ships with an image of the product on its outer packaging.
Rated 5 out of 5
by
Hair style friends
from
Great for playing together!
My 3 year old was so excited to put this together and the star was the most exciting part! My 1 year old loves the ornaments and grabbing them from the Christmas Tree as my 3 year old plays with the train on the track. It is so easy for them to move from room to room. They both love knocking the ornaments off the tree. My son was able to identify the shapes on the ornaments reinforcing his knowledge. I was able to share the story of The Gingerbread Man with them because of the symbol on the ornament. This toy has been played with everyday since we brought it home!
Date published: 2017-10-23
Rated 5 out of 5
by
Mommy in Flats
from
Great for Baby's First Christmas
This tree is the perfect size for baby to decorate. We love the trains that go around the bottom and the balls fit perfectly in little grooves around the base when not in use. The assembly was so quick and easy my 9 year old took care of setting it up. All of my kids ages 1-9 enjoyed taking a turn placing the ornaments on the tree. I love how sturdy it is and that it looks so pretty sitting in the corner. The kids are definitely a fan and it will bring fun for years to come! Thank you to Step2 for letting me test this item as part of the Step2 toy tester program.
Date published: 2017-11-08
Rated 5 out of 5
by
Christine
from
So adorable!
I love this product! I ordered it for this coming Christmas to place in a toddler/preschool classroom at my church. We will be studying the Jesse Tree materials and I wanted something for the younger children. As I was unpacking the box, my two older children (5 & 11) had to spend some time playing with it and I left it up for them for 1 week. Their wooden trains also work on the track. Really simple assembly. Attractive to kids. Definitely designed for younger kids but all ages will love it with a little imagination. This would be ideal for a 1st Christmas present or a Christmas tree for a baby or young toddler. I wish they had this product when my children were younger.
Date published: 2018-07-25
Rated 3 out of 5
by
MeganCB
from
Adorable Product with Limited Functionality
I have been lucky to try out the Step 2 My First Christmas Tree and enjoy it with my 14 month-old son. I was able to test this item as a part of the Step2 toy tester program and below is my unbiased review. The My First Christmas Tree is a unique and darling holiday item. Unlike most children's toys, the tree is extremely quick to assemble – it took mere seconds. It has large pieces that are safe for a small child. It makes a fun holiday decoration for children to see. My infant son likes to stand at the tree and it is pretty sturdy with a nice, wide base that doesn't tip. My older daughters enjoy looking at the tree and both would like it in their bedrooms. However, the tree has minimal use: play is very limited and only holds a child's attention for a small time. It is a very simplistic toy with no engaging features. The ornaments look as though they might hang, but instead they simply rest on the tree and fall off very easily. The train only receives seconds of play because all it does is move in a circle. The tree is best used as a holiday decoration that is brought out once a year for a short time, rather than used as a child's toy.
Date published: 2017-10-27
Rated 5 out of 5
by
rmb4180
from
Wonderful product! Really made our Christmas!!
I had searched forever for this and couldn't find it. My brother surprised me with it a few days before Christmas. We were busy cleaning our house and had no ability to put up our tree, so this was used in place of it. We wouldn't have had a tree up otherwise. It really is so cute. My kids are a little older (5 year old twins and 3 year old singleton), but they still loved playing with the ornaments and my 3 year old loved the train. This tree will be going up for years to come. It was a perfect addition to our Christmas.
Date published: 2018-01-03
Rated 5 out of 5
by
tmpfeiffer
from
Awesome Product!
This product is great, and I don't see our daughter letting us put it away when not in season! It's not too big and is a simple design that offers many ways too play. We love that she can decorate her own tree and we were surprised at how well the train rolled. So glad Step2 allowed us to test this product as part of their toy tester program!
Date published: 2017-10-21
Rated 3 out of 5
by
Desi76
from
Very disappointed
I think the product itself was cute though I agree with some of the other reviewers thay state it's limited. I purchased the entire Christmas collection and have always been an avid collector of Step2 toys for my children however I was very disappointed when not even one year after purchasing they decided to come out with a newer, better version. When I called to see if I could purchase the light up star, I was told that they weren't allowing it. That has really put me off on the products.
Date published: 2018-11-06
Rated 2 out of 5
by
Cahill05
from
It's okay
In theory this is super cute. The ornaments however don't really sit on the tree very well and certainly not upright. I don't understand why there aren't hooks on the tree instead of little indents where they sit. My kids played with it for an hour and lost interest. Would not recommend.
Date published: 2017-12-03
Will you have in stock again by Christmas 
my grandchildern love this tree we also have gingerbread house and snowman
Date published: 2020-12-07
Does this tree light up and play music?
This tree does not feature a light up star that plays music.
Date published: 2020-01-31
Love this tree but am super disappointed that the star is defective and won't light up or play music. Anyone else having this issue? Changed the batteries to make sure and it still won't work.
Same issue with my tree
Date published: 2019-12-01
Where do you put the batteries?
No batteries are necessary ....toy is powered by little childs hands!!!!
Date published: 2019-11-30
Any way we can order a replacement ornament?
No replacement ornaments needed at this time but good to know that if needed it is available to me. 
Date published: 2018-12-09
Can I buy just the light up star that plays music?I bought the first tree, no music. would like the star that lights up.
Thank you for contacting Step2. The tree with light is a Walmart exclusive therefore we are unable to sell the light separate and that is why Step2 does not offer this version on our website. Regards, Step2 Consumer Service
Date published: 2018-11-20
We just got our tree from amazon and the box was all broken. But my question is should the tree be smooth or rough like it will snug clothes? 
Please contact our Consumer Service Specialists at 1-800-347-8372 Monday through Friday, 8AM -5PM Eastern Standard Time and we will be happy to help you.
Date published: 2018-11-15
How big are the balls? 
2 1/2 inches across
Date published: 2018-11-09