My First Gingerbread House™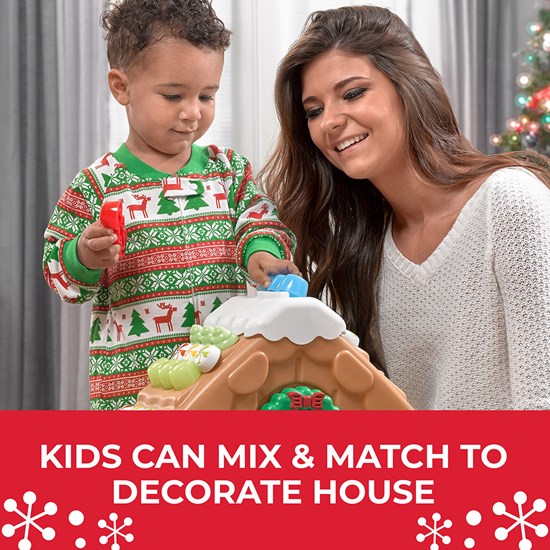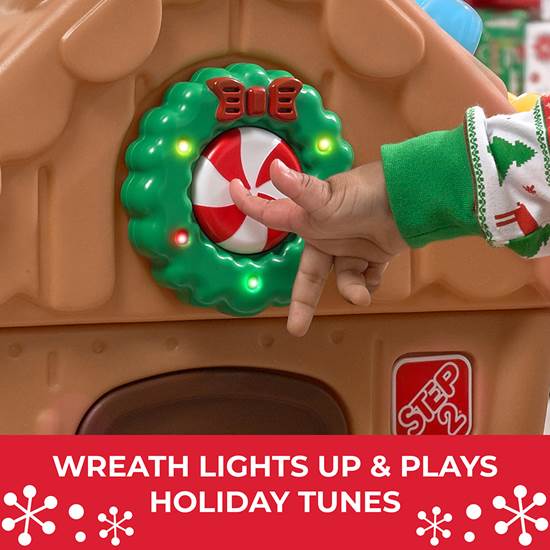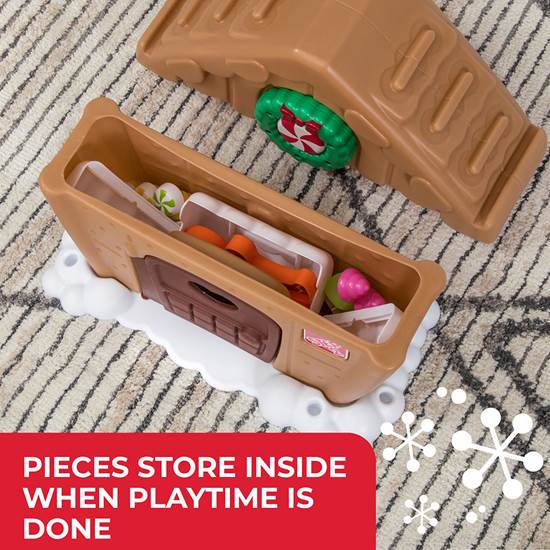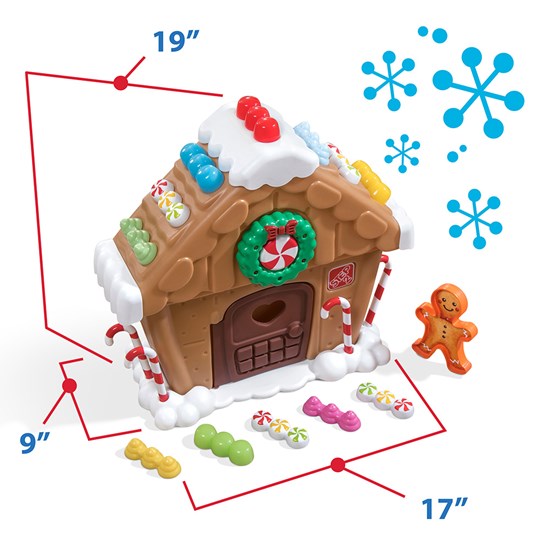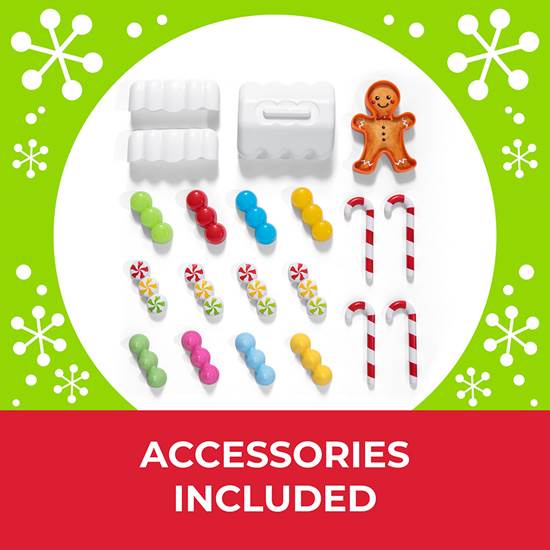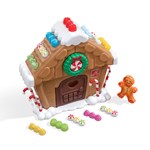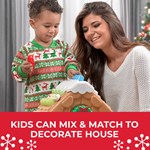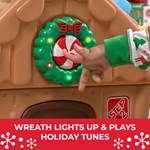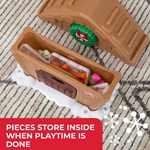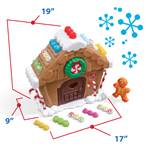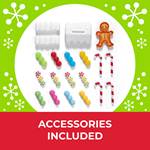 My First Gingerbread House™
Out of stock
$44.99 $39.99
+$5.99 shipping (via FedEx)
There's no sweeter way for kids to celebrate the holidays than to decorate their own My First Gingerbread House™!
IS THIS A GIFT? DON'T SPOIL THE SURPRISE!
This item ships with an image of the product on its outer packaging.
Rated 5 out of 5
by
bgh0816
from
Such a fun, unique Christmas item!
What a great, different product! My intended user is only a few months old, but I wanted to go ahead and get this before it went out of stock! My six year old is already in love with it. The assembly isn't bad, but I sure struggled to get the black screws in. I called and the most helpful associate recommended I open the holes a bit and that sure did the trick! i imagine this will be a loved item for years to come. I love how this company caters to letting our littlest ones celebrate a special day. I've heard a few songs and the wreath is quite sensitive, but was delighted to hear the tune to "The First Noel."
Date published: 2018-10-25
Rated 5 out of 5
by
Nana to one
from
Love this Gingerbread House!
Love this gingerbread house! I already let my grandson play with it and it is a hit. My only suggestion for improvement would be the musical wreath. I wish it had a button to push instead of having to move it. My grandson figured out to slam the door to make the music play!
Date published: 2018-10-17
Rated 1 out of 5
by
jmk28
from
Cheap piece of junk.
We have the Step2 Christmas tree, the snowman, AND the rocking reindeer, and we love them all! This gingerbread house looks so cute in pictures but is the cheapest, most obnoxious toy we own. It's wobbly and the house doesn't click into the base. The roof is wobbly and doesn't lock into the house in any way. NONE of the decorations click into place to stay put. So if you want to take the roof lid off to get other pieces out, all of the decorations come off. The candy canes just kind of dangle there. The door is useless since it's a door to nowhere, and doesn't click in place either. The cheap plastic screws broke while I struggled to get them installed for the peppermint. I genuinely am disappointed that Step2 had a chance to make another quality toy and instead put this piece of junk out there just to get our money. Worst toy purchase I've ever made!! If I could give it zero stars I would.
Date published: 2018-12-01
Rated 2 out of 5
by
Morgan13
from
Disappointed
Very cute toy but the wreath didn't work straight out of the box. Contacted customer service, they promptly sent me a new wreath however that one didn't work either. I'm not sure if we just got a bad batch or what. We tried multiple brand new batteries, made sure the were in correctly and still nothing.
Date published: 2018-11-17
Rated 4 out of 5
by
briles
from
So adorable
I absolutely love the look of this gingerbread house. I know my grandkids will enjoy it for years to come. My only issue with the product is the fact that the decorative pieces are made out of a much different plastic that the rest of the house. I had the same issue with the My First Christmas Tree and the train that came with it. Like the train, the candy pieces feel cheaply made. Not at all the Step 2 quality I am used to. Other than that I have to admit, I am obsessed with this thing.
Date published: 2018-11-14
Rated 5 out of 5
by
Mal86
from
My kids loved, and no mess!
My kids were thrilled with my first gingerbread house! Very easy to assemble, only needed to put batteries in and attach the wreath on house, all other pieces are whole! Also loved that all the pieces can fit in the house for easy clean up! It's a great creative toy for kids to decorate their own gingerbread house without the big mess , plus the wreath lights up and plays Christmas music which my 2 year old loved. Would definitely recommend for young kids even my 5 year old enjoyed it. Thank you to Step2 for letting me test this item as part of the Step2 Toy Tester program.
Date published: 2019-09-24
Rated 3 out of 5
by
Mrs Pris
from
gingerbread house
my grand daughter received the Gingerbread house and my first Christmas tree from her Aunt. The tree was fine expensive for what it is but was intact. The Gingerbread wreath would not play sounds or stay in place. It was almost like there might have been a piece missing to hold the wreath in place. It was very disappointing. This product should not have passed quality control. Had it worked it was a cute concept but feel like my grand daughters Aunt wasted her money. I am not sure where this item was purchased but will mark on line. Since the Aunt shops mostly on line.
Date published: 2018-12-26
Rated 4 out of 5
by
Drakemom
from
Very cute
Cute, but smaller than I thought. I'm sure it will still be played with. I should have looked at the measurements, so that's my fault. This is adorable for little ones & I forsee passing it down through the family of cousins through the years to come.
Date published: 2018-09-28
Hi. I recently purchased the gingerbread houses but it doesn't play any music when you tap it. It just lights up. How do I fix that problem? I feel like I just wasted my money. 
It should play music. Usually if you just tap that light up piece it should go off and play tis the season. I can't remember but I don't think there were any plastic tabs to remove. Step 2 should replace it if it does not work. 
Date published: 2020-12-03
How many candy canes is it suppose to come with?  We received 4, but there are 6 holes for them and nothing else that would stand in them. 
Mine came with 4 as well. I think they have extra holes for them to be moved around.
Date published: 2019-12-13
Can I purchase another gingerbread man piece?
Please view the following link for the My First Gingerbread House™ replacement parts offered: https://www.step2.com/parts/p/my-first-gingerbread-house
Date published: 2019-10-14
My wreath has no way to attach to house and is my gingerbread man supposed to have no sticker face or body ???? 
Please contact our Consumer Specialist Staff at 1-800-347-8372, Monday through Friday, 8am-5PM Eastern Standard Time for assistance.
Date published: 2019-01-16
How do you attach the wreath to the house? Do you push the plastic screws through? I've tried several times unsuccessfully. I'm at a loss. 
Are there replacement screws? I can't find the ones from our package. Our wreath didn't work and I put them to the side until we got the new one and can't find them. 
Date published: 2018-12-12
Is there a trick to getting the wreath to work? I've put different batteries in it several times and it still won't work. 
Mine worked with batteries, however I could not get it to stay on the house. the pieces dont fit in the actual holes. Not the best design.
Date published: 2018-12-08
will this be back in stock before christmas?
In stock now! :)
Date published: 2018-11-07
It's out of stock everywhere still!! When will it be back???
I found one at Rural King.  The store I got it at got 4 in and will not get more per the manager.
Date published: 2018-10-12