My First Holiday Train and Track Set™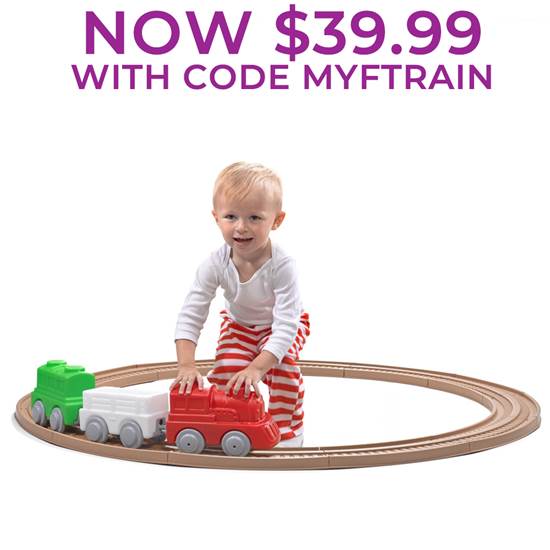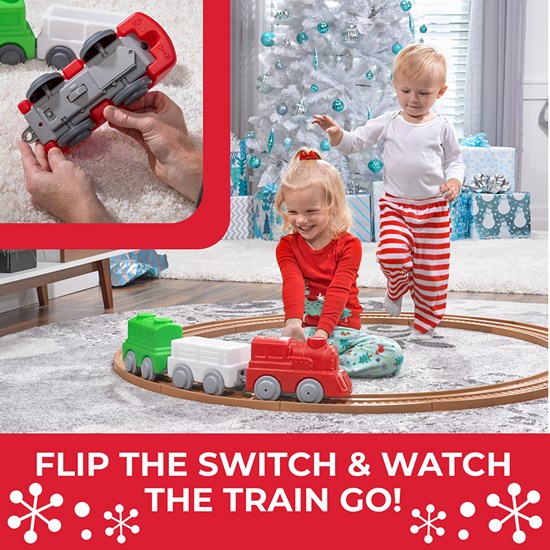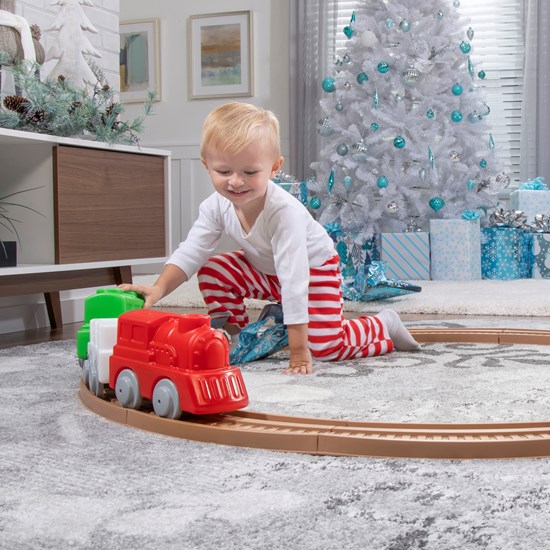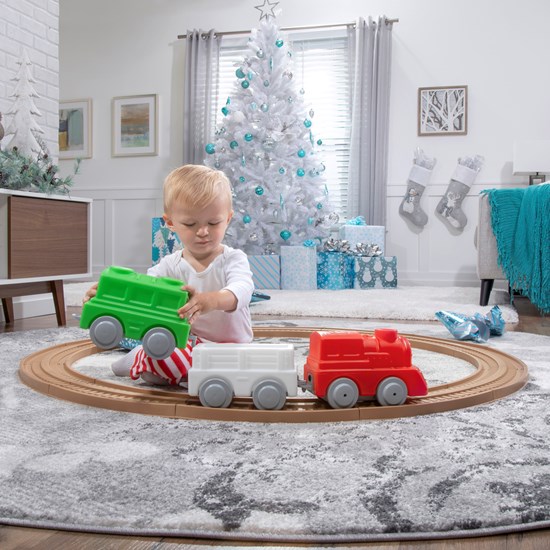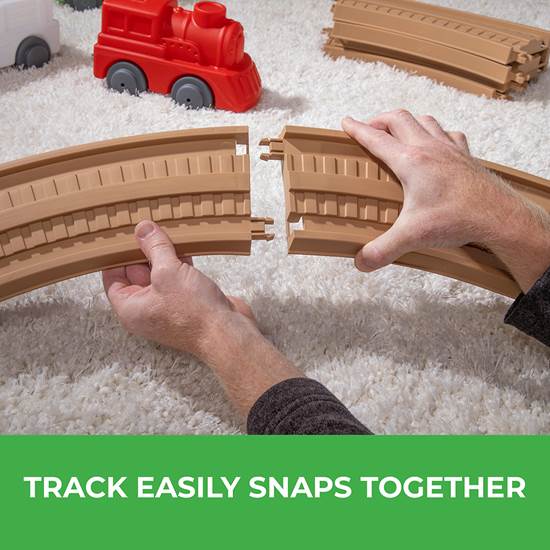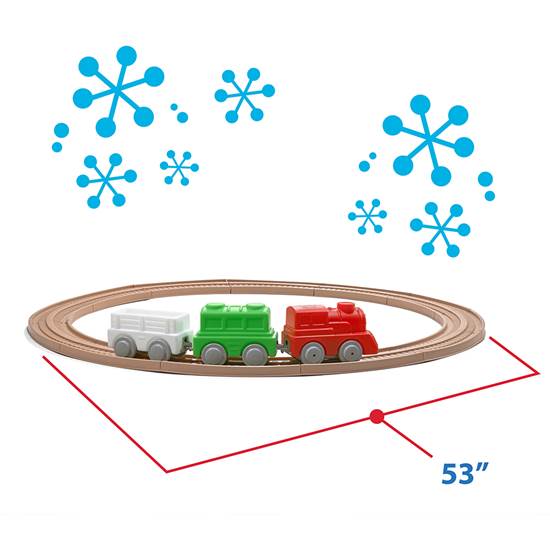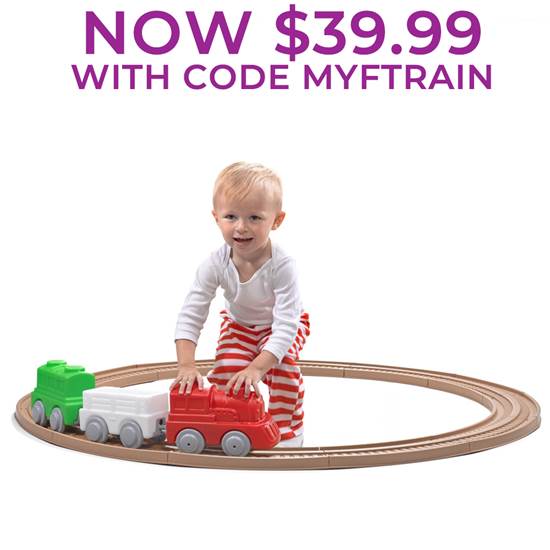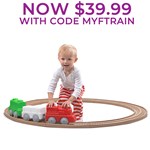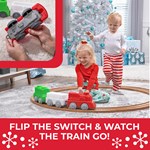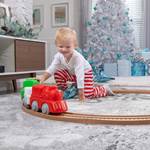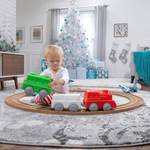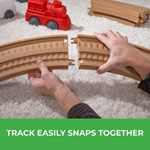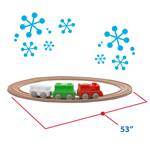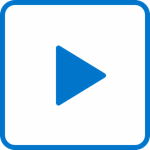 My First Holiday Train and Track Set™
In stock
$64.99 $59.99
+4.99 shipping (via FedEx)
IS THIS A GIFT? DON'T SPOIL THE SURPRISE!
This item ships with an image of the product on its outer packaging.
Rated 5 out of 5
by
LiiHamrah
from
Absolutely adorable!
The perfect train for under our tree! The colors are so vibrant in person! It runs at a slow speed which is perfect for little curious minds. No sound (a major plus for us). Best part, when it comes off the track the wheels stop moving so you never have to worry about little fingers (or hair) getting jammed! The red train holds the batteries and does it work pulling the other two pieces. Minimal assembly required. The tracks break down easily and the trains are lightweight. Our kids loved putting toys into the opening of the white train and watching them go around!! Thank you Step2 for letting me test this item as part of the Step2 Toy Tester Program!
Date published: 2019-11-14
Rated 4 out of 5
by
lindsay
from
Fun for the whole family!!
First, let me say a big Thank you to Step2 for letting me test this item as part of the Step2 Toy Tester Program!. We were honored to be chosen! Overall, we have enjoyed playing with this toy and it is definitely a favorite of my 2 year old son! He can load and unload the trains on the track and watches them "zoom" around the track. When we received this train all three of my children (1, 2,& 4) were excited! The trains are all very large and the assembly was easy! The track needs to be assembled by an adult, as each piece has to be tightly clicked in. This was a small knock in my book, as my children, especially the 2 year old, like to be able to assemble and reassemble by themselves. The whole assembly only took 5 minutes though, and we were ready to go! The track was much larger than I was expecting which is awesome. The red train has a spot for 4 batteries and once put on the track it pulls the other 2. I like that the train has to be on the track to operate, no chasing the train around the house and no wasted batteries! The main thing I would change is that the motor does make a decent amount of noise and I think the toy would be perfect if it made train noises! The white train has a place to put small things so my children load small cars or animal friends. This toy seems like a good fit for the 2-3 year old range. Everything is incredibly durable and once assembled there's no small pieces to worry about. We look forward to putting it around our tree in the winter! This is sure to be a holiday favorite that we can play with all year!!
Date published: 2019-11-01
Rated 5 out of 5
by
The daycare lady
from
Love the train!
It is a very nice train and the kids play with it daily, I wish decals were offered with it. When i called the company they said they did not want to add them becuase it might not look right. I as the buyer should get to make that decision. My kids wanted stickers for it. I would buy it again with or with out the stickers though. It is good quality for kids. I have 6 kids 1 of my own and the other daycare. All kids play with it and love it.
Date published: 2019-11-24
Rated 5 out of 5
by
Style me britt
from
The perfect holiday gift!
I highly recommend getting this gift BEFORE Christmas so your children can use it all season long! Not only is it a fun toy, it's an awesome decoration as well! The colors are perfect and the toy is easy to play with and assemble! I have a 4 year old and 1 year old and they both are infatuated with the train! Highly recommend to get as a gift or to buy for your own child!
Date published: 2019-11-11
Rated 4 out of 5
by
Melaird04
from
The perfect decoration/toy combo!
This product is great for a variety of ages! My four year old likes connecting the trains together and loading the caboose with goodies, my two year old likes that he can either push the train or watch it go around on its own (he gets excited every time it comes back around to him), and our infant enjoys watching it in general! Both older boys were excited to put some of our Step2 Christmas Tree pieces in it and have them "delivered" for decorating! As a parent I enjoyed that assembly was easy and that the train only works on the tracks. I do wish maybe two of the cabooses had a spot to put things and/or just a slightly larger storage area on the train. My oldest mentioned that too, as he wants to have his train make special deliveries. It is a little louder than I expected but isn't too hard to tune out or forget with kids around. All in its a hit at our house and an awesome way to help decorate for the holidays without the fear of breaking anything. Thank you Step2 for letting me test this item as part of the Step2 Toy Tester Program!
Date published: 2019-11-07
Rated 5 out of 5
by
waldee
from
My First Holiday Train and Track Set is a WIN!!!
I adore this train set! It is perfect...I don't have to worry about little hands or it being fragile. It's bigger than I expected, so a tree in the middle is also perfection!!
Date published: 2019-11-25
Rated 5 out of 5
by
April D
from
Simple but tons of fun!
Thank you Step2 for letting me test this item as part of the Step2 Toy Tester Program! When the train first arrived, I have to admit that I wasn't so sure about it. It seemed almost too simple. Just three train cars and a round track. But I was totally wrong! My 3.5 and 1 year old daughters love this train! The older one especially has been playing with it nonstop. She can turn it on and off on her own with no problems. She likes to put stuff in the white car, which has space to hold things. I wish all the cars had open space to add toys, but that's one of my very few complaints. I was surprised at how much creative play the train had led to. She enjoys finding and making different tunnels to put over the track. She also discovered you can put small toy cars on the track and that the train will push them. The little one enjoys pushing the cars on the track when the train is not on and derailing big sister's efforts. The whole set came together really quickly. No small pieces to deal with. The train itself is a bit noisy when running, but kids are noisy anyway! I'm really looking forward to setting this up around the Christmas tree this year.
Date published: 2019-11-05
Rated 5 out of 5
by
Elabela19
from
Indestructible Holiday Fun!
So excited about this new Step2 Holiday Train for my boys. My 3 year old toddler is obsessed with trains right now and my almost 1 year old is on a crawling spree so he loves all things that move. Based on our play, I'd say most children would be impressed with this train and it's bright vivid holiday colors. Setup of the tracks was simple enough for me (MOM) to click together. My children will not be disassembling these tracks though because they click in hard and for me this is a plus, because saves me the mess and missing pieces. The train tops sit right on the gray wheels and are held together with black pop-in buttons, I did need to call in the big guns (DAD) for this part, because it was just a tiny bit difficult. But assembly took no more then a few minutes, runs on 4 AA batteries (so easy to maintain), pop the switch from off to on…. Wha-Lah train was ready to roll. Overall, I was very impressed with the size. At 53 inches diameter, this train will be able to roll around my large Christmas Tree. The quality is fantastic as well, my littles throw, toss, and drop this train and it has stood up to their rough play. I've got my fingers crossed that it will distract them enough, my tree won't be missing any ornaments this year. My 3 year old is more into imaginative play, he loves watching it coast in circles past him, and loves stacking cotton balls (aka snow balls) into the white wagon that has a section to put some knick-knacks in. My little guy loves taking it apart and grabbing for it as it's moving, but my toddler can quickly hook it back together easily and get it moving all over again. The best part about this train is that there are no little pieces, I can allow them both to play unassisted and not worry about part breaking off and getting into anyones mouth. I am very pleased with the simplicity and scale of this toy, but I think the best part is that both of my children are entertained, and I can see this toy still growing with them for years to come. Would make a great gift for any young child. Thank you Step2 for letting me test this item as part of the Step2 Toy Tester Program! It's been an awesome gift to get us ready for the holidays!
Date published: 2019-11-09
Do u or will u have more cars and track that can be added to it.
At this time Step2 does not have immediate plans for additions to the My First Holiday Train and Track Set™.
Date published: 2020-12-01
Is there any limited edition versions of this train set like you've done with some other holiday toys in the past? 
At this time there are no limited edition versions of the My First Holiday Train and Track Set™.
Date published: 2019-11-12