My First Jack-O-Lantern™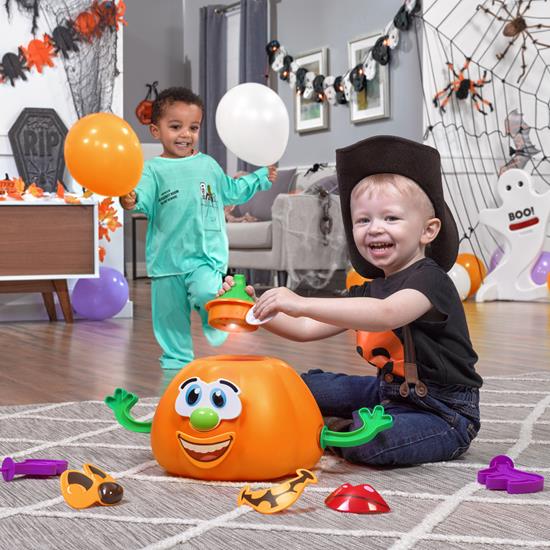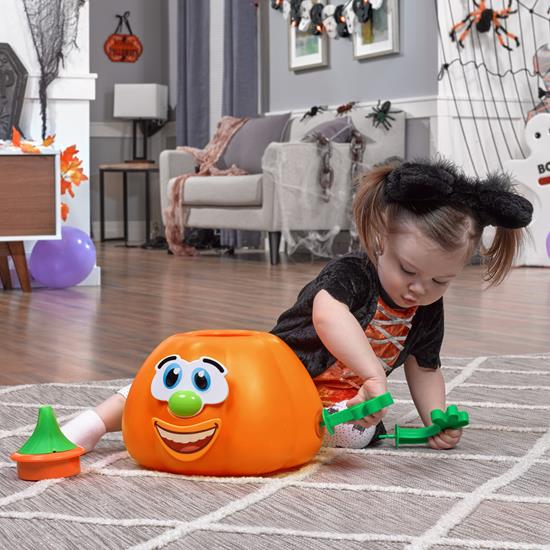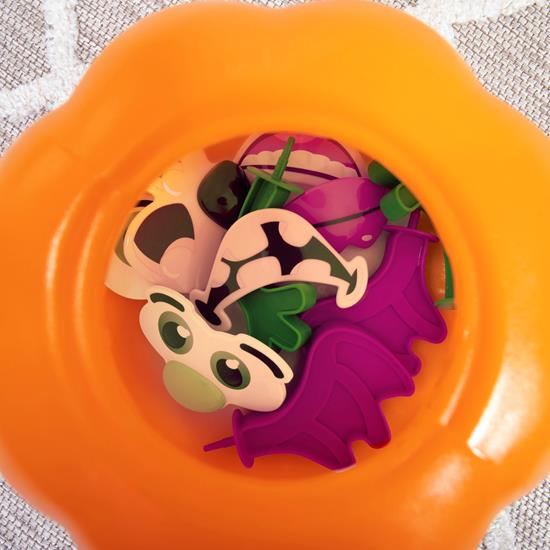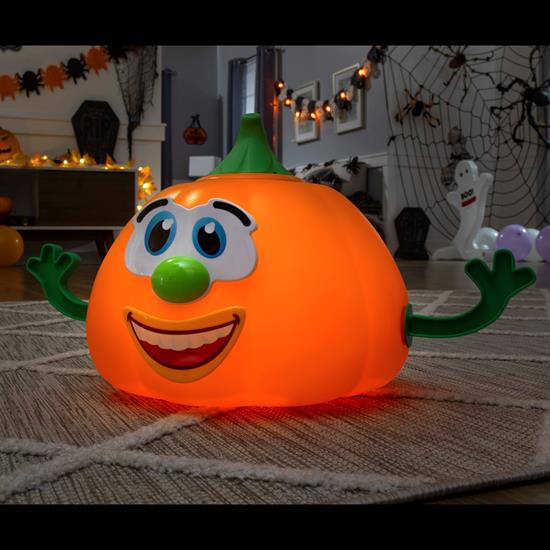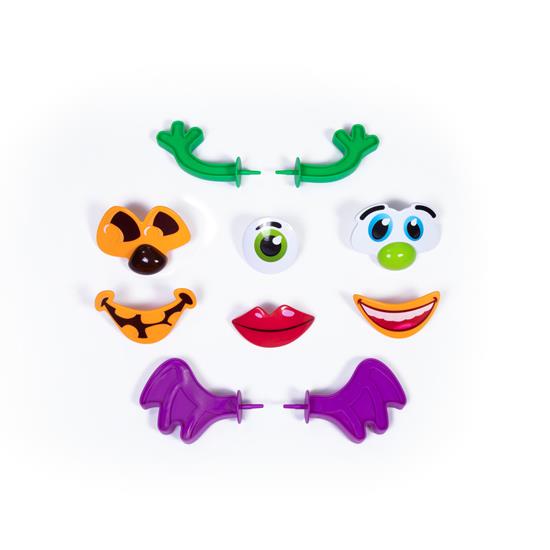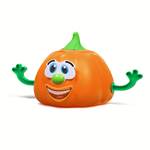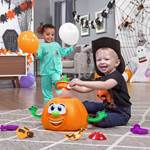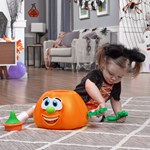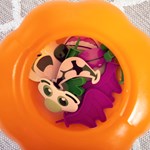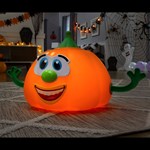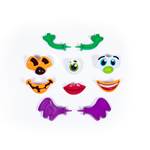 My First Jack-O-Lantern™
In stock
$29.99
+4.99 shipping (via FedEx) When will my item arrive?
Add some seasonal-themed play and get kids in the spooky spirit for Halloween with My First Jack-O-Lantern™!
IS THIS A GIFT? DON'T SPOIL THE SURPRISE!
This item ships with an image of the product on its outer packaging.
Rated 5 out of 5
by
HeartMamaNicole
from
Pumpkin fun for everyone!
First and foremost, we would like to thank Step2 for letting us test this item as part of the Step2 Toy Tester Program! We are honored and proud to be chosen to be a part of this wonderful initiative! Upon receiving our toy and opening it, it came with step by step, detailed instructions that were easy to follow (even without my husband's help!). All I needed was a small screwdriver, 3 AAA batteries, and the 3 screws provided in the packaging. I timed myself and it took me a total of 7 minutes and 35 seconds to gather the things I needed and assemble the toy. After putting the batteries in and screwing the stem in place, then the fun began! There are 3 settings on this toy: off, music, and light only. The music is a series of fun Halloween chimes that gets you in the holiday spirit. It has a fun feature that you can tap the top by the stem to hear the different sounds! It comes with removable face and arm parts so your little one can enjoy making countless pumpkin face creations! It includes: purple bat wings, green arms, 3 different eyes, and 3 different mouths. The eyes, mouths, and arms pull apart and snap in quite easily. It is perfect for your little one to develop the skill of taking off and putting on and allows for them to be creative in their own way! The stemmed lid of the pumpkin comes off easily so that you can conveniently store all the parts right in the pumpkin, so it's really easy to store and compact to fit in any space. I like that it can store it's own parts, so less of a chance in losing one of them. My overall experience with this toy has been a positive one. This is a great option for those who want to carve pumpkins, but don't want to deal with the mess and using sharp tools around their little ones. This toy is truly an adorable addition to any child's play room. Liam's immediate reaction was to crawl up to it and play with the spare arms and parts. He loved tapping on the pumpkin to get it to light up and play music! He's definitely going to love this as he gets older and more mobile, but as it is, it's a great toy for children who can sit up and crawl! It's a fun toy that he and I can play with together over and over again. This will help him develop skills of creativity, taking things on and off, and cleaning up to put everything away. All these skills are very important and will easily be incorporated into Liam's at home therapies. It's so hard to find cute toys that can double as therapy approved, and this one definitely takes the cake in my opinion! Being a special needs mom to Liam, it's wonderful to see that he can play with the same toys everyone else plays with! He is our heart warrior (multiple open heart surgeries and cardiac arrest) and he deserves the best toys that are good quality, and Step2 definitely provides that. We have lots of great toys from Step2 that's we've purchased over the years for friends, family and now Liam. They are durable! Thank you again Step2, we are so happy to be a part of this program!
Date published: 2019-09-07
Rated 5 out of 5
by
Brooke
from
Awesome Halloween Themed Toy
We absolutely love this pumpkin. When we first received this toy my son immediately took it out of the box and began building his own Jack O' Lantern just the way he wanted. He did not need much help or direction to be able to understand how the pumpkin toy worked which was great. He is very independent and I loved seeing him be creative in his own way while having fun doing it. I also love the Halloween theme of the toy and will use it for years to come every Halloween season. It is great to have toys that you can out put up and take out every year, to our son it seems like a whole new toy each time! Step2 has a few different themed toys for holidays and they are all so fun. I think this pumpkin is one of my favorites! The spooky sounds and lights made it even more fun for us to play with. I think my son loved being able to put the parts in the pumpkin and take them out again all on his own. My son isn't quite 2 yet and I know he will love playing with this toy for years to come. We will be recommending the Jack O' Lantern to all of our friends. Thank you Step2 for letting me test this item as part of the Step2 Toy Tester Program!
Date published: 2019-09-19
Rated 4 out of 5
by
zebs
from
Cute hands on item
This is a very heavy duty toy. The assortment of faces and arms are great. It is difficult for a child to push the eyes, mouths, and hands into the pumpkin to make them stay on the pumpkin. When the items are inserted into the holes on the pumpkin they fall out unless securely pushed into the plastic. It usually takes an adult to push hard enough to get them to stay in the pumpkin.
Date published: 2019-09-17
Rated 5 out of 5
by
CORENA
from
Awesome product
My 2 year old loves this toy. He loves the music and loves to put different faces on it.
Date published: 2019-09-02
Rated 5 out of 5
by
Teacher Mom
from
Wonderful Toy for the Fall Season
This product is extremely exciting for my almost 3 year old as we approach the fall/Halloween season. We love the lights and music, and also the fact that all the pieces can be placed inside the pumpkin when not being used. Great organization so that you don't have to go looking for the pieces when your child wants to play with them. Mom win! This toy reminds us of one of our favorites ( Mr. Potato Head) but with a fall theme. Love it! It is good size for a toddler, but not too big. My son was able to pick it up and move it on his own. We have always loved the durability of Step2 toys and this is no exception! What a great addition to my little guys toy collection. Highly recommended from this Mom! Thank you Step2 for letting me test this item as part of the Step2 Toy Tester Program! We will definitely be recommending to a friend.
Date published: 2019-09-08
Rated 4 out of 5
by
Angela
from
My First Jack-O-Lantern
Thank you Step2 for letting me test this item as part of the Step2 Toy Tester Program! My son and I experience with the Jack-O-Lantern over all was exciting. My son loved the spooky sounds and lights. He mostly enjoys taking the top off and on. (This is where the music and lights come from). This toy does take 3 AAA batteries that I was not expecting to need. We found it difficult with putting the pieces on and off the pumpkin for making the faces. Although, I think will more play it will get easier. The extra pieces can be placed in the pumpkin for storage. This mommy loves this for a easy clean up! I also LOVE the idea that I can use the Jack-O-Lantern as a night light during the fall season. Our family is all about getting into the holiday spirit and our overall impression of the pumpkin is it is perfect for keeping my son (who is 1) involved and minus the mess after.
Date published: 2019-09-13
Rated 5 out of 5
by
GRmama0214
from
Perfect Pumpkin for all ages!
This is the perfect toy for fall! This keeps the kids busy and away from all of moms real pumpkin decorations haha. This has been enjoyed by both of my children and seems to be great for all ages. My one year old loves taking the top on and off (the face that it plays music and lights up is a major plus!) My daughter loves making different faces with all of the pieces. It is a little hard for her to stick them in all the way but I imagine that is just because it's new and she loves it none the less! It's like a giant mr. Potato head! I thought the product was very cute and loved that all of the pieces could be easily put away inside (as a mom this is a huge plus!) This is an adorable product and helps keep the kids involved with the upcoming fall season. 5 stars yet again for another Step 2 product! Thank you Step2 for letting me test this item as part of the Step2 Toy Tester Program! You have lifelong fans in this family!
Date published: 2019-09-06
Rated 5 out of 5
by
Gams
from
Absolutely love this
This is so much more than I expected. Love the way with a touch all the different Halloween sounds play. Wish Step 2 would do alittle more advertising of these great products. I just happened upon this and am so glad I did. The kids love it and keeps them entertained. Need more products like this.
Date published: 2019-09-12
Are any of the pieces choking hazards? It's hard to tell from the pictures. Thanks!
I brought this  for my 1 year old granddaughter and she loves it!!! She needs alittle help playing with it but all the pieces are big and don't have to worry about choking! 
Date published: 2019-09-01