Naturally Playful® Adventure Lodge Play Center with Glider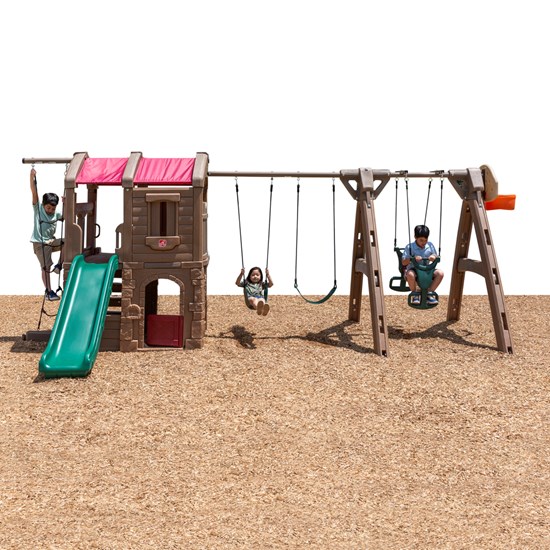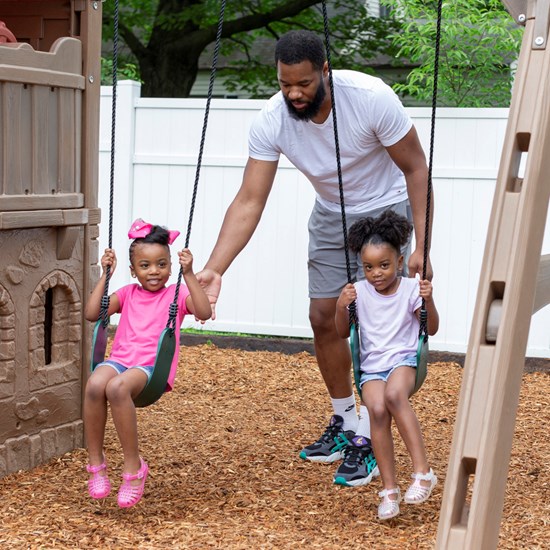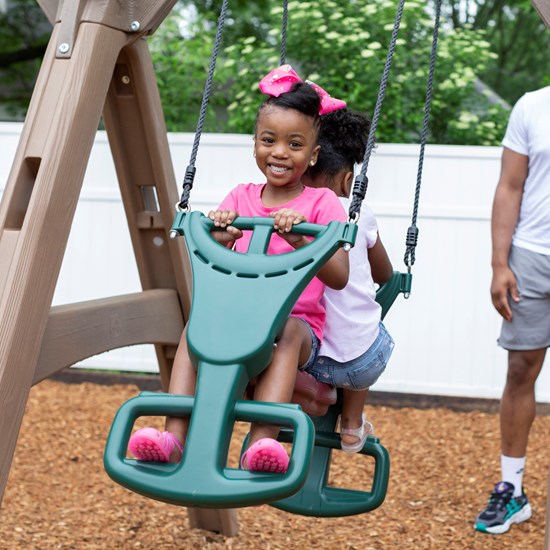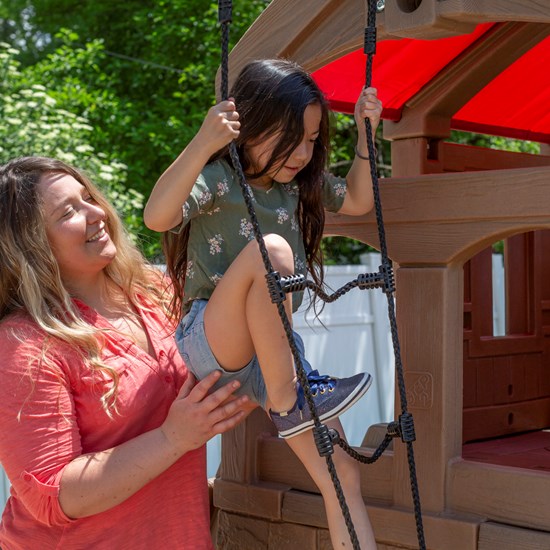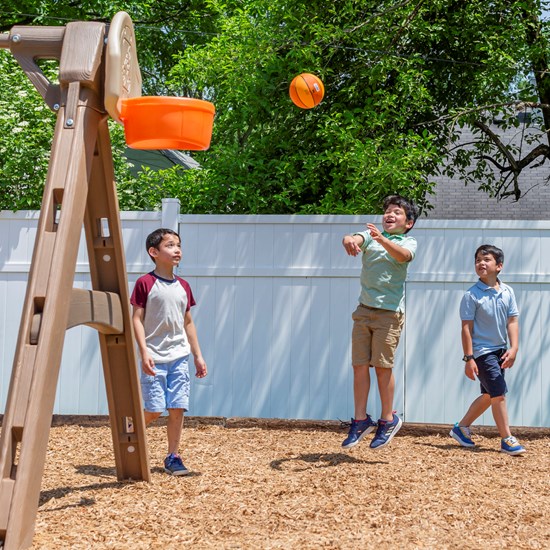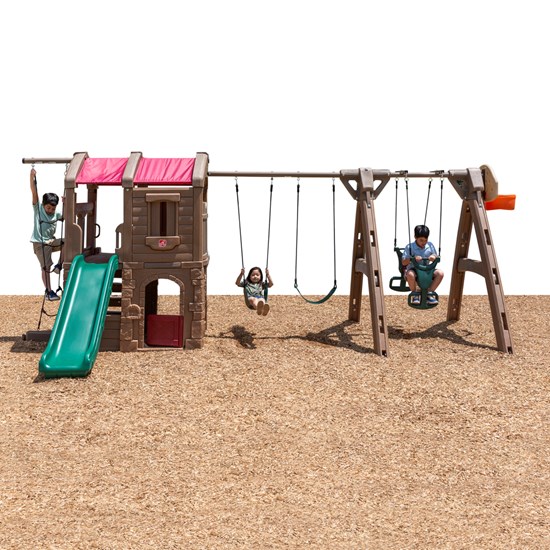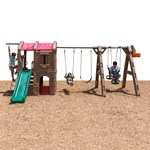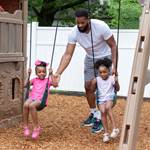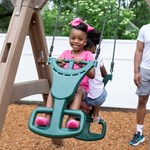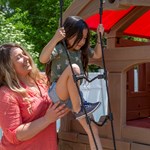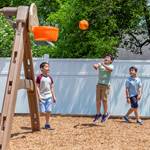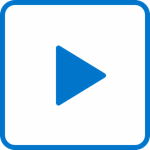 Naturally Playful® Adventure Lodge Play Center with Glider
In stock
$1,499.99 $1,399.00
+$119.99 shipping (via Truck)
Get outside for some active play with the Naturally Playful® Adventure Lodge Play Center with Glider.
IS THIS A GIFT? DON'T SPOIL THE SURPRISE!
This item ships with an image of the product on its outer packaging.
Rated 5 out of 5
by
Rocco's Mom
from
Excellent addition to our Step2 Backyard
I purchased this swing set for my three-year-old son. It took me about six hours to assemble alone. My son has hours of fun in our yard, and it attracts neighborhood children, which makes my son even happier. I highly recommend it for parents with children between two and eight years of age. It looks great in the yard, and in my experience, the Step2 products hold up very well outdoors, and last for many years. It coordinates very nicely with my son's Step2 clubhouse climber, storybook cottage, and naturally playful sandbox. I love the neutral colors, all of which blend very nicely with our house and lawn.
Date published: 2010-11-29
Rated 5 out of 5
by
Nancy mother of 7
from
You get what you pay for!
We purchased this playset for our 4 and 3 year old. We also have a 8 month old who enjoys the baby swing that we added. Our 8 year old also has enjoyed this playset. I did alot of research on different playsets and this one seemed to be the most for your money and it is durable and sturdy. The wooden playsets we considered did not look very stable and after time the wood looked awful. The only concern I have with this one is if the playset will keep it's color after awhile. I debated whether to buy the extra part with the glider but now I'm glad I did they play with it the most. It is a little time consuming to put together but worth the time and effort it took. The kids love it we hope to get alot of years worth out of it.
Date published: 2010-04-13
Rated 5 out of 5
by
Anonymous
from
I would buy this product again and again!
We love this swing set! We purchased it for our son that just turned 2 and he loves it too! We picked this swing set because our friends have had this same one for 3 years now and it still looks brand new. We also love that there are no wood splinters or areas to wear down from the weather. The steps are easy for our 2 year old to climb up without us worrying about him falling off. We purchased a baby swing for him to be able to use now and left a big kid swing up for our nieces. Looks great in our yard, we couldn't be happier with this purchase, thank you!!!
Date published: 2017-05-08
Rated 3 out of 5
by
Heymanda
from
Wears Fast
Upon initial purchase we were very happy with this swingset. However, we purchased it in April and in only a couple of months it already started showing wear. First the swings started fraying and then the canopy over the slide started fading. By August the entire canopy had completely faded. By November the canopy was not only faded but also began tearing. As of now, the canopy has a large linear tear along the edge. This swingset is used infrequently by a 2 year old girl. Sadly, it looks like we've had it for years and has been used by many children. Very disappointing for the price.
Date published: 2015-01-26
Rated 4 out of 5
by
Anonymous
from
Nice, BIG swingset
I love Step 2 products and would reccomend them to everyone. I am very pleased over all with this swing set; however, the height of the swings is RIDICULOUS... I am 5'10 and they come up past my waist. No child can get on these swings by them selves and if some how they did it would be extremely unsafe. I called Step 2 and I am getting some extensions for the swings. I must say that step 2 has excellent customer service as well and I will buy from them again. I know my daughter will be able to enjoy this set for years to come.
Date published: 2011-03-07
Rated 5 out of 5
by
Anonymous
from
Wonderfully constructed
We purchased this product for our 1-year-old son who loves to climb. At this point, his favorite feature of this swing is the tree house. However, I do not recommend leaving a child at this age to climb freely without a parent standing less than arm's reach. The assembly took us several hours. I recommend labeling and identifying all parts before beginning the project. This takes some time, but helps. The parts used are not cheap. I am very pleased with that! The swing is very sturdy. We have had quite a few storms without any damage to it.
Date published: 2010-06-14
Rated 5 out of 5
by
Anonymous
from
Worth every single penny I paid!
I bought this swing set for my daughter a few years ago when she was 2. At first she needed some help but after a while she became a master climbing all over it. It is perfect, specially now the newer model that has holding bars on the doorways so the kids can hold and pull themselves when climbing up or going down the slide (that's something that the one I got it doesn't have) My husband assembled it with a friend in 30 minutes, very sturdy and weather resistant. I live in the north east and can get very hot/sunny during summer and wet/cold/snowy on winter...almost five years and looks practically brand new! I would totally recommend this to anybody who wants to keep their kids busy while you seat on a beach chair drinking a margarita at home!
Date published: 2010-10-30
Rated 5 out of 5
by
Desert mom
from
Best Play Center EVER
I bought this to replace a little tykes swing set my children had outgrown. I LOVE THIS SWING SET MORE THAN THE LITTLE TYKES ONE! I have a 1 year old, a 3 year old, and a 6 year old. This swing set entertains them all! I was worried that it would be too big for the smallest baby but it's not. I'm so glad that I chose to purchase this swingset rather than a wooden one. The material is wonderful. It was easy to put together and there are no screws sticking out that could cut or scratch delicate hands or feet. Hands down the best play set EVER!
Date published: 2010-03-29
When will the Naturally Playful® Adventure Lodge Play Center with Glider be back in stock? I was told there is a way to get notified but i cannot find it.
I suggest calling or writing Amazon's customer service. These listings have always been hit or miss. If you are able to get one, you won't be disappointed!
Date published: 2021-05-29
Is it an 18-wheeler or regular delivery truck that will deliver the swing set?
It was the 18 wheel. I had to send back to loading facility and redeliver to my daughter's house. I live on a lake with one car roads. No one informed me before trying to deliver. Swing set itself is incredible. Had for a few years. Played on most days. Grandkids love it!
Date published: 2021-03-05
The brackets for our glider broke, would I be able to purchase a replacement set? 
I would go to the Step2 website and search for the replacement part.  You would have the most luck there than anywhere else.  They have replacement part on that particular set such as the red canvas roof and such .  Good luck.
Date published: 2021-02-27
When will this swing set be back in stock?
The Naturally Playful® Adventure Lodge Play Center with Glider is now available.
Date published: 2021-02-26
What are the dimensions for the clubhouse bottom itself? Wanting to put some specific flooring inside it.
The clubhouse bottom of the Naturally Playful® Adventure Lodge with Glider™ is approximately 54 Inches x 48 inches.
Date published: 2020-08-21
Hi, can this be assembled without the glider, since the one without the glider is out of stock?
Yes! 
Date published: 2020-08-17
Any updates in regards to this product when would you have it back in stock? I understand that the pandemic has affected the productions but any new date? Thank you
We apologize but we are currently out of stock and backordered on this item and several products. We are now running limited production as we were previously shut down due to the COVID-19 environment and unable to produce at that time. Our current production has been limited due to social distancing guidelines. We do not anticipate having this item & other products back in stock until mid to late August. Please note this is an estimate as the timing could move back again based on demand, production schedule and retailer commitments. Continue to check our website daily for availability and updates. We apologize for any inconvenience.
Date published: 2020-08-07
Is there any chance that you will begin to sell the glider extension separately? I wish to buy it for the swingset I already have.
Thank you for contacting Step2. We do not sell the glider extension separately. We apologize. Regards, Step2 Consumer Service
Date published: 2020-07-19