Naturally Playful® Big Folding Slide™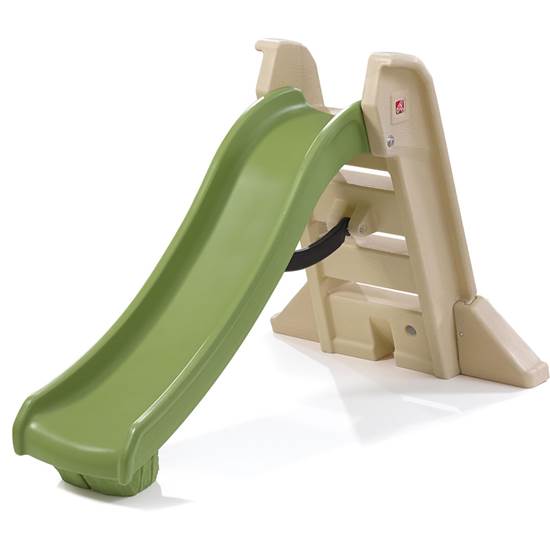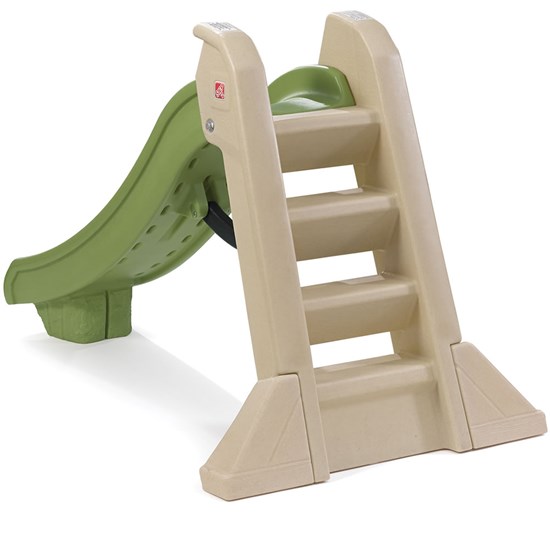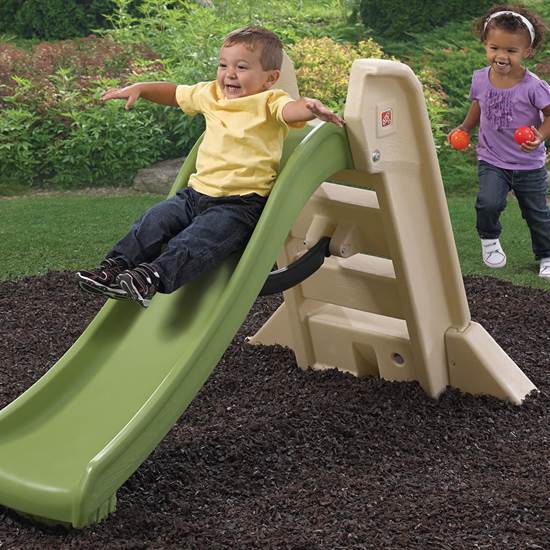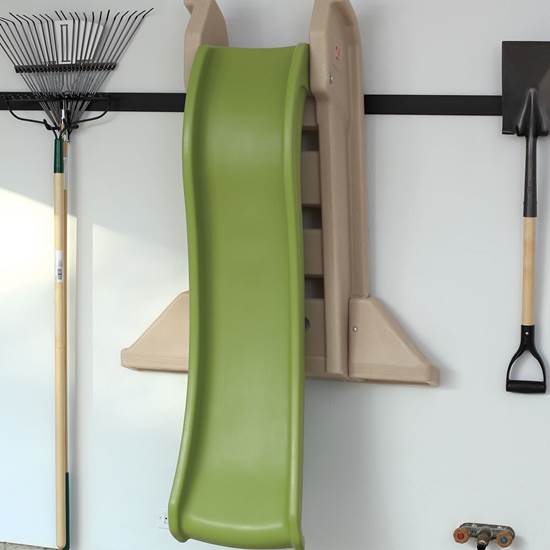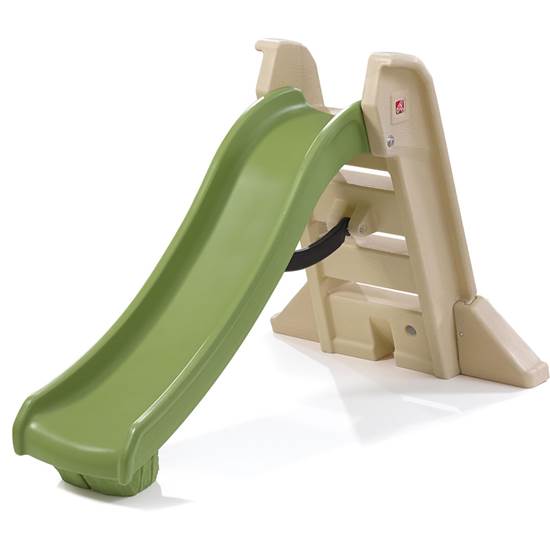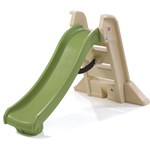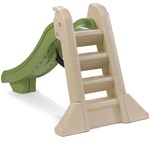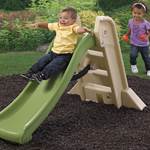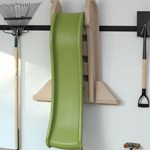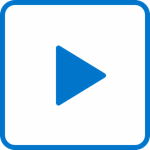 Naturally Playful® Big Folding Slide™
In stock
$149.99
+29.99 shipping (via FedEx) When will my item arrive?
A fresh new look for a Step2 favorite, the Naturally Playful Big Folding Slide will provide your little ones with hours of active play fun.
IS THIS A GIFT? DON'T SPOIL THE SURPRISE!
This item ships with an image of the product on its outer packaging.
Rated 5 out of 5
by
HAH0821
from
KIDS LOVE IT; SAFE
I have no complaints about this product. Assembly is less than five minutes, it is sturdy because of the wide ladder bases and the end of the slide is high enough to where the kids dont just land on the ground, they have a chance to put their feet on the ground first. We had it inside all winter and then this summer it has turned into a waterslide to go into the wading pool. My kids are 3 and 4 and this is plenty tall enough of a slide for them. Planning on bringing it back inside this winter. Made of sturdy durable plastic. And neither one of the kids have ever fallen off it or been hurt on it. Would recommend a thousand times over!! Well worth the money.
Date published: 2010-05-29
Rated 5 out of 5
by
lvorquids
from
I would buy this product again and recommend this slide 100%
My 2 y/o that time and now (now he is almost 5) LOVE LOVE slides, so after looking for one according to his size and age and reviews, we decided to buy this one as a gift from Santa. It was really easy to set up, since the day he got it was really old outside we keep it inside the house for couple of days. since then the slide is being outside in our yard. He has used it since then also his bigger cousins and the one that is 1y/o. After almost three years still like new and he still using in almost everyday. I am very happy and pleased with this purchase since our son has being able to enjoy it for this long. Thank you STEP 2 for making great thing for our kiddos!!
Date published: 2016-11-29
Rated 5 out of 5
by
Grandpa Mike
from
Big Folding Slide = Big Fun!
*I use it indoors in a well lighted,padded,spacious area with full supervision.*Installation was VERY easy.*Folds away for storage.*It's sturdy enough for young children under 50 lbs. and the base appears to have fill holes for sand to help weight it down if needed. I didn't need it.*Our very active Grandson's favorite activity at the park is a slide and this was the perfect solution when Mother Nature does not cooperate. Lot's of fun, he gets his exercise, learns how to share and take turns when his playmates come over.*On a naughty note: He loves to climb the stairs and let his toy cars and stuffed animals take turns.*The full excitement and joy on his face is priceless.
Date published: 2012-11-07
Rated 5 out of 5
by
Heather
from
Greatest Slide
I was looking for a slide form my 2 year old and repeatedly saw these short 2-3' slides - how boring! Those short slides don't even let the kids slide and get that "rush" when they are my son's size.This is a great slide and the biggest stand-alone slide I was able to find. The green part of the slide is approximately 60'' long. Total height to the top of the rail is about 42''. It is about 60'', when opened, from the steps to the end of the slide. This is made of plastic and has all smooth edges and no areas to get pinched or scratched. The colors are nice and neutral and blend in to the outside well. It has three steps and then the top seat, which is kind of used as a fourth step. It has a nice edge up high around the seat area for the kids to hold on to while they scoot their feet underneath them and out front. The black swing arm, under the slide, is used for support and stabilization of the slide, and the only assembly that is required are the 2 screws and bolts that hold the black arm on, and that the black arm snaps on to when the slide is in the open position. The black arm is easily detached from the steps of the slide to fold up and place out of the way but not easy enough for my toddler.I bought this for my high energy 24 month old and he took to it immediately. I was kind of nervous with the height and helped him learn the first 10 times or so that he went up it and then he was doing it all on his own. Now, at 29 months, he climbs right up it, and slides down it in all different ways. He tried to stand on top of the seat, so be aware and watch them! I would not hesitate to purchase this slide again because of the large amount of use it has already had and I am sure it will have for the next few years. I feel like I got my monies worth on this one.
Date published: 2014-12-09
Rated 5 out of 5
by
SAHMof2
from
Great alternative to swing sets.
We just got this today. It was a birthday present for my 2 and 3 year old. They have been on it all morning. I love that is fold-able; and that I can bring it outdoors or keep it inside for raining or snowy days (like today). Instead of buying a big swing set for them we are going to get a tire swing and have this slide. We live walking distance to a park so we just need something to keep them entertained for days like today. [...]
Date published: 2010-02-09
Rated 5 out of 5
by
Anonymous
from
Love this slide
My 2-year old grandson loves this slide. It provides the ability for him to get physical activity and be outdoors, and it's simple to move to shaded areas as the day progresses. While I wasn't thrilled with the condiiton of the box when it was delivered (it was on time, but the box was completely crushed on one end), the good news is that the slide was not damaged at all - a sign of sturdy construction.
Date published: 2012-06-14
Rated 5 out of 5
by
MOTHERHEN
from
PERFECT SLIDE
SANTA BOUGHT THIS SLIDE. THE GIRLS LOVED IT...OUR 15 MONTH WENT UP AND DOWN VERY QUICKLY AND IS 2 NOW AND IS A PRO...OUR 4-5 YEAR OLD ALSO WENT NUTS OVER IT. NICE FOR A SMALL BACK YARD. ATTRACTIVE AND EASY TO WASH OFF. NICE STEPS FOR CLIMBING. NO PROBLEMS WITH THIS PURCHASE AND CAME IN PERFECT CONDITION. SOME STRUGGLE WITH THE UNDERNEATH HOOK...FOR 20 MINUTES..WORKS FINE THOUGH.
Date published: 2012-07-18
Rated 5 out of 5
by
Jonathan
from
Perfect size for toddlers and little kids.
We have 2 year old twins. They had definitely outgrown the toddler cube we had and this slide is the perfect size. They learned how to climb the ladder quickly. I feel good knowing it has nice handles that they can grip all the way up and a wide sturdy base. I feel like they will be able to use this for at least 4 or 5 years. Such a great brand, it will last for years to come.
Date published: 2017-03-13
There is water in my slide... how do I get it out???
If your slide is accumulating water, you can drill a ¼ hole on bottom away from any seam line, tip it and this should drain out the water. If you have additional questions about this process please call toll free 1-800-347-8372 Monday - Friday, from 8-5 ET and we will be happy to assist you.
Date published: 2018-03-27
How wide is the actual slide part - is it wide enough for a three year old? I have heard it is very narrow.
It is fine for a 2,3 or even 4 year old. My son is 35 lbs, 3 1/2 yrs old and still loves his slide. In the summer, it's at the edge of the pool. In winter, in the grass. Although if your 3 yo is into taller slides (ie on a playground), this might be a slight disappointment as it it only about 5' tall. My son still enjoys both.
Date published: 2018-03-27
How tall is the top of the slide? (not the handrails.)
It is between 3 & 4 ft which I think our 3 and 4 yr granddaughters love it....
Date published: 2018-03-27
Can anyone tell me how high the bottom of the slide is off the ground?
I do not know how high it is but I can tell you that my nieces ages 2 and 4 absolutely love it. T
Date published: 2018-03-27
Hi, Can you tell me if the Naturally Playful Big Folding Slide http://m.sears.ca/product/step-2-naturally-playful-big-folding-slide/616-000709956-786900 would fit into the grooves of the pool from the previously released Splash Center? We were able to get the plastic Splash Center pool but it did not come with the slide and we are looking for a slide to go with it.
I definitely got my moneys worth out of this slide. I didn't use for a pool, but I bought it 2 years ago, and my grandaughters who are now 3 & 4 years old love it. Very durable & sturdy. I brought it in the house during the winter months, and it kept them entertained for hours.
Date published: 2018-03-27
Why aren't there any assembly instructions (other then pictures) in English? Also, there are caps on the bottom braces and a couple of places on the slide/ladder. What are these for? Nothing in the assembly pictures show what they are for.
I am sincerely sorry that I am just coming across this question. I'm very hopeful that by now you have received the answers to your questions/concerns. If not please contact our Customer Service Department. You can call toll free 1-800-347-8372 Monday - Friday, from 8-5 ET and we will be happy to assist you with this request.
Date published: 2018-03-27
How high up is the hook from the ground? I want to use this with an inflatable pool and I'm afraid it won't be high enough. Thanks!
It is 16 inches at the lowest point.
Date published: 2018-03-27
What is the total width of this product including base supports on ladder?
I have not measured it, but fully extended it is probably between 5 feet and 6 feet.
Date published: 2018-03-27
We just purchased this slide to use at our pool and every time a child goes down the slide the black hook pops out. How can this be prevented and has anyone else had this problem?
Hi Sharon. We use the slide at our pool too. We had that problem at first. We figured out that if you put the black arm into the proper position as you unfold the slide it will click securely into place. You do have to pull pretty hard. We have 3 children ranging from 3-11 years old that use it constantly without any problems. FYI make sure you have installed the bar facing down into the latch. My wife built it the first time the opposite way and it always unlatched. Please feel free to reply if I haven't answer your question.
Date published: 2018-03-27