Naturally Playful® Front Porch Playhouse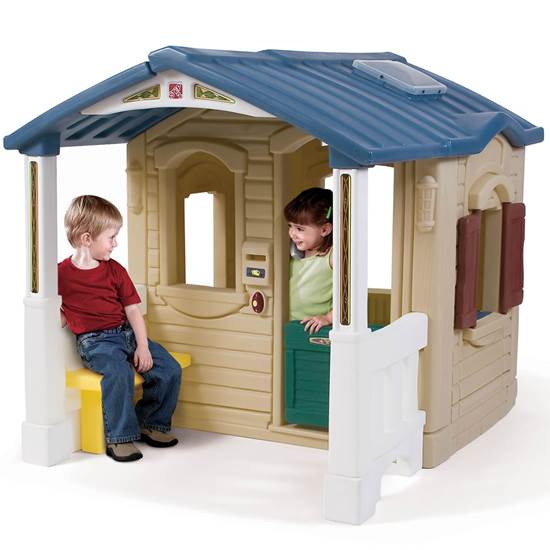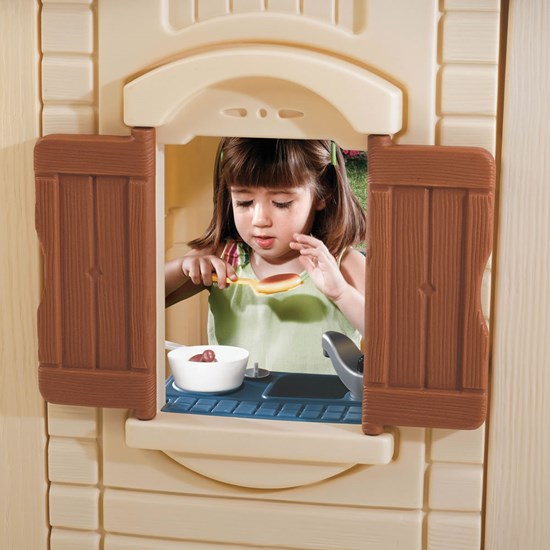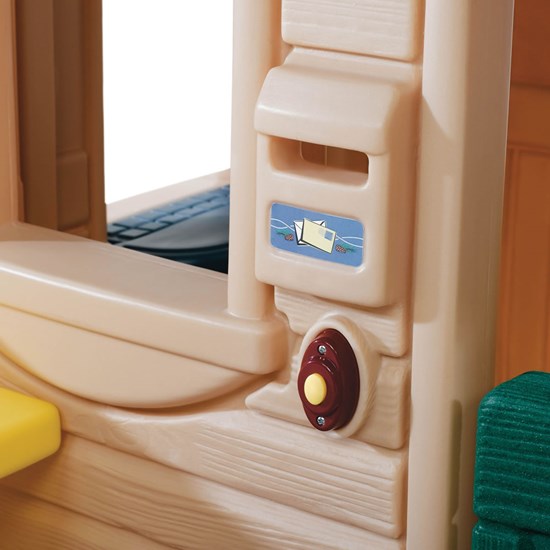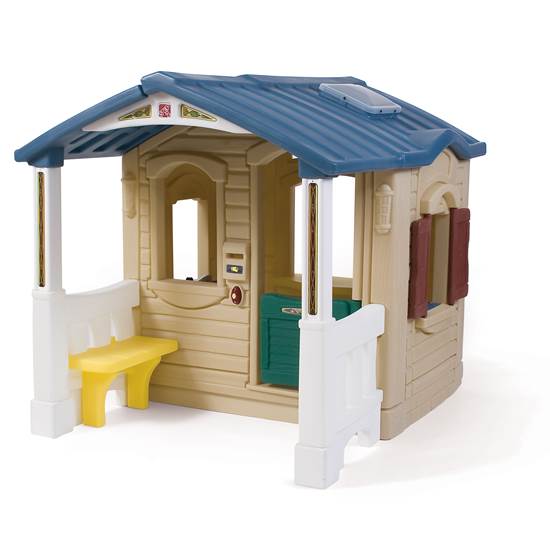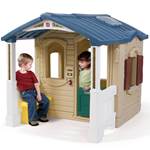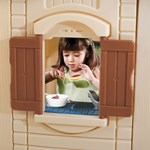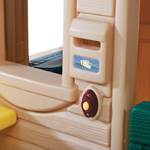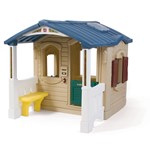 Naturally Playful® Front Porch Playhouse
Out of stock
$359.99
+39.99 shipping (via Truck)
The Step2 Naturally Playful Front Porch Playhouse features a front porch with built-in bench that is perfect for shade on sunny days.
IS THIS A GIFT? DON'T SPOIL THE SURPRISE!
This item ships with an image of the product on its outer packaging.
Rated 4 out of 5
by
Parents in Paradise
from
18 month old LOVES it!!!
Our 15-month old, an only child, LOVES this playhouse! She's around 25lbs and a little over 2 feet tall. The dimensions of the play space inside and out are perfect for her right now, with some room to grow. The porch bench is great for snacks and playing her conga. The skylight is ingenious. Assembly took less than an hour on Christmas Eve. The instruction booklet was easy to follow for tired eyes. We feel that this product was well thought out and we love the simplicity of the parts and assembling them together. As others have mentioned as a tip, it'll be easier to recruit help during the roof installation phase of assembly.
Date published: 2009-12-26
Rated 1 out of 5
by
Anonymous
from
Way Toooo Small, Wish I didnot purchase!
This is a cute concept but there is no room on the inside of the house. My daughter is three and there is not much room for more than one child inside. I bought her a [$]play hut and put her kitchen and table inside and she plays with it and never goes inside the playhouse. I would not purchase again if I had of known what I know now. The price is not cheap, I would go ahead and invest a little more money and buy a bigger playhouse they can enjoy longer. She will only get about a year of play if that out of this playhouse. I would suggest this for a baby tht is just learning to stand alone. Roof did not line up well making assembly tough.Took both my husband and myself to assemble.
Date published: 2008-01-08
Rated 4 out of 5
by
northernmominthesouth
from
great for smaller children
My daughter loves this house, she is a busy body in it, swinging the door and shutters, ringing the doorbell and answering her phone. My son is 5 and while he can fit in it with her, he barely does. The worst thing is that we keep it outside, and I guess rain gets into the inside of the pieces, and then mold grows in there, and you can see the shadows of the gunk inside the pieces when the sun shines on the house, and it is kinda creepy and gross. But are you supposed to take it all apart and somehow try to wash the insides out? I can't imagine that is regular upkeep. If anyone has ideas on how to clean out the insides of the pieces or keep them from getting all gunky to begin with, please share. It's a good house though, lots of fun, just hard to keep clean.
Date published: 2009-08-09
Rated 4 out of 5
by
Step 2 Grandma
from
Grandma's choice
Before I purchased the playhouse, I read the reviews. There were comments on how the roof was tricky to put on and needed two people to align. Since I knew in advance, I had my daughter help me put on the roof and it worked out just fine. I liked that Step 2 products are so light weight while being durable. [...]. My 16 month old granddaughter now has the Step 2 desk, Whisper Ride buggy and the playhouse. She loves each of them. I like that there are no sharp edges, no paint to chip and I can put them together by myself.
Date published: 2009-06-11
Rated 5 out of 5
by
klw907
from
Great choice
Purchased this one for the height. It is large enough for our 5 year old. Cant say enough for Step 2, opened box 2 days before christmas to assemble and skylight was busted all to pieces, what to do, if return kids would have no gift, no time to replace house. Made call to step 2 and they would send new skylight, we could use house without until it came just long as we didnt have to return entire product. Ordered at noon and it was at our house by noon the next day. Shock and so happy, Thanks, Step 2
Date published: 2015-12-28
Rated 5 out of 5
by
Mom of 3 CrAzY kids!!!!
from
Wonderful Outdoor Toy!!
I must say we LOVE this playhouse!! My husband and I bought this in 2007 for our 2-1/2yr old & 9 month old daughters! We STILL have it, and they STILL play with it! They are now 8 & 6yrs old and now have a 2yr old brother! It has been played with by all my nephews & nieces and neighborhood kids and friends! There is not a thing wrong with it and yes, it has always been an outside toy! I would, without a doubt, recommend this product to anyone! You can NOT go wrong! Thank You Step2 for helping make wonderful childhood memories for my children with this product!!!
Date published: 2013-03-27
Rated 2 out of 5
by
Anonymous
from
Very cute, but thats about it!
I had originally purchased this house because I was lured by its attractive design. After putting it together (a difficult task as I could barely fit inside -and I'm only 5'4", 120 lbs)I was really disappointed and wished I had listened to the other reviewer who had said it was too small. My 18 month old loved it, but her 7 year old brother had no room to play with her inside, no room for a single small chair, nothing! I went to the hassle of taking it apart and returning it -we got the storybook playhouse instead and we are all so happy! A bit more expensive but oh so well worth it! I just couldn't keep a house my little girl would likely not fit in past the age of 2 and a half. Don't waste your money just because its cute on the outside!
Date published: 2007-06-05
Rated 5 out of 5
by
Stay-at-home-dad James
from
Unbelievably fun playhouse!
My daughter is incredibly active and rambunctious and this playhouse has provided a wonderful outlet for her energies. She crawls in and out of the window. Takes her toys inside to play pretend, squeals with joy over the discovery of the doorbell, and sometimes just sits quietly on the porch bench. I encourage everyone to consider step2.com when looking for a playhouse for their children. We are extremely happy and, as if that wasn't enough, we only paid[$] (which is very reasonable for a PLASTIC playhouse - some look plastic but are inflatable or made of fabric).
Date published: 2009-03-03
Can u order a molded floor for this item?
Regretfully, we do not offer a molded floor for the Naturally Playful® Front Porch Playhouse. Some consumers us rubber mulch as an alterative.
Date published: 2019-12-02
Can I order replacement parts for this particular playhouse?
Please contact our Consumer Service Specialists at 1-800-347-8372 Monday through Friday, 8AM -5PM Eastern Standard Time and we will be happy to help you.
Date published: 2019-08-16
Is there a molded in floor for this cottage?
The Naturally Playful® Front Porch Playhouse does not feature a floor.
Date published: 2019-07-17
What is the dimensions of the inside house, not including the front porch
The Naturally Playful® Front Porch Playhouse™ interior dimensions are as follows: 47 inches in Height X 39 inches in width X 30 inches in depth
Date published: 2019-01-25
What is the box dimensions for the front porch playhouse?
The dimensions of the box for the Front Porch Playhouse are as follows : 48 x 59.5 x 19.5 inches
Date published: 2018-10-05
Can you purchase a replacement phone for this? We are missing it.
Please contact our Consumer Service Specialists at 1-800-347-8372 Monday through Friday, 8AM -5PM Eastern Standard Time and we will be happy to help you.
Date published: 2018-12-26