Naturally Playful® Lookout Treehouse™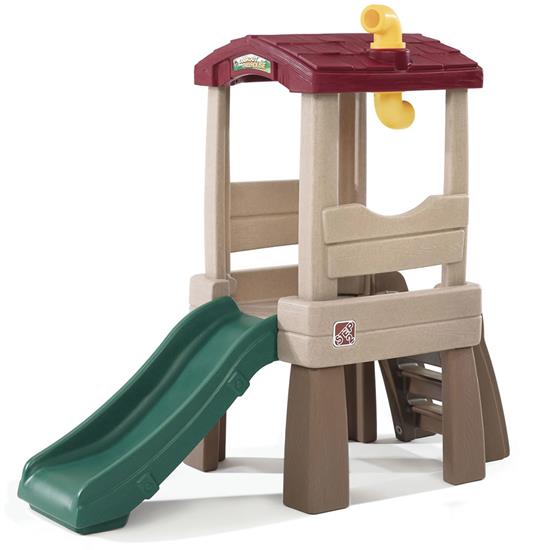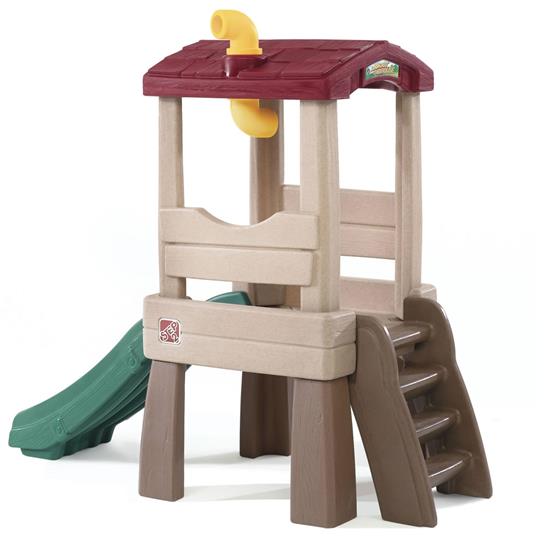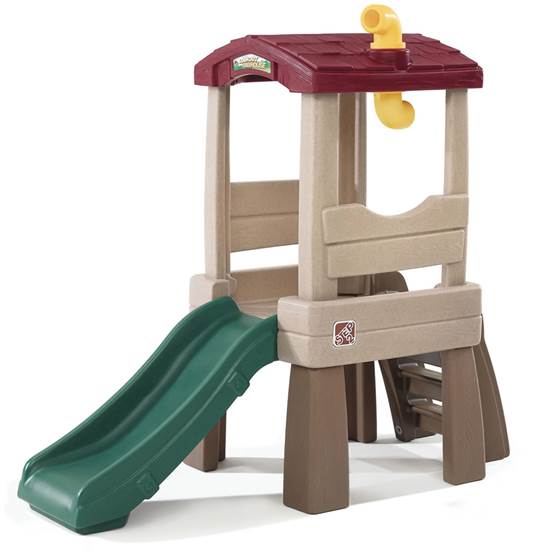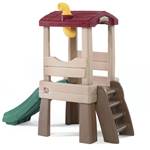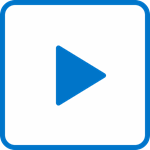 Naturally Playful® Lookout Treehouse™
In stock
$149.99
+4.99 shipping (via FedEx) When will my item arrive?
Discover the adventures as little explorers climb, slide and spy with this Step2 Lookout Treehouse.
IS THIS A GIFT? DON'T SPOIL THE SURPRISE!
This item ships with an image of the product on its outer packaging.
Rated 4 out of 5
by
Anonymous
from
The kids love it
I ordered this for my granddaughters, ages 1 1/2 and 2 1/2. I find that it is a little short for my 2 1/2 yr old granddaughter (and the doctors say she is small for her age). She can't stand up and since the top doesn't attach real securely she pushes it off. She loves the scope. I do wish the holes had been drilled for the screws to hold the top on. I'm a 60 yr old grandma and it wasn't easy for me to push the screws in to get them started. Might be easier if you have a drill. Overall, they love it. I put it outside but will move it inside with the two cottages I bought so it will be cooler. The slide just gets too hot in the hot Florida sun.
Date published: 2009-06-01
Rated 5 out of 5
by
dbear
from
Perfect!
We got the Lookout Treehouse for my 17 month old son for Christmas. It was VERY easy to assemble (only took about 10 min) and is sturdy. I was a little worried when I purchased it about the ladder. He had never been exposed to a ladder and I wasn't sure he would get it, but he took to it right away. I think the 1 1/2 lower age limit is just about right. He doesn't quite understand the periscope yet, but I figure that is something he can grow into. Currently, since it is winter, the treehouse is in our living room and fits well. When the weather turns warmer I look forward to moving it outside for him to play in the backyard.
Date published: 2012-12-28
Rated 5 out of 5
by
Anonymous
from
Wonderful Slide for Indoors
My 15month old son loves this slide and we've kept it indoors only. It is high enough for the slide to be functional and fun, but not too high to worry us. He had an issue climbing up the ladder, but got the hang of it very quickly. He also loves to sit in the loft area and play. The only negatives I found were that the slide is very light weight so it is easy for him to move it from the ground due to our tile. Any carpet would take care of this. The second negative was that the ladder didn't have any real grip, but it was also not slick. My son can easily go up with only socks on. With all of this, I heartily recommend this product while you can still get it.
Date published: 2017-01-03
Rated 4 out of 5
by
Anonymous
from
Backyard fun for 15 month old
Our 15-month old son loves going in the backyard, but there was really nothing for him to play with (not into throwing balls yet), so we purchased this tree house for him. It took a little bit of time to put together, but was easy. He loves climbing up the little ladder and standing in the tree house portion and looking out the perescope (which actually works). He is still working on becoming brave enough to do the slide on his own (though he likes climbing up it). It is nice that it is low enough to the ground that I don't have to stand right behind him and spot him as he is climbing. And, it is light enough to move when you are mowing the lawn. A good purchase.
Date published: 2008-07-23
Rated 5 out of 5
by
Addison & Noah's Mom
from
Hours of Fun!
The Lookout Treehouse is a great product. My 15 month old daughter loves to climb ontop of any and everything. We wanted something that she could easily climb herself and would be safe on. We live in the Pacific NW, so this slide will likely stay indoors 9 months out of the year. She loves it. She climbs up the steps, and slides down with ease and she does it over and over and over again. What more could a parent ask for?? It keeps her busy! It is very sturdy, is large enough that she'll get many years use out of it, but isn't so big that it takes up too much space. Best purchase I've made in a while.
Date published: 2012-06-29
Rated 5 out of 5
by
Anonymous
from
Great for the money!!
We bought the Lookout Treehouse for our son's 1st birthday. He's a little small for it yet, but loves to play on it with our help. In fact, he learned to climb the stairs on it just the other day!! For the price, you can't beat the quality! It took my husband and I literally just a couple of minutes to put it together. The parts just snap together! Who could ask for anything easier!! I also noticed that the Treehouse doesn't hold in heat from the sun. We also have the Naturally Playful sandbox, which tends to get very hot after sitting in the sun all day. I highly recommend this Treehouse!!!
Date published: 2007-09-21
Rated 5 out of 5
by
x's3Mommy
from
SO MUCH FUN!
Very easy assembly!! My 18 month old loves her slide and the stairs are just as much fun! The ability to go up and down at this age is such an accomplishment! The little platform is great too because she is so excited to stand up and look around before she slides down. My 3 year old loves to play on it as well. This is an excellent purchase. You can not go wrong with it. We are using it in the basement over the winter and we will put it outside in the Spring. The size is perfect! Excellent product. I wish I would have bought one for my son when he was younger.
Date published: 2008-12-26
Rated 5 out of 5
by
JMBinDE
from
Having lots of fun in the treehouse!
My Dad bought this treehouse (at my "subtle" suggestion!) for our 15 month old son. Our son absolutely loves it and my Dad is getting a kick out of watching his grandson climb and slide on his own. It was very simple to put together (didn't hear a peep of frustration from the husband while he was putting it together - hooray!)and directions were easy and straight-forward. We found that we were missing a mirror for the periscope and all it took was one quick call to customer service and a very nice rep dropped one in the mail to us. We currently have it under a shade tree in the backyard but I think we'll probably bring it in when winter comes (although I suspect it would weather ok). I highly recommend this product.
Date published: 2010-07-01
I am finding a wide variety of answers, regarding the maximum weight this climber/slide can support. What is the maximum amount of weight recommended?
informally -- I can sit on it and use it with my son, so it can hold up to 150 :)
Date published: 2019-01-26
I bought this used but they did not have the yellow periscope, can I purchase that???
Please contact our Consumer Service Specialists at 1-800-347-8372 Monday through Friday, 8AM -5PM Eastern Standard Time and we will be happy to help you.
Date published: 2018-08-10
Can I purchase a replacement slide?  I received this as a previously enjoyed gift from a friend but the slide needs replacing.
Unfortunately, we are unable to offer the slide separately from the Naturally Playful® Lookout Treehouse™.
Date published: 2018-08-02
Just got this as a present for my son's second birthday, and it's missing a part.... Anyone else have this problem? How can I get the part that I need to put this together properly?
Please contact our Consumer Service Specialists at step2-company@step2.net or 1-800-347-8372 Monday through Friday, 8AM -5PM Eastern Standard Time and we will be happy to help you.
Date published: 2018-05-08
Are there clear covers for the the actual yellow lookout ends? Bugs keep getting inside of hole and I am not comfortable with my kids face up against a bee's hive.
Please contact our Consumer Service Specialists at 1-800-347-8372 Monday through Friday, 8AM -5PM Eastern Standard Time and we will be happy to help you.
Date published: 2018-04-27
I'm attempting to put my Lookout Treehouse together and it did not come with screws or the mirrors for the actual look out could you please send them to me.
Please contact our Consumer Specialist Staff at 1-800-347-8372, Monday through Friday, 8am-5PM Eastern Standard Time for assistance with your Lookout Treehouse.
Date published: 2017-07-19
I am having trouble putting on the legs. Is there a video or do you have any suggestions on how to put the legs on it? The manual was not in the box and I printed off the instructions above but still not sure how to get the legs on.
Please call toll free 1-800-347-8372 Monday - Friday, from 8-5 ET and we will be happy to assist you further with this request.
Date published: 2018-10-21
For assembly step 19: is it the roof I'm screwing the long screws into? There are indents but no holes in the roof. Do I just push through the plastic with the screw?
Our screws are self tapping screws that are able to go through the plastic. You may need to start them with a hammer. Please follow the instructions or find the indents in the plastic to line up the screws correctly. We do this in an effort to ensure that no shavings inadvertently are left over in the box as a result of pre-drilling. These shavings could pose a choking hazard to little ones.
Date published: 2018-03-27