Naturally Playful® Picnic Table with Umbrella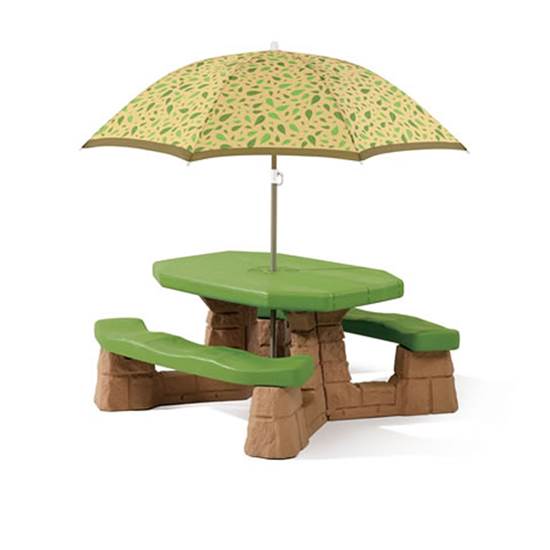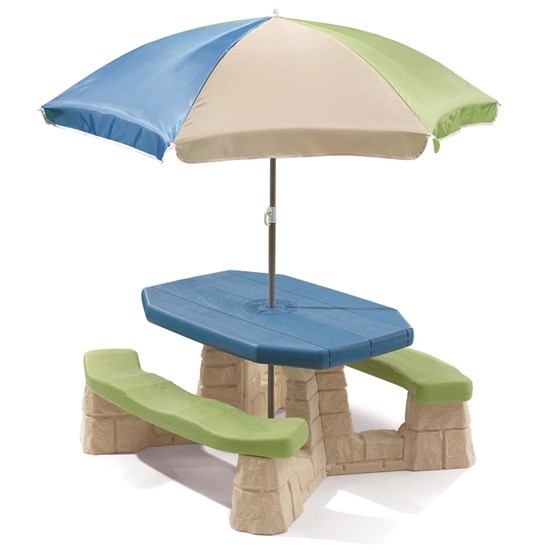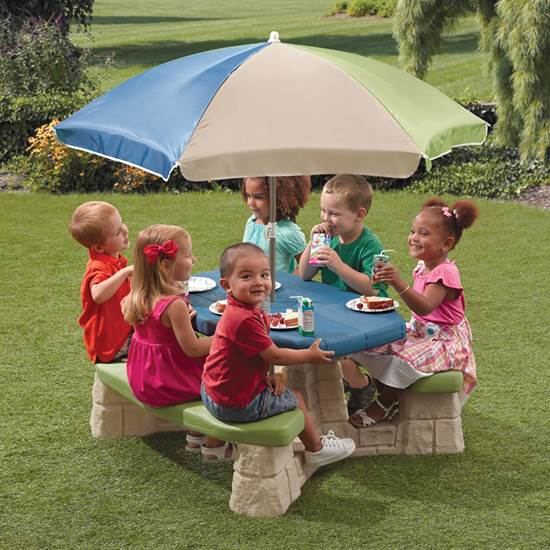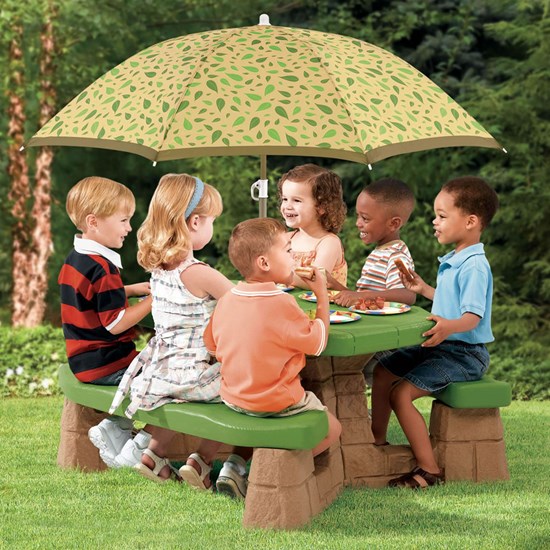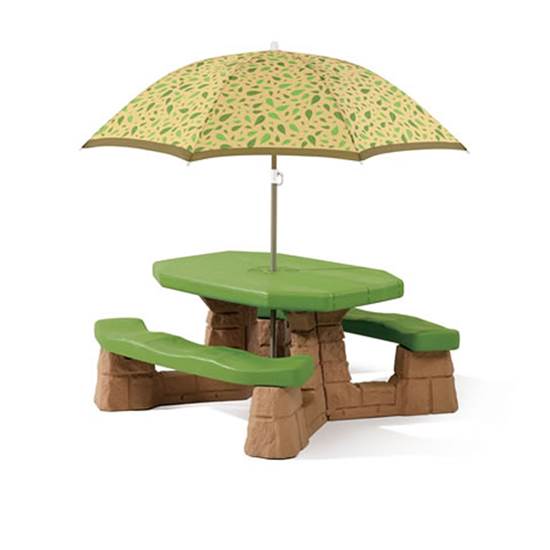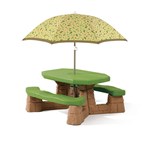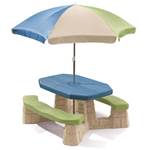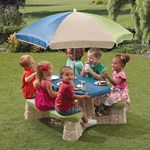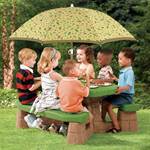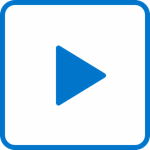 Naturally Playful® Picnic Table with Umbrella
In stock
$129.99 $119.99
+$12.99 shipping (via FedEx)
The Naturally Playful Picnic Table with Umbrella from Step2 is perfect for snack time, coloring, or even arts and crafts.
IS THIS A GIFT? DON'T SPOIL THE SURPRISE!
This item ships with an image of the product on its outer packaging.
Rated 4 out of 5
by
Anonymous
from
[....] good product
Well, I very much like the look of this table, and my 15 month old son enjoys having his snacks at the table also. However, when ours arrived the seem of the table top was completely busted down one side. I did call step 2 and had a new table top delivered two days later so the customer service was excellent. My only other problem is that I did not pay enough attention when I purchased this table. One of my goals was to let my child paint on this table, but the table top is not smooth so painting doesn't work very well. If you are going to let your child paint on this table you might want to consider the smaller version that has a smooth top.
Date published: 2008-03-05
Rated 5 out of 5
by
Anonymous
from
Great sturdy, versatile table
I got this table because my two little ones (4yrs old and 19 mo old) kept climbing up onto the kitchen table. The kids love to sit at "their new table" and do arts and crafts, eat snacks, and play play-doh. Table has grooves in it so some times play-doh gets stuck in them and its hard to get out (but that's to be expected). But otherwise, easy to clean. Very sturdy: I can sit on seat edge and my son (19 months old) is a climber and he stands on the table; no dents. Waiting for summer to come around and see how the table and umbrella withstand the elements. So far, overall, the table is great and I love the versatility of using it indoors and outdoors.
Date published: 2009-01-06
Rated 4 out of 5
by
Anonymous
from
sturdy picnic table
We use the table indoors for eating/snacking, or playing on the table. We have not used it outdoors or tried the umbrella, but it allows my child to feel like a grownup and eat at his own table. The only issue I have is only certain parents can sit at the table, meaning you need to be small enough to fit your legs under the table, or you need to see on the edge, or face the opposite direction from the table. Otherwise, it has been pretty sturdy so far, and if it was a smooth surface rather than a rough surface it would probably be easier to clean, but still wipeable. Fits okay in the kitchen, but you have to have room to fit it by an adult table.
Date published: 2009-05-17
Rated 5 out of 5
by
Mommy to two little angels
from
Great addition to our backyard
We love this picnic table with umbrella! I bought this before my children's birthday parties and it was a lifesaver. It was the perfect spot to do our crafts and my son who is four loves to sit there and eat or color. One drawback is that if he is outside and wants the umbrella up, he will stand on the table to put up the umbrella. Then he continues to stand on the table and go up and down and back and forth like it is stairs. Not the safest thing and we have been reminding him not to do it, but he can't seem to help himself. Other than that, we have been very happy with this purchase. Thanks again for another great product.
Date published: 2010-07-06
Rated 4 out of 5
by
Anonymous
from
Naturally Perfect!
We have this picnic table out on our deck. Our children (3 & 19 mos.) LOVE IT! They ask to eat outside on it at every meal. The natural colors are very calming, and look great! There is enough room for 6 kids maybe up to age 6-8 (in close proximity) My kids are obsessed with the umbrella, which is a little annoying, but over all this is one popular table! My only complaint is that there isn't a lot of leg room on the ends, so your kids might bump each other, and may have to have one leg on one side of the base and one leg on the other. However, I think despite that it really is the best product out there in this category.
Date published: 2010-06-04
Rated 5 out of 5
by
Krissy, the single Super Mom
from
Wonderfully perfect!!!
This table is absolutely wonderful! I bought it so my one-year-old daughter and her friends could have a place to sit and eat outside during the summer "grilling" months. We got this and used it right away. All of the kids LOVED sitting down and eating outside. We had two one-year-old and two three-year-olds sitting around eating. The umbrella is their favorite part. :)This table seems very sturdy and well made. There was a spill and it cleaned up very easily. I put this together myself (37-year-old mom with very little patience for assembly) in about 15 minutes.I highly recommend this product for your little ones. It seems that it will be useful for YEARS!
Date published: 2013-04-06
Rated 5 out of 5
by
Anonymous
from
Excellent Quality - Excellent Value
I bought the picnic table for my 17 month old twin grandsons for Christmas. This table matches the playhouse that they already have and LOVE. I know that the picnic table will become a fast favorite of theirs. Although the twins are only 17 months old, they are rough and tumble litte guys and Step 2 provides quality, dependable imaginative equipment for them. They love all the features of the playhouse; the doorbell, the windows that have opening and closing shutters and the little tables that can be propped up. This picnic table is the perfect compliment piece for the playhouse! I can't wait for them to see it Christmas morning!!
Date published: 2009-12-22
Rated 4 out of 5
by
B. O'Neill
from
Nice Picnic Table
I looked at a lot of picnic tables for my 15 month old, hoping to find something that would last a few years, be attractive and blend with our decor. I chose this because of its design, which blended with our landscaping blocks, and colors, which weren't cartoonish. Overall, I'm pleased, but was surprised the table flexed a bit when I leaned on the surface. If this is supposed to be sturdier than the other brand, then I am very glad that I didn't get the other brand! I'm sure it will be fine for my child in the long term. Love the umbrella, love the contoured seating. Hope it lives up to my expectations (we'll know by end of summer :)
Date published: 2008-05-17
Where can I find a replacement umbrella?
Please contact our Consumer Service Specialists at step2-company@step2.net or 1-800-347-8372 Monday through Friday, 8AM -5PM Eastern Standard Time and we will be happy to help you.
Date published: 2020-08-07
What is the packaging dimensions for this table? 
The packaging dimensions are 44.75 inches in height, 25.75 inches in width, 11.5 inches in depth.
Date published: 2020-06-16
Is the umbrella weather-proof? Can I leave it installed on the picnic table outside and have it withstand wind and rain?
Where can I order an umbrella replacement?
Date published: 2020-05-14
The screws to secure the table to the base are not long enough. It is not connecting with the top. I figured I would go to Lowe's to get long screws. anyone else have an idea? 
Please contact our Consumer Service Specialists at 1-800-347-8372 Monday through Friday, 8AM -5PM Eastern Standard Time and we will be happy to help you.
Date published: 2019-09-03
Out of curiosity, could an adult sit on the bench with a kid?
Yes. It is small but holds 300 lbs
Date published: 2019-08-06
There do not seem to be holes to screw the base pieces together 
There may not be a hole. As far as I remember regarding the assembly, you can use a hammer to puncture the plastic "screw" piece through the plastic dent where it should go. There are some videos on line you can watch.
Date published: 2019-05-30
do you ship to Canada?
Step2 Direct does not ship directly to our Canadian Consumers. A wide range of Step2 products are available at Amazon.ca, Costco.ca, , and Walmart.ca. Additionally, Step2 products are available at, Costco Canada and Wal-mart Canada retail locations. You can also contact: Mini Circuit at 416-240-1988 Play Value Toys at 613-722-0175
Date published: 2018-04-27
What is the height from the top of the bench to the table top?
The height from the top of the bench to the table top of the Naturally Playful® Picnic Table with Umbrella is approximately 9.5 inches.
Date published: 2020-08-16